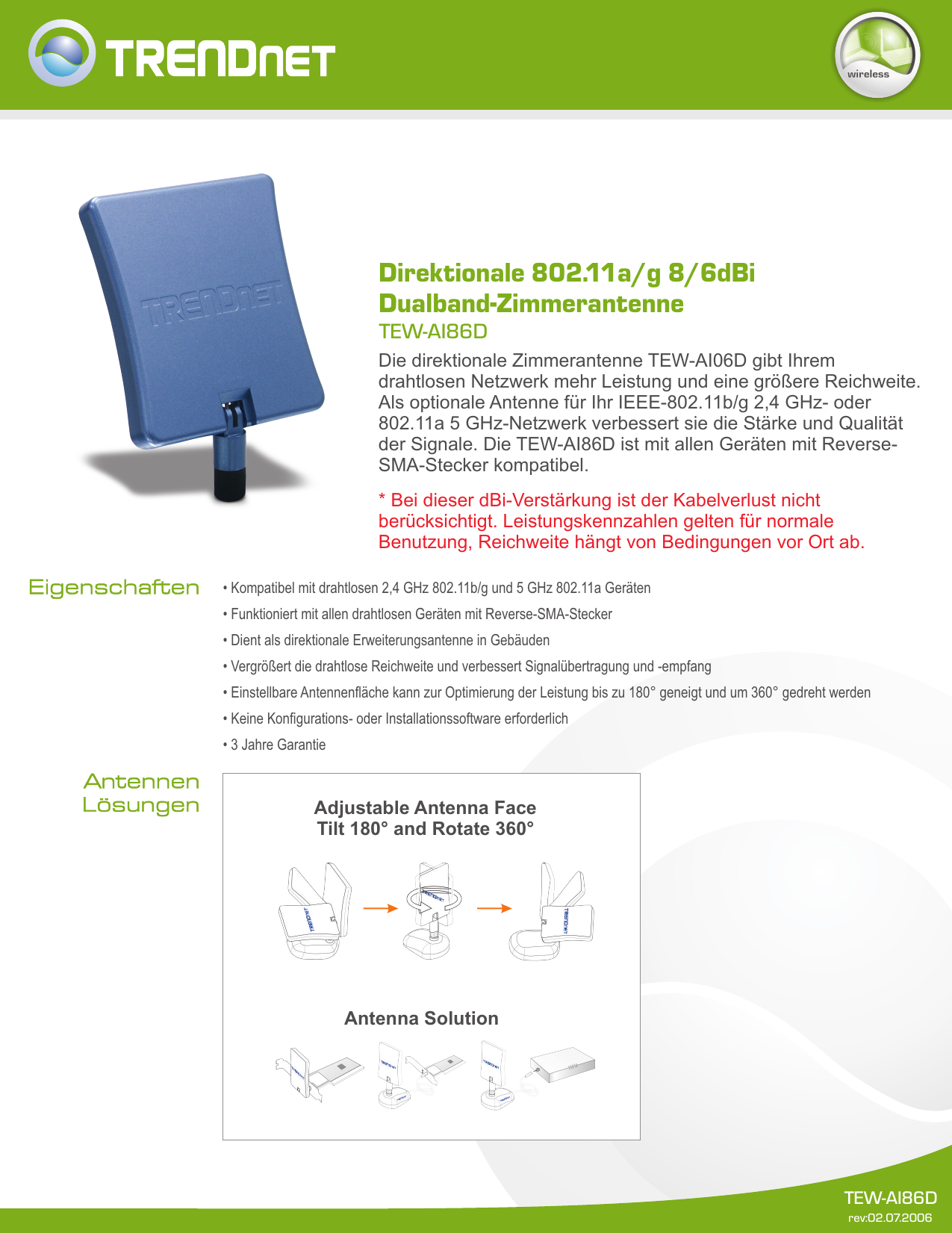 Direktionale 802.11a/g 8/6dBi
Dualband-Zimmerantenne
TEW-AI86D
Die direktionale Zimmerantenne TEW-AI06D gibt Ihrem
drahtlosen Netzwerk mehr Leistung und eine größere Reichweite.
Als optionale Antenne für Ihr IEEE-802.11b/g 2,4 GHz- oder
802.11a 5 GHz-Netzwerk verbessert sie die Stärke und Qualität
der Signale. Die TEW-AI86D ist mit allen Geräten mit ReverseSMA-Stecker kompatibel.
* Bei dieser dBi-Verstärkung ist der Kabelverlust nicht
berücksichtigt. Leistungskennzahlen gelten für normale
Benutzung, Reichweite hängt von Bedingungen vor Ort ab.
Eigenschaften
• Kompatibel mit drahtlosen 2,4 GHz 802.11b/g und 5 GHz 802.11a Geräten
• Funktioniert mit allen drahtlosen Geräten mit Reverse-SMA-Stecker
• Dient als direktionale Erweiterungsantenne in Gebäuden
• Vergrößert die drahtlose Reichweite und verbessert Signalübertragung und -empfang
• Einstellbare Antennenfläche kann zur Optimierung der Leistung bis zu 180° geneigt und um 360° gedreht werden
• Keine Konfigurations- oder Installationssoftware erforderlich
• 3 Jahre Garantie
Antennen
Lösungen
Adjustable Antenna Face
Tilt 180° and Rotate 360°
Antenna Solution
TEW-AI86D
rev:02.07.2006
Direktionale 802.11a/g 8/6dBi Dualband-Zimmerantenne
TEW-AI86D
Technische Spezifikationen
Hardware
Frequenzbereich
• 802.11a: 4,9 - 5,875 GHz
Verstärkungsfaktor
Stehwellenverhältnis
• 802.11a: 8 dBi
Polarisation
• Linear, vertikal
Strahlbreite/horizontal
• 802.11a: 50°
• 802.11b/g: 75°
Strahlbreite/vertikal
• 802.11a: 60°
• 802.11b/g: 70°
Belastbarkeit
• 2W (cw)
Impedanz
• 50 Ohm
Anschluss
• Reverse-SMA-Buchse
Abmessungen
• 128 x 85 x 15 mm
Gewicht
• 51g
802.11b/g: 6 dBi
• 2,0:1
Temperatur
• -10 °C bis 55 °C
Luftfeuchtigkeit
• 95 % bei 25 °C
Strahlenrelief
802.11b/g: 2,4 - 2,5 GHz
Packungsinhalt
• TEW-AI86D
• Mehrsprachige Bedienungsanleitung
Verwandte Produkte
TEW-AI86DB
Direktionale 802.11a/g 8/6dBi Dualband-Zimmerantenne
mit Fußteil
TEW-AI75O
Omnidirektionale 802.11a/g 7/5dBi
Dualband-Zimmerantenne
TEW-AI75OB
Omnidirektionale 802.11a/g 7/5dBi
Dualband-Zimmerantenne mit Fußteil
Bestellungs Informationen
3135 Kashiwa Street,Torrance, CA 90505 USA
Tel: 1-310-810-1100
Fax: 310-891-1111
Web: www.trendnet.com
Email: [email protected]
Zum Bestellen bitte folgende Nummer anwählen:
1-888-326-6061
TRENDnet is a registered trademark. Other Brands and product names are trademarks of their respective holders. Information provided in this document pertain to TRENDnet
products and is subject to change at any time, without notice. For the most recent product information please visit http://www.trendnet.com.
Copyright © TRENDnet. All Rights Reserved.

* Your assessment is very important for improving the work of artificial intelligence, which forms the content of this project