TRENDnet RB-TEG-ECSX Gigabit Fiber PCI Express Adapter Datasheet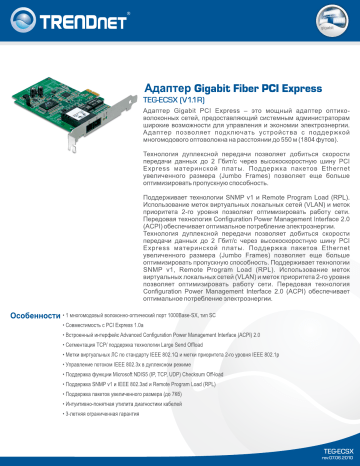 gigabit
TEG-ECSX (V1.1R)
TEG-ECSX
rev:07.06.2010
TEG-ECSX (V1.1R)
• Windows 2000/2000 Server/XP(32/64-bit)/2003/Vista(32/64-bit)/Win 7 (32/64-bit)
• Novell NetWare Server 5 x / 6 x
• 7K (7/Vista), 4K( XP/2000/20003 Server, Linux, Novell)
Gigabit Fiber PCI
Express Adapter
(TEG-ECSX)
Gigabit PCI Express Adapter
(TEG-ECTX)
24-Port Gigabit
Web Smart Switch
(TEG-240WS)
1000Base-T to 1000Base-SX
Multi-Mode SC Fiber Converter
(TFC-2000MSC)
Internet
300Mbps Wireless N
Gigabit Router
(TEW-633GR)
Cable/DSL
Modem
Gigabit
20675 Manhattan Place,Torrance, CA 90501 USA
Tel: 1-310-961-5500
Fax: 1-310-961-5511
Web: www.trendnet.com
Email: [email protected]
Заказ можно сделать по телефону:
1-888-326-6061
TRENDnet is a registered trademark. Other Brands and product names are trademarks of their respective holders. Information provided in this document pertain to TRENDnet
products and is subject to change at any time, without notice. For the most recent product information please visit http://www.trendnet.com.
Copyright © TRENDnet. All Rights Reserved.

* Your assessment is very important for improving the workof artificial intelligence, which forms the content of this project