Moog Subsequent 25 User guide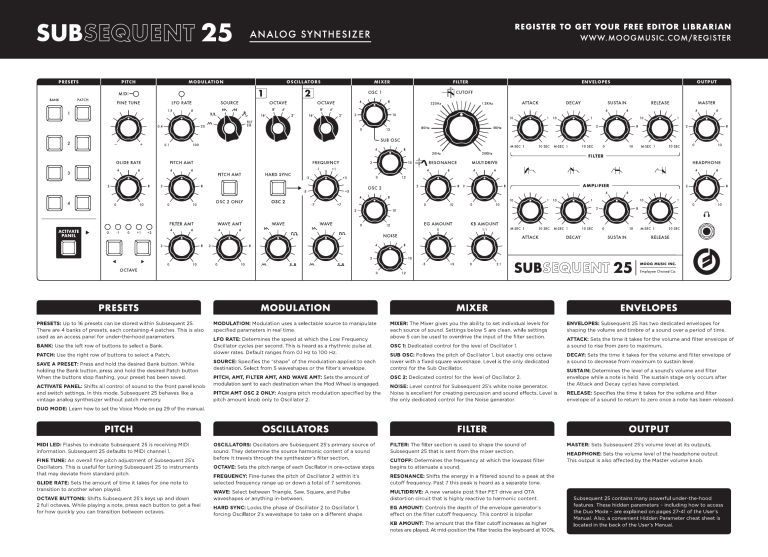 SUBS EQU ENT 25 ANALOG SYNTHESIZER
REGISTER TO GET YOUR FREE EDITOR LIBRARIAN
WWW.MOOGMUSIC.COM/REGISTER
PRESETS PITCH MODULATION OSCILLATORS MIXER ENVELOPES
MIDI-O 1 | 2 | OSC 1 — CUTOFF
BANK PATCH
FINE TUNE LFO RATE SOURCE OCTAVE OCTAVE 320Hz 1.2KHz ATTACK DECAY SUSTAIN RELEASE MASTER
1.5 6 № M 8 4 8 4 4 6
1 ML \ MA, 16 \ 2 16° \ 2 то
FILT
2 SUB OSC
= + 0.1 100 M-SEC 1 10 SEC M-SEC 1 10 SEC 10 М-5ЕС 1 10 SEC 0 10
20Hz 20KHz L FILTER J
GLIDE RATE PITCH AMT FREQUENCY "| RESONANCE MULTIDRIVE HEADPHONE
4 6 4 6 1 +1 /— N- 4 AN 4 6
3 PITCH AMT HARD SYNC 3 La
2 8 2 8 AMPLIFIER 2 8
| (
4 8 10 1
4 o lo o lo OSC 2 ONLY OSC 2 7 7 o lo
2 10
(o
FILTER AMT WAVE AMT WAVE WAVE 0 12 EG AMOUNT KB AMOUNT ZN
O O O 4 6 4 6 NN NN 0 1:1 M-SEC 1 10 SEC M-SEC 1 10SEC 0 10 MSEC 1 10 SEC
A : A > -2 -1 0 +1 +2 ML ML | |
: NOISE ATTACK DECAY SUSTAIN RELEASE XH
O a O | O O
2 10
< > 0 10 0 10 M JUL M nn -5 +5 0 2:1 SUBS EQIU [= NTT 25 MOOG MUSIC INC. MUSIC INC.
OCTAVE 0 12 Employee Owned Co. Owned Co.
\_
PRESETS: Up to 16 presets can be stored within Subsequent 25.
There are 4 banks of presets, each containing 4 patches. This is also
used as an access panel for under-the-hood parameters.
BANK: Use the left row of buttons to select a Bank.
PATCH: Use the right row of buttons to select a Patch.
SAVE A PRESET: Press and hold the desired Bank button. While
holding the Bank button, press and hold the desired Patch button.
When the buttons stop flashing, your preset has been saved.
ACTIVATE PANEL: Shifts all control of sound to the front panel knob
and switch settings. In this mode, Subsequent 25 behaves like a
vintage analog synthesizer without patch memory.
DUO MODE: Learn how to set the Voice Mode on pg 29 of the manual.
MODULATION
MODULATION: Modulation uses a selectable source to manipulate
specified parameters in real time.
LFO RATE: Determines the speed at which the Low Frequency
Oscillator cycles per second. This is heard as a rhythmic pulse at
slower rates. Default ranges from 0.1 Hz to 100 Hz.
SOURCE: Specifies the "shape" of the modulation applied to each
destination. Select from 5 waveshapes or the filter's envelope.
PITCH, AMT, FILTER AMT, AND WAVE AMT: Sets the amount of
modulation sent to each destination when the Mod Wheel is engaged.
PITCH AMT OSC 2 ONLY: Assigns pitch modulation specified by the
pitch amount knob only to Oscillator 2.
OSCILLATORS
MIXER: The Mixer gives you the ability to set individual levels for
each source of sound. Settings below 5 are clean, while settings
above 5 can be used to overdrive the input of the filter section.
OSC 1: Dedicated control for the level of Oscillator 1.
SUB OSC: Follows the pitch of Oscillator 1, but exactly one octave
lower with a fixed square waveshape. Level is the only dedicated
control for the Sub Oscillator.
OSC 2: Dedicated control for the level of Oscillator 2.
NOISE: Level control for Subsequent 25's white noise generator.
Noise is excellent for creating percussion and sound effects. Level is
the only dedicated control for the Noise generator.
MIDI LED: Flashes to indicate Subsequent 25 is receiving MIDI
information. Subsequent 25 defaults to MIDI channel 1.
FINE TUNE: An overall fine pitch adjustment of Subsequent 25's
Oscillators. This is useful for tuning Subsequent 25 to instruments
that may deviate from standard pitch.
GLIDE RATE: Sets the amount of time it takes for one note to
transition to another when played.
OCTAVE BUTTONS: Shifts Subsequent 25's keys up and down
2 full octaves. While playing a note, press each button to get a feel
for how quickly you can transition between octaves.
OSCILLATORS: Oscillators are Subsequent 25's primary source of
sound. They determine the source harmonic content of a sound
before it travels through the synthesizer's filter section.
OCTAVE: Sets the pitch range of each Oscillator in one-octave steps.
FREQUENCY: Fine-tunes the pitch of Oscillator 2 within it's
selected frequency range up or down a total of 7 semitones.
WAVE: Select between Triangle, Saw, Square, and Pulse
waveshapes or anything in-between.
HARD SYNC: Locks the phase of Oscillator 2 to Oscillator 1,
forcing Oscillator 2's waveshape to take on a different shape.
FILTER: The filter section is used to shape the sound of
Subsequent 25 that is sent from the mixer section.
CUTOFF: Determines the frequency at which the lowpass filter
begins to attenuate a sound.
RESONANCE: Shifts the energy in a filtered sound to a peak at the
cutoff frequency. Past 7 this peak is heard as a separate tone.
MULTIDRIVE: A new variable post filter FET drive and OTA
distortion circuit that is highly reactive to harmonic content.
EG AMOUNT: Controls the depth of the envelope generator's
effect on the filter cutoff frequency. This control is bipolar.
KB AMOUNT: The amount that the filter cutoff increases as higher
notes are played. At mid-position the filter tracks the keyboard at 100%.
ENVELOPES
ENVELOPES: Subsequent 25 has two dedicated envelopes for
shaping the volume and timbre of a sound over a period of time.
ATTACK: Sets the time it takes for the volume and filter envelope of
a sound to rise from zero to maximum.
DECAY: Sets the time it takes for the volume and filter envelope of
a sound to decrease from maximum to sustain level.
SUSTAIN: Determines the level of a sound's volume and filter
envelope while a note is held. The sustain stage only occurs after
the Attack and Decay cycles have completed.
RELEASE: Specifies the time it takes for the volume and filter
envelope of a sound to return to zero once a note has been released.
MASTER: Sets Subsequent 25's volume level at its outputs.
HEADPHONE: Sets the volume level of the headphone output.
This output is also affected by the Master volume knob.
Subsequent 25 contains many powerful under-the-hood
features. These hidden parameters - including how to access
the Duo Mode - are explained on pages 27-41 of the User's
Manual. Also, a convenient Hidden Parameter cheat sheet is
located in the back of the User's Manual.

* Your assessment is very important for improving the work of artificial intelligence, which forms the content of this project