Brandt BFC5856NX Owner Manual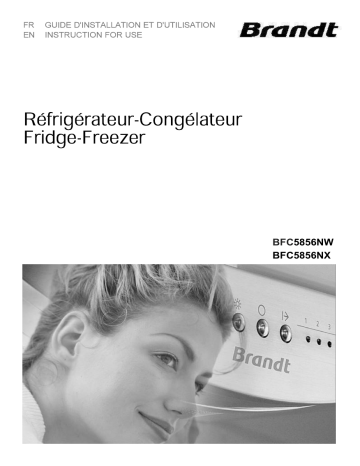 BFC 5856NW
BFC5856NX
CONTENTS
1 Instructions for safety, disposal, installation and maintenance
• Safety instructions and warnings
• Disposing of your appliance
• General installation conditions
• Electric connections
• Energy-saving measures
• Cleaning and maintenance
2 Introduction to your appliance
• Installing your appliance
• Description of your appliance
• Controls and use of your appliance
3 Using your fridge
• The temperature indicator in your fridge
• Adjusting your fridge
• Preparing food before putting it in the fridge
• Arranging food in your fridge
• Automatically defrosting your fridge
4 Using your freezer
• Frozen / deep-frozen produce
• Preparing food before freezing
• Guide to freezing food
• Arranging food in your freezer
• Adjusting your freezer
• Quick freeze (depending on the model)
• Making ice cubes (depending on the model)
• Thawing food
• Defrosting your freezer
5 Routine maintenance of your appliance
• Cleaning and maintaining your appliance
• Replacing the bulb
6 Troubleshooting
• Operating problems
• Technical support
7 After-sales service
This installation and use guide of your fridge-freezer applies to several models. There may be minor differences between the details and fittings on your appliance and the description provided.
EN
This appliance is in accordance with the EU guidelines
Safety and warning information
For your safety and correct usage, before installing and first using the appliance, read this user manual carefully, including its hints and warnings. be used in household and similar applications such as:
- Staff kitchen areas in shops, offices and other working environments;
To avoid unnecessary mistakes and accidents, it is important to make sure that all people using the appliance are thoroughly familiar with its operation and safety features.
- Farm houses and by clients in hotels, motels and other residential type environments;
- Bed and breakfast type environments;
- Catering and similar nonretail applications
Save these instructions and be sure that they remain with the appliance if it is moved or sold, so that a using it throughout its life will be properly informed on its correct appliance usage and safety.
Safety for children and others who are vulnerable people:
Manufacturer cannot be responsible for damages caused by omission.
GENERAL SAFETY AND
WARNINGS
This appliance is intended to
This appliance can be used by children aged from 8 years and above and persons with reduced physical, sensory or mental capabilities or lack of experience and knowledge if they have been given supervision or instruction concerning use of the
appliance in a safe way and understand the hazards involved.
Children shall not play with the appliance.
Cleaning and user maintenance shall not be made by children without supervision.
Keep all packaging away from children as there is risk of suffocation
Do not let children play with the appliance, keep pets away.
Old appliances must immediately be operated as unusable. Unplug and turn off the power cable flush with the appliance. Make the door lock inoperable, or better yet, remove the door to prevent such a child or animal may remain trapped inside while playing.
If problems occur, and that you can not solve with the following advice we give you
(see "Troubleshooting"), use only the approved customer service centres or to a qualified professional.
WARNING
To avoid a hazard due to instability of the appliance, it must be installed, fixed if necessary, in accordance with the instructions.
Maintain clear of obstruction ventilation openings in the appliance enclosure or in the built-in structure.
Do not use mechanical devices or other means to accelerate the defrosting process than those recommended by the manufacturer.
Do not damage the refrigerant circuit.
Do not use electrical appliances inside the food storage compartments of the appliance, unless they are clearly recommended by the manufacturer.
Do not store explosive substances inside this appliance such as aerosols
containing flammable gases propellants.
Do not place the appliance in direct sunlight.
Do not expose to flame.
Stop the appliance and unplug it before cleaning or moving it.
For models equipped with a water dispenser or ice maker compartment, fill or connect only with a drinking water supply.
If the supply cord is damaged, it must be replaced by the manufacturer, its after sales service or similarly qualified persons in order to avoid a hazard.
Cooling agents and insulation used in this product contain flammable gases. When you scrap the appliance, do it from an authorized collection point.
Do not expose to flame
Refrigerant
Refrigerant isobutene (R600a) is contained within the refrigerant circuit of the appliance; it is a gas more environmentally friendly, which is nevertheless flammable.
During transportation and installation of the appliance, ensure that none of the components of the refrigerant circuit is damaged.
Caution: risk of fire
If the refrigerant circuit should be damaged:
- Avoid opening flames and any source of ignition.
-Thoroughly ventilate the room in which the appliance is located.
It is dangerous to alter the specifications or modify this product in any way.
Any damage to the electric cord may cause short-circuit, fire, and/or electric shock.
DISPOSAL
This symbol indicates that this product should not be treated as household waste.
Your appliance contains recyclable materials. It is marked with this logo to indicate that used appliances must be delivered to an authorized collection point.
Check with your dealer or technical services in your area to find out the points for used appliances closest to your home. The appliance recycling organized by your manufacturer will be done under the best conditions, according to the European directive on waste electrical and electronic equipment.
Thank you for your help in protecting the environment.
Some packing materials of this device are also recyclable.
Recycle them and play a role in protecting the environment by depositing them in the containers provided for this purpose.
In accordance with the most recent legislation on the protection and respect for the environment, your appliance does not contain HFC's, but a refrigerant called R600a. The exact type of refrigerant used in your appliance is also clearly indicated on the rating plate located inside the appliance, on the left wall down. R600a is a nonpolluting gas that does not harm the ozone layer and whose contribution to the greenhouse effect is virtually zero.
INSTALLATION
WARNING: Correct installation of your device complying with the rules that are given in this installation guide and use will allow you to keep your food in good conditions and with optimized energy consumption.
•
If your appliance has wheels, remember that they are only used to facilitate small movements. Do not move on longer distance.
•
Make an initial cleaning before connecting your device to the mains. Before any maintenance, disconnect your device. Do not pull the power cord but directly enter the profile.
•
Place the unit in a dry and ventilated room.
• Avoid balconies, porches, decks; excessive heat in summer and cold in winter could prevent proper operation of your device, or even damage.
• Do not place it near a heat source such as radiator or oven for example.
• Keep a minimum distance between your refrigerator and other furniture: 3 to 5 cm on the sides and 10 cm above for good air circulation around the unit.
•
Place the appliance at a suitable distance from the wall using the spacers if they provided in the accessory bag.
•
Your appliance has been designed for optimum performance in a room temperature. We then say that it is designed for a special "climate class". This climate class is clearly stated on the rating plate located inside your appliance, on the left wall down. Beyond these temperatures, the performance of your appliance may be reduced.
Classe Temperature
SN
N from + 10°C to + 32°C from + 16°C to + 32°C
ST
T from + 16°C to + 38°C from + 16°C to + 43°C
Advice:
After installation of your appliance, set its feet so that it is slightly tilted backwards, it will facilitate the closing of the door.
Before putting food, clean the interior and exterior of your appliance with bicarbonate of soda dissolved in water (1 tablespoon of bicarbonate for
4 litres of water). Do not use
alcohol, abrasive powders or detergents which could damage the surfaces. (See chapter "Cleaning your appliance").
ELECTRICAL CONNECTION
The electrical installation must comply with the applicable standards and must be able to withstand the maximum power indicated on the rating plate.
The plug must be properly grounded.
We can not be held responsible for any incident caused by defective electrical installation.
Electrical Installation
Tips
• Do not use extension cable or adapter or power strip.
• Never remove the grounding.
• The socket must be easily accessible but out of reach of children.
In case of doubt, ask to your installer.
Your device is compliant with
EU directives and their modifications.
ENERGY SAVING
To reduce the power consumption of your appliance:
• Install it in a suitable location
(see "Installing your appliance").
• Keep doors open for as short time as possible.
• Do not put hot food in your refrigerator or freezer, particularly if they are soups or preparations which emit a large amount of steam.
• Ensure the optimal functioning of your device by not letting accumulate too much frost in the freezer
(defrost it when the ice thickness exceeds 5-6 mm) and periodically cleaning the condenser (see "Maintenance your device ").
• Regularly check the door
seals and make sure that they always close effectively. If this is not the case, please contact service after sales service.
• Do not let it set at too low a temperature.
• Not fulfilling with drawers, bins and shelves arrangement could lead to increased energy consumption.
WARNING:
If the unit was shipped to home in a horizontal position, place it vertically and wait two hours before plugging it in. A small amount of oil may have flowed into the refrigeration circuit, you need to give it time to flow back towards the motor before connecting the appliance, otherwise you may damage it.
Before any maintenance, disconnect the power plug.
Do not pull the power cable but directly enter the profile.
CLEANING AND
MAINTENANCE
Before cleaning, unplug the appliance and turn off the power.
Do not clean the appliance with metal objects, a steam system, volatile oils, organic solvents or abrasives.
Do not use sharp objects to remove ice. Use a plastic scraper.
To replace the light bulb, refer to the section of this leaflet Maintenance.
AFTER SALES SERVICE EN
Any work on your appliance must be performed by a Brandt-accredited quali~ ed professional.
When you call, please mention the complete reference for your machine (model, type, serial number): this information is provided on your guarantee certif cate and the information plate on your appliance.
ORIGINAL SPARE PARTS: when any maintenance work is being performed, ask that only certi~ ed original spare parts be used.
xxxxx
42
* Your assessment is very important for improving the workof artificial intelligence, which forms the content of this project