Honeywell PRO 1000 Owner's manual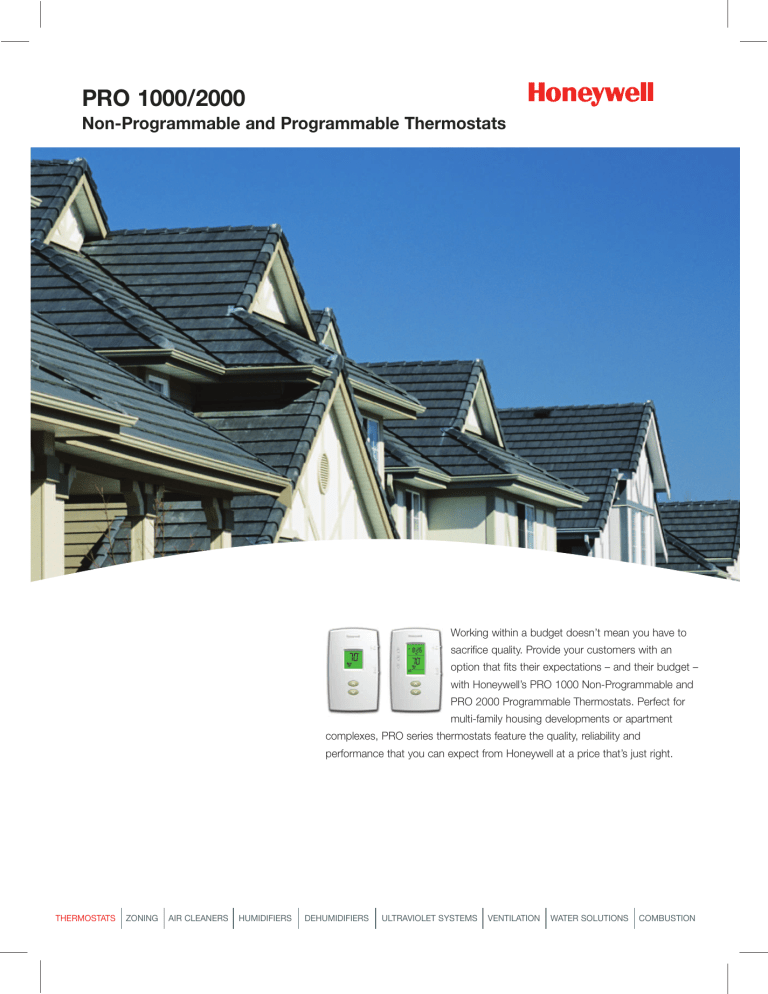 PRO 1000/2000
Non-Programmable and Programmable Thermostats
Working within a budget doesn't mean you have to
sacrifice quality. Provide your customers with an
option that fits their expectations – and their budget –
with Honeywell's PRO 1000 Non-Programmable and
PRO 2000 Programmable Thermostats. Perfect for
multi-family housing developments or apartment
complexes, PRO series thermostats feature the quality, reliability and
performance that you can expect from Honeywell at a price that's just right.
THERMOSTATS
ZONING
AIR CLEANERS
HUMIDIFIERS
DEHUMIDIFIERS
ULTRAVIOLET SYSTEMS
VENTILATION
WATER SOLUTIONS
COMBUSTION
COMPARE TO BUDGET
MODELS FROM:
• White-Rodgers
• Robert Shaw
• Braeburn
• Totalne
• LUX
PRO 1000/2000 Thermostats
RIGHT BRAND. RIGHT PRICE.
Make More Money – Get a premium for
selling Honeywell thermostats – they're the
#1 choice of homeowners.
Application Flexibility – Models for
heat pump and conventional systems.
Simple-Set Programming –
Basic operation makes it easy
to set the heat, cool, fan and
program schedules that fit your
customers' lifestyle. Simplicity
helps to reduce callbacks.
Dual-Powered –
Battery and/or
hardwire.
Adaptive Intelligence
Recovery –
Ensures that the programmed
temperature is reached by the
programmed time.
Clear, Backlit
Digital Display –
Easy to read in
various lighting
conditions.
Energy Savings* –
Program to save up to 33%
on annual heating and cooling
costs.
2-Year Warranty
PRO 1000
Non-Programmable
PRO 2000
Programmable
PRO 1000/2000 Thermostats
Part Numbers - US
Stages
Description
Upgrade Options
TH1100D1001
Heat Only
Non-Programmable
Be sure to ask about:
TH1110D1000
1 Heat/1 Cool
Non-Programmable
TH1210D1008
2 Heat /1 Cool
Heat Pump Non-Programmable
TH2110D1009
1 Heat/1 Cool
Programmable
TH2210D1007
2 Heat/1 Cool
Heat Pump Non-Programmable
*PRO 2000 models only. If used as directed, programmable thermostats can save up to 33% on
annual heating and cooling costs. Savings may vary depending on geographic region and usage.
VisionPRO® 8000 – BEST
Touchscreen 7-Day Programmable Thermostat
FocusPRO™ 6000 – BETTER
5-1-1 Day Programmable Thermostat
FocusPRO™ 5000 – BETTER
Digital Non-Programmable Thermostat
PRO 4000 5-2 Day – GOOD
Programmable Thermostat
PRO 3000 – GOOD
Non-Programmable Thermostat
Learn More
Call toll-free 1-800-328-5111
or visit http:yourhome.honeywell.com
Email [email protected]
Automation and Control Solutions
Honeywell
1985 Douglas Drive North,
Golden Valley, MN 55422-3992
www.honeywell.com
50-9580 RL 1/11
©2011 Honeywell International Inc.

* Your assessment is very important for improving the work of artificial intelligence, which forms the content of this project