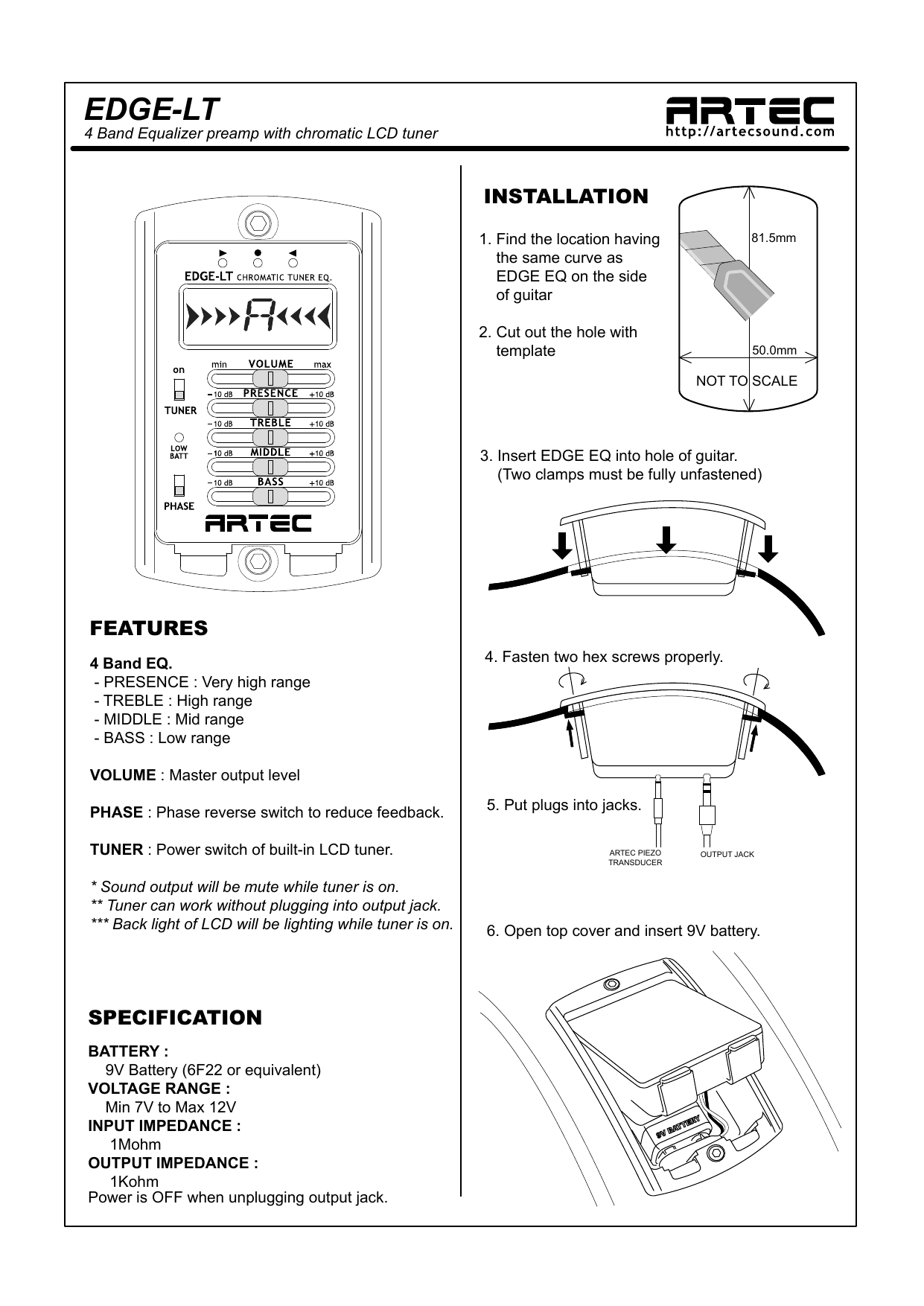 EDGE-LT
4 Band Equalizer preamp with chromatic LCD tuner
INSTALLATION
1. Find the location having
the same curve as
EDGE EQ on the side
of guitar
81.5mm
2. Cut out the hole with
template
50.0mm
NOT TO SCALE
3. Insert EDGE EQ into hole of guitar.
(Two clamps must be fully unfastened)
FEATURES
4 Band EQ.
- PRESENCE : Very high range
- TREBLE : High range
- MIDDLE : Mid range
- BASS : Low range
4. Fasten two hex screws properly.
VOLUME : Master output level
PHASE : Phase reverse switch to reduce feedback.
TUNER : Power switch of built-in LCD tuner.
* Sound output will be mute while tuner is on.
** Tuner can work without plugging into output jack.
*** Back light of LCD will be lighting while tuner is on.
SPECIFICATION
BATTERY :
9V Battery (6F22 or equivalent)
VOLTAGE RANGE :
Min 7V to Max 12V
INPUT IMPEDANCE :
1Mohm
OUTPUT IMPEDANCE :
1Kohm
Power is OFF when unplugging output jack.
5. Put plugs into jacks.
ARTEC PIEZO
TRANSDUCER
OUTPUT JACK
6. Open top cover and insert 9V battery.

* Your assessment is very important for improving the work of artificial intelligence, which forms the content of this project