Televes Ethernet - SFP adapter Datasheet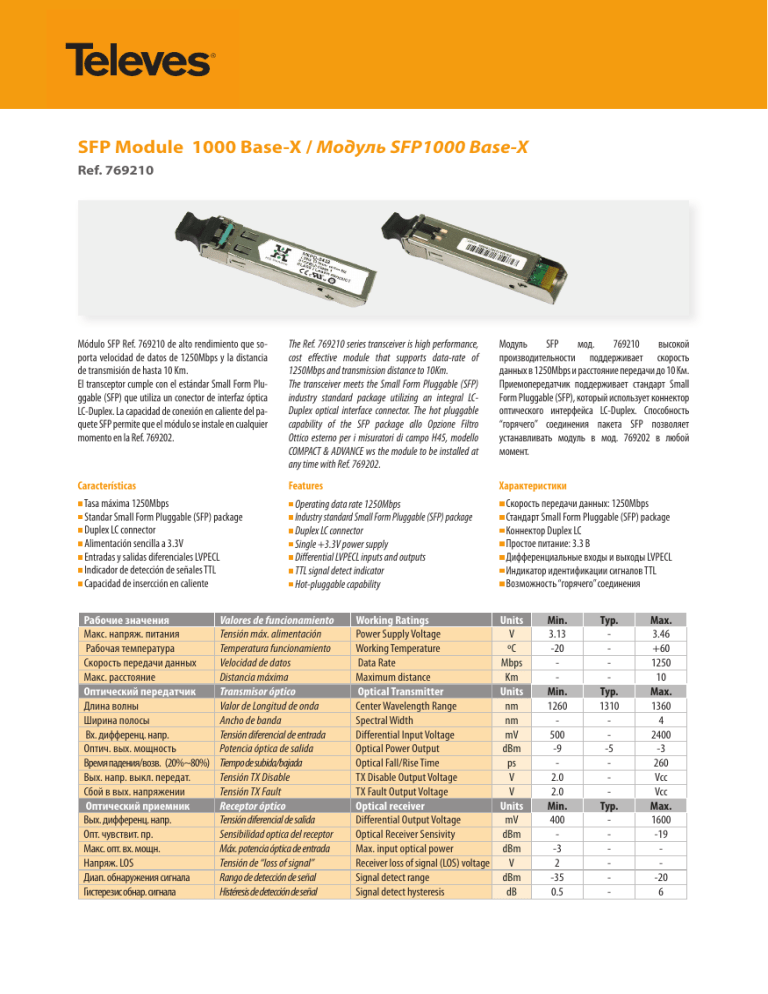 SFP Module 1000 Base-X / Модуль SFP1000 Base-X
Ref. 769210
Módulo SFP Ref. 769210 de alto rendimiento que soporta velocidad de datos de 1250Mbps y la distancia
de transmisión de hasta 10 Km.
El transceptor cumple con el estándar Small Form Pluggable (SFP) que utiliza un conector de interfaz óptica
LC-Duplex. La capacidad de conexión en caliente del paquete SFP permite que el módulo se instale en cualquier
momento en la Ref. 769202.
The Ref. 769210 series transceiver is high performance,
cost effective module that supports data-rate of
1250Mbps and transmission distance to 10Km.
The transceiver meets the Small Form Pluggable (SFP)
industry standard package utilizing an integral LCDuplex optical interface connector. The hot pluggable
capability of the SFP package allo Opzione Filtro
Ottico esterno per i misuratori di campo H45, modello
COMPACT & ADVANCE ws the module to be installed at
any time with Ref. 769202.
Модуль SFP мод. 769210 высокой
производительности поддерживает скорость
данных в 1250Mbps и расстояние передачи до 10 Км.
Приемопередатчик поддерживает стандарт Small
Form Pluggable (SFP), который использует коннектор
оптического интерфейса LC-Duplex. Способность
"горячего" соединения пакета SFP позволяет
устанавливать модуль в мод. 769202 в любой
момент.
Características
Features
Характеристики
Tasa máxima 1250Mbps
Standar Small Form Pluggable (SFP) package
Duplex LC connector
Alimentación sencilla a 3.3V
Entradas y salidas diferenciales LVPECL
Indicador de detección de señales TTL
Capacidad de insercción en caliente
Рабочие значения
Макс. напряж. питания
Рабочая температура
Скорость передачи данных
Макс. расстояние
Оптический передатчик
Длина волны
Ширина полосы
Вх. дифференц. напр.
Оптич. вых. мощность
Время падения/возв. (20%~80%)
Вых. напр. выкл. передат.
Сбой в вых. напряжении
Оптический приемник
Вых. дифференц. напр.
Опт. чувствит. пр.
Макс. опт. вх. мощн.
Напряж. LOS
Диап. обнаружения сигнала
Гистерезис обнар. сигнала
Operating data rate 1250Mbps
Industry standard Small Form Pluggable (SFP) package
Duplex LC connector
Single +3.3V power supply
Differential LVPECL inputs and outputs
TTL signal detect indicator
Hot-pluggable capability
Valores de funcionamiento
Tensión máx. alimentación
Temperatura funcionamiento
Velocidad de datos
Distancia máxima
Transmisor óptico
Valor de Longitud de onda
Ancho de banda
Tensión diferencial de entrada
Potencia óptica de salida
Tiempo de subida/bajada
Tensión TX Disable
Tensión TX Fault
Receptor óptico
Tensión diferencial de salida
Sensibilidad optica del receptor
Máx. potencia óptica de entrada
Tensión de "loss of signal"
Rango de detección de señal
Histéresis de detección de señal
Working Ratings
Power Supply Voltage
Working Temperature
Data Rate
Maximum distance
Optical Transmitter
Center Wavelength Range
Spectral Width
Differential Input Voltage
Optical Power Output
Optical Fall/Rise Time
TX Disable Output Voltage
TX Fault Output Voltage
Optical receiver
Differential Output Voltage
Optical Receiver Sensivity
Max. input optical power
Receiver loss of signal (LOS) voltage
Signal detect range
Signal detect hysteresis
Скорость передачи данных: 1250Mbps
Стандарт Small Form Pluggable (SFP) package
Коннектор Duplex LC
Простое питание: 3.3 В
Дифференциальные входы и выходы LVPECL
Индикатор идентификации сигналов TTL
Возможность "горячего" соединения
Units
V
ºC
Mbps
Km
Units
nm
nm
mV
dBm
ps
V
V
Units
mV
dBm
dBm
V
dBm
dB
Min.
3.13
-20
Min.
1260
500
-9
2.0
2.0
Min.
400
-3
2
-35
0.5
Typ.
Typ.
1310
-5
Typ.
-
Max.
3.46
+60
1250
10
Max.
1360
4
2400
-3
260
Vcc
Vcc
Max.
1600
-19
-20
6
Principales Aplicaciones:
Expandir la red de coaxial o PLC con el módulo de
F.O. 1000 BASE-X conectándolo a la Ref. 769202.
Conectar Switch a Switch Ethernet.
Aplicaciones de Blackplane en Switch.
Interfaces Router/Servidores.
Otras aplicaciones de transmisión óptica.
CoaxData network 1
Typical Applications:
Expand Coaxial or PLC interfaces with SFP module
1000 BASE-X through Ref. 769202.
Switch to Switch interface.
Switched backplane applications.
Router/Server interface.
Other optical transmission systems.
Типовые применения
Удлинение коаксиальной или ЛЭП сети o PLC
с помощью оптического модуля 1000 BASE-X,
подключая его к мод. 769202.
Switch to Switch интерфейс.
Приложения Switched backplane.
Интерфейсы Роутер/Серверы.
Прочие
применения
оптической
ретрансляции.
Ref. 769201 (or 7689)
RF Head-end
RFOG equip.:
- PSU
- TX FO 10dBm/1310nm
- Splitter 8D
Coaxial network
TV + Data
RFOG fiber
1.310nm
Ref. 769202
Optical node
Ref. 2310
Backbone IP
Switch
1000Base-X
Gbe
SFP2 FO
1.310nm
1.310nm
CoaxData network 2
CoaxData network 3
CoaxData network 8
Televes, S.A., CIF: A15010176, Rua/Benefica de Conxo, 17, 15706 Santiago de Compostela, SPAIN,
tel.: +34 981 522200, [email protected] Произведено в Испании.
Дата изготовления указана на упаковочной этикетке: D. мм/гг (мм = месяц / гг = год).
2016 © Copyright, Televés S.A.

* Your assessment is very important for improving the work of artificial intelligence, which forms the content of this project