HP HP Wireless TV Connect User manual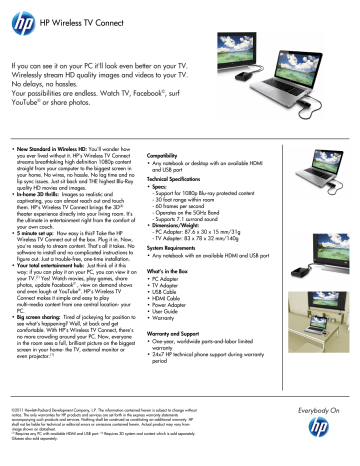 HP Wireless TV Connect
If you can see it on your PC it'll look even better on your TV.
Wirelessly stream HD quality images and videos to your TV.
No delays, no hassles.
Your possibilities are endless. Watch TV, Facebook©, surf
YouTube® or share photos.
• New Standard in Wireless HD: You'll wonder how
you ever lived without it. HP's Wireless TV Connect
streams breathtaking high definition 1080p content
straight from your computer to the biggest screen in
your home. No wires, no hassle. No lag time and no
lip sync issues. Just sit back and THE highest Blu-Ray
quality HD movies and images.
• In-home 3D thrills: Images so realistic and
captivating, you can almost reach out and touch
them. HP's Wireless TV Connect brings the 3D(4)
theater experience directly into your living room. It's
the ultimate in entertainment right from the comfort of
your own couch.
• 5 minute set up: How easy is this? Take the HP
Wireless TV Connect out of the box. Plug it in. Now,
you're ready to stream content. That's all it takes. No
software to install and no complicated instructions to
figure out. Just a trouble-free, one-time installation.
• Your total entertainment hub: Just think of it this
way: if you can play it on your PC, you can view it on
your TV.(1) Yes! Watch movies, play games, share
photos, update Facebook© , view on demand shows
and even laugh at YouTube®. HP's Wireless TV
Connect makes it simple and easy to play
multi-media content from one central location- your
PC.
• Big screen sharing: Tired of jockeying for position to
see what's happening? Well, sit back and get
comfortable. With HP's Wireless TV Connect, there's
no more crowding around your PC. Now, everyone
in the room sees a full, brilliant picture on the biggest
screen in your home- the TV, external monitor or
even projector.(1)
Compatibility
• Any notebook or desktop with an available HDMI
and USB port
Technical Specifications
• Specs:
- Support for 1080p Blu-ray protected content
- 30 foot range within room
- 60 frames per second
- Operates on the 5GHz Band
- Supports 7.1 surrond sound
• Dimensions/Weight:
- PC Adapter: 87.6 x 30 x 15 mm/31g
- TV Adapter: 83 x 78 x 32 mm/140g
System Requirements
• Any notebook with an available HDMI and USB port
What's in the Box
• PC Adapter
• TV Adapter
• USB Cable
• HDMI Cable
• Power Adapter
• User Guide
• Warranty
Warranty and Support
• One-year, worldwide parts-and-labor limited
warranty
• 24x7 HP technical phone support during warranty
period
©2011 Hewlett-Packard Development Company, L.P. The information contained herein is subject to change without
notice. The only warranties for HP products and services are set forth in the express warranty statements
accompanying such products and services. Nothing shall be construed as constituting an additional warranty. HP
shall not be liable for technical or editorial errors or omissions contained herein. Actual product may vary from
image shown on datasheet.
(1)
Requires any PC with available HDMI and USB port. (4) Requires 3D system and content which is sold separately.
Glasses also sold separately.

* Your assessment is very important for improving the work of artificial intelligence, which forms the content of this project