Panasonic DMP-BDT320 Specification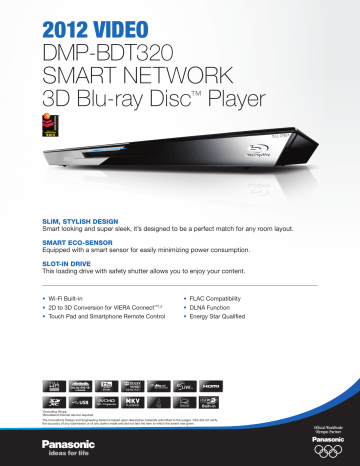 2012 videO
DMP-BDT320
Smart Network
3D Blu-ray Disc™ Player
Slim, Stylish Design
Smart looking and super sleek, it's designed to be a perfect match for any room layout.
Smart Eco-Sensor
Equipped with a smart sensor for easily minimizing power consumption.
Slot-in Drive
This loading drive with safety shutter allows you to enjoy your content.
• Wi-Fi Built-in
• 2D to 3D Conversion for VIERA Connect™1,2
• Touch Pad and Smartphone Remote Control
• FLAC Compatibility
• DLNA Function
• Energy Star Qualified
Built-in
1
2
Excluding Skype.
Broadband Internet service required.
The Innovations Design and Engineering Award is based upon descriptive materials submitted to the judges. CEA did not verify
the accuracy of any submission or of any claims made and did not test the item to which the award was given.
2012 videO
DMP-BDT320 Smart Network 3D Blu-ray Disc™ Player
Playable Discs
High Quality Sound
FULL HD 3D
•
TWIN HDMI
—
BD-Video
•
Pure Audio on HDMI
•
BD-RE / BD-RE DL
(Ver.3)
JPEG
•
High Clarity Sound Plus
•
MPO
•
Digital Tube Sound
BD-R / BD-R DL (Ver.2)
MKV
•
Audio D/A Converter
192kHz/32bit
BD-ROM
DVD
DVD-Video
•
Analog 7.1ch Output
—
DVD-Video
•
96kHz Surround Remaster*7
•
DVD Video Recording
•
Easy to Use
•
AVCHD
DVD-R*1 / DVD-R DL*1 /
DVD-RW*1
+R*1 / +R DL*1 /
+RW*1
CD, CD-R / -RW*
3
Touch Pad Remote
•
FLAC
• (DVD-R / DVD-R DL)
Smartphone Remote Control*8
•
MP3*2
• (DVD-R / DVD-R DL)
Smart Sensor for Eco Quick Start
•
MKV
• (DVD-R / DVD-R DL)
Multi-User Mode / Stylish GUI / Wallpaper
•
JPEG
• (DVD-R / DVD-R DL)
VIERA Link™ (HDAVI Control 5)
•
MPO
• (DVD-R / DVD-R DL)
Networking
Video
•
VIERA Connect™*9
AVCHD
•
Wireless LAN System
CD-DA
•
DLNA (DMP&DMR) Function
•
FLAC
•
Network Drive Access
•
MP3*2
•
BD-Live™*10
•
MKV
•
Terminal
JPEG
•
HDMI Output
•
MPO
•
Video Output
•
Audio System
•
—
• Decode and Bitstream Output*4
Coaxial Output
DTS™-HD Master Audio Essential /
DTS™-HD High Resolution Audio
• Decode and Bitstream Output*4
Analog Audio Output
SD Memory Card
•
Compatible Media
SD / SDHC / SDXC
Others
JPEG
•
Video System
NTSC
MPO
•
Audio S/N
100dB
MPEG2 / AVCHD
•
Dynamic Range
100dB
Power Supply
USB
• (2)
Front
For Playback
Rear
For Communication
Camera only
USB Standard
Playback
2ch
• (for DLNA, BD-Live™*10,
VIERA Connect™*9
and Firmware Update)
LAN (Ethernet) Terminal
Slot
Slot
•
• (Built-in)
Optical Output
Dolby® Digital Plus / Dolby® TrueHD
Playback
•
USB 2.0 High Speed
FLAC
•
MP3*2
•
MKV / ts / m2ts / MP4
•
JPEG
•
MPO
•
High Quality Picture
Adaptive Chroma Processing
•
2D-3D Conversion
• (BD / DVD / SD
Memory Card / VOD)
3D Effect Controller
• (BD / DVD / SD
Memory Card / VOD)
Full HD Up Sampling (New P4HD)
•
1080/24p Playback*5
•
Deep Color
•
x.v.Color*6
•
02/12 Specifications subject to change without notice.
Power Consumption
[Approx.]
AC 120V, 60Hz
Normal Use
Standby
8.9W
Quick Start Off
0.1W
Quick Start On
3.2W
Dimensions, Weight
Main Unit [Approx.]
Dimensions (W x H x D) *11 [Approx.]
Weight
16-15/16 x 1-1/8 x 7-1/16 inch
3.3 lbs.
*1 Discs recorded and finalized on recording devices.
*2 For contents recorded disc media from CDs for your personal use.
*3 Playability may vary depending on the contents, discs and quality of the recording.
*4 HDMI connection required.
*5 For BD-ROM /BD-R and DVD-Video via HDMI.
*6 This function is effective only when reproducing AVCHD data recorded with x.v.Color technology.
The function cannot be used with BD-ROM or DVD-ROM discs. HDMI connection is required .x.v.Color
is a registered trademark.
*7 CD sampling is done at 88.2 kHz. MP3 data can be remastered only on CD.
*8 Requires the device with the App installed and the player to be connected to the same home network.
*9 Requires broadband Internet service.
*10 To enjoy content, you will need to insert an SD card in BBT01, BDT500, BDT320 and BDT220 or
USB flash drive in BD87 and BD77 (1GB or more of free space/ sold separately). Requires broadband
Internet service.
*11 Excluding the projecting parts.

* Your assessment is very important for improving the work of artificial intelligence, which forms the content of this project