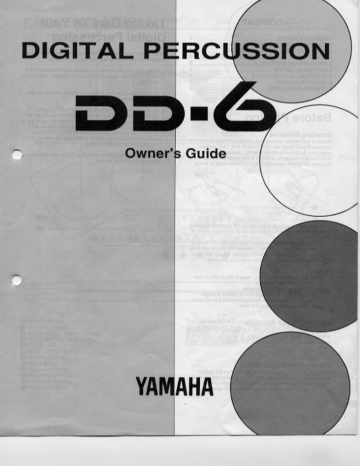 DIGITAL PERCUSSION
Эээ
Owner's Guide
—— CONTENTS ——
1.NOMENCLATURE ......................e==..esemeerecennennernee—. 2
2.LISTEN TO THE DEMONSTRATION ................... 3
3.ENJOYING MANUAL PERCUSSION ................... 3
4.HOW TO USE THE AUTO RHYTHM SECTION ... 4
5.PERCUSSION ENSEMBLE eus 5
6.EXTERNAL JACKS rise ner REGEN EEE 5
7.OPTIONAL ACCESSORIES 0er 5
8.СРЕСИ!!САТЮМ®© ..........ееееоноыенненннннннннненнннннннннее 6
9, TROUBLESHOOTING ......................ee-.erneevernaneness 6
Before Playing
Inserting Batteries
Remove the battery compartment cover on the bottom of the
instrument and insert six 1.5V SUM-3, R-6, "AA" size or
. equivalent batteries (sold separately), making sure that the
polarities are placed as directed in the compartment.
Replace the cover, ensuring that it locks securely in place.
As the battery voltage drops below the required operating
level, the following changes will occur in the operation of
the DD-6:
1. Tom, conga and other drum-type sounds will become
distorted. This distortion increases the louder you play.
2. The STYLE/ BEAT/ TEMPO display @ will dim, and
its brightness will vary when you play the pads.
Caution:
- When the batteries run down, replace them with a com-
plete set of six new batteries.
NEVER mix old and new batteries.
+ To prevent possible damage due to battery leakage,
remove the batteries from the instrument if it is not to be
used for an extended period of time.
Optional Power Adaptors
Power Adaptor PA-1/ PA-1B/ PA-3 is available for household
current. No other adaptor is usable, so when you purchase a
power adaptor please ensure that itis model PA-1/ PA-1B/
PA-3.
For An Even Bigger Sound
Although you'll be happy with the sound from the built-in
speaker, you can enhance and create an even more satisfy-
ing sound if you connect the DD-6 to a bigger speaker sys-
tem. Try using your home stereo or other PA system.
Taking Care Of Your
Digital Percussion
Your Digital Percussion DD-6 Will remain in excellent playing
condition if care is taken concerning the following.
1. When you use AC power, be sure to use the optional PA-
1/ PA-1B/ PA-3. Before use, read the adaptor instructions
carefully.
2. Do not subject the unit to physical shock, and avoid plac-
ing anything heavy on it.
3. Do not place the instrument near any heating appliance,
or leave it inside a car in direct sunlight for any length of
time. Direct sunshine can raise the interior temperature of
a car with closed doors and windows to as high as 80°C
(176°F). Temperatures in excess of 60°C (140°F) can
cause physical and/or electrical damage, as well as physi-
cal deformation or discoloration.
4. Use a dry damp cloth for cleaning. Never use solvents
such as benzine or thinner.
1.NOMENCLATURE
STYLE LIST
20 FOP ROCK 1
01 FOR ROCK Y
2 HARD POP
ОЗ POR AQCK 5/4
D4 M DR
Oo MOR 2
6 BOUNCE ROCK
07 ROCK N'ROLL 1
08 ROCK N'AOLL 7
55 505 ROGKNAOLL
0 HARD MOCK _——
11 HEAVY METAL
ÉTÉ SPEED METAL. ——
13 FUNK 1
14 FLINK 2
15 FUNK 3
18 FUNK à
"7 UNC WALTZ —
SER Sa
18 RAP BEAT
YAMAHA DD-O
@ FCM TONE GENERATOR
& 20 INSTRUMENT SOUNDS
@ 100 RHYTHM STYLES
"30 ODIELAND AZ: — "80 SUNG Bossa
41 BIG BAND JAZZ 81 BO55A WALTZ
43 BEBOP "57 Ossa Nova 574 —
43 BE-BOP ? BOSSA NOVA 77d
44 COOL JAZZ 64 REGGAE 1
45 HARD JAZZ 65 REGGAE 2
46 FREE JAZZ SKA
47 SINING + ET MAMBC |
a8 SWING 2 68 MAMBO 2
"15 SWING WALTZ 1 G3 WANBO FRET —
"EC Swihe waLTz 2 — "70mmuMBA —
51 WALTZ 71 RHUMBA FAST
32 JAZZ WALTZ FE CHA-CHACHA
53 ROCK-A-WALTZ 73 BEGUINE
54 SAMBA FA MERENGUE
55 SAMBA CARNIVAL 75 GUARACHA
6 JAZZ SAMBA 0 GUAJRA
EF FUSION SAMBA 1 77 HABANERA
E FUSION SAMBA 2 "76 MOZAMBIQUE
59 BOSSA NOVA PO CALYPSO
a CALYPSO ARE
1 SALSA
82 FUSION SALSA
SON AFRO
4 AFRO ROCK
AFRO
E LATIN SWING 1
LATIN SWING 7
TAMBOWRAITO
TANGO
SC MARCH
"BT MARCH B78 —
"GZ TURKISH MARCH
83 NGO
alain sens
SEP =>
BAION
EL GAMELAN KECHAK
INGIAN BEAT
35 POLYNESIAN BEAT
_— memes
\
МЫ ПП МАХ
1
STYLE SELECT
90900
2 3 4 5 —
«лат,
099992858
TEM
/
/
>S
SR
=
o
©
©
2 бо
N 88
NN Z Enaman ee
>
~
a
Cr
6 à
Ô
te rem
©
—e
O POWER Switch
VOLUME Control
STYLE/ BEAT/ TEMPO Display
STYLE SELECT Buttons
STYLE LIST
START/ STOP Button
TEMPO Controls
@DEMO Button
OPercussion Pads
(DPAD ASSIGN Buttons
Instrument Symbols
a Sticks
The Yamaha DD-6 Digital Percussion unit is supplied with a
pair of Percussion Sticks. These sticks have been designed
specifically for use with the DD-6, and should not be used to
play acoustic drums or to strike any surface other than the
DD-6 percussion pads.
2.LISTEN TO THE DEMONSTRATION
The DD-6 is programmed with a demonstration that allows
you to hear many of the built-in rhythm styles in sequence.
The number of each style is shown on the STYLE/ BEAT/
TEMPO display Q as it plays.
1. Slide the POWER switch @ to the ON position. 3. Press the DEMO button @ to begin demonstration play-
back. You can play along with the demonstration by tap-
POWER ping on the DD-6 percussion pads.
CT) |} DEMO
> ©
2. Set the VOLUME control @ to a position about half way 4. The demonstration can be stopped at any time by pressing
between the MIN and MAX settings. You can make further either the DEMO or START/ STOP button @ Q .
volume adjustments once playback begins.
START/
VOLUME 5) © O
MIN | | | | MAX
3.ENJOYING MANUAL PERCUSSION
This is the main function of the Digital Percussion DD-6. * The percussion sounds are preset as follows.
When the POWER switch @ is "ON", it is possible to hear
percussion sounds when tapping the Percussion Pads ©
with the Percussion Sticks @ or your hands. You can have Aa DO
fun playing the DD-6 just like an acoustic percussion set. SRE RE
Also, the Pads are equipped with a touch-level sensor, which = ur
means you can obtain different volume levels depending on то
how hard you tap the pad. TOM LOW : SNARE DRUM
1. Set the POWER switch @ to the "ON" position.
2. Tap any of the Percussion Pads @ to hear percussion
sounds.
es 1967 10000050000
Pw 38 Sb 4 DL EA A EA
TOM HI CRASH CYMBAL
* Once the maximum volume is reached, it is not possible
to create higher volume by striking the percussion pads
any harder. The use of unnecessary force in playing the
percussion pads can cause mechanical damage to the
instrument as well as spurious triggering of unwanted
sounds.
PAD ASSIGN
This function allows you to assign any of the 20 percussion sounds indicated by the Instrument Symbols @) at the bottom of the
DD-6 control panel to any of the percussion pads.

* Your assessment is very important for improving the workof artificial intelligence, which forms the content of this project