Barska AU11071 Owner's manual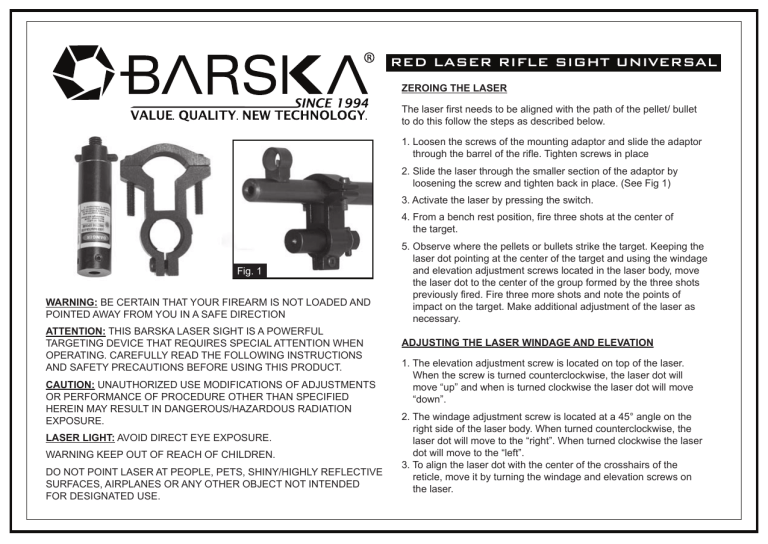 RED LASER RIFLE SIGHT UNIVERSAL
ZEROING THE LASER
The laser first needs to be aligned with the path of the pellet/ bullet
to do this follow the steps as described below.
1. Loosen the screws of the mounting adaptor and slide the adaptor
through the barrel of the rifle. Tighten screws in place
2. Slide the laser through the smaller section of the adaptor by
loosening the screw and tighten back in place. (See Fig 1)
3. Activate the laser by pressing the switch.
4. From a bench rest position, fire three shots at the center of
the target.
Fig. 1
WARNING: BE CERTAIN THAT YOUR FIREARM IS NOT LOADED AND
POINTED AWAY FROM YOU IN A SAFE DIRECTION
ATTENTION: THIS BARSKA LASER SIGHT IS A POWERFUL
TARGETING DEVICE THAT REQUIRES SPECIAL ATTENTION WHEN
OPERATING. CAREFULLY READ THE FOLLOWING INSTRUCTIONS
AND SAFETY PRECAUTIONS BEFORE USING THIS PRODUCT.
CAUTION: UNAUTHORIZED USE MODIFICATIONS OF ADJUSTMENTS
OR PERFORMANCE OF PROCEDURE OTHER THAN SPECIFIED
HEREIN MAY RESULT IN DANGEROUS/HAZARDOUS RADIATION
EXPOSURE.
LASER LIGHT: AVOID DIRECT EYE EXPOSURE.
WARNING KEEP OUT OF REACH OF CHILDREN.
DO NOT POINT LASER AT PEOPLE, PETS, SHINY/HIGHLY REFLECTIVE
SURFACES, AIRPLANES OR ANY OTHER OBJECT NOT INTENDED
FOR DESIGNATED USE.
5. Observe where the pellets or bullets strike the target. Keeping the
laser dot pointing at the center of the target and using the windage
and elevation adjustment screws located in the laser body, move
the laser dot to the center of the group formed by the three shots
previously fired. Fire three more shots and note the points of
impact on the target. Make additional adjustment of the laser as
necessary.
ADJUSTING THE LASER WINDAGE AND ELEVATION
1. The elevation adjustment screw is located on top of the laser.
When the screw is turned counterclockwise, the laser dot will
move "up" and when is turned clockwise the laser dot will move
"down".
2. The windage adjustment screw is located at a 45° angle on the
right side of the laser body. When turned counterclockwise, the
laser dot will move to the "right". When turned clockwise the laser
dot will move to the "left".
3. To align the laser dot with the center of the crosshairs of the
reticle, move it by turning the windage and elevation screws on
the laser.

* Your assessment is very important for improving the work of artificial intelligence, which forms the content of this project