No category
Used colours Overscan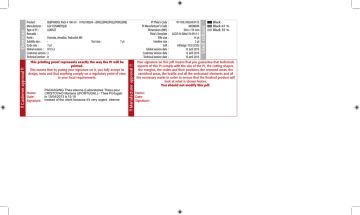 This printing proof represents exactly the way the PI will be
printed.
This means that by puting your signature on it, you fully accept its
design, texts and that anything comply on a regulatory point of view
to your local requirements.
Name:
Date:
Signature:
PACKAGING Thea etienne (Laboratoires Théa) pour
CRISTOVAO Mariana ((PORTUGAL) - Thea Portugal)
le 15/04/2013 à 15:18
instead of the client because it's very urgent. etienne
N1170L100L04/0113
XXXXXXXX
300 x 174 mm
LGCO-N-300x174-0911-1
14 pt
3 pt
InDesign 7.0.0 (CS5)
12 avril 2013
12 avril 2013
10 avril 2013
Used colours
PI Théa's Code :
PI Manufacturer's Code :
Dimensions (WH) :
Théa's Template :
Title size :
Interline size :
Soft :
Global version date :
Customer version date :
Technical version date :
!! Manufacturer approval !!
Overscan
!! Customer approval !!
Product :
BLEPHASOL Pack 4 100 ml - 1170L100L04 - (ENG)(SPA)(POL)(POR)(GRE)
Manufacturer :
LGV COSMETIQUE
Type of PI :
LEAFLET
Remarks :
Fonts :
Formata, Amœbia, Trebuchet MS
Subtitle size :
Text size :
7 pt
Code size :
7 pt
Global version : 0113-2
Customer version : 2
Technical version : 0
Black
Black 67 %
Black 35 %
Your signature on this pdf means that you guarantee that technicals
aspects of this PI comply with the size of the PI, the cutting shapes,
the margins, the codes and their positions, the reserved areas, the
varnished areas, the braille and all the embossed elements and all
the necessary marks in order to ensure that the finished product will
look at what is shown below.
You should not modify this pdf.
Name:
Date:
Signature:
Blephasol
ES
Blephasol
PL
Blephasol
Loción micelar sin conservante.
Higiene diaria de los párpados sensibles.
Frasco de 100 ml.
Płyn micelarny bez konserwantów .
Codzienna pielęgnacja wrażliwych powiek.
Butelka 100 ml.
Presentation:
Micelle lotion for cleansing sensitive eyelids.
100 ml bottle, preservative-free.
For cutaneous application.
Presentación:
Loción micelar para la limpieza de los
párpados sensibles. Frasco de 100 ml, sin conservante.
Para aplicación cutánea.
Postać:
Płyn micelarny do oczyszczania wrażliwych powiek.
Butelka 100 ml, bez konserwantów.
Do stosowania na skórę.
Properties and indications:
BLEPHASOL is recommended for the daily hygiene of sensitive eyelids, particularly
the free margin of eyelids.
Due to its micelle properties, BLEPHASOL mechanically removes impurities,
stains, dried secretions and make-up from eyelids and base of eyelashes.
BLEPHASOL, free from alcohol, detergents, and preservatives, gently cleanses
without irritating the eyes or damaging the outer layers of the epidermis which
protects the skin from harsh external elements (cold, sun, sweat, allergens, and
various pollutants, etc.).
Fragrance-free and non-greasy, BLEPHASOL does not need to be rinsed after use.
BLEPHASOL may be recommended to contact-lens wearers.
Propiedades e indicaciones:
BLEPHASOL está recomendado para la higiene diaria de los párpados sensibles y
sobre todo del borde palpebral libre.
BLEPHASOL, gracias a sus propiedades micelares actúa mecánicamente
eliminando las impurezas, manchas, costras y restos de maquillaje de los
párpados y de la raíz de las pestañas.
Carente de alcohol, detergente y agentes conservantes, BLEPHASOL limpia
suavemente sin irritar los ojos ni dañar las capas externas de la epidermis,
encargada de proteger la piel frente a las agresiones externas (frío, sol, sudor,
alergenos, agentes polutivos diversos, etc.). BLEPHASOL no es graso ni contiene
perfume, y no es necesario enjuagar los párpados después de usarlo.
BLEPHASOL también puede ser utilizado por personas que llevan lentes de
contacto.
Właściwości i wskazania:
BLEPHASOL jest zalecany do codziennej pielęgnacji wrażliwych powiek, zwłaszcza
brzegów powiek.
Dzięki zawartości miceli BLEPHASOL usuwa z powiek i nasady rzęs wszelkie
zanieczyszczenia, plamy, wysuszone wydzieliny oraz kosmetyki.
Nie zawiera alkoholu, detergentów ani konserwantów, dzięki czemu
delikatnie oczyszcza, nie podrażniając oczu i nie uszkadzając zewnętrznych
warstw naskórka chroniących skórę przed szkodliwym działaniem czynników
zewnętrznych (zimnem, słońcem, potem, alergenami, zanieczyszczeniami itd.).
BLEPHASOL jest bezwonny i nietłusty, dlatego nie wymaga spłukiwania po użyciu.
Zalecany jest także dla osób noszących soczewki kontaktowe.
Directions for use:
Twice daily on average, morning and evening, or whenever you
choose to cleanse your eyelids.
To cleanse and remove make-up from sensitive eyelids:
In front of a mirror:
1- Carefully apply an absorbent BLEPHASOL-impregnated
pad to the eyelids and the base of the eyelashes,
keeping your eye closed.
2- Gently massage the eyelids with small circular
movements in order to remove all debris and express
the contents of the tarsal glands.
3- Lightly stretch the eyelids, then gently rub the inner
edge of the eyelids with a clean absorbent pad or
cotton bud impregnated with BLEPHASOL to remove
any impurities lodged at the base of the eyelashes.
1
Modo de empleo:
Por término medio, dos veces al día, por la mañana y por la noche, o tantas veces
como desee limpiarse los párpados.
Para la limpieza y desmaquillaje de los párpados sensibles:
Colocarse frente al espejo:
1- Con los ojos cerrados, aplicar cuidadosamente una
compresa hidrófila embebida de BLEPHASOL sobre los
párpados y la base de las pestañas.
2
2- Masajear con delicadeza los párpados mediante
pequeños movimientos circulares, al objeto de
eliminar todos los restos y extraer el contenido de las
glándulas palpebrales.
4- Repeat each step for the other eye, using a clean absorbent pad.
No need to rinse after use.
Special warnings:
Do not swallow, do not place directly in the eyes, keep out of the reach of
children.
1- Ostrożnie przyłożyć chusteczkę nasączoną płynem
BLEPHASOL do powiek i nasady rzęs, nie otwierając
oczu.
1
2- Delikatnie masować powieki małymi, kolistymi
ruchami, aby usunąć wszelkie zanieczyszczenia i
wydzieliny gruczołów tarczkowych.
2
3- Lekko rozchylić powieki, następnie delikatnie
przetrzeć wewnętrzną część powieki za pomocą
czystej chusteczki nasączonej płynem BLEPHASOL,
usuwając wszelkie zanieczyszczenia z nasady rzęs.
3
1
2
3
3- Tirar ligeramente de los párpados, después frotar
cuidadosamente el borde interno de los párpados
con una compresa nueva o un bastoncillo de algodón
impregnado de BLEPHASOL para eliminar las impurezas
depositadas en la base de las pestañas.
Sposób użycia:
Średnio dwa razy dziennie, rano i wieczorem lub o dowolnej porze.
Aby oczyścić wrażliwe powieki i usunąć z nich makijaż, należy przed lustrem:
3
4- Repetir cada una de las etapas en el otro ojo, utilizando una compresa nueva.
No es necesario enjuagar los párpados después de usar BLEPHASOL.
Advertencias especiales:
No ingerir, no aplicar directamente en los ojos, mantener fuera del alcance de los
niños.
4- Czynność powtórzyć na drugim oku, używając nowej chusteczki.
Nie wymaga spłukiwania po uzyciu.
Ostrzeżenie:
Nie połykać, nie stosować bezpośrednio na oczy, przechowywać w miejscu
niedostępnym dla dzieci.
N1170L100L04/0113
EN
Preservative-free, micelle lotion.
Daily hygiene for sensitive eyelids.
100-ml bottle.
Blephasol
EMB XX XXXX
EL
Μικυλλιακή lotion, χωρίς συντηρητικά.
Καθημερινή υγιεινή για τα ευαίσθητα βλέφαρα.
Φιάλη των 100 ml.
Apresentação:
Loção micelar para limpeza das pálpebras sensíveis.
Frasco de 100 ml, sem conservante.
Para aplicação cutânea.
Παρουσίαση:
Μικυλλιακή lotion, για τον καθαρισμό των ευαίσθητων βλεφάρων.
Φιάλη των 100 ml, χωρίς συντηρητικά.
Για δερματική εφαρμογή.
Propriedades e indicações:
BLEPHASOL é recomendado para a higiene diária das pálpebras sensíveis e,
nomeadamente, do bordo palpebral livre.
Graças às suas propriedades micelares, BLEPHASOL actua mecanicamente,
eliminando as impurezas, crostas e maquilhagem das pálpebras e da raiz das
pestanas.
Não contém álcool, detergentes ou conservantes. BLEPHASOL limpa suavemente,
sem irritar os olhos nem agredir as camadas exteriores da epiderme, que
asseguram a protecção da pele contra as agressões exteriores (frio, sol, suor,
alergénios, poluentes, etc.).
Não perfumado e não gorduroso. Não é necessário lavar com água após utilização.
BLEPHASOL pode ser recomendado aos utilizadores de lentes de contacto.
Ιδιότητες και ενδείξεις:
Το BLEPHASOL συνιστάται για την καθημερινή υγιεινή των ευαίσθητων βλεφάρων,
ιδιαίτερα του ελεύθερου μέρους των βλεφάρων.
Χάρις στις μικυλλιακές του ιδιότητες, το BLEPHASOL, αφαιρεί μηχανικά τις
ακαθαρσίες, τους λεκέδες, τις ξεραμένες εκκρίσεις και το μέικ-απ από τα
βλέφαρα και τη βάση των βλεφαρίδων.
Το BLEPHASOL, χωρίς οινόπνευμα, απορρυπαντικούς παράγοντες και
συντηρητικά, καθαρίζει απαλά, χωρίς να ερεθίζει τα μάτια και χωρίς να προκαλεί
βλάβες στις εξωτερικές στιβάδες της επιδερμίδας οι οποίες προστατεύουν
το δέρμα από τους έντονους εξωτερικούς παράγοντες (κρύο, ήλιο, ιδρώτα,
αλλεργιογόνα και διάφορους ρυπογόνους παράγοντες κλπ.).
Χωρίς άρωμα και μη λιπαρό, το BLEPHASOL δεν χρειάζεται ξέπλυμα μετά τη
χρήση.
Το BLEPHASOL μπορεί να συνιστάται σε όσους φορούν φακούς επαφής.
Modo de emprego:
Em média, duas vezes por dia, de manhã e à noite, ou sempre que deseje limpar
as pálpebras.
Para limpeza e desmaquilhagem das pálpebras sensíveis:
Em frente de um espelho:
1- Aplicar delicadamente uma compressa hidrófila
humedecida com BLEPHASOL nas pálpebras e na raiz
das pestanas, com o olho fechado.
2- Massajar delicadamente as pálpebras com pequenos
movimentos circulares, a fim de eliminar todas
as impurezas e extrair o conteúdo das glândulas
palpebrais.
1
Οδηγίες χρήσης:
Δυο φορές την ημέρα, συνήθως πρωί και βράδυ, ή οποτεδήποτε θέλετε να
καθαρίσετε τα βλέφαρά σας.
Για τον καθαρισμό και την απομάκρυνση του μέικ-απ από τα ευαίσθητα
βλέφαρα:
Μπροστά σε ένα καθρέφτη:
1- Εφαρμόστε προσεκτικά μια κομπρέσσα, εμποτισμένη
με BLEPHASOL, στα βλέφαρα και τη βάση των
βλεφαρίδων, κρατώντας τα μάτια σας κλειστά.
1
2
3- Puxar ligeiramente as pálpebras e, em seguida, aplicar
delicadamente no bordo interno das mesmas, com uma
nova compressa ou um cotonete humedecidos com
3
BLEPHASOL para eliminar as impurezas alojadas na raiz
das pestanas.
4- Repetir estas etapas em relação ao outro olho, utilizando uma nova compressa.
Não é necessário lavar com água após utilização.
Precauções especiais:
Não ingerir, não aplicar directamente nos olhos, manter afastado das crianças.
2- Τρίψτε απαλά τα βλέφαρα με μικρές κυκλικές κινήσεις
έτσι ώστε να αφαιρέσετε όλα τα κατάλοιπα και να
απομακρύνετε τις εκκρίσεις των ταρσαίων αδένων.
3- Τεντώστε ελαφρά τα βλέφαρα, κατόπιν τρίψτε απαλά
το εσωτερικό άκρο των βλεφάρων με μια καθαρή
κομπρέσσα ή βαμβάκι, εμποτισμένα με BLEPHASOL
ώστε να αφαιρέσετε τυχόν ακαθαρσίες που βρίσκονται
στη βάση των βλεφαρίδων.
2
3
4- Επαναλάβετε κάθε βήμα για το άλλο μάτι, χρησιμοποιώντας μια καθαρή
κομπρέσσα.
Δεν χρειάζεται ξέπλυμα μετά τη χρήση.
Ειδικές προειδοποιήσεις:
Μην το καταπίνετε, μην το βάζετε απευθείας στα μάτια, να φυλάσσεται σε θέση
την οποία δεν προσεγγίζουν τα παιδιά.
Ingredient / Ingredientes /
/
Aqua, PEG-8, Polysorbate 20, Capryloyl glycine, Poloxamer 184, PEG-6 Caprylic/
Capric Glycerides, Dipotassium Phosphate, Sodium Hydroxide, Potassium
phosphate.
Manufacturer / Fabricante / Producent / Παρασκευαστής / Υπεύθυνος
Κυκλοφορίας:
Laboratoires Théa
12, rue Louis-Blériot
F-63017 Clermont-Ferrand Cedex 2
Tél. /
+33 (0)4 73 98 14 36
XXXXXXXXX
Blephasol
Made in France /
N1170L100L04/0113
PT
Loção micelar, sem conservante.
Higiene diária das pálpebras sensíveis.
Frasco de 100 ml.

* Your assessment is very important for improving the work of artificial intelligence, which forms the content of this project