Motorola MOTOSLVR L7 Quick start guide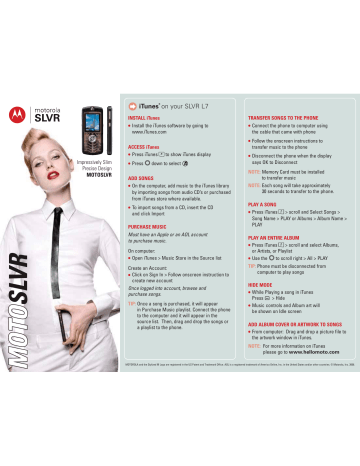 ®
iTunes on your SLVR L7
INSTALL iTunes
TRANSFER SONGS TO THE PHONE
• Install the iTunes software by going to
• Connect the phone to computer using
www.iTunes.com
the cable that came with phone
• Follow the onscreen instructions to
ACCESS iTunes
Impressively Slim
Precise Design
MOTOSLVR
• Press iTunes to show iTunes display
• Press down to select
ADD SONGS
• On the computer, add music to the iTunes library
by importing songs from audio CD's or purchased
from iTunes store where available.
• To import songs from a CD, insert the CD
and click Import
PURCHASE MUSIC
Must have an Apple or an AOL account
to purchase music.
On computer:
• Open iTunes > Music Store in the Source list
Create an Account:
• Click on Sign In > Follow onscreen instruction to
create new account
Once logged into account, browse and
purchase songs.
TIP: Once a song is purchased, it will appear
in Purchase Music playlist. Connect the phone
to the computer and it will appear in the
source list. Then, drag and drop the songs or
a playlist to the phone.
transfer music to the phone
• Disconnect the phone when the display
says OK to Disconnect
NOTE: Memory Card must be installed
to transfer music
NOTE: Each song will take approximately
30 seconds to transfer to the phone.
PLAY A SONG
• Press iTunes
> scroll and Select Songs >
Song Name > PLAY or Albums > Album Name >
PLAY
PLAY AN ENTIRE ALBUM
• Press iTunes > scroll and select Albums,
or Artists, or Playlist
• Use the to scroll right > All > PLAY
TIP: Phone must be disconnected from
computer to play songs
HIDE MODE
• While Playing a song in iTunes
Press a > Hide
• Music controls and Album art will
be shown on Idle screen
ADD ALBUM COVER OR ARTWORK TO SONGS
• From computer: Drag and drop a picture file to
the artwork window in iTunes.
NOTE: For more information on iTunes
please go to www.hellomoto.com
MOTOROLA and the Stylized M Logo are registered in the US Patent and Trademark Office. AOL is a registered trademark of America Online, Inc. in the United States and/or other countries. © Motorola, Inc. 2006.

* Your assessment is very important for improving the work of artificial intelligence, which forms the content of this project