Delock 54223 1,8" Micro SATA Solid State Disk 16GB Data Sheet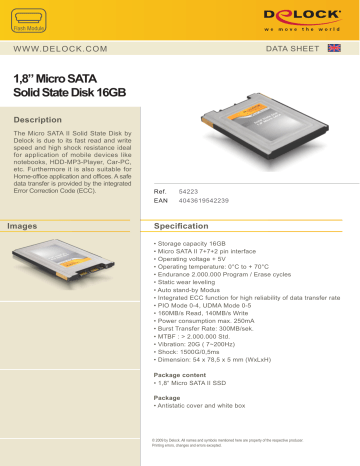 WWW. D E L O C K . C O M
DATA SHEET
1,8" Micro SATA
Solid State Disk 16GB
Description
The Micro SATA II Solid State Disk by
Delock is due to its fast read and write
speed and high shock resistance ideal
for application of mobile devices like
notebooks, HDD-MP3-Player, Car-PC,
etc. Furthermore it is also suitable for
Home-office application and offices. A safe
data transfer is provided by the integrated
Error Correction Code (ECC).
Art.
EAN
Images
Ref.
54223
EAN
4043619542239
Specification
• Storage capacity 16GB
• Micro SATA II 7+7+2 pin interface
• Operating voltage + 5V
• Operating temperature: 0°C to + 70°C
• Endurance 2.000.000 Program / Erase cycles
• Static wear leveling
• Auto stand-by Modus
• Integrated ECC function for high reliability of data transfer rate
• PIO Mode 0-4, UDMA Mode 0-5
• 160MB/s Read, 140MB/s Write
• Power consumption max. 250mA
• Burst Transfer Rate: 300MB/sek.
• MTBF : > 2.000.000 Std.
• Vibration: 20G ( 7~200Hz)
• Shock: 1500G/0,5ms
• Dimension: 54 x 78,5 x 5 mm (WxLxH)
Package content
• 1,8" Micro SATA II SSD
Package
• Antistatic cover and white box
© 2009 by Delock. All names and symbols mentioned here are property of the respective producer.
Printing errors, changes and errors excepted.

* Your assessment is very important for improving the workof artificial intelligence, which forms the content of this project