TRENDnet TFM-560U - DATA SHEETS Specifications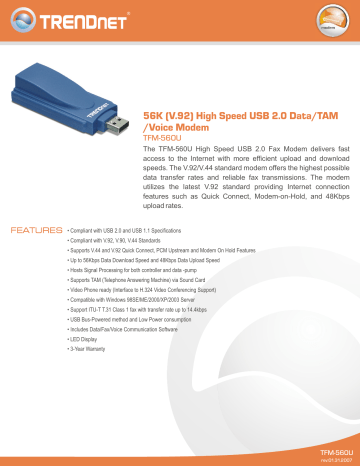 56K (V.92) High Speed USB 2.0 Data/TAM
/Voice Modem
TFM-560U
The TFM-560U High Speed USB 2.0 Fax Modem delivers fast
access to the Internet with more efficient upload and download
speeds. The V.92/V.44 standard modem offers the highest possible
data transfer rates and reliable fax transmissions. The modem
utilizes the latest V.92 standard providing Internet connection
features such as Quick Connect, Modem-on-Hold, and 48Kbps
upload rates.
FEATURES
• Compliant with USB 2.0 and USB 1.1 Specifications
• Compliant with V.92, V.90, V.44 Standards
• Supports V.44 and V.92 Quick Connect, PCM Upstream and Modem On Hold Features
• Up to 56Kbps Data Download Speed and 48Kbps Data Upload Speed
• Hosts Signal Processing for both controller and data -pump
• Supports TAM (Telephone Answering Machine) via Sound Card
• Video Phone ready (Interface to H.324 Video Conferencing Support)
• Compatible with Windows 98SE/ME/2000/XP/2003 Server
• Support ITU-T T.31 Class 1 fax with transfer rate up to 14.4kbps
• USB Bus-Powered method and Low Power consumption
• Includes Data/Fax/Voice Communication Software
• LED Display
• 3-Year Warranty
TFM-560U
rev:01.31.2007
56K (V.92) High Speed USB 2.0 Data/TAM/Voice Modem
TFM-560U
SPECIFICATIONS
Hardware
Standard
• USB 2.0
• USB 1.1
Interface
• 1 x USB 2.0 /1.1 (Type A), 1 x RJ-11 Port (Phone Line)
Data Mode
• V.92 & V.90, V.34, V.32(bis), V.22(bis), V.22, V.23, V.21, Bell 212A, Bell 103
Error Correction
Data Compression
• V.42, LAPM & MNP 2-4
• V.44, V.42(bis) & MNP5
Fax Mode
• ITU-T V.17, V.29, V.27ter and V.21 ch2, ITU-T T.31 Class1 Fax
Power Management
• USB Bus-Powered
Power Consumption (Input 3.3VDC)
• Idle Mode: 65mW, Operating Mode: 134mW
Dimensions
• 100 x 35 x 23mm (3.94 x 1.38 x 0.91in.)
Weight
• 25g (0.88oz.)
Temperature
• Operating: 0°C~ 40°C (32°F~ 104°F)
Humidity
• 10%~90% (non-condensing)
Certifications
• FCC, CE
NETWORKING SOLUTIONS
• Storage: -20°C~ 60°C (-4°F~140°F)
PACKAGE CONTENTS
• TFM-560U
Workstation with 56K (V.92)
USB 2.0 Data/Fax/Voice Modem
(TFM-560U)
• Multi-Language QIG
• Driver CD-ROM
• RJ-11 Telephone Cable
RELATED PRODUCTS
Internet
TFM-PCIV92A
56K (V.92) High Speed Internal PCI Data/Fax/Voice
Modem
TFM-560X
External 56K (V.90) High Speed Voice/Fax Modem
Phone Jack
ORDERING INFORMATION
20675 Manhattan Place,Torrance, CA 90501 USA
Tel: 1-310-961-5500
Fax: 1-310-961-5511
Web: www.trendnet.com
Email: [email protected]
To Order Please Call:
1-888-326-6061
TRENDnet is a registered trademark. Other Brands and product names are trademarks of their respective holders. Information provided in this document pertain to TRENDnet
products and is subject to change at any time, without notice. For the most recent product information please visit http://www.trendnet.com.
Copyright © TRENDnet. All Rights Reserved.

* Your assessment is very important for improving the workof artificial intelligence, which forms the content of this project