Whirlpool WGT4027HW Specification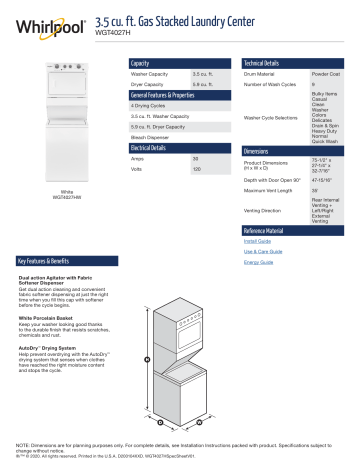 3.5 cu. ft. Gas Stacked Laundry Center
WGT4027H
Capacity
Technical Details
Washer Capacity
3.5 cu. ft.
Drum Material
Powder Coat
Dryer Capacity
5.9 cu. ft.
Number of Wash Cycles
9
Washer Cycle Selections
Bulky Items
Casual
Clean
Washer
Colors
Delicates
Drain & Spin
Heavy Duty
Normal
Quick Wash
General Features & Properties
4 Drying Cycles
3.5 cu. ft. Washer Capacity
5.9 cu. ft. Dryer Capacity
Bleach Dispenser
Electrical Details
Dimensions
Amps
30
Volts
120
White
WGT4027HW
Product Dimensions
(H x W x D)
75-1/2" x
27-1/4" x
32-7/16"
Depth with Door Open 90°
47-15/16"
Maximum Vent Length
35'
Venting Direction
Rear Internal
Venting +
Left/Right
External
Venting
Reference Material
Install Guide
Use & Care Guide
Key Features & Benefits
Energy Guide
Dual action Agitator with Fabric
Softener Dispenser
Get dual action cleaning and convenient
fabric softener dispensing at just the right
time when you fill this cap with softener
before the cycle begins.
White Porcelain Basket
Keep your washer looking good thanks
to the durable finish that resists scratches,
chemicals and rust.
AutoDry™ Drying System
Help prevent overdrying with the AutoDry™
drying system that senses when clothes
have reached the right moisture content
and stops the cycle.
NOTE: Dimensions are for planning purposes only. For complete details, see Installation Instructions packed with product. Specifications subject to
change without notice.
®/™ © 2020. All rights reserved. Printed in the U.S.A. D200104XXD. WGT4027HSpecSheetV01.

* Your assessment is very important for improving the workof artificial intelligence, which forms the content of this project