Sony VGC-RB56G Desktop Manual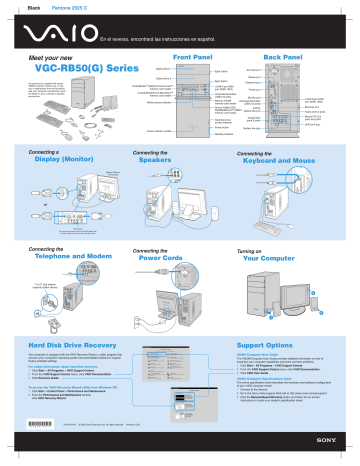 Black
Pantone 2925 C
En el reverso, encontrará las instrucciones en español.
Front Panel
Meet your new
VGC-RB50(G) Series
Back Panel
Optical drive 1
Eject button
Mouse port
Optical drive 2
Eject button
Accessories are supplied with certain
VAIO® computer models only, or may
vary in appearance from the illustration.
See your computer's specification sheet
for details on your computer's supplied
accessories.
AC input port
SmartMedia™ (SM)/xD-Picture Card™
memory card reader
i.LINK 4-pin S400
port (IEEE 1394)
CompactFlash® and Microdrive™
memory card reader
Universal Serial Bus
(USB 2.0) ports
Memory Stick®
memory card reader
Media access indicator
Keyboard port
Printer port
Monitor port
Universal Serial Bus
(USB 2.0 ports)
ENTER
CLEAR
1
GHI
CH
PG
6
9
Hard disk drive
access indicator
#
MNO
WXYZ
3
2
5
8
0
JKL
TUV
4
7
*
PQRS
MORE
+
-
DEF
DVD
MENU
LIVE TV
START
ABC
GUIDE
MUTE
+
VOL
RECORDED
TV
STANDBY
FORWARD
PAUSE
SKIP
STOP
OK
REPLAY
RECORD
MY TV
BACK
REVERSE
MY
MY MUSIC PICTURES
MY VIDEOS
Secure Digital (SD)/
S/PDIF
MultiMediaCard™ (MMC) Optical Out port
memory card reader
Power button
i.LINK 6-pin S400
port (IEEE 1394)
Ethernet port
WOOFER
CENTER
REAR
FRONT
Audio/Video
ports & jacks
Audio ports & jacks
Monitor/TV Out
ports and jacks
VHF/UHF port
Modem line jack
Power indicator (VAIO)
Standby indicator
Connecting a
Connecting the
Display (Monitor)
Connecting the
Speakers
Keyboard and Mouse
WOOFER
CENTER
Display (Monitor)
not included
REAR
FRONT
or
DVI-D port
(Do not connect both the DVI-D and VGA cables from
a single monitor to the computer at the same time.)
Connecting the
Connecting the
Telephone and Modem
Power Cords
Turning on
Your Computer
"1-to-2" jack adapter
(optional splitter device)
Hard Disk Drive Recovery
Support Options
Your computer is equipped with the VAIO Recovery Wizard, a utility program that
recovers your computer's operating system and preinstalled software to original
factory-installed settings.
VAIO® Computer User Guide
The VAIO® Computer User Guide provides detailed information on how to
maximize your computer capabilities and solve common problems.
1 Click Start > All Programs > VAIO Support Central.
2 From the VAIO Support Central menu, click VAIO Documentation.
3 Click VAIO User Guide.
For online information about hard disk recovery:
1 Click Start > All Programs > VAIO Support Central.
2 From the VAIO Support Central menu, click VAIO Documentation.
3 Click Recovery Guide.
VAIO® Computer Specifications sheet
The online specification sheet describes the hardware and software configuration
of your VAIO computer model.
1 Connect to the Internet.
2 Go to the Sony online support Web site at http://www.sony.com/pcsupport.
3 Click the Manuals/Specs/Warranty button and follow the on-screen
instructions to locate your model's specification sheet.
To access the VAIO Recovery Wizard utility from Windows XP:
1 Click Start > Control Panel > Performance and Maintenance.
2 From the Performance and Maintenance window,
click VAIO Recovery Wizard.
*265497401*
2-654-974-01
© 2005 Sony Electronics Inc. All rights reserved.
Printed in USA.

* Your assessment is very important for improving the workof artificial intelligence, which forms the content of this project