nacon UNLIMITED PRO CONTROLLER UPC Quick Start Guide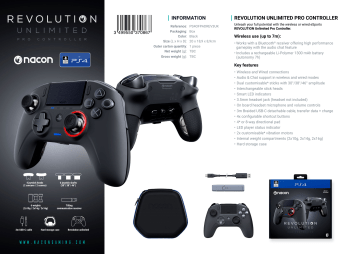 INFORMATION
3 499550 370867
Reference:
Packaging:
Color:
Size (L x H x D):
Outer carton quantity:
Net weight (g):
PS4OFPADREV3UK
Box
Black
20 x 18,9 x 8,9cm
1 piece
TBC
Gross weight (g): TBC
REVOLUTION UNLIMITED PRO CONTROLLER
Unleash your full potentialwith the wireless or wired eSports
REVOLUTION Unlimited Pro Controller.
Wireless use (up to 7m):
•W
orks with a Bluetooth® receiver offering high performance
gameplay with the audio chat feature
• Includes a rechargeable Li-Polymer 1300 mAh battery
(autonomy 7h)
Key features
•
•
•
•
•
•
•
•
•
•
•
•
•
•
4 joystick heads
(2 concave / 2 convex)
6 weights
(2x10g / 2x14g / 2x16g)
3mUSB-C cable
6 joystick shafts
(30°/ 38°/ 46°)
Tilting
communication receiver
Hardstorage case
Revolution unlimited
w w w . na co n g am in g .c o m
Wireless and Wired connections
Audio & Chat support in wireless and wired modes
Dual customisable* sticks with 30°/38°/46° amplitude
Interchangeable stick heads
Smart LED indicators
3.5mm headset jack (headset not included)
On board headset microphone and volume controls
3m Braided USB-C detachable cable, transfer data + charge
4x configurable shortcut buttons
4* or 8-way directional pad
LED player status indicator
2x customisable* vibration motors
Internal weight compartments (2x10g, 2x14g, 2x16g)
Hard storage case
REVOLUTION UNLIMITED
PRO CONTROLLER MODES
Jump straight into the action in PS4™ Mode, or take your play further
with fully customisable profiles in Advanced Mode
01. PS4™ Mode
• Plug & Play functionality with integrated DUALSHOCK®4 controls**
• Enhanced dual stick control with 46° amplitude
•M
anually customise the 4x shortcuts buttons
02. PS4™ Advanced Mode
• Instantly switch between 4x pre-loaded custom profiles
to suit a range of games
• Modify or replace those profiles with 4x of your own
(via the upgraded PC/Mac companion app*):
• Adjust the response curve of each stick
• Reverse Y-axis of your sticks
• Reverse your left and right sticks
• Adjust the sensitivity and dead-band of each trigger
• Independently adjust the vibration intensity
on the left and right hand grips
• Change the right stick light for a custom look
03. PC Advanced Mode***
• PC Compatible
* Windows® 7/8/1O PC or Mac and Internet connection required, registration required to download the software.
** Light bar and speaker not included or available.
*** PC Advanced Mode not tested nor endorsed by Sony Interactive Entertainment Europe.
Licensed for sale in Europe, Africa, Middle East, Russia, India and Oceania. For use exclusively with PlayStation®4.
Manufactured by BIGBEN INTERACTIVE.
"2", "PlayStation", "
", "
" and "DUALSHOCK" are registered trademarks of Sony Interactive Entertainment Inc.
All rights reserved.

* Your assessment is very important for improving the workof artificial intelligence, which forms the content of this project