Triumph Tribune - Triumph Club of the Carolinas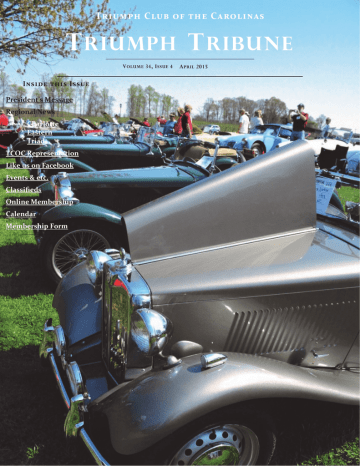 Triumph Club of the Carolinas
T
RIUMPH
T
RIBUNE
V
OLUME
34, I
SSUE
4
A
PRIL
2015
Inside this Issue
Regional News
Triumph Club of the Carolinas
T
RIUMPH
T
RIBUNE
V
OLUME
34, I
SSUE
4
A
PRIL
2015
TCOC Officers
The President's Message
by Steve Ward
SPRING IS FINALLY HERE and I could not be happier. The weather has finally turned for the better and opportunities to get out the TR6 and do some driving are more frequent; I must admit I will find excuses to get behind the wheel. The GATHERING is just around the corner and by the time this issue reaches you it will be just over a week away. Registrars John and Mary Long have been sending out weekly reports telling us where we stand on registrations and it appears that we are slightly ahead of last year's numbers and that bodes well for us having another stellar turnout. So keep your fingers crossed for good weather that weekend.
Attached to this column is a photo taken to document the first "official" meeting of the TCOC's London Region.
Mary and I were in England the second week of March with a group of 9 students from Belmont Abbey College who are taking a course I am teaching this Spring on The English Foundations of American Law. The lecture portion of the course was held in January and February and followed by a trip to London over Spring Break. As many of you know, Vernon Brannon spends a great deal of time in England and happened to be there at the same time we were and was able to join our group one evening for Fish and Chips. Of course a meal of this kind would not be complete without a pint or two and in honor of the occasion, and to mark it as an official TCOC event, we had
Spitfire Ale. Everyone thoroughly enjoyed the evening. Since our return, the campus has been buzzing about our trip and I have been approached by several students asking if a trip is planned for 2016. So hopefully this time next year we will have a report of the second meeting of the London Region.
Though my comments above are somewhat tongue in cheek about a "London Region", I thought it might be fun to set up some criteria for "establishing" temporary Regions outside of our two state area.
Here are the requirements I have come up with.
1) There must be members from at least 2 separate membership numbers present
2) The meeting must be held outside North and
South Carolina
3) A photo must be taken to document the meeting
4) British Beer must be consumed
5) A British theme must be represented.
(Here it was the Norfolk Arms Pub on Leigh Street in London in the background, but a Triumph in the photo, or holding a "Union Jack" Flag or British Beer would qualify.)
I thought this might be a fun way to report about our travels and "grow" our club beyond the borders of our two states. Let me close by urging everyone to take advantage of the beautiful Spring weather and get out and drive your car.
And of course it goes without saying to KEEP YOUR TOPS DOWN! See you in Dobson!
President
Steve Ward
Regional Vice Presidents:
- Charlotte
Gordon Dedrick
- Eastern
Paul Morro
- Triad
Melody Nance
Communications /
Promotions Chair
Karnam Marvin
Membership Chair
Reeve Samson
Treasurer
John Walls
Historian / Secretary
Jack McGahey
Publications Editor
Brian Huneycutt
Web Mechanic
Chris Simonsen
Cover photo:
MG-T's at the
Gathering. April, 2014
by Brian Huneycutt
P
AGE
3
T
RIUMPH
T
RIBUNE
Charlotte Region News by Gordon Dedrick
The Bradford pear trees are blooming, I'm beginning to see pollen on the top of my car, and I have had to mow the lawn once already. That can only mean ONE THING..
IT'S TIME FOR THE GATHERING !!!
I, for one, am more than ready for some extended seat time and touring around Charlotte and Dobson in the TR. By the time you read this, the Charlotte group will have held their first Tech Session and drive hosted by George Lafave on Saturday March 28.
Earlier this month we enjoyed another great meal together at Pike's Soda Shop. Thanks to Scott Huff for detailed parking instructions.
NOW, WHO IS READY FOR A REAL ROAD TRIP ?
I want to take some time this month to reach out to all our members and invite them to participate in a TCOC Road Trip to the
Moss Motorfest at their East Coast facility in Petersburg, VA on June 6, 2015. We are fortunate to have them close enough that we can get parts quickly when needed and in proximity for a comfortable drive. Specific details for the event can be found on the Moss website, but briefly, it includes a cocktail party at the Keystone Truck and Tractor Museum on Friday night, and a car show for
British cars and Miatas at the Moss facility on Saturday. I'd really love to have a large turnout and show the rest of the folks what a great Club (and cars) we have.
Here is the plan:
We will drive up on Friday June 5 with three rally points:
 First group will leave from Charlotte at 9 AM.

We'll pick up the second group in Asheboro at about 9:30, and

Grab the last folks at a TBD point near Burlington NC at 12:30PM.
From there we'll drive up to Petersburg, check into our hotel, and get ready for the festivities.
In order to participate you MUST register your car with Moss ($20.), and register for cocktail party tickets at $20. per person if you are interested as well. Everyone who registers before May 1, 2015 will be entered into a drawing for a Moss $250 gift certificate.
By doing so, Moss will get a good idea of how many people they need to prepare for. And here is where I need your help.
I'd also like to have an idea of how many might be interested in joining our merry band for the trip. Please see me at the Gathering, or send me an e-mail at [email protected]
. I know we'll all have a great time. If we can get a LARGE group, not only will we make a spectacle of ourselves on the road there, but I might be convinced to drive a chase vehicle with a trailer and tools in case anyone has an issue along the way. If you are interested, please take a minute to drop me a note. Once I have some idea of numbers
I'll see if I can arrange a group rate at a hotel a little further south than the one Moss is using so we could all leave around 2 or 3PM on Saturday and get home before dark. Sound like fun? Send me a note to let me know you are ALL IN as well ! I need a final count of participants by May 1, which is also the cutoff date for the Moss $250 gift card entry.
More details are available here: www.mossmotors.com/sitegraphics/Motorfest/info.html
P
AGE
4
T
RIUMPH
T
RIBUNE
Eastern Region News by Paul Morro
The March meeting for the Eastern Band of The Triumph Tribe was the annual oyster roast at Marilyn and Paul's home. It was well attended and went on till after midnight. The driveway was awash in Triumphs, almost looked like a small car show.Two bushels of oysters were consumed along with many libations. Gary and Sharon Brooks, new TCOC members, showed up and were duly indoctrinated into the club. Mike and KT Brown, previous Triumph camp followers, finally took the plunge and joined
TCOC as well. Welcome to all of you!
Kelly Simonsen held court at the event and entertained all there with a hilarious story of a commute to work one day, being an attractive blond in a sports car. That is all I can say about that in a G rated journal.
L-R, Linda Cain, Harriet Barber, Bob Suchy
( at table) Reeve Samson, Gary & Sharon
Brooks. Rick Scott & Steve Barber (far back),
Bob & Trish Miller, Carmela Samson
Later that month we had a small
Triumph related tech session and removed the radiator and drivers seat from the TVR 280i that we are refurbishing for Wheels 4 Hope.
We welded and repaired the bottom seat frame.
The previous (broken) weld and repair can only be described as "hamfisted", a term I read in a Triumph restoration manual. The seat back was sent to an upholstery shop for repair and the radiator was dropped off at North Raleigh Radiator.
Woody, the proprietor of North Raleigh Radiator, called me about a week later to come and look at the dismantled radiator. He pointed out that the core was oversize but the upper and lower tanks were not. He stated he could fill in the difference between the tanks and cores, but, "If I die before this is done, I don't want anyone to think I made this thing."
No problem, Woody, and thank you for letting me bring in all the semi-obscure radiators I come across. He ended our conversation by stating this unit, "is one hell of a heat exchanger!"
(continued)
P
AGE
5
Eastern Region News by Paul Morro
I called another new member, Kevin Duffy, to welcome him to the club. It turned out he lived about a mile away. Later that week he dropped by to show off his sweet Java Green 1976 TR6 and showed me a brand new pair of SU carbs in the trunk, that he wanted to install later this year. Sounds like another tech session.
Bob Suchy will be hosting a Pre-Gathering tech session for anyone wanting to tweak their cars before the pilgrimage to Dobson. Jeff Morgan and I plan to refit the "heat exchanger" to the TVR.
The April meeting will be The Gathering, see you there.
May- Chris and Kelly Simonsen plan to host and inaugurate their new
GARAGE.
June-Rick Scott is opening up his ranch in Durham for tech session and camaraderie.
Details to follow.
BTW if any Eastern Region member is not on my group email, and wishes to be, please let me know.
Thanks,
Paul Morro [email protected]
919/271-2674
T
RIUMPH
T
RIBUNE
Harriet Barber, Linda Cain, 2 neighbors, Bob Suchy at the
Oyster Roast
Chris Simonsen on oyster duty (2nd from left), Jeff
Morgan (far right)
P
AGE
6
T
RIUMPH
T
RIBUNE
Triad Region News by Melody Nance
HAPPY SPRING!
THANKS to everyone that made it out to our March Dinner at Don Juan's despite the sleet….Ten of us
enjoyed a fun evening catching up and discussing upcoming events. As it turned out, the odds were in my favor, and I had the winning ticket in our monthly gift card drawing. CONGRATULATIONS to Me….Winner of a Panera Gift Card……..Our next dinner will be on Thursday, April 9th at Out West Steakhouse in
Kernersville at 6:30pm. I hope to see everyone there:)
We are now only (3) weeks away from The Gathering . I just want to thank everyone again who signed up for parking duties. Your help is always appreciated:) Here are your parking time reminders:
7:30am-9:30am
Daryl Siefert Austin-Healey
Jeff Webber
Ron Hassell
Austin-Healey
Jaguar
Jim Saunders
Dick Birch
Jaguar
MG
Louis Ezzelle MG
Eric Henningsen Triumph
9:30am-11:30am
Daryl Siefert
Laura Nance
Richard King
Austin Healey
Austin-Healey
Jaguar
Jim Haley MG
Roger Dellinger MG
Steve Nance Triumph
Steve Lail
Carl Davidson
Charlie Cook
Triumph
Triumph
Morgan/Lotus/TVR
Robert "Pedro"
Jeff Webber
Mike Alford
Triumph
Triumph
Morgan/Lotus/TVR
LADIES don't forget…...Harvest Grill on Friday, April 17th…..We will meet in the lobby at 6:30pm! Please let
Jan Cook know if you want to join us (limited seating)
TRiad Table: We will have a pot luck picnic by the stream in front of the winery on Saturday, April 18th. Lori
has emailed everyone the sign up sheet so please be sure to email her and let her know what you would like to bring and she will add it to the list. Please bring your contribution for the table by 11:15am at the latest, as we will begin eating at 11:30am.
Steve and I will be eating at the Cody Creek Restaurant on Saturday, April 18th...Please let me know on Friday if you are interested in joining us so I can make reservations on Saturday morning. We will be meeting in the lobby at 6:30pm….
OTHER APRIL EVENT:
April 25th Higgins Farm 10:00am-6:00pm Bring your favorite dish to share with the group!
In closing, please keep Gary and Judy Edwards in your prayers as Gary is recovering from recent
surgery.
Rest up and get ready for the BIG EVENT, and until then…
don't forget to have some FUN! Mel
P
AGE
7
T
RIUMPH
T
RIBUNE
TCOC Representation
Eastern Region Tech Session Review: Bob Suchy
On Saturday April 4, 2015 a Pre-Gathering Tech Session was held at the garage of Bob Suchy. Attendees were Lester Staub, Jim Cain, Mario de
Aranzeta, Steve Barber (arrived in his TR4A), Frank Suchy, and Bob Suchy.
The only Triumph work identified to be done was on Bob Suchy's TR3. This included re-torqueing the head bolts and then re-adjusting the valve clearance following the recent engine rebuild. In addition, Frank planned to install a USB port under the dash for using GPS on his Smart phone without using the phone's battery.
We started the TR3 and let it fully warm up. We then removed the valve cover and the rocker arm assembly. We torqued the head bolts to 103 foot pounds following the sequence shown in the service manual.
Lester Staub, Bob Suchy, and Jim Cain: Checking the push rods Lester Staub & Jim Cain: Tightening down the rocker assembly
Frank, Lester, and Jim all got to pull on the torque wrench. The 103 ft pounds takes quite a bit of strength to pull. We then replaced the rocker assembly and torqued those 4 nuts to 26 pounds per the manual, while Jim and Lester carefully ensuring that all the push rods were centered on the back end of each rocker arm.
As the engine cooled down for adjusting the valve clearance, Frank proceeded to determine a good place to install the USB port that would allow for quick and easy access.
Frank Suchy:
Tighening down the
rocker assembly
The team provided suggestions to Frank and joined in many good discussions concerning events they had attended and status of their cars. Since it was noon by now the team agreed to have pizza for lunch. An extra large 3 topping pizza was ordered from Papa Johns and it arrived very quickly.
After lunch we determined that the engine had cooled enough to adjust the valve clearance.
We pulled the spark plugs to make it easier to turn the engine. As Frank turned over the engine using the bolt on the new front damper, the rest of the team watched the valves to advise when each valve was fully opened. Bob then adjusted each valve.
We used the rule of 9 to determine which valve should be adjusted based on which valve was fully open, example: adjust valve 7 when valve 2 is fully open.
(continued)
P
AGE
8
T
RIUMPH
T
RIBUNE
TCOC Representation
Since it was getting late in the afternoon several members of the team had to leave. Frank, Mario, and Bob continued to work on installing the
USB port. We made a bracket to mount the USB under the dash and decided to push the wires through the dash beside the large main cable harness. Mario soldered in an in-line fuse in the power wire and we connected that to the starter solenoid. Since I always turn the power off at the negative battery pole when the car is not running there will be no power drain, since we did not wire it to switched power. After we got the USB port bolted on and the wires connected, Frank plugged in his Smart phone and it worked great.
USB port installed under dash near the add-on heater control knob
P
AGE
9
T
RIUMPH
T
RIBUNE
Our work here will not replace the newsletter or the communications from our regional VP's - it will only enhance it!
You can easily share pictures of your cars, events, and other happenings. For any questions, contact our social media coordinator, Karnam Marvin on
TCOC: Like us on Facebook!
The Triumph Club of the Carolinas is now active on both Twitter and
Facebook. If you're on either of these social
media outlets, please like us, follow us, and join in the conversation!.
https://twitter.com/tcoc_nc https://www.facebook.com/ triumphclubcarolinas
We have a new Facebook page just for The
Gathering too! Look for more content and show details as April approaches:
facebook.com/tcocgathering
Our online presence here will help us to attract new members, and more easily stay in touch with current members that have an active digital lifestyle.
P
AGE
10
E
VENTS
& O
THER
N
EWS
T
RIUMPH
T
RIBUNE
P
AGE
11
E
VENTS
& O
THER
N
EWS
T
RIUMPH
T
RIBUNE
P
AGE
12
E
VENTS
& O
THER
N
EWS
T
RIUMPH
T
RIBUNE
http://justbritish.carnellm.com/wp-content/uploads/2014/04/BMCD.pdf
P
AGE
13
T
RIUMPH
T
RIBUNE
E
VENTS
& O
THER
N
EWS https://www.facebook.com/MeetMeDowntown
Downtown Monroe Cruise-in
April's Feature: Race cars. April 10
May's Feature: British cars! (and other Euro makes as well). No charge, just a fun get together.
May 8
P
AGE
14
T
RIUMPH
T
RIBUNE
E
VENTS
& O
THER
N
EWS
http://www.ncmgcarclub.org/wp-content/uploads/2015/03/Two-Page-New-Brochure-2015.pdf
P
AGE
15
E
VENTS
& O
THER
N
EWS
T
RIUMPH
T
RIBUNE
P
AGE
16
E
VENTS
& O
THER
N
EWS
Registration: http://www.sbmoc.com/Great%20Scot%20Registration%202015.htm
T
RIUMPH
T
RIBUNE
P
AGE
17
E
VENTS
& O
THER
N
EWS
T
RIUMPH
T
RIBUNE
P
AGE
18
T
RIUMPH
T
RIBUNE
C
LASSIFIEDS
& A
DVERTIS EMENTS
TCOC Regalia Store
http://www.fourth-gear-ltd.com
Triumph Club of the Carolinas, Triumph logos, many others available
Code CL025:
Code CL018:
If there is anything special you would like you can always
contact me directly
and we can quote it for you.
Ralph Jannelli, Fourth Gear Ltd.
P
AGE
19
T
RIUMPH
T
RIBUNE
C
LASSIFIEDS
& A
DVERTIS EMENTS
Editor's Note: Ad holders will be contacted monthly to confirm that the listings are still needed, and no changes
required. Contact Brian Huneycutt - [email protected]
- with any updates.
Wanted: 1980 or 1981 TR8 in Tier2 - Tier 3 condition as rated by Hagerty Insurance.
Call or email Eric Levitt: 704-798-6901
1978 Triumph Spitfire for sale
Overdrive transmission; rebuilt engine; matching hardtop; new interior (seats and carpet); custom made wood dashboard; Weber carb; brakes; clutch; etc. We also have the original 4 speed. $5,500.
Call Neal De Hart in the evening at 704-947-9110 or Cell 704-277-5718
Herald / Spitfire Engines for sale
All ready to rebuild, make an offer
Contact Brian Huneycutt at [email protected]
for information.
948 cc Herald engine Y18210HE/ Bilchrome block/
Twin SU carbs
1143cc engine GD57553HE w/ Solex carb. Complete with generator, fuel pump, starter. Originally accompanied car Y15445L
1143cc engine, serial illegible. Complete with generator, fuel pump, starter
1147 Spitfire engine
Four Herald 4 speed Transmissions - Part 303709R, three w/ bell housing part 306322
P
AGE
20
T
RIUMPH
T
RIBUNE
C
LASSIFIEDS
& A
DVERTIS EMENTS
Wanted
TR6 later model "Type J overdrive transmission" that is rebuildable, or a TR6 parts car with a
Type J overdrive transmission.
Please call or email Scott Huff at [email protected]
or 415-350-7059.
Miscellaneous Parts and Accessories

Original, brand NEW, still in plastic wrap, Haynes TR5, 250 & 6 Owner's Workshop Manual - impossible to find, USED ones sell for up to $800. Would let this one go for $800.

USED Haynes Triumph TR250 &6 Owners Workshop Manual, all pages intact ( I bought it new in the '70s). Sell for $100.
*****NOTE***** there are "digital reprints" of these manuals out there for sale. Mine are original

Complete copy of the TR4A spare parts list, including drawings, Part number 514837 "Triumph Sports Car 20 TR4a, commission number CT500001 and future, Stanpart Spare Parts Catalogue, first edition" . - $25
The following parts are as a package for $100

New
Miscellaneous parts for
Triumph TR4a, TR250, TR6, including:
New OEM paper oil filter two new OEM air filters (fingerprints visible in metal)
(3) British Leyland Part number WF000508 C& washers
(2) TRF Girling P/N 88 519731 SP 2489/1 :Disc Brake Kit (one axle set)
(1) P/N 88 069537 Washer
(1) CDSE Stromberg Carburetors Gasket Set, made in England
(4) P/N 88 058258 C7Clamp
(4) P/N 88 510809 British Leyland Shim Damping (for disc brakes)
(1) P/N 130890 muffler clamp
(1) British Leyland P/N 88 132465 Washer
(1) Lockheed KL 71540 Clutch Slave Repair kit
(1) Girling SP 2589/1 Disc Brake Kit for one axles set
(1) P/N 149450 Bracket
(1) Lucas P/N 083192 TR Rectifier
(1) British Leyland 18G 8068 Rear wheel slave cylinder kit
(1) Oil Seal, P/N 140337 RTPA S25
(1) Niehoff WA-25 condenser
(1) P/N 88 14756 Oil Seal
(4) faux knockoff spinners (fasten by set screw) for wheels.

Included in the above package are some used miscellaneous parts including: taillight lens, LH under dash
crash panel, battery hold down, parking brake handle, wood wheel spinner knockoff tool. Also, lug wrench (slightly bent) and two spare wheel hold downs.
Jerry Tucker
704-309-7119
P
AGE
21
C
LASSIFIEDS
& A
DVERTIS EMENTS
For Sale:
TR3 body and cowling on frame (only about
60% of frame good), includes fenders and doors.
$300 or best offer, must go ASAP!
Make an offer.
More photos or info – Curt 704-564-7252
T
RIUMPH
T
RIBUNE
P
AGE
22
C
LASSIFIEDS
& A
DVERTIS EMENTS
Too Many Toys, one must go!
1973 TR6 CF3516UO
$19,500.00
A/C, Overdrive, Roll Bar, Twin Webers, Stainless Exs Sys, on & on
Call, text, or email for details
Paul Morro
919/271-2674 [email protected]
T
RIUMPH
T
RIBUNE
P
AGE
23
T
RIUMPH
T
RIBUNE
O
NLINE
M
EMBERS HIP
N
OW
A
VAILABLE
We are into the 2015 Membership renewal cycle (due by March 31 st
) and reminder letters will be going out shortly to everyone who has not already renewed their membership. You can renew using regular mail or you can now renew Online.
If you go to the TCOC website , in the upper right hand corner of the home page, the "
Join TCOC
" link will take you to a page where you can either print the form to fill out and mail or you can go to the online form and complete the process.
Since all online transaction service providers have fees associated with their services, the online option does cost a little more. To help offset some part of this, you are saving the cost of postage.
Thanks to Jon Keil, Jeff Morgan, Jamie Palmer, Jim Cain, Steve Ward, and especially Chris Simonsen.
Your input and comments on the online process and can only help and improve it.
Please send them alone to me, [email protected]
.
Happy New Year and looking forward to seeing you at The Gathering,
Reeve
T
ECH
T
IPS
One of our club members on the eTCOC alias recently inquired about vinyl top repair kits. A few suggestions were offered, but this one seemed the most promising. I would try this one on the inside first though.
Tear-Aid Repair Type B Vinyl Kit - $9.95 Amazon Prime
YouTube Video Review: https://www.youtube.com/watch?v=_gzT8Q7Jn00
Thanks to Dick Birch for the link!
If anyone in the club has tried this, or a similar kit, send me the details and the results to share with the club.
P
AGE
24
Club Events: April 2015 & beyond
Day Date Description
Thurs April 9
Triad Region dinner meeting: 6:30PM at Out West in Kernersville
Thurs May 7
Triad Region dinner meeting: 6:30PM at Cities Grill in Winston-Salem
Thurs June 4 Triad Region dinner meeting: 6:30PM at Don Juan's in Kernersville
Fri-
Sun
June 5-7 TCOC Myrtle Beach Adventure hosted by Mel & Steve
The Gathering: April 17-19, 2015
T
RIUMPH
T
RIBUNE
Details
Other Events: April 2015 & beyond
Day Date
Sat April 25 Uwharrie Mountains British Car Meet
Description
Sun May 3
British Motor Car Day, Roswell GA
Fri May 8 Downtown Monroe British Car Cruise-In
Thurs
-Sun
May 14-
17
Kastner Cup at Summit Point Motorsports Park, Summit Point WV http://www.kaskastner.com
Sat May 16
Triangle British Classic Car & Motorcycle Show. Raleigh NC
Thurs
-Sun
May 21-
24
Spring Mountain Driving Tour, Highlands, NC
Sat May 23 Great Scot! British Car Show
Tues-
Fri
June 16-
19
TRA 2015 National Meet. Solomon's Island, Maryland
Welcome new members!
Robert (Mike) & KT Brown - Eastern Region
Kevin & Gillian Duffy - Eastern Region
Mark & Cindy Wilson - Charlotte Region
Curt & Tina Kennedy - Charlotte Region
Details
Renew or Join the Triumph Club of the Carolinas today!
Renewal ______ New _______ Rejoining ________
Name ________________________________________________
Significant Other ______________________________________
Address ______________________________________________
City, State, Zip Code __________________________________
Car Information for Membership Directory, if applicable
Year Make Model
1.__________ _______________ ___________________
For Membership: Send form and check to:
TCOC c/o Reeve Samson
5129 Gatewood Drive
Durham, NC 27712
2.__________ _______________ ___________________
3.__________ _______________ ___________________
Check should be payable to
"Triumph Club of the Carolinas".
4.__________ _______________ ___________________
Home Phone_________________________ Work/Cell Phone_________________________
E-mail address ____________________________________________________________
2 nd
E-mail address ____________________________________________________________
If you have supplied an email addresses, you will be added to [email protected], the private electronic mailing list of the
TCOC.
VTR member? Yes __ No __
TRA member? Yes __ No __ Other British Car Clubs?__________________________
Qty. Price Ea. Total
___Window Decal, white with blue club logo* $ 2.50
___NEW MEMBERSHIP DUES / RENEWALS $ 25.00
______ *One free w/ new membership
______
___NEW MEMBERSHIP DUES (IF AFTER JULY 1
ST
) $ 15.00 ______
(DISCOUNT IS NOT APPLICIBLE TO RENEWALS / REJOINS)
TOTAL DUE: ______________
Please make your check payable to "Triumph Club of the Carolinas" and send it to the address in the box shown above.
Thank You!
* Your assessment is very important for improving the work of artificial intelligence, which forms the content of this project