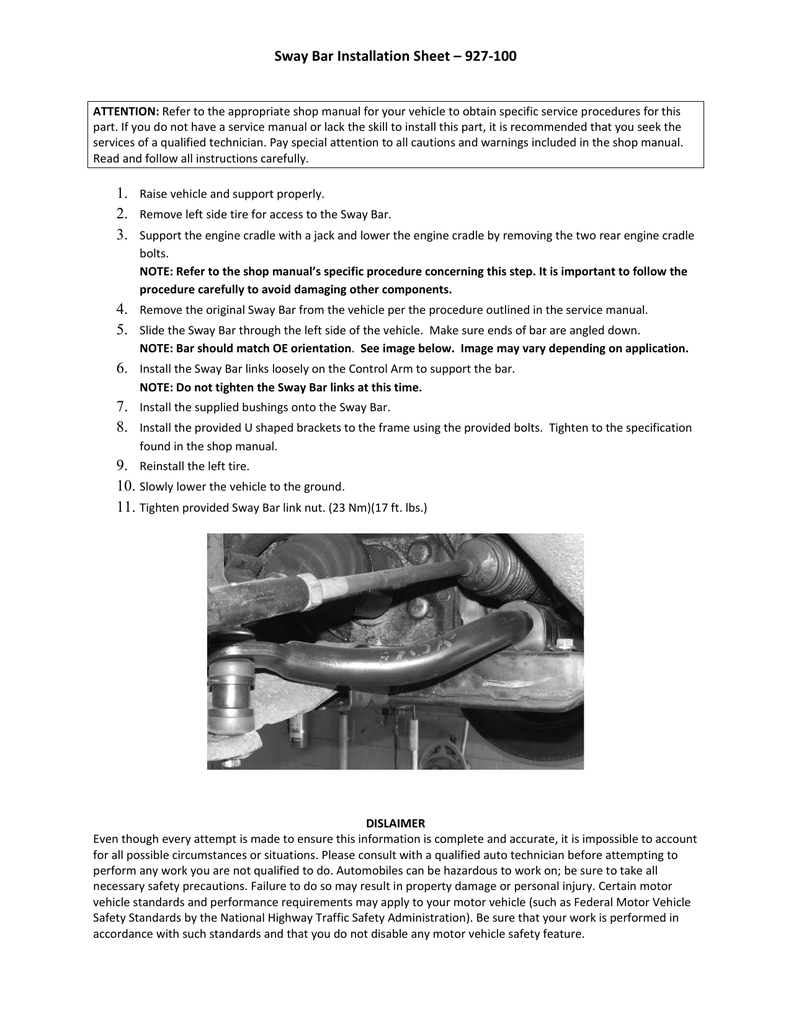 Sway Bar Installation Sheet – 927-100
ATTENTION: Refer to the appropriate shop manual for your vehicle to obtain specific service procedures for this
part. If you do not have a service manual or lack the skill to install this part, it is recommended that you seek the
services of a qualified technician. Pay special attention to all cautions and warnings included in the shop manual.
Read and follow all instructions carefully.
1. Raise vehicle and support properly.
2. Remove left side tire for access to the Sway Bar.
3. Support the engine cradle with a jack and lower the engine cradle by removing the two rear engine cradle
bolts.
NOTE: Refer to the shop manual's specific procedure concerning this step. It is important to follow the
procedure carefully to avoid damaging other components.
4. Remove the original Sway Bar from the vehicle per the procedure outlined in the service manual.
5. Slide the Sway Bar through the left side of the vehicle. Make sure ends of bar are angled down.
NOTE: Bar should match OE orientation. See image below. Image may vary depending on application.
6. Install the Sway Bar links loosely on the Control Arm to support the bar.
NOTE: Do not tighten the Sway Bar links at this time.
7. Install the supplied bushings onto the Sway Bar.
8. Install the provided U shaped brackets to the frame using the provided bolts. Tighten to the specification
found in the shop manual.
9. Reinstall the left tire.
10. Slowly lower the vehicle to the ground.
11. Tighten provided Sway Bar link nut. (23 Nm)(17 ft. lbs.)
DISLAIMER
Even though every attempt is made to ensure this information is complete and accurate, it is impossible to account
for all possible circumstances or situations. Please consult with a qualified auto technician before attempting to
perform any work you are not qualified to do. Automobiles can be hazardous to work on; be sure to take all
necessary safety precautions. Failure to do so may result in property damage or personal injury. Certain motor
vehicle standards and performance requirements may apply to your motor vehicle (such as Federal Motor Vehicle
Safety Standards by the National Highway Traffic Safety Administration). Be sure that your work is performed in
accordance with such standards and that you do not disable any motor vehicle safety feature.

* Your assessment is very important for improving the work of artificial intelligence, which forms the content of this project