No category
May 2001 - DREAM User Group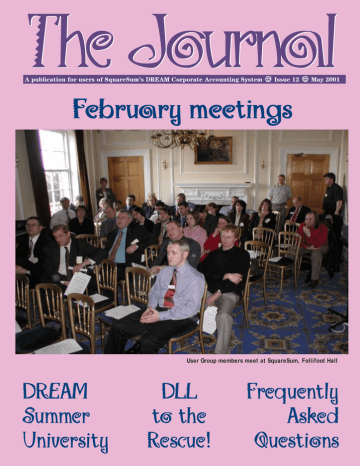 The Journal
A publication for users of SquareSum's DREAM Corporate Accounting System
f
Issue 12
e
May 2001
February meetings
DREAM
Summer
University
User Group members meet at SquareSum, Follifoot Hall
DLL to the
Rescue!
Frequently
Asked
Questions
User News
Follifoot
Meeting
S
QUARESUM'S
OFFICES at Follifoot
Hall in Harrogate was the venue for one of the February User
Group meetings.
About 30 attendees were expected to register, however, on the day, well over 50 people gathered.
On first arrival, one did a double-take at what seemed to be a deserted building and car park; however, the entire SquareSum staff had parked out of the way at the back of the property to make room for all the guests arriving by car.
Delegates met Mike Starkings,
SquareSum's new Managing
Director, followed by a marketing update from Sales Director Richard
Pierce. Hazel Haas outlined the offerings in SquareSum's customer training programme. The next session was an extremely popular topic from a meeting two years ago: 'Building on the DREAM—
What would you like to see in the future?'
Delegates split into two syndicates led by Greg
Butterworth, Office Holdings, and
Bill Dowding of SquareSum. The
SquareSum's Deputy Chairman, Philip
Taylor, guides a group round Follifoot Hall session notes from these syndicates were varied and comprehensive, and although points raised will not be classed as enhancements for the purposes of the annual Enhancement Ballot, the notes have been passed to
SquareSum for further comment: it may well be that facilities requested may already be in the system, in the pipeline, or just not possible.
Lunch was followed by a tour of
Follifoot Hall. Until recently, a major part of the first floor was occupied by another company;
SquareSum has now extensively renovated and refitted most of the building, resulting in increased space in Research and
Development, Consultancy,
Support, and a brand new training room.
Users were then taken through the new features in DREAM v2.11
by SquareSum Development, and the two syndicate leaders expanded on points raised in their group to the whole assembly. Tim
Cullis gave a taster of the DREAM
Summer University. Finally, in his now customary presentation at
User Group meetings, Philip Taylor awarded bottles of Champagne to the most diligent users for reporting bugs in the software.
Many thanks to SquareSum for hosting the meeting.
User Enhancement Ballot and Voting
W
E ARE VERY aware that unless members attended the autumn the increasing paperwork from each year, and trying to match this meetings last year and had an update from Philip Taylor, members have not yet officially received the results of the 2000
Enhancement Ballot.
What we have tried to do in the past is update members on not only the current enhancement ballot, but also the status of those from previous years. This task has become increasingly unwieldy with to enhancements, most of which may have long been accomplished.
We are working with SquareSum to tie up all these loose ends and ensure that no requests have slipped through the net. In the meantime, we do have a spreadsheet with the results of last year's ballot which will be emailed to any member who requests it in advance of the cumulative report.
Address Change
The address of the User Group is now:
DREAM User Group
23 Silver Strand West
Silver Wharf
Eastbourne
East Sussex
BN23 5NP
Tel: 01323 471700
Fax: 01323 471701 email: [email protected]
The Journal
2
May 2001
User News
And a return to Microsoft Campus, Reading
T
WO DAYS LATER
,
the next meeting was held along similar lines at Microsoft's Campus in
Reading. However, the afternoon tour was replaced by a joint session by User Group member Martin
Graham of Local Enterprise
Development Unit in Belfast with
Roger Martin of Ecom Software.
The presentation covered the
LEDU intranet/DREAM solution provided by Ecom
Software.
LEDU Travel Claims
LEDU's Travel (Expenses) Claims application is an intranet based solution using XML and COM technologies. It's aim is to provide a paperless and efficient system to submit manage and approve the
10,000 travel (expenses) claims made each year. Employees download and complete an Excel template which contains LEDU's
Philip Taylor awards a bottle of
Champagne for reporting of bugs
Two of the four syndicate groups at the Reading meeting
The Journal
3
May 2001
User News
business rules for
Travel Claims including mileage rates and subsistence. On completion of the spreadsheet, an XML file is created and sent to the Intranet Server via Http. Employees can view their historical Travel
Expenses Claims via the Intranet. Managers have additional options to approve or decline Travel
Expenses Claims. A list of all Travel
Expenses Claims pending approval are displayed for the manager who can either approve or decline the claim.
On approval the Travel
Expenses Claim is automatically written into the appropriate register in the DREAM financial system.
Stephen McMurray, Financial manager of LEDU said "The new on-line travel claims processes has reduced the staff input time by 50 per cent resulting in a direct saving of £10k p.a. Travel Claims are now processed in two days less than the manual system allowing for faster settlement of accounts"
He added, "Staff making claims have their own on-line accounts summary which proves for full traceability and history of claims made to date. Our Auditors are happy to see a full audit trail including dates times and names of approvers. What was previously a time consuming, paper generating exercise has now been greatly streamlined and centralised meeting the needs of both the organisation and staff."
Purchase orders
After successful integration of the
Travel Expenses Claims system with the SquareSum DREAM financial system, LEDU took the opportunity to re-engineer further business processes using similar workflow. The next logical business process was Purchase
Orders. Employees complete an
Intranet form which calculates the required information for the
Purchase Order and a supplier is picked from the approved suppliers list from the DREAM financial system.
Using the business rules provided by LEDU, the purchase order is validated before being created in XML format. On completion of a Purchase Order, it is sent to the appropriate Delegated
Authority in LEDU for approval.
When approving Purchase Orders a list of all pending Purchase Orders is displayed, this list is created from XML. The Purchase Order is displayed along with any justification information. The
Delegated Authority can then approve or decline the Purchase
Order. On approval the Purchase
Order is written in the relevant document type into the DREAM financial system.
Benefits/Justification
The major benefit is that the new
Purchase Order Intranet solution is estimated to save £15-20k annually.
Other benefits include:
• cycle time reduction—snail mail
• quality and accuracy of information
• information availability
• people time
• communications, and
• systems integration.
Technologies deployed
• Microsoft Excel
• XML and XSL
• Active Server Pages
• Microsoft SQL server 7
• Oracle 7.2.3
• Microsoft Internet Information
Server
• Microsoft Transaction Server
• Microsoft Cluster Server
• Microsoft Exchange Server and
Outlook
• DREAM and the DREAM dll
The Journal
4
May 2001
User News
Nottingham 2001 DREAM Summer University
T
HE DREAM SUMMER
UNIVERSITY has become the annual event for users of the
DREAM Corporate Accounting
System. The first Summer
University was held in Nottingham in 1999. Bath University hosted the
2000 event, and this year the
DREAM Summer University returns to the highly acclaimed campus at the University of Nottingham.
Since the first DREAM Summer
University, the committee behind each event has worked hard to ensure that users find attendance a more worthwhile proposition than ever before. Critique forms from previous conferences are thoroughly analysed, and where possible the points raised are acted upon. So future delegates gain a tailor-made programme offering outstanding value for money with latest feature awareness, training sessions, best practice advice, hands-on labs and peer contact.
And the best recommendation must surely come from those already registered for this year's event—50 per cent have been before.
Cripps Hall, a grade two listed building, is one of the halls of residence used for the DREAM Summer University
More sessions have been added since the initial 'Call for Delegates' as detailed below.
Mark Hancock, Marks and Clerk,
"A DREAM User - from conception to inception"
Arthur Allen, Learning and Skills
Council, "The future to post 16 education"
Software Solutions, "SQL Server
Configuration and Admin"
Mark Paine, Microsoft,
"Subscription Service Plans"
Software Solutions, "Crystal
Reports with DREAM"
Derek Sully, Mikado Computing,
"DREAM cheque writing add-on"
New DREAM Licence Sales
W
E GIVE A WARM welcome to the companies listed below, who have become DREAM users since the last issue of The Journal.
• Singer & Freidlander, Douglas
• Nisbets, Bristol
• Portman Building Society,
Bournemouth
• MyNewDeal (UK), London
• Spectrum Strategy Consultants,
London
• Furniture 123, Leeds
• Eclipse Computing, London
• Avenue Legal Systems, Fareham
• Union Cal, London
• Higher Education Funding
Council (Arts and Humanities
Research Board), Bristol
• Corney & Barrow, London
• Robinsons Country Leisure, St
Helens
• Destination Wine Company,
London
• Teachers Provident Society,
Bournemouth
• The University of Hull, Hull
• Chartered Institute of Marketing,
Maidenhead
• Kuwait Investment Agency,
Kuwait
• Kuwait Investment Office,
London
• Mega Bowl, Loughborough
• Winstanley Burgess, London
• Leathes Prior, Norwich
• Kem Edwards, Sunbury-on-
Thames
The Journal
5
May 2001
SquareSum News
New features in DREAM version 2.11 for June 2001
DREAM VERSION 2.11 will be used as the basis for all sessions at the
Summer University and is expected to be available for general release either at that time or shortly afterwards. Many of the new features are as a result of user feedback through the enhancement survey process.
The major change is a complete rewrite of the payments/allocations system to enable a more flexible working. In particular, part payments are handled in a more elegant manner.
Periods can now be defined by company, so companies with different financial periods can exist in the same database, particularly useful for newly-acquired subsidiaries.
The ability to merge nominals adds an additional feature for restructuring the chart of accounts.
Nominals have to be of a similar type (ledger/non ledger).
Several changes are coming on the UDI front with the ability to reorder journal rows, copy and paste elements and rename elements. Different due dates are possible for different rows. A new
'prevent posting until conditions met' flag has been introduced at the request of SquareSum consultants as an additional method of controlling when forms can be posted.
You will be able to change the selection criteria on a drill down.
This fullfils two enhancement requests—to be able to change the periods selected, and to change the sort order on a drill down.
The document report can now automatically complete the dialog boxes to request a report of the latest documents of that type.
Security settings can be copied between groups to enable easier establishment of new users. In addition, a new report is available to show the security settings on nominal accounts, companies and indices.
There are many other enhancements and improvements in version 2.11 such as an XML contact window and the ability for budgetting by representative nominals. Come along to the
Summer University to find out more!
New manuals
Also expected to be on display at the Summer University are new user manuals. Following input from the enhancement survey, the existing all-in-one manual has been rewritten as three separate manuals intended for user, administrator and technical support use. Where topics overlap the three profiles they will be covered in the appropriate manuals, to a greater or lesser degree.
The manuals will be distributed to all customers on CD and are also available from SquareSum as A5 bound sets for £150 for the first set and £100 per set thereafter.
Release notes and updated documentation for future versions of DREAM will be distributed in the same format to enable easy updating of product documentation.
The completed User Manual will be shown at the Summer University together, it is hoped, with a draft of the Administrator Manual.
People News
SquareSum continues to strengthen its management team with the creation of a new position of
Technical Director. Dave Anstey takes on the role with specific responsibility for development, support, QA/release management and technical support. Prior to joining SquareSum he was Director of Product and Development
Services at PanCredit. Overall systems design remains with the design team which includes Philip
Taylor and Ian Clegg.
N
ADINE TER MEULEN has been appointed Marketing Manager at
SquareSum. She was previously at
Lawson, where she had been for four years, progressing from
Marketing Executive to Marketing
Program Manager.
For information on joining the
DREAM User Group, meetings and the DREAM Summer
University, call Irene Cullis on
01323 471700 or email
BASDA EMU
Accreditation
DREAM is one of only two products to receive BASDA's full
EMU Accreditation. Compared to other accounting systems, DREAM cruised through the tests as quotes from Patrick O'Beirne, the EMU expert conducting the tests show.
"What sticks in my mind is the ease with which DREAM stepped over the carefully-laid traps I had placed."
"BASDA accreditation gives an independent validation, not merely self-certification."
"You have sailed through a process that had others scrambling overnight to fix bugs and restart the assessment on the next day."
DREAM is also one of only five products to comply with BASDA's
Level 3 certification for full UK
Domestic Input and Output VAT.
In addition, DREAM is certified as complying with the BASDA eBIS-XML standard.
The Journal
6
May 2001
SquareSum News
SquareSum names additional
European and worldwide resellers
Four new additional resellers have been appointed by SquareSum, some of which have already made their first sales of DREAM as detailed elsewhere in this issue.
Bentley Jennison , a firm of chartered accountants involved in the sale to the Higher Education
Funding Council (now known as the Arts and Humanities Research
Board) has signed up as a new reseller.
5 Fifteen has upgraded from a business partner to a full reseller specialising in the publishing industry. Its first sale is to The
Builder Group.
Team Consultants formed by staff who previously worked for a
Systems Union reseller is the first
Irish channel partner.
With a worldwide presence,
Eclipse Computing is well placed to sell DREAM on a global footing.
Britannia Hotels books DREAM
Britannia Hotels has placed an order with SquareSum plc for its
DREAM corporate accounting software, valued in the region of
£50,000. DREAM will be used by the Group's 19 hotels spread throughout the UK.
DREAM beats Agresso and
SunSystems to University of Hull
The University of Hull selected
DREAM ahead of shortlisted products from Agresso and
Systems Union and placed an order valued in the region of £250,000 with SquareSum.
DREAM will provide the
University with a solid accounting infrastructure at the core of its business, enabling the
University to access highly sophisticated, reliable and flexible financial accounting, management reporting and business information.
The University of Hull has more than 16,500 students, and has three campuses, including a new campus in Scarborough. The University is widely recognised for its high quality teaching and research and is one of the most respected
Universities in the UK, with one of the best rates of graduate employment. In order to support its objective of attaining a 'Top Twenty' status as one of the leading higher education institutions in the UK, Hull recognised that it needed to invest in the latest accounting software.
www.hull.ac.uk
DREAM will operate on a Microsoft
Windows NT server supported by a
Microsoft SQL Server relational database that will be based at
Britannia's Head Office in
Manchester. All of the regional hotels will have local access to
DREAM, enabling users to interrogate the system and submit real-time management information to the central system, removing the need to re-key data at head office.
Britannia Hotels is a leading player in the hotel industry with a well respected, three-to-four star range of hotels spread throughout the UK. This includes five hotels in the South of England, six in the
North West of England and six hotels in the Midlands.
www.britannia-hotels.co.uk
Third year for SquareSum in Technology Fast 50
SquareSum is one of only 12 companies in the northern region that have stayed for the third year in succession in Deloitte &
Touche's survey of the 50 fastestgrowing technology companies.
The Deloitte & Touche
Technology Fast 50 UK programme is a ranking of the fastest growing technology companies in the UK.
Philip Taylor comments, "We have ambitious plans to increase market share and establish DREAM at the very forefront of the mid-range accounting software market, and this award acknowledges our commitment and determination to realise this objective."
Fiona Mackechnie, lead partner for Technology Fast 50 programme in the north, comments, "Deloitte &
Touche's research has shown that the key attributes of successful
Fast 50 companies are their operation in lucrative niche markets, their commitment to strong management teams and outstanding and credible business plans with high growth and revenue streams."
The Journal
7
May 2001
SquareSum News
First DREAM reseller in Ireland
Team Consultants are the first Irish channel partner for DREAM.
Team Consultants is a newly-formed software reseller and consultancy implementing financial accounting systems. Its initial focus will be implementing DREAM into key vertical market sectors including financial services, education, hotel and leisure and telecommunications industries.
Team Consultants was formed by Paula Hogan, formerly Product
Manager with Sysco, a Dublinbased reseller of Systems Union's
SunSystems software. The other principals on the team are also former Sysco employees, Roger Lindsay and Justin Scanlan, providing the company's technical expertise and
Michael Hogan, as an application specialist.
Together they have been involved with all aspects of Sun Systems over the last fifteen years.
www.teamconsultants.ie
5-15 sells to The
Builder Group
Slough-based 5 Fifteen, the latest reseller to be signed by SquareSum, specialises in the design, development and installation of systems for magazine publishers' advertising, subscriptions, circulation and fulfilment needs.
First DREAM global reseller
ECLIPSE COMPUTING HAS been signed as the first worldwide reseller partner for DREAM.
Eclipse is a well established international financial systems solution provider with offices world-wide including London,
Amsterdam, New
York, Tokyo,
Singapore and
Sydney. It supports more than 2000 organisations in more than 70 countries and is particularly well placed to sell
SquareSum's DREAM to multinational organisations that require complex multi-currency and multilocation installations around the world.
To date, SquareSum has typically sold 90 per cent of licences directly. The appointment of Eclipse Computing as the first global reseller of DREAM represents an extension to
SquareSum's international capabilities and will allow it to significantly increase its ability to expand sales across international boundaries. The expertise of
Eclipse will be particularly valuable within North America and
Asia Pacific, where SquareSum does not have a direct partner.
SquareSum deputy chairman
Philip Taylor says, "The channel will play a major part in the company's world expansion plans.
We already have customers in over
30 countries," adding that he is hoping to
"establish a good presence in the
US as well as a stronger channel position in the UK".
Gary Waylett, managing director of Eclipse, which supports businesses in up to 70 countries is
"extremely impressed" with the
DREAM financial suite. "The suite will complement our financial product range from large-scale corporate level sales to multinational organisations," he said. He added that SquareSum's DREAM offers the "most flexible multicurrency capability of any product." www.eclipsecomputing.com
The company's customer base includes BBC Publications, IPC
Magazines, EMAP Readerlink and
Reed Business Information. The mainstream product is MAXIM, an integrated client/server system that utilises Oracle database. MAXIM facilitates advert booking, placing, chasing and general contact logging to take place from one screen and was recently purchased by Hello
Magazine.
Another recent MAXIM purchaser is The Builder Group, the UK's leading publisher for the construction market with a portfolio of 12 complementary publications. The Builder Group has now purchased DREAM to handle the bookkeeping and accounting aspects of the business.
5 Fifteen and SquareSum have no signed a partnership agreement enabling the promotion of a totally integrated sales advertising and ledger system for the publishing industry.
5 Fifteen was formed in a management buy out from Anite
Group plc.
www.5fifteen.com
The Journal
8
May 2001
DLL to the Rescue!
by James Paxman
B
USINESS PROCESSES ARE often remodelled at the time that a new accounting system is implemented. Sometimes this is done to take advantage of new features offered by the new software. At other times it is done because the new software can be used to greater effect if the business procedures and processes are changed as well. However, there are occasions when existing business processes must be implemented with the new system.
This article describes a site where the implementation of DREAM was required to fit closely to existing procedures.
The site in question had been using character-based software for a number of years running on a
UNIX server. Over a long period of time the systems had been modified in-house to fit very specific business processes efficiently. This site was a subsidiary company that was required to adopt DREAM as part of a corporate standard and in doing so it also had to adopt a number of corporate accounting standards. The challenge in the implementation was to provide a system that was considered to be as good as the existing system whilst at the same time adopting corporate standards. In producing the solution the external DLL of
DREAM proved to be an invaluable tool.
Interface
One of the key aspects of the old system was the interface that obtained data from the operational system and processed it into the accounting system. This data included customer, supplier and project accounts, exchange rates, and transactions. Although
DREAM's Import functions could have been used to get this data into the database, there were a couple of drawbacks. The version of
DREAM that was being used (2.6.8) did not support the import of indexes, although this option was later added in DREAM 2.7. A further problem was that when credit notes were issued from the operational system, the only information that was available to the interface was the original document number and a cancellation indication. It was apparent therefore that if only the standard Import functions were to be used there would have to be a considerable amount of manual processing to set up exchange rates, maintain account index values, and to deal with the problem of cancellation documents.
To address these problems it was decided to write a special program to process the interface files. This program was written in
Visual Basic and used the external
DLL to perform transaction postings and account maintenance.
For account maintenance the program was able to generate all the required index values automatically. For cancellation documents the program was able to search the DREAM database and retrieve the original document.
The program then automatically generated a new document to reverse each of the transaction lines of the original and then performed a series of allocations against each Nominal / Account combination on the original document and the cancellation document.
"Project" Accounts
The main business of the company was to carry out a large number of service appointments on behalf of other companies. The accounting solution adopted called for the creation of "project" accounts.
Costs would be accumulated against the project account and then later transferred for billing to a customer account. As this was an international scenario costs and billing could be done in several different currencies and it was often necessary to carry out a project using a predetermined rate of exchange, usually against the US
Dollar.
The standard functionality of
DREAM does not actually provide a way that an exchange rate for a currency can be "fixed" against an account so it was necessary to bend the rules a little. Each project account was therefore set up against a separate dummy currency code and the predetermined exchange rate was set against each dummy currency. As DREAM provides up to 12 characters to identify a currency code it was
About the Author
James Paxman is an independent systems consultant specialising in the usage of the
DREAM external DLL to leverage the investment in DREAM and to exploit close integration with other products in the
Microsoft environment.
He can be contacted at [email protected]
The Journal
9
May 2001
possible to use the first three characters to identify the actual underlying currency, e.g. "USD".
The remaining characters were used to store a unique identifier extracted from the account code itself, thus providing a linking mechanism between the Account
Code and the dummy currency code which could be easily understood by users and which could also be used by reporting programs such as Crystal Reports.
The side effect of this was that the database contained a large number of "currencies" (over 1500 at the last count!). This produced a noticeable delay in DREAM when the user first logged on to the system. However, this delay was rectified in DREAM v2.8.
When the system was first implemented it was assumed that all costs on a project account would be zeroised and transferred to a customer account by a single transaction. A UDI was constructed to retrieve the balance on the project account and this could then be posted against the customer account. In practice, it transpired that the business process was somewhat more complex, in that the costs accumulated on the project account could be selectively invoiced against several different customers. This would have meant that a user would first have to display the transactions on the account and then manually determine the amounts to be invoiced to each customer.
The solution to this problem was to create a new program to process these kinds of transactions. The
Figure 1: "Open" transaction lines.
user would be able to select a project account and the program would display a list of "Open" transaction lines. (See Figure 1).
The user could then simply tag a number of these lines, select a customer account, and perform the posting. The program summed up the value of the lines selected by the user, posted them between the project account and the customer account, and then allocated the selected transaction lines on the project account against the new posting line. These lines then disappeared from the display of the project account as they now had a status of "Paid".
At this stage, the program integrated very closely with Crystal
Reports. When the allocation was performed, it presented the user with a list of different report
The Journal
10
May 2001
formats that might be used to send to the customer (Figure 2). The user selected one of these report formats and the program then invoked the report, fed parameters to it automatically such as the account number(s), nominal codes etc., and then ran the report in preview mode on the users screen.
Payments
Another aspect of processing which received help from the DLL was receipt of payments. The structure of the DREAM database meant that the Receivables ledger was spread across a number of different Nominals. Whilst this made sense in differentiating the business into a number of different streams, it tended to split up the customer facing side of the information. In particular, it presented real problems where customers made payments for transactions that had been posted on separate Nominals. This was then normal method of payment.
As we all know, an Allocation can only be done within a Nominal /
Account combination. Therefore, when a payment is made which covers transactions on several different Nominals, the payment has to be split up and posted separately on each Nominal so that the subsequent Allocations can be performed. This would have added a significant manual overhead to existing processes and would not have been acceptable.
A similar approach was adopted to this problem. In fact, much of the same VB code was used. The user was able to select a customer account and the program would display a list of transactions for payment. This list would include transactions across all nominals.
The user could then select individual items to be paid and the program would make the appropriate postings on each
Nominal / Account combination and then carry out an automatic allocation of each one. Another dimension was then added to this by including the facility for the user to specify the currency in which the payment was being made. This could be the currency of the
Nominal, or the Account, or Home
Currency, or Alternate Home currency (Euro), or Second
Account Currency or finally, the currency of the original document.
This site presented a number of challenges. The users had great confidence in their existing system but were obliged to change to fall in line with corporate policy. Their existing procedures were efficient and they were concerned that the introduction of the new system would jeopardise their control of data and their efficiency of operation. The programs that were written did not really do anything that could not be done with standard DREAM functionality.
However, the DREAM screens and the UDIs do enforce a certain paradigm on the treatment of accounting data. By using the external DLL it was possible to create a different user interface for several key business processes.
This user interface was designed to match existing business processes and preserve their efficiency without compromising the corporate standards.
James Paxman
Figure 2: Report formats that might be used
The Journal
11
May 2001
Furniture e-tailer automates with PROACTIS
F
URNITURE 123 (F123) was recently chosen as the best furniture e-commerce website at the 2001
Furniture Industry Awards, beating established retailers like Ikea and Habitat. As a new start-up, F123 had the advantage of building its operation from the ground up. By starting with a blank sheet of paper
F123 was able to streamline its business processes and maximise efficiencies by installing the most efficient systems, almost from the word 'go'.
Life for F123 began at the beginning of last year with a pilot store, really aimed at testing the business model. This was supported by mainly manual systems, however F123's new web store went live in September and already attracts around 100,000 customer visits each month through partnerships with high profile
Internet partners like Yahoo!, Freeserve and AOL.
Furniture 123's managing director, Julian Field says:
"Previously we were operating in a semi-manual way.
Orders coming in from customers would have to be turned into a new document and sent by staff to our different suppliers. Similarly, credit checks would take time and our different logistics channels would be notified that certain products would be coming their way. There was a lot of manual work involved, so for our re-launch in September we wanted to have the entire process completely automated."
So F123 approached Get Real Systems, a specialist in e-Procurement and the inbound supply chain that has been a SquareSum partner for several years. Get
Real Systems implemented its PROACTIS software with the DREAM financials in a tightly integrated environment. This new infrastructure was also interfaced to F123's new web store, provided by
Harrogate-based e-Commerce company, Ubik.
PROACTIS streamlines everything between the front-end web store and the back-end DREAM financial system, interfacing with key suppliers using XML technology and empowering F123 staff to be more efficient by managing by exception.
Julian Field explains the impact of the new systems:
"With the PROACTIS system, a day and a half's worth processing has been cut down to a matter of minutes, with a simple final manual check required before the order is completed. Everything else is automated.
"The system alerts the right delivery channel, taking into account the different handling requirements for flat packs, sofas, dining room tables and so on.
"The system enables us to keep our operational staff to a minimum while ensuring high levels of accuracy," says Field. He points out that staff numbers are not being reduced because of the new technology, rather the system cuts out the need to recruit extra staff as sales from the site continue to boom.
"We are a small operation and have been able to cope with larger numbers of orders by employing temporary staff. Now as we grow we can see the benefits immediately because we will keep the original sales team and won't be paying for extra temps.
Obviously we will be able to cut down on timeconsuming paperwork and so can act much faster on behalf of our customers.
"Suppliers, which include Silentnight Slumberland,
Lloyd Loom and Jay-Be, have welcomed the system.
Those that already have EDI or Web-based systems on place have been particularly impressed", claims Field.
More information at: www.furniture123.co.uk , www.getrealsystems.com, www.ubik.net
The Journal
12
May 2001
Get Real advertisement
(you hold the film)
The Journal
13
May 2001
Frequently-Asked Questions
by Hazel Haas, SquareSum
Database Manager
SQLServer DBLib 916 appears when trying to create or upgrade a database.
Response: Not logged into database manager as sa.
SQLServer DBLib 5123 appears when trying to create or upgrade a database
Response 1: The paths specified are incorrect.
Response 2: If you have verified that the paths are correct, then Database Manager may be pointing to the wrong server. To change this, go into the DREAM login dialog, select Configure and on the database tab, change the server name.
Audit
Audit cannot begin because there are other users accessing the system.
Response : It may be that there are other users accessing the system but it will probably just be the
Database User Count in Admin Parameters that needs to be reset back to 1. If you want to check for current connections to the database, look at
M_DBACCESS in Query Analyser.
Audit cannot begin because DREAM says an audit is still in progress.
Response: If a previous audit was terminated before completion the parameter key will still be set to
Yes. Go to Admin Parameters and reset the Audit in
Progress key.
How often should I run audit?
Response: This will vary depending on the size of the database and frequency of the transactions but as a general rule, a large organisation should be scheduling rebuild indexes and audit on a weekly basis. Smaller companies will be running audit once a month. Note: ALWAYS run the first audit without corrections. If there are errors, you can send the report to Support who will advise on how to deal with them.
Rebuild indexes
CLSID Error occurs when rebuilding database indexes.
Response: To rebuild database indexes you need to have Database Manager installed on the client.
Rebuild indexes cannot begin because there are other users accessing the system.
Response: It may be that there are other users accessing the system but it will probably just be the
Database User Count in Admin Parameters that needs to be reset back to 1.
Document Input
In the document input dialog, a user cannot see a document type.
Response 1: The user doesn't have access to the doc type. Log in as an SQSDBA user and check Admin
Document Type Access Security.
Response 2 : There are no forms attached to the document. You would need to tick the journal format box to view any doc types with no forms attached.
Response 3 : There are forms attached to the document but the user doesn't have access to the forms. Check Admin UDI Form Access Security.
Payments
Void Cheques—when printing out the cheques there is a printer jam. Some of the cheques have been destroyed and the document numbers are out of sequence. The paylist is at the media stage.
Response: Before assigning document numbers, create separate document ranges. The current range should end at the document number before the void cheque. The new range should start with the document number after the void cheque.
Assigning Document Numbers: Assign the first controlled range. This will autofill until the end of the range. Move the cursor to the account where the second document range should start. Assign the second document range. This will autofill until the end of the paylist. Confirm the document numbers and complete the paylist.
Optional steps: You may want account for any void cheques for audit purposes. If so, create a further document range containing the numbers of the void cheques. Manually post these documents with a single line entry to the bank nominal and a value of nil.
The Journal
14
May 2001
Discounts—I have payment terms set up for all my accounts but not all transactions are showing discounts or due dates on the paylist report.
Response: The transactions were posted before the payment terms were added to the account. When payment terms are added to an account they only apply to subsequent postings, no retrospective adjustments are made.
To apply due dates and discounts to these invoices you will need to run a change document for each invoice posted prior to the terms being added. This will recalculate any discounts available and add a due date based on the document transaction date.
Bank Statement Import
Error when importing – 'Unable to get the last sheet number for the bank'
Response: This is probably an import for a new bank account. The first sheet on a new account must be entered manually. This will then post a sheet number to the database which will be referenced when the import starts.
Import
Documents have been imported but the year on the document date is showing as 2020.
Response : The date format will have been set to YY on the format file but the data file had the YYYY format. To correct the date format select the
Delimited button on the import dialog. To correct the documents that have been posted you will either need to delete them all and re do the import or run a change document on each document.
When adding columns to a format file I cannot see any samples.
Response: The data file is open while you are adding columns to the report. If the file is created by the user in Excel you could save the file as a .csv and as an Excel file. You can then have the Excel file open while you add columns to the format file.
Response : A delivery date hasn't been entered on the order. This is required to work out the budget period of the order. You can set an option on the order form to default the delivery date to the order date to get round this if a delivery date is not required on the order.
Security
If you suspect that a support call is related to security the first to do is see if the problem exists when logged in as SQSDBA. If you still get the problem logged in as
SQSDBA then it is unlikely to be a security problem.
Having established that it is a security problem it is really a case of going through the Admin menu and checking the options for the group that the problem user is in (NB it is worth checking in Admin Users the user group before you start this process).
If the problem relates to menu security but you can't find a specific section, try Dialog security.
Hazel Haas
Support Manager
Customer has periods set up as 01, 02, etc. The import data file has converted these to 1, 2 etc. and the import fails.
Response: If you open a .csv file in Excel, it will read 01 as a value and convert it to 1. This is OK as long as you don't save the file. If you need to edit the csv file use a text editor such as Notepad or Wordpad.
If you save an Excel file as a Text (tab delimited) file, then Excel will go through the text import wizard before opening the file. You can then set the period as a text field and the leading zero will be preserved.
Purchase Orders
When posting the order the message 'Unable to calculate available budget' appears.
The Journal
15
May 2001
SquareSum advertisement page 16 advert.pdf
The Journal
16
May 2001
* Your assessment is very important for improving the work of artificial intelligence, which forms the content of this project