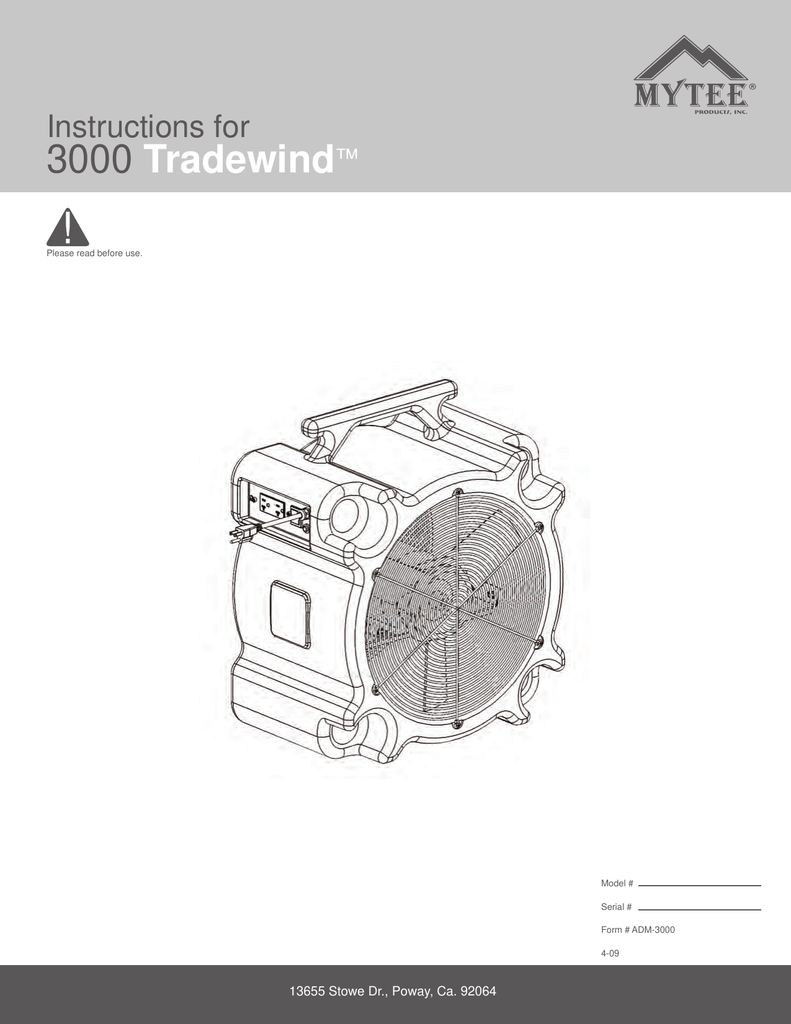 Instructions for
3000 Tradewind™
Please read before use.
Model #
Serial #
Form # ADM-3000
4-09
13655 Stowe Dr., Poway, Ca. 92064
FRONT
SWITCH
1
2
7
3
4
5
6
1. Carry Handle
2. Daisy Chain GFI Outlet
3. Power Switch
4. 25' Power Cord
5. 12 AMP Safety Circuit Breaker
6. Inserts for Luggage-style transport handle (optional)
7. Stacking Feature
STACK FOR OPERATION
Stack units to create "Wall of air."
Power switch and GFI outlet.
STACK FOR STORAGE
Interlock for easy stacking, storage and transport.
MULTI-UNIT DAISY CHAIN
Each 3000 has a built-in outlet allowing other Tradewinds™ to connect forming a chain. This method allows you to run up to six
Tradewinds™ on a single 15 amp power outlet. Great for situations where available power is limited.
AIR MOVEMENT
Use 3000 to direct air across a room (shown on optional stand).
8 AIRFLOW DIRECTIONS
With the optional stand (3002), the 3000 has the ability to direct
air in eight different directions.
Dear Customer:
Unpacking the Machine
Congratulations on the purchase of your new 3000 Tradewind™. As you are
already aware, the scene of the equipment world is becoming more high tech, and
we at Mytee Products Inc. strive to keep you on the cutting edge with superior
quality and technology.
When the machine is delivered, carefully inspect the shipping carton and the
machine for damage. If damage is evident, save the shipping carton so that it can
be inspected by the carrier that delivered it. Contact the carrier immediately to file a
freight damage claim.
Keep in mind that the 3000 Tradewind™ is a machine, so neglect or abuse
will cause unnecessary damage and void the warranty. However with simple
maintenance the 3000 will give quality performance for many years to come.
Caution and Warnings
If warranty questions arise, please consult your user manual or get in touch with
your distributor. If you have questions about maintenance, replacing parts or
ordering parts, please call an authorized Mytee Products Inc. Service Center.
To see an updated list, visit our website at www.mytee.com
Symbols
Mytee uses the symbols below to signal potentially dangerous conditions. Always
read this information carefully and take the necessary steps to protect personnel
and property.
Is used to warn of immediate hazards that will cause severe personal injury or death.
Before you begin using, please read your manual thoroughly.
Sincerely,
Mytee Customer Care Dept.
Is used to call attention to a situation that could cause severe personal injury.
Grounding Instructions
This machine must be grounded. If it should malfunction or breakdown, grounding
provides a path of least resistance for electrical shock. This machine is equipped
with a cord having an equipment-grounding conductor and grounding plug. The plug
must be plugged into an appropriate outlet that is properly installed in accordance
with all local code and ordinances. Do not remove ground pin; if missing, replace
plug before use.
Improper connection of the equipment-grounding conductor can result in a risk
of electric shock. Check with a qualified electrician or service person if you are in
doubt as to whether the outlet is properly grounded. Do not modify the plug provided
with the machine. If it will not fit the outlet, have a proper outlet installed by a
qualified electrician.
This appliance is for use on a nominal 120-volt circuit, and has a grounding plug
that looks like the plug illustrated in Figure 1 below. A temporary adapter illustrated
in Figures 2 and 3 may be used~to connect this plug to a 2-pole receptacle as
shown in Figure 2 if a properly grounded outlet is not available. The temporary
adapter should be used only until a properly grounded outlet (Figure 1) can be
installed by a qualified electrician. The green colored rigid ear, tab or the like
extending from the adapter must be connected to a permanent ground such as a
properly grounded outlet box cover. Whenever the adapter is used, it must be held
in place by a metal screw. Grounding adapters are not approved for use in Canada.
Replace the plug if the grounding pin is damaged or broken.
The Green (or GreenYellow) wire in the cord is the grounding wire. When replacing
a plug, this wire must be attached to the grounding pin only.
DO NOT use extension cords.
Please Note for America use only
Grounded Outlet
Adapter
Metal
Screw
Grounding Pin
Grounded Outlet Box
Figure 1
Figure 2
Tab for Grounding
Screw
Figure 3
Parts and Service
Repairs, when required, should be performed by Mytee service personnel or Mytee
authorized Service Center using Mytee original replacement parts and accessories.
Call Mytee for repair parts or service. Please specify the Model and Serial Number
when discussing your machine.
Name Plate
The Model and Serial Number of your machine are shown on the name plate located
on the inside of the machine. This information is needed when ordering repair parts
for the machine. Use the space provided on the front cover to note the Model and
Serial Number of your machine for future reference.
Is used to call attention to a situation that could cause minor personal injury or
damage to the machine or other property. When using an electrical appliance, basic
precautions should always be followed, including the following: Read all instructions
before using this machine. This product is intended for commercial use only.
To reduce the risk of fire, electrical shock, or injury:
1. Read all instructions before using equipment.
2. Use only as described in this manual. Use only manufacturer's recommended
attachments.
3. Always unplug power cord from electrical outlet before attempting any adjustments
or repairs.
4. Do not unplug by pulling on cord. To unplug, grasp the plug, not the cord.
5. Do not pull or carry by cord. Do not close a door on cord or pull cord around sharp
edges or corners.
6. Do not run appliance over cord. Keep cord away from heated surfaces.
7. Do not use with damaged cord or plug. If cord is damaged, repair immediately.
8. Do not use outdoors or on wet surfaces and or standing water.
9. Always unplug or disconnect the appliance from power supply when not in use.
10. Do not allow to be used as a toy. Close attention is necessary when used by or
near children.
11. Do not use in areas where flammable or combustible material may be present.
12. Do not leave the unit exposed to harsh weather elements. Temperatures below
freezing may damage components and void warranty.
13. Use only the appropriate handles to move and lift unit. Do not use any other parts
of this machine for this purpose.
14. Keep hair, loose clothing, fingers, and all parts of the body away from all
openings and moving parts.
15. Use extra care when using on stairs.
16. To reduce the risk of fire or electric shock, do not use this machine with a solidstate speed control device.
17. The voltage and frequency indicated on the name plate must correspond to the
wall receptacle supply voltage.
18. When cleaning and servicing the machine, local or national regulations may apply
to the safe disposal of liquids which may contain: chemicals, grease, oil, acid, alkalines, or other dangerous liquids.
Operating Instructions
1. Plug into appropriate outlet. Inspect cord and plug for any damage.
2. Place unit in the desired operating position.
3. Turn switch on.
4. Check unit for proper operation before leaving unattended.
5. Upon completion of job, clean unit and wrap cords.
After Use
1. Unplug.
2. Inspect power cord and replace if damaged.
3. Clean grills and intakes. Keeping all intakes free of dirt and debris will keep
the unit operating properly. Clogged grills can lead to reduced airflow, and
motor overheating.
4. Clean exterior.
5. Store the machine in a clean, dry place. Never wet motor or wiring.
Maintenance Schedule
Maintenance item
Daily
Check grill for obstructions.
Check power supply cable.
Clean machine with all purpose cleaner and cloth.
Clean unit with compressed air.
x
x
x
Once a week
x
Trouble Shooting
There is no power.
1. Plug machine in proper outlet.
2. If switch is damaged replace switch.
3. Replace or repair loose wire.
4. Replace damaged motor.
Excessive noise.
1. If motor shaft is bent, repair or replace motor.
2. If fan is damaged, repair or replace fan.
Air flow is weak.
1. If intake or grill clogged clean unit.
FAQs
Q: How much does the 3000 weigh and what are the shipping dimensions?
A: 32 Pounds - Box dimensions are 14" x 21" x 23". Must ship motor freight.
Q: Where do I plug the machine in?
A: The 3000 requires a 20A grounded circuit. Please note: GFI outlets may trip
before the breaker setting.
Q: Is there anything I can do to increase the expected life of my airmover?
A: Use compressed air periodically to blow out dirt and debris from the inside of the
housing and motor. Allowing the blower to build up dirt and debris, you will reduce
the effectiveness of the unit, as well as risk cross contamination between jobs.
Warranty
MYTEE LIFETIME LIMITED WARRANTY POLICY
Mytee Products, Inc. endeavors to provide high quality products and product support
to its customers and therefore backs up all of its new products purchased from Mytee
Products Inc. ("Mytee") or any authorized Mytee distributor/service center with this
lifetime limited warranty. This limited warranty begins on the date of the customer's
purchase and is valid and available to the original purchaser with proof of purchase,
and is not transferable. Mytee's products are for commercial use only and are not
intended for personal, family or household uses.
HOUSING LIMITED LIFETIME WARRANTY: Mytee warrants for life that its rotationally-molded housings will be free from manufacturing defects. This warranty covers
the cost of replacement or repair only and does not cover shipping or labor costs.
WEAR PARTS 90-DAY LIMITED WARRANTY: Mytee will replace all wear parts for
90 days from the date of original purchase. "Wear parts" are items which wear out
as a result of usage or the passage of time and are consumed despite attempts to
maintain them, such as gaskets, wheels, brass, cords, wires, electrical terminals,
hoses, switches, thermostats, plastisol parts, filters, bearings, brushes, solenoids, orings, bulbs, heating elements, castors, or other parts deemed wear items in Mytee's
sole discretion. This warranty covers the cost of replacement only and does not cover
shipping or labor costs.
PUMP, VACUUM MOTOR AND HEATER TWO-YEAR LIMITED WARRANTY: Mytee
warrants that pumps, vacuum and floor machine motors, and heaters will be free
from manufacturing defects, defects in workmanship, and defects in material for two
(2) years from the date of original purchase. This warranty does not apply and is void
if the pump, vacuum motor, or heater has worn brush motors, water damage, chemical build-up, chemical damage, or evidence of abuse, neglect or tampering. This
warranty covers the cost of replacement or repair only and does not cover shipping
or labor costs.
HOWEVER, OTHER THAN SET FORTH HEREIN, MYTEE GIVES NO WARRANTY,
EXPRESS OR IMPLIED, AS TO DESCRIPTION, QUALITY, MERCHANTABILITY,
FITNESS FOR ANY PARTICULAR PURPOSE, PRODUCTIVENESS, INFRINGEMENT, OR OTHER MATTER, OF ANY GOODS WHICH MYTEE SHALL SUPPLY.
THERE ARE NO WARRANTIES WHICH EXTEND BEYOND THE DESCRIPTION
ON THE FACE HEREOF. MYTEE SHALL IN NO WAY BE RESPONSIBLE FOR THE
PROPER USE AND APPLICATION OF THE GOODS. MYTEE NEITHER ASSUMES
NOR AUTHORIZES ANY OTHER PERSON TO ASSUME FOR MYTEE ANY OTHER
LIABILITY IN CONNECTION WITH THE SALE OF MYTEE'S GOODS. THIS LIM-
ITED WARRANTY POLICY MAY BE CHANGED OR WITHDRAWN BY MYTEE AT
ANY TIME WITHOUT NOTICE.
LIMITATION OF DAMAGES: THE REMEDY OF REPLACEMENT OR REPAIR
OF ANY DEFECTIVE GOODS SHALL BE THE EXCLUSIVE REMEDY UNDER
ANY WARRANTY MADE BY MYTEE, WHETHER EXPRESS OR IMPLIED. IN NO
EVENT SHALL MYTEE BE LIABLE FOR ANY INCIDENTAL OR CONSEQUENTIAL
DAMAGES, PROPERTY DAMAGES, OR PERSONAL INJURIES.
All limited warranties are void for, and Mytee does not warrant in any way, any product that evidences misapplication, improper installation, abuse, lack of maintenance,
negligence in use or care, abnormal use, alteration of design, modification, use of
incompatible or corrosive chemicals, use in a rental service, and/or servicing, installation of parts, or repairs by anyone other than Mytee or a Mytee authorized distributor
or service center. Mytee may make changes in products it manufactures and markets
at any time; these changes are made without obligation to change, retrofit, or upgrade any product previously sold or manufactured.
Mytee has no obligation to honor the limited warranties set forth herein unless the
original purchaser, promptly upon discovering the warranty claim and prior to continuing to use the product, contacts Mytee or a Mytee authorized distributor or service
center to describe the claim and to receive and follow instructions for documenting
and resolving the claim. In addition, the purchaser must provide the product to which
the claim applies to Mytee or a Mytee authorized distributor or service center for a
thorough inspection. In addition, the purchaser must provide/return the product intact,
unmodified, with all of its original parts.
If any provision or portion of this limited warranty policy is found to be unenforceable,
then the remaining provisions and portions shall remain valid and enforceable.
If any provision or portion of this limited warranty policy is found to be limited by law,
then that provision or portion shall be construed to make it effective within the
bounds of law. For example, if there are legal limitations on the duration of warranties, the warranties made herein shall be construed to have the minimum duration
required by law, or, if there are legal limitations of exclusion of remedies, the exclusions made herein shall be construed to apply to the fullest extent possible without
violating the law.
The validity, construction and performance of this warranty policy shall be governed
by the laws of the State of California, without respect to conflicts of laws principles.
The exclusive jurisdiction of any legal action arising from or related to this warranty
policy shall be in the State of California and no legal action shall be commenced
elsewhere.
Return Material Authorization Procedure
It is the responsibility of any Authorized Service Center (ASC) or Distributor with
written authorization to ensure the Customers equipment is repaired as soon as
possible. Only Mytee Products Inc. or it's authorized dealers with written authorization, service centers, and agents may make warranty repairs on these products. All
others do so at their own risk and expense.
The Distributor must follow Mytee Products, Inc. standard RMA procedure:
1. When a repair falls within the Warranty time period for a piece of equipment, the
Distributor will fill out a RMA/Warranty claim form. This form will act as a repair order
to replace any defective parts.
2. All defective parts must be returned to Mytee Products, Inc. with the RMA/claim
form for evaluation at the customer's expense. This shipping is non-refundable. All
warranty claims are subject to an evaluation by Mytee Products, Inc. to determine if
warranty will be approved. Any credit for repair and/or parts will only be issued upon
evaluation and approval from Mytee Products, Inc.
3. When Warranty is approved, the Distributor's account will be credited for the
replacement part(s). Mytee Products, Inc. will ship the warranted replacement part(s)
to the Distributor prepaid. If Warranty is denied the Distributor's account will not be
credited for any parts sent for this claim.
Mytee Products Inc.
13655 Stowe Dr.
Poway, Ca. 92064
www.mytee.com
PH 858.679.1191
F X 858.679.7814
© 2009 Mytee Products Inc.
Printed in the U.S.A.