Panasonic cq-dfx223n Media Player User Manual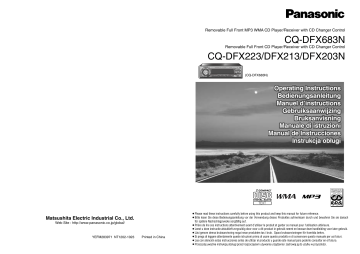 Removable Full Front MP3 WMA CD Player/Receiver with CD Changer Control
CQ-DFX683N
Removable Full Front CD Player/Receiver with CD Changer Control
CQ-DFX223/DFX213/DFX203N
CQ-DFX683N
TE
MU
OPEN
PW
R
REG
TUNE /TRACK
SOURCE
AF
DISP
CD RECEIVER WITH CHANGER CONTROL
DISC / FOLDER
TA
1
2
SCROLL
3
RANDOM
4
SCAN
5
BAND
REPEAT
6
Y
PT
(CQ-DFX683N)
Operating Instructions
Bedienungsanleitung
Manuel d'instructions
d
Gebruiksaanwijzing
Bruksanvisning
Manuale di istruzioni
Manual de Instrucciones
Instrukcja ob¬ugi
TEXT
Matsushita Electric Industrial Co., Ltd.
Web Site : http://www.panasonic.co.jp/global/
YEFM283971 NT1202-1023
Printed in China
¡Please read these instructions carefully before using this product and keep this manual for future reference.
¡Bitte lesen Sie diese Bedienungsanleitung vor der Verwendung dieses Produktes aufmerksam durch und bewahren Sie sie danach
für spätere Nachschlagzwecke sorgfältig auf.
¡Prière de lire ces instructions attentivement avant d'utiliser le produit et garder ce manuel pour l'utilisation ultérieure.
¡Leest u deze instructie alstublieft zorgvuldig door voor u dit product in gebruik neemt en bewaar deze handleiding voor later gebruik.
¡Läs igenom denna bruksanvisning noga innan produkten tas i bruk. Spara bruksanvisningen för framtida behov.
¡Si prega di leggere attentamente queste istruzioni prima di usare questo prodotto e di conservare questo manuale per usi futuri.
¡Lea con atención estas instrucciones antes de utilizar el producto y guarde este manual para poderlo consultar en el futuro.
¡Przeczytaj uwazænie instrukcjeç obs¬ugi przed rozpoczeçciem uzæywania urzaçdzenia i zachowaj jaç do uzæytku w przysz¬oóci.

* Your assessment is very important for improving the workof artificial intelligence, which forms the content of this project