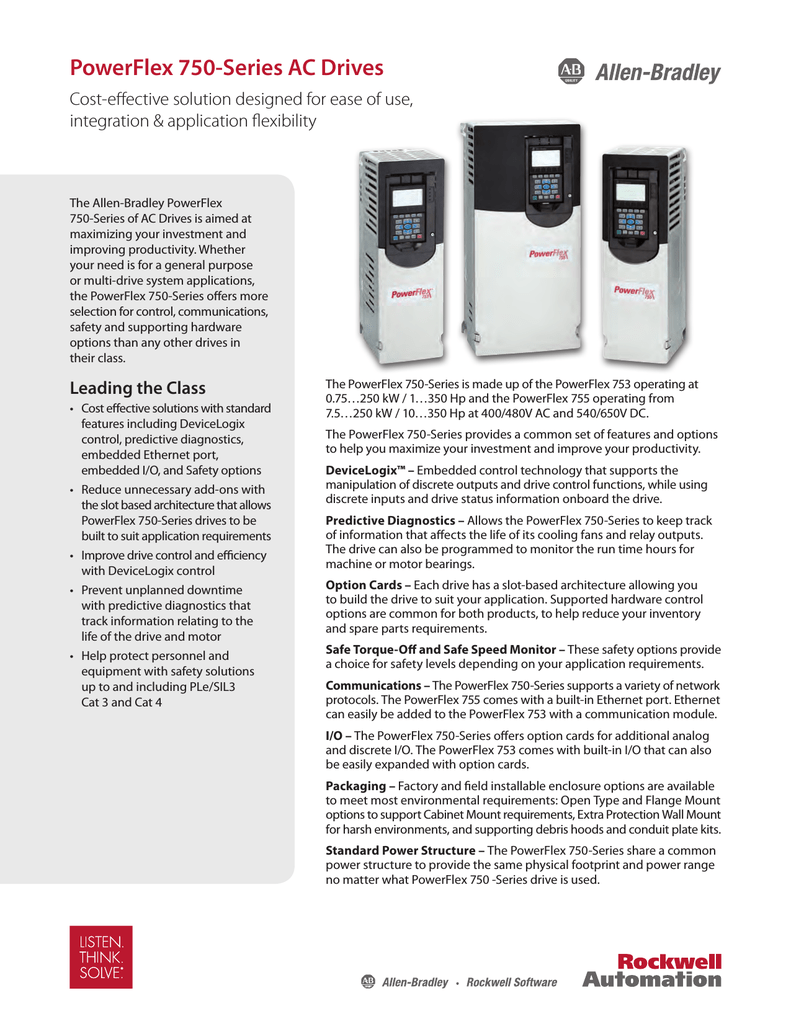 PowerFlex 750-Series AC Drives
Cost-effective solution designed for ease of use,
integration & application flexibility
The Allen-Bradley PowerFlex
750-Series of AC Drives is aimed at
maximizing your investment and
improving productivity. Whether
your need is for a general purpose
or multi-drive system applications,
the PowerFlex 750-Series offers more
selection for control, communications,
safety and supporting hardware
options than any other drives in
their class.
Leading the Class
• Cost effective solutions with standard
features including DeviceLogix
control, predictive diagnostics,
embedded Ethernet port,
embedded I/O, and Safety options
• Reduce unnecessary add-ons with
the slot based architecture that allows
PowerFlex 750-Series drives to be
built to suit application requirements
• Improve drive control and efficiency
with DeviceLogix control
• Prevent unplanned downtime
with predictive diagnostics that
track information relating to the
life of the drive and motor
• Help protect personnel and
equipment with safety solutions
up to and including PLe/SIL3
Cat 3 and Cat 4
The PowerFlex 750-Series is made up of the PowerFlex 753 operating at
0.75…250 kW / 1…350 Hp and the PowerFlex 755 operating from
7.5…250 kW / 10…350 Hp at 400/480V AC and 540/650V DC.
The PowerFlex 750-Series provides a common set of features and options
to help you maximize your investment and improve your productivity.
DeviceLogix™ – Embedded control technology that supports the
manipulation of discrete outputs and drive control functions, while using
discrete inputs and drive status information onboard the drive.
Predictive Diagnostics – Allows the PowerFlex 750-Series to keep track
of information that affects the life of its cooling fans and relay outputs.
The drive can also be programmed to monitor the run time hours for
machine or motor bearings.
Option Cards – Each drive has a slot-based architecture allowing you
to build the drive to suit your application. Supported hardware control
options are common for both products, to help reduce your inventory
and spare parts requirements.
Safe Torque-Off and Safe Speed Monitor – These safety options provide
a choice for safety levels depending on your application requirements.
Communications – The PowerFlex 750-Series supports a variety of network
protocols. The PowerFlex 755 comes with a built-in Ethernet port. Ethernet
can easily be added to the PowerFlex 753 with a communication module.
I/O – The PowerFlex 750-Series offers option cards for additional analog
and discrete I/O. The PowerFlex 753 comes with built-in I/O that can also
be easily expanded with option cards.
Packaging – Factory and field installable enclosure options are available
to meet most environmental requirements: Open Type and Flange Mount
options to support Cabinet Mount requirements, Extra Protection Wall Mount
for harsh environments, and supporting debris hoods and conduit plate kits.
Standard Power Structure – The PowerFlex 750-Series share a common
power structure to provide the same physical footprint and power range
no matter what PowerFlex 750 -Series drive is used.
PowerFlex 753
PowerFlex 755
0.75…250 kW / 1…350 Hp
7.5…250 kW / 10…350 Hp
DeviceLogix Control
Technology
✓
✓
Predictive Diagnostics
✓
✓
Safety Options:
Safe Torque-Off, Safe
Speed Monitor
✓
✓
Assisted Start-Up, HIMs
Drive Software: DriveTools,
DriveExplorer, RSLogix5000
✓
✓
Option Slots
3
5
400/480V
PowerFlex 753 AC Drive
The PowerFlex 753 is ideal for general purpose
applications. Embedded I/O along with three
option slots for safety feedback, communications
and additional I/O makes drive a flexible,
cost-effective solution.
Communications Option modules available for:
• EtherNet/IP
• ControlNet
• DeviceNet
• And a variety of industrial
networks
Embedded Ethernet port standard
Option modules available for:
• ControlNet
• DeviceNet
• Additional modules to support
variety of industrial networks
I/O Embedded I/O standard
1 Digital Input standard
• 3 Digital Inputs, 1 Relay
• Option cards for
Output, 1 Transistor Output,
additional I/O
1 Analog Input, 1 Analog
Output, 1 PTC Input
• Option cards for additional I/O
Motor Types • Induction
• Induction
• Permanent Magnet Motors
Positioning • Indexing
•
•
•
•
Feedback • Incremental
• Incremental
• EnDat, Hiperface, SSI and BiSS
Integration with Logix • Add-On-Profiles
PowerFlex 755 AC Drive
PowerFlex 755 is ideal for drive system applications,
applications requiring advanced positioning and
higher performance. The PowerFlex 755 is easily
integrated with the embedded Ethernet port and
has five options slots to support additional options
for feedback, I/O, safety, communications, and
auxiliary 24V DC control power.
Indexing
PCaming
Electronic Gearing
Position/Speed Profiling
Application Sets Oil Well
• Pump Jack & Pump Off
Fibers
• PJump & Traversing
• Add-On-Profiles
Lifting
• Torqprove
Conformal Coating
✓
✓
ROHS Compliant Materials
✓
✓
Maximize Your Investment and Help Improve Productivity
Control
• Drive control modes include adjustable voltage, speed,
torque, and position in one product to support multiple
application types
• Selectable high-performance motor control algorithms
with Force Technology includes Flux vector, Permanent
magnet motor, sensorless, and V/hz to support multiple
motor types
Motor Types Include: Induction and Permanent
magnet motor (Allen-Bradley MPL and some third party
PM motors)
• DeviceLogix embedded control technology
• Application Sets: Pump Jack and Pump Off for oil well
applications; PJumping and traversing for Fiber
applications; and TorqProve for lifting applications
• AC or DC common bus configurations for stand alone or
multiple drive solutions
• Multiple preset speeds with programmable control
through digital inputs, communications, or DeviceLogix
Position Control
• Integrated position loop for homing, indexing, electronic
gearing, position and velocity profiling, and PCAMing
Feedback
• Universal feedback, Encoder, and Dual Encoder
feedback options
• Universal Feedback option includes multiple feedback
interfaces to support a wide range of applications.
Interfaces supported are Incremental, EnDat and
Hiperface for Stegmann and Heidenhain high resolution
feedback, SSI and BiSS for rotary and linear applications
• Automatic feedback loss switchover to encoder and
encoderless in speed mode
Communications
• Built-in Ethernet port on the PowerFlex 755
• With the PowerFlex 750 communication adapter you can
use existing PowerFlex communication modules
• Network protocols include: EtherNet/IP, ControlNet,
DeviceNet, Remote I/O, RS485 DF1, PROFIBUS DP,
Interbus, Modbus/TCP, Bluetooth, CANopen, RS485 HVAC
Hardware
• Slot based structure for control and selectable I/O,
feedback, communication and safety options
• Auxiliary control power available
• Pull-apart terminal blocks for easy wiring
• Zero Stacking or side-by-side mounting of drives
in panels
• Noise and voltage suppression characteristics, reduces
installation concerns for noise-sensitive environments
• Standard conformal coating hardware
I/O
• Built-in I/O on the PowerFlex 753 and option cards
available for 24V DC and 115V AC
• Additional cards combining analog and discrete
I/O available
• I/O features include analog loss detection, timed outputs,
and PTC input
Real-Time Clock
• Can be set locally or by a remote controller
• Programmable month, day, year, and local time zone
in HH:MM:SS
Programming and Commissioning
• LCD Human Interface Module (HIM) features an assisted
start-up utility to reduce start-up time and allows easy
configuring and tuning of the drive
• Software tools to assist with programming, configuration,
monitoring, and troubleshooting: RSLogix 5000,DriveTools,
and DriveExplorer
• Flash upgradeable
Standards
• To meet the needs of customers worldwide, the
PowerFlex 750-Series meets material restrictions
specified in the ROHS directive
PowerFlex 750-Series AC Drive
A High definition LCD display
allows for six lines of text for
more meaningful explanations
of parameters and events
B Standard I/O on the
PowerFlex 753 provides
a cost effective solution
A
B
C Real time clock provides
time stamped events vs.
run time data
D Additional DPI for expanded
programming capability
E Increase safety performance
levels with the Safe Speed
Monitor option card which
includes an embedded
safety relay
G
C
F Packaging options to meet
application requirements
D
G DeviceLogix embedded
control technology provides
function block programming
for stand‑alone control of
basic applications
H Easily configure, control,
E
H
I
and collect drive data with
standard embedded Ethernet
port on the PowerFlex 755
I Slot based mechanical
architecture to support
additional options for I/O,
feedback, safety,
communications and
auxiliary power supply
F
J Easily assessable heat sink and
internal fans
J
Above picture represents a PowerFlex 755 with an optional plate.
PowerFlex Enhanced
Human Interface Module (HIM)
The enhanced HIM module for the PowerFlex family of drives
offers added functionality and improved ease of use making drive
programming easier than before. Take advantage of the simplified
operation and reduced keystrokes from the redesigned keypad,
more structured navigation, and assisted start-up utility. The highdefinition LCD display allows for six lines of text providing you
with more meaningful explanations of parameters and events.
The backlight on this display also flashes to help signal an event that
requires attention. The HIM is currently available in nine languages
and language is defined within the HIM firmware, so symbols and
abbreviations appear in the selected language. This new HIM is
compatible with the entire PowerFlex family of drives and is available
in NEMA 1 and NEMA 4 versions.
e-Tools
RSLogix™ 5000
DriveExplorer™ Software
For simplified AC drive start-up and reduced development
time, we've integrated Allen-Bradley PowerFlex drive
configuration with RSLogix5000® software. This
single-software approach simplifies parameter and tag
programming while still allowing stand-alone drive
software tool use on the factory floor.
Allen-Bradley DriveExplorer software is an easy-to-use,
cost effective online programming tool designed for
Microsoft® Windows™ 2000/XP/VISTA operating systems. It
provides the user with the means to monitor and configure
PowerFlex drive and communication adapter parameters.
DriveTools™ SP Software Suite
The PowerFlex Accelerator Toolkit contains a variety
of tools to help you easily design, install, operate and
maintain a drive system. Download the tool at:
www.ab.com/go/iatools
A powerful PC based software suite, for programming,
configuring, and troubleshooting.
• DriveExecutive™ — for online/offline configuration
and management of drives and drive peripherals.
• DriveObserver™ — for real-time trending of
drive information.
PowerFlex Accelerator Toolkit
Motion Analyzer
For applications requiring more than a constant load and
steady speed, Motion Analyzer software can help by
handling the necessary complex calculations.
Motion Analyzer features an easy-to-use format
which can reduce design risk for speed and positioning
applications that include PowerFlex® Drives or
Kinetix® servo drives. Download the tool at
www.rockwellautomation.com/go/imcmotion
Safety
The PowerFlex 750-Series is available with two Safety options:
1. Safe Torque-Off option or
2. Safe Speed Monitor option.
These safety options can help provide reduced downtime
paired with an increase in productivity while protecting
your personnel and equipment.
Safe Torque-Off is ideal for safety related applications
requiring removal of rotational power to the motor without
shutting down the drive. Safe Torque-Off functionality
offers the benefit of quick start-up after a demand on
the safety system and helps reduce wear from repetitive
start-up and provides safety ratings up to and including
PLe/SIL3 and CAT 3.
The Safe Speed Monitor option provides the following
functionality:
• Safe Torque-Off
• Stop Categories 0, 1 and 2
• Safe Stop
• Safe Limited Speed
• Safe Maximum Speed
• Safe Maximum Acceleration
• Safe Direction
• Zero Speed Monitoring
• Door Control and Monitoring
• Enabling switch input
In applications where the speed needs to be controlled
and monitored, the Safe-Speed Monitor option for the
PowerFlex 750-Series combines Safe Torque-Off capability
with integrated safety relay functionality and the Safe-Speed
Control technology in one hardware option to provide
safety ratings up to and including PLe/SIL3 and Cat 4.
With the Safe Speed Monitor option you can safely monitor
and control the speed of your application which allows
operators to perform process or maintenance work
without stopping the machine.
If Safe Speed Monitoring detects speed
above set safe speed limit, drive will fault
and conduct a safe stop
SAFE LIMITED SPEED WITH DOOR MONITORING
Drive
Normal
Operation
FAULT ZONE
If door is opened during
normal operation, drive will
fault and conduct a safe stop
Monitor Delay –
Set by operator determined
by application requirements
SAFE SPEED
LIMIT
ACTUAL SPEED
DOOR
MONITORING
Operator Initiated
TIME
Safe
Limited
Speed Request
SAFE LIMITED SPEED
Speed Monitored
Safe Direction Monitored
Operator has access
to machine
x
Door
Released
DOOR
MONITORING
Operator Initiated
Safe Limited Speed Request Removed,
Safety Reset, Door Locked
and Operation Reinitiated
DeviceLogix™ Control Technology
Function Block Library
Inputs and Outputs
Local and Networked
RSLogix Function Block Look and Feel
Digital Inputs
Digital Output
Datalink Inputs
Datalink Output
DeviceLogix control technology provides you with the
flexibility to customize a drive to more closely match your
application needs. DeviceLogix controls outputs and
manages status information locally within the drive allowing
you to operate the drive independently or complimentary to
supervisory control helping to improve system performance
and productivity.
You can use the PowerFlex 750-Series DeviceLogix to:
• Speed reaction time by processing in the drive which
reduces dependency on network throughput
• Provide scaling, selector switches, or other data
manipulations not already built into the drive
Sensor
• Read inputs/write outputs and exclusively control
the drive
• Provide an option for decision making if communication
is lost with main controller
• Control other PowerFlex drives via a Peer-to-Peer
EtherNet/IP network
DeviceLogix is easily programmed via: RSLogix 5000,
DriveExplorer v 6.01, and DriveTools SP v 5.01
Diverter
Upstream Converyor
Downstream Converyor
PowerFlex 753 and PowerFlex 755 AC Drive Specifications
Frame/Rating Cross-Reference
Frame
1
Amps
2.1
3.5
5
8.7
11.5
15.4
22
30
37
43
60
72
85
104
140
170
205
260
302
367
456
2
3
4
5
6
7
400V AC (540V DC) Input
Normal Duty kW
0.752
1.52
2.22
42
5.52
7.5
11
15
18.5
22
30
37
45
55
75
90
110
132
160
200
250
Heavy Duty kW
0.75
1.5
2.2
4
5.5
5.5
7.5
11
15
18.5
22
30
37
45
55
75
90
110
132
160
200
Amps
2.1
3.4
5
8
11
14
22
27
34
40
52
65
77
96
125
156
186
248
302
361
415
480V AC (650V DC) Input
Normal Duty HP
12
22
32
52
7.52
10
15
20
25
30
40
50
60
75
100
125
150
200
250
300
350
Heavy Duty HP
1
2
3
5
7.5
7.5
10
15
20
25
30
40
50
60
75
100
125
150
200
250
300
Frame ratings based on Open Type Cabinet mount enclosures. See User Manual for more specifics on Flange Mount and NEMA 12 ratings (www.literature.rockwellautomation.com/idc/
groups/literature/documents/um/750-um001_-en-p.pdf )
2
Contact your local sales representative for availability of the PowerFlex 755 in these power ranges
1
Standards
• CE
–– EMC
EN61800-3
–– Low Voltage EN61800-5-1
• UL
• cUL
• C-Tick
• TUV FS
• SEMI F47
• ROHS
• GOST-R
Input Specifications
• 3-Phase Voltage:
• Frequency:
• Logic Control Ride Through:
380-480V +/- 10%
47 – 63 Hz
0.5 seconds
Output Specifications
• Voltage:
Adjustable from 0V to rated motor
• Frequency Range:
0 – 650 Hz
• Instantaneous Over Current Trip:
220 – 300% based on drive rating
Dimensions
Approximate Dimensions Millimeters (Inches)
Frame
Height
Width
Depth
2
424.20 (16.7)
134.50 (5.30)
212.00 (8.35)
3
454.00 (17.87)
190.00 (7.48)
212.00 (8.35)
4
474.00 (18.66)
222.00 (8.74)
212.00 (8.35)
5
550.00 (21.65)
270.00 (10.63)
212.00 (8.35)
6
665.50 (26.20)
308.00 (12.13)
346.40 (13.64)
7
881.50 (34.70)
430.00 (16.93)
350.00 (13.78)
Publication 750-PP001A-EN-P – October 2009
Enclosure & Ambient Operating Temperatures
Enclosure Rating
Temperature Range
Drive
Open Type Cabinet Mount
IP00/IP20 & NEMA/UL Open Type
0-50˚ C (32-122˚ F)
All Frames, All Ratings
Extra Protection Flange Mount
Front: IP00/IP20 & NEMA/UL Open Type 0-50˚ C (32-122˚ F)
Back: IP66 & NEMA/UL Type 4X
0-40˚ C (32-104˚ F)
All Frames, All Ratings
All Frames, All Ratings
Extra Protection Wall Mount
IP54 & NEMA/UL Type 12
0-40˚ C (32-104˚ F)
Frames 2-5
0-40˚ C (32-104˚ F)
All Frames, All Ratings
NEMA 1 Kit converts Open Type to
NEMA/UL Type
Copyright ©2009 Rockwell Automation, Inc. All Rights Reserved. Printed in USA.