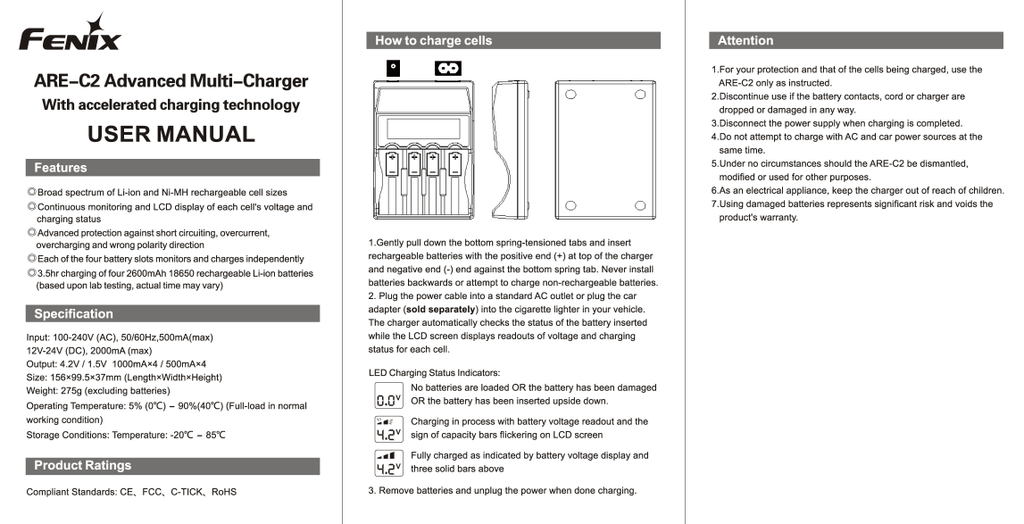 Fenix
ARE-C2 Advanced Multi-Charger
With accelerated charging technology
USER MANUAL
© Broad spectrum of Li-ion and Ni-MH rechargeable cell sizes
© Continuous monitoring and LCD display of each cell's voltage and
charging status
© Advanced protection against short circuiting, overcurrent,
overcharging and wrong polarity direction
© Each of the four battery slots monitors and charges independently
© 3.5hr charging of four 2600mAh 18650 rechargeable Li-ion batteries
(based upon lab testing, actual time may vary)
Specification
Input: 100-240V (AC), 50/60Hz,500mA(max)
12V-24V (DC), 2000mA (max)
Output: 4.2V / 1.5V 1000mAx4 / 500mAx4
Size: 156x99.5x37mm (LengthxWidthxHeight)
Weight: 275g (excluding batteries)
Operating Temperature: 5% (0°C) —- 90% (40°C) (Full-load in normal
working condition)
Storage Conditions: Temperature: -20°C — 85°C
Product Ratings
Compliant Standards: CE, FCC, C-TICK, RoHS
HE 3
ER —
||
a ee
LA
O e
1.Gently pull down the bottom spring-tensioned tabs and insert
rechargeable batteries with the positive end (+) at top of the charger
and negative end (-) end against the bottom spring tab. Never install
batteries backwards or attempt to charge non-rechargeable batteries.
2. Plug the power cable into a standard AC outlet or plug the car
adapter (sold separately) into the cigarette lighter in your vehicle.
The charger automatically checks the status of the battery inserted
while the LCD screen displays readouts of voltage and charging
status for each cell.
LED Charging Status Indicators:
No batteries are loaded OR the battery has been damaged
OV] OR the battery has been inserted upside down.
co
"а= | Charging in process with battery voltage readout and the
UDI sign of capacity bars flickering on LCD screen
Fully charged as indicated by battery voltage display and
Yo
he
three solid bars above
3. Remove batteries and unplug the power when done charging.
1.For your protection and that of the cells being charged, use the
ARE-C2 only as instructed.
2. Discontinue use if the battery contacts, cord or charger are
dropped or damaged in any way.
3.Disconnect the power supply when charging is completed.
4 Do not attempt to charge with AC and car power sources at the
same time.
5.Under no circumstances should the ARE-C2 be dismantled,
modified or used for other purposes.
6.As an electrical appliance, keep the charger out of reach of children.
7.Using damaged batteries represents significant risk and voids the
product's warranty.

* Your assessment is very important for improving the work of artificial intelligence, which forms the content of this project