No category
MP3000E-Basic Interface Control w/UBOB Pages 1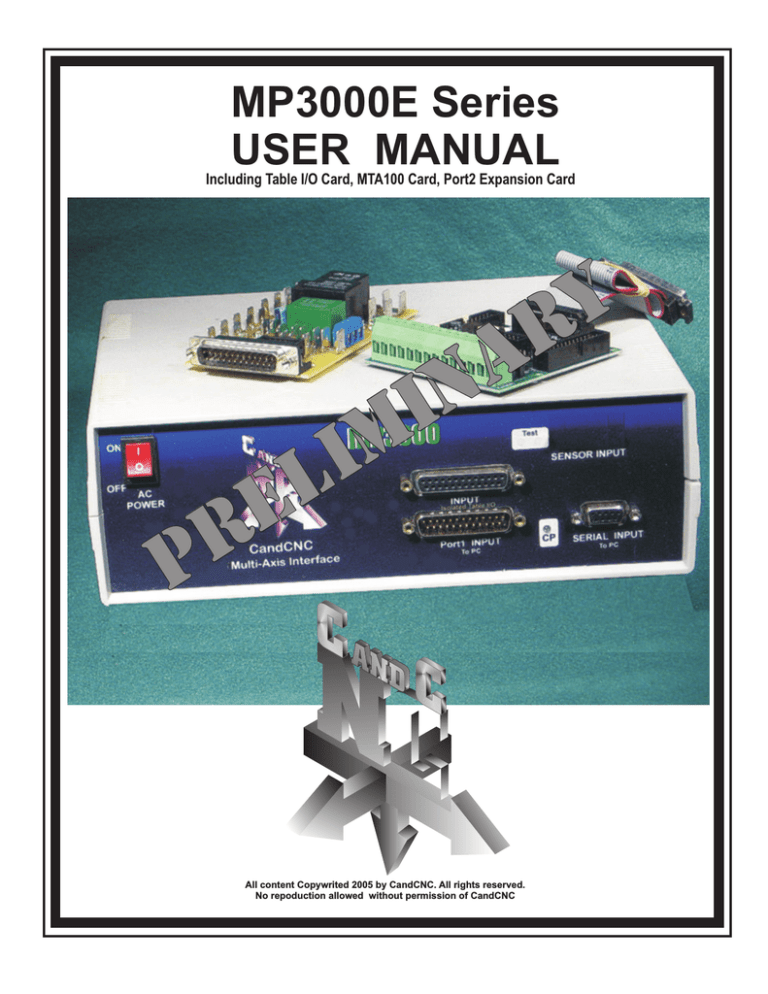 MP3000E Series
USER MANUAL
Including Table I/O Card, MTA100 Card, Port2 Expansion Card
P
R
EL
IM
IN
A
RY
All content Copywrited 2005 by CandCNC. All rights reserved.
No repoduction allowed without permission of CandCNC
m m o o n
C
*
Optional PORT2
Expansion for
Hand Controller
INTRODUCING THE MP3000 Master Control Unit
Built-in Self Test for EXPANSION
Modules verifies operation
Connection for REMOTE
Table I/O Card for
Inputs and Outputs
10.062
Input for EXPANSION
Modules (DTHC, SPINDLE SPEED)
MP3000
Multi-Axis Interface
EXPANSION
MODULE
TEST
DTHC / SPS
PORT2 OPTION
INPUT
Isolated Table I/O
Multi-Axis Interface
SERIES E
Hand Controller
UBOB II ™
Technology
Port1 INPUT
To PC
1
5
6 9
CP PWR
SERIAL INPUT
To PC
SINGLE PORT
Interface
PORT EXPANDER
Technology
Indicator for Charge Pump active
True RS232 Serial signals
Used for DTHC and ISS-02
Interface to MACH
Basic Features
Expanded Single port interface + serial (True RS232 signals)
Modular design allows for easy upgrades and easy repair
Bi-directional communication with MACH3
100% Digital Control
Field Ungradable to DTHC or Spindle Speed with single plug-in card
Custom Screens allow 100% control form MACH3
Charge Pump Active Indicator
Unit is plug compatible with other quality CandCNC products
Buffered Step & Direction (4 or 5 axis operation options)
All 8 power outputs double buffered: all 9 inputs opto isolated
Rear Panel connector for MPG (hand controller)
Exclusive remote Table I/O card makes hooking up homes and limits quick and easy. Two High Current relay outputs at the table where they belong.
All connects made via standard data cables (DB25 & DB9)
Universal Power Pak allows operation world wide
Works with any TTL level step & dir type motor drives including ALL versions of Gecko drives
Included interface card for multiple output options
Quality components. Designed and built in the USA.
Two Year Warranty Parts and Labor. Free unlimited support
DTHC Features
Voltage control to + -
Built-in self test
1/4 volt
Usable with hand or machine torches
Optional Arc Good sensor for machines not equipped with that signal.
Presettable volts from MACH3 screen or from Cut Profile.
Unlimited Cut Profiles store/recall critical settings; Select your material from a list. Edit.Add new profiles
Full DTHC operation from one screen in MACH
TOTAL DC (analog) ISOLATION between Plasma (Tip Volts) and computer/controller logic
On-the-fly push button adjustment for Preset Volts allows dynamic height adjust
New "TIP SAVER" feature has Head Lock to prevent diving on turns or over voids
Last setting retained on power down
Advance Digital Torch Height Controller responds thousands of times per second
Advanced logic functions like Auto THC enable, Torch off on Fault, Stop on fault, etc
Optimized for use with touch-n-go surface sensing
Compatable with SheetCAM
The setup of the MP3000 Series Interface involves the installation of
MACH3 software and some support files on the PC to be used for the machine controller. While we will guide you through the setup for MACH3 the MACH3 manual gives more in depth instructions on each feature.
Familiarize yourself with the controls on the MP3000 and with the loading and operation of MACH3 with the proper profile. The initial part of this manual is devoted to getting MACH3 properly installed with the right support files and profile to run the MP3000. After you have the software installed and the cables and satellite cards hooked up you will be guided through a series of tests to determine if everything is working. We ask that you go through the setup and manual in the order presented. If at some point you cannot get the expected results and check your connections and setup with no success then call our tech support person (also the engineer, assembler, tester, webmaster and marketing guy!) at 903-364-2740. While we work a lot of strange hours we may not always be available to answer the call so leave a detailed message of the problem and how to get in touch with you will hear back from one of the staff.
Installation and setup of your MP3000.
There are a series of steps you must complete to setup and interface the
MP3000 with your PC and Your Plasma torch
·
Install and setup the Primary parallel port in your PC
·
Setup and configure the first serial port (COM1) on your PC
·
Install MACH3 software
·
Copy your MACH3 license into the MACH3 main folder
·
Run the install program from the CandCNC disk to load custom screens and setup files and Plug-ins
·
·
Open MACH3 and check screens and configure the PLUG-INs
Connect the 2 PC port cables (one 25Pin, one 9 Pin) to the front of the MP3000
·
·
Connect the Table I/O card to the Table I/O port on the front of the
MP3000
Connect the Axis I/O Card to the motor drive modules, or the EZPlug
Gecko cards (stepper or servo) via the provided MTA100 Card
·
Run a quick series of tests to confirm the ports are working and that
MACH3 is configured correctly
·
·
·
Do final checkout.
Setup and test any Expansion Cards (DTHC or Spindle Speed)
Fire up the machine and cut a test file.
INSTALL and SETUP PRIMARY and/or SECONDARY PARALLEL
PORTS
NOTE: USE THIS SECTION ONLY IF YOUR PC DOES NOT HAVE A BUILT-IN
PARALLEL PORT and/or SERIAL PORT OR YOU HAVE PURCHASED THE
MPG101B HAND CONTROLLER THAT USES A SECOND PARALLEL PORT.
Use the same procedure to install a primary (PORT1) Parallel Port (if your
PC does not have one) or a second port. Do not attempt to use two separate parallel port cards of the same type to get two ports. For two ports use a Dual Parallel Port card. CandCNC stocks low cost parallel and parallel/serial PCI expansion cards.
Make sure the card you install has drivers for the version of Windows you are running. Win2000 drivers may or may not work in XP (or visa versa). When you install the card in your computer and turn it back on, it should find the new hardware and when prompted, you should use the disk that comes with the port card to install the correct drivers. There should be instructions with the card on the proper way to install the drivers.
After you install the parallel port and Windows recognizes the port(s) then open the device manager from the Hardware section under Windows /Control
Panel/System and open the Ports icon and find the Port entries. Open that and click on the resources tab.
Write down the first number in the Input/Output range (DE00 in this case above). We will have to enter that number in the MACH3 setup procedure later
INSTALL and SETUP PRIMARY and/or SECONDARY PARALLEL
PORTS
You will have to setup the COM1 serial port in Windows. It should be setup with
9600 baud, 8 bits, no parity, 1 stop bit, no Flow control.
Testing: We will test the functionality of the com port after we hook up the
MP3000 to the computer.
INSTALL MACH SOFTWARE
Software Install Instructions
If you are installing from the Support CD you can find the MACH3 ver 3.042.020 in the BladeRunner\MACH-
PROG folder as
Mach3VersionR3.042.exe
. If you are installing from a web download you will first have to UNZIP the files you downloaded and place them in a Folder on your PC. Name the folder something that you can easily identify later. Unzip the files all into that folder (MACH3 program, BladeRunner-Install.exe, etc)
While MACH will run under Windows Vista a lot of other programs you may need won't. Vista uses LOT's of resources so your PC needs to be the fastest one with 2G of RAM to have a shot at making it work. We do not currently support Vista so PLEASE don't call and ask for support for MACH from us if you are running anything but WIN2000 or XP (any level).
A NOTE ABOUT HARDWARE (PC) THAT YOU NEED TO RUN MACH:
1. Not all hardware is compatible with MACH3 regardless of how fast the PC is. It's rare that a PC rated over
1.8GHZ won't run MACH but not unheard of. Usually the problems show up as jerky motor movements, bad motion in running code and other control problems. Things like Inputs and Outputs and not getting any motor movement is NOT typically a MACH / PC issue. If in doubt about the ability of the PC run DriverTest.exe (With
MACH not running) located in the MACH3 folder.
2. The minimum computer recommended is a 1 GHZ processor with 256MRam. We find that a 1.8 or 2.4 GHZ with 512M RAM tends to work better especially if the MB has on-board video. The higher you can run the core freq in MACH the more Steps per Second you can get and the smoother the pulse train of those steps. There are also Windows processes that can effect the timing in MACH. Never run realtime virus protection or other
"tray" programs not needed for basic Windows functions.
Start Install of MACH3 software by clicking on the MachProgram/
MACH3ver3.042.020.exe
file . If you already have a version of MACH on the PC, you will be prompted to upgrade the version. Let it upgrade. If you have a version
NEWER
than 3.042.20 then be aware that while there will probably be no problems we have not tested the custom drivers (plug-ins) with versions after 3.42.020.
You will see the screen above when you start the install.
About the MACH3 License
You must copy your MACH3 license (provided when you purchase a full copy from the Mach3 website or from an authorized dealer) into the main MACH3 folder. A MACH2 license will work as well. You can check to make sure your license is active by re-loading MACH3 after the license copy and opening the
Help/About
and making sure the "licensed to" line is NOT "Demo". The
MP3000E-DTHC( THC functions) WILL NOT WORK WITH A DEMO copy of the software. The other motor drive functions will work. If you cannot get the THC button to show active (green LED), then check your copy to make sure the license is there. If you upgrade the version, the license will remain but if you manually remove the MACH3 folder or change it's name prior to loading a new copy the license file will have to be re-installed into the working directory.
Setting up the Port 2 address. (Used only if you have installed a second parallel port) for use with the MPG101B Hand Control. The new UBOB interface card used in all CandCNC products has a Port Expander that increases the number of IO signals and eliminates the need for a second
parallel port unless you are adding the optional Hand Controller. It's recommended you do not install the Hand Control unit until you have the
MP3000 working correctly and cutting from the screen and keyboard.
Within MACH3 on the Ports and Pins/ Port Setup and Axis Selection tab:
·
·
·
·
If you are using a motherboard parallel port for PORT1 , confirm the address is 0X378 in PORT address box in MACH
If you are using a PORT1 or PORT2 expansion card, Enter the hex address you recorded earlier for your parallel port(s). The actual address you have written down should be proceeded by a
"0X" (Zero, X) so something like DE00 becomes 0XDE00 for the input value (or 0xde00 will work since the value is not case sensitive)
For PORT2 installs Make sure the "Use Pins 2-9 as Inputs" box is checked
If the port1 address is correct the CP (Charge Pump) LED should be on when MACH3 is out of RESET. If it does not come on, then Port 1 may not be working correctly. We have found that some older Parallel Port add-in cards do not work properly with XP. Make sure your card has specific drivers for the version of Windows you are running.
Tree structure of Support CD: Root Folder
INSTALLING CandCNC Custom drivers, profiles and screen sets.
The Support CD has a folder named AUTO INSTALL FILES. Under that are two folders. One is
CurrentProducts.
Open that folder and you will see the auto-install files for the various products. For any MP3000E product run the MP3000E -Instal.exe FIRST. If you have the
MP3000-DTHC or are adding the DTHC module to your existing MP3000-Basic then run the
MP3000E-UBOBII-DTHC_Install
AFTER
the MP3000E-Instal file.
.
!
The MP3000E-Instal.exe Auto Install does the following:
!
Installs the custom MACH XML (Profile) and SET (Screen file) files into the MACH3 directory
!
Installs 2 custom Plug-ins used in all of CandCNC's products .
!
Adds in the proper side files for the screen files (embedded VB)
!
Removes the default Icons MACH installs on the Desktop (except for LOADER) and puts a MP3000 Icon on the Desktop so you can start your MP3000 directly from that ICON.
Removes unneeded XML's from MACH so they don't show up in the Loader List.
Load and Testing MACH
After you have installed MACH and run the MP3000E_INSTALL on the Support CD, open
MACH using either the using the
MACH Loader
MP3000-Basic
and the MP3000-Base selection from the list OR
Icon created in the desktop.
You should see the following screen or something very close. If you are missing the icon or it's not in the selection list, re-run the MP3000E-INSTALL again. If you have the Profile
(MP3000-Basic) listed in the MACH Loader and the screen does not display go to the top menu bar and select VIEW/Load Screens and naviagate to the MACH3 folder and select
MP3000-Basic.set. If it is missing any of the Bitmaps (picture buttons and/or backgrounds then confirm the Installer created the CandCNC folder under the MACH3/Bitmaps Folder and there are files in that folder. We have included a ZIp file on the CD of all the bitmaps and the ZIP file is on the CandCNCSupport Forum site in the FILES/MP3000 Support Files
Folder. You can UNZIP the files in the Bitmaps.ZIP file directly to the
MACH3/Bitmaps/CandCNC folder. Along with bitmaps and other features the MP3000 screens contain several custom functions embedded as code behind certain buttons. If you elect to use another screen SET file with the MP3000 be aware some functions may not work
.
Setting up and confirming Parallel addresses in MACH
NOTE: Each PROFILE (XML) you setup in MACH has it's own separate set of settings (config) it maintains, so any changes or additions to a setup changes the profile and ONLY that profile. So, adding in a port profile, tuning motors, changing a pin function, etc, is saved
only in the profile you have loaded
. If you have multiple profiles you will need to make the listed changes/setup in each one.
Checking PORT1 and (optional) PORT2 Setup in MACH CONFIG
NOTE: Not all computers will run with a Kernel Speed greater than 35000HZ. If you start
MACH after loading our Auto Install (see next page) and MACH locks ups you may need to run at a lower Kernel Speed. We have modified the install to set the default Kernel
Speed at 45000. You will need to increase that speed if you are running a servo based system and you need more Pulses per Second to get the RPM from the motors.
Example: With 500 line encoders (2000 pulses per rev) you will need 66,000 pps to produce 2000 RPM of the motor. Pulse rates over 60,000 need to be tested with a specific computer to verify it can operate at that Kernel Speed.
CHECKING PLUG-IN LOAD
The auto install program should load the ccc_comm and ccc_UBOB plug-ins and Enable them. Some installs will also load the ccc_pendant as well. If you do not have an MPG101B Hand
Controller then disable (RED X) the ccc_pendant plug-in if it is Enabled.
Open the CONFIG (yellow tab) on the ccc_comm and set your environment up to match the products you are running. You can start with "Neither" in both selection lists. Later if you add the DTHC or Spindle Speed Modules the install SHOULD change the settings but always check to make sure the changes were made. If you have a
DTHC (MP3000-DTHC) and have loaded the DTHC upgrade install and the DTHC does not appear to be communicating with the screen (MACH) check the settings in the ccc_Comm plug-in.
There are currently no settings to change in the ccc_UBOB plug-in
X5
Step&Dir
Buffered
FAN
HARDWARE SETUP
>
>
>
>
>
>
Plugging in Universal Power Pak
Checking PWR LED
Installing External I/O Cards
>
TABLE I/O Setup (Homes, Limits, Relays)
>
MTA150 Setup (Motor Driver, S&D signals)
>
>
>
Motor Driver Options
Setting up outputs
OPTIONAL PORT2 Interface (port 2 signals)
Connecting MP3000 to
Wiring options fo
>
INPUT POWER
100 - 240VAC 50/60 HZ
Standard IEC
POWER Cord
Use correct cord for
Plugs in your country
For UBOB Builders Kits the plug must be removed (cut off) and the wires stripped back for use with the input screw terminals on the UBOBII card (see illustration). There are 4 wires + a shield. The two Yellow rires are BOTH + 12VDC.
The Two RED wires are BOTH +5VDC. The sheild is
Ground (common) for all 4 power wires. See the power hookup on next page.
Cord supplied is for North America
AC Plugs (120 60HZ)
If you are using the MP3000 on another voltage (like 220VAC 50HZ) you will need to change out the plug on the end of the supplied cord. You can also use an IEC cord with the proper connector to fit the wall socket you need to connect to. IEC cords are the same cords used on Personal
Computers. There are no switches or settings to change on the Power
Pak when changing voltages of line frequency.
Plugging in the International Power Pak to the MP3000
The Mini-DIN plug on the Power Pak has 4 pins inside a circular connector. The plug has a locator pin and only plugs in one way. Rotate the plug unit it fits the POWER ADAPTER input jack and plug it completely in. Make sure the AC Cord is in the other end of the Power Pak and the unit is plugged into a live AC socket. After you plug in the DIN connector. Turn on the INTERNAL POWER swtich and turn the MP3000 around so you can see the front. Confirm that the Green PWR Led is ON.
It should turn on and off when the INTERNAL POWER Switch is turned ON/OFF
Plug-in for
UNIVERSAL POWER PAK
UBOB II ™
Technology
POWER ADAPTER
+12 VDC
C ommon
+5 VDC
SERIES E
1 5
6 9
SERIAL PASSTHROUGH to
ESP CONTROLLER
PORT2 PASSTHROUGH
(NO CONNECTION)
AXIS I/O Out to
MTA100/ESP
ON
OFF
INTERNAL
POWER
PORT2 OPTION
Multi-Axis Interface
SERIES E
Hand Controller
MP3000
Multi-Axis Interface
UBOB II ™
Technology
EXPANSION
MODULE
TEST
DTHC / SPS
INPUT
Isolated Table I/O
Port1 INPUT
To PC
1
9
5
6
CP PWR
SERIAL INPUT
To PC
PWR should be on when rear
Switch is ON. CP lamp DOES not light until MACH is connected to PC and MACH is out of RESET
Connecting up the MP3000 Interface box. Take a look at the block diagram drawing (Fig 5
THC Installation Manual), that gives an overview of the control box, plasma unit and table. Note that there are two cables that run from the PC and connect to the THC Controller box. These are labeled Port 1, and Serial It's important that you connect the first parallel port in the computer
(normally the existing printer port or LPT1 port) to Port 1 on the MP3000 Controller box There are also three other cables that connect three satellite cards (Table I/O, Axis I/O and THC Sensor
Card) to the MP3000-DTHC as well. The Table I/O is connected on the front of the MP3000 directly above the Port 1 input
1. Install a DB25 Male to Female extension cable (All pins straight through) between parallel port (PORT1 on the PC to the part marked Port 1 INPUT (Orange highlight below) on the front of the MP3000-DTHC controller unit.
2. Install a straight through DB9 cable (not a null modem cable) from your Com1 port on the
PC to the Serial port on the MP3000-DTHC
3. See the next page for using the International Power Pak to provide DC power to the
MP3000
Installing the Table I/O Card.
We have provided a functional remote breakout card to use as your interface at the machine to connect the Home and any limit switches via crimp-on connectors. The
Table I/O card has status LED's for each main signal mounted on the card so you can see and test the switch functions. The Table I/O is a way to easily connect all of your
I/O at one point. Since the Card can be mounted remote from the MP3000 Interface box the multitiude of wires at the table need only pull to the Table I/O card.. While the card will mount inside the main control cabinet it requires a lot less wire and wire routing to put it at the table and use a single DB25 to connect it to the MP3000.
K3 MAIN RELAY
20A COM
Normally OPEN
Terminal
K3 MAIN RELAY
20A COM
Terminal
Isolated
INPUTS
PORT 1
Inputs
K4 Aux RELAY
20A COM & NO
Terminals
EPO
Jumper for operation
BHome and AUX inputs [PORT 2] only
IDC Header for
DB9 adapter.
Quad Relay
Expansion Plug
The TABLE I/O CARD
MUST
be attached to the Table I/O Input plug on the Front of the MP3000 or you will not be able to bring MACH3 out of RESET. You MUST have a jumper (or NC switch) across the EPO jumpers on the card
(see diagram next page) to bring MACH out of reset. You do NOT have to have the Homes or any other inputs or outputs hooked up to run MACH.
TABLE I/O II CARD
The TableI/O card provides a breakout of inputs and outputs. It connects to the UBOB/MP3000 via a 25 pin computer cable into the TABLE I/O plug (see overlay next page). The card can be close to or up to
20ft from the UBOB/MP3000. You have the option to mount the card close to the UBOB, with the Motor drivers in the main controller box, and pull the Homes and other inputs into the card, or you can mount the card out on the Table and connect all of the inputs with short runs. Having the Power relays out on the table for larger machines can be an advantage.
HOME INPUTS
Use Normally Open
Switches.
X - A Home are port 1 inputs
Limits are typically setup as normally closed and connected in series at the switches with beginning and end of string into the LIMITS
Tabs.
The DOWN, UP and
ARC OK inputs are also Port 1 inputs and can be used for any switch type input.
The EPO is the E-stop
(software) input. IT
HAS TO BE CLOSED.
A JUMPER IS
NEEDED IF IT"S NOT
USED WITH A NC Estop Button (not
C5
C8
C7
C9
Xhome
YHome
ZHome
AHome
LIMITS
DWN
AUX0
K3
D2
K5
C1
ARC OK
D15
K3
D3
K4
C13C12
R1
K3
K4
NO
J18
Com1
J5
C11
K3
Main Relay Output
20A Normally open contacts
See hook up details for driving external loads
K4
Secondary Relay 10A
Normally open contacts.
See hook up details for driving external loads.
C14 C10
D9
C6
UP
6
QUAD RELAY
10
J2 1
14
1
25
13
AUX 0 - AUX4 and B Home are PORT2 inputs and only work if you have the optional Port 2 card installed and a 2nd parallel port on thePC active and
LED's are indicators that the circuit is working when a switch is closed. They only come on if the Table I/O is connected to the
UBOB and the UBOB is powered up. You can short across an input Pair (example: T12 to T13 for X Home. The LED should light and the X Home Screen LED in MACH for X Home should light.
The LED is in series with the Input Opto and is a good indication
Home and limit switch hook ups
Typical connections for Homes and Limits
All of the inputs are opto isolated and map to a specific pin on the parallel port(s). In reality you can use any input for any signal. Inputs are not fast enough for Encoder feedback faster than a few pulses per second. The inputs use a "floating" ground
(+12 return). If you need more inputs than the 8 (9 with EPO) then a PORT 2 card can be hooked to the
UBOB and the added Aux and BHome inputs will work with a second parallel port.
Normally closed contacts
For far limits. Wired in series
C
NC C
NC
C
NC
PLUG
C
ZHome
NO
C
YHome
NO
C
XHome
NO
JUMPER EPO to be able to bring MACH out of RESET
T9
UP
T5
T8
AUX0
T4
T7
DOWN
T3
52
J9
BHOME
J8
J10
AUX4
J33
47
C&CNC
TABLE I/O
REV 6
J6
AUX2
J12
J7
AUX3
J11
J13
AUX1
J1
T20
EPO
T21
K4
NO Com2
J4
T6
LIMITS
T2
48
AHome
T18
C4
T19
T16
ZHome
T17
C3
YHome
T14
C2
T15
T12
Xhome
T13
R2
T11
T10
ARCOK
DANGER!
DANGER!
QUAD RELAY HEADER is for an optional quad relay card and adds 4 more relays to the outputs.
6 RELAY SETUP USING OPTIONAL QUAD RELAY EXPANSION CARD or QUAD RELAY BOX
See Quad Relay Manual for Connection details
J7
APLUGHOT
Outputs for 2 low
Current Relays &B
J8
BREAKERA
J14
K3
PLUGSNEU
J9
QUAD RELAY EXPANSION CARD
BREAKERA
J17
J2 SKT
1
Not Used
Db9 Fem to DB9 Male EXTENSION CABLE up to 25ft can be used
IDC 10 to DB9 Male
Adapter
PLUG
T9
UP
T5
T8
AUX0
T4
T7
DOWN
T3
T6
LIMITS
T2
52
J9
BHOME
J8
J10
AUX4
J33
47
C&CNC
TABLE I/O
REV 6
50
J6
AUX2
J12
J7
AUX3
J11
J13
AUX1
J1
T20
EPO
T21
K4
NO Com2
J4
48
AHome
T18
C4
T19
T16
ZHome
T17
C3
YHome
T14
C2
T15
T12
Xhome
T13
R2
DANGER!
T11
T10
ARCOK
DANGER!
49
USING OUTPUT RELAYS
TABLE IO CARD II
Connect Safety ground (GreenWire) on equipment that has three conductors
DANGER: High Voltage present.
Do not connect with power applied
SPST Relay
K3
NO
Main Output
Normally Output 1 for spindle motors
20A @240VAC Max
Hot (L1)
Use wire size rated for the continuous current of the load
#16 up 5A (10A peak)
#14 up 10A (15A peak)
#12 up 15A (15A peak)
#10 up 25A (35A peak)
#8 up 35A (45A peak)
SPDT
NC
C
NO
10A Max
High Current Load (up to 20A)
Note: Current ratings for wires are approximation ONLY.
Factors such as ambient temps, insulation type, length of run, bundled or unbundled, etc. make exact ratings difficult.
Use this as a general guide only and follow the recommendations of your equipment manufacturer. Use at least the wire size of the equipment cord. Use commercial splices and heatshrink on all terminals or a sealed electrical box.
Load can be any AC inductive (motors) or resistive (lights) load up to 20A.
Outputs K4 are rated to 10A max.
INSTALLING the MTA150 (Axis I/O) Card for interface to Motor Drives and EZPlug
Gecko Interface Cards (sold separately)
The MTA100 card is supplied wih all MP3000 series units. If you have ordered a
Complete Electronics Package (PlazPak, RouterPak or MillPak) then the MTA150 is already mounted inside the Enclosure and has a DB25 access plug externally. The following instructions are based on the MP3000 being sold as a stand-alone product and shows how to use the MTA150 to connect discrete motor drives or the
CandCNC EZPlug Stepper or Servo Interface cards using single cables for up to 6 drives.
If you have the Complete Electronics Package you can skip this section on the MTA150 Setup and testing.
THE MTA150 connection plug is on the back of the MP3000 and labled as the AXIS
I/O . It takes a single MALE to FEMALE DB25 Extension Cable up to 20Ft long. In most circumstances the MTA150 card will be mounted in the same case as the
Motor Drives and Power Supply. If you are building a single box control cabinet and you are embedding the MP3000 outside it's case inside the enclosure, you can get a short 26 pin IDC cable to interface directly between the AXIS I/O plug on the
UBOB and the MTA100 card. Please contact us to order the part or check the website.
Since the MP3000 can be the front-end in a wide variety of motor driver configurations we are including several pages of different hookup possibilities.
These will cover most applications.
To AXIS I/O on Rear of
MP3000
DB25 Cable FEMALE end
ACE G540INTERF
B
Dir
U6
STEP
S
D
1
J52
1
BAxis
REV4
J55
MTA150 S
S
D
D
S
D
S
D
CandCNC
J34
2
1
ESPInterface
20
19
REV2
J2
MTA150 Mounted Remotely in Drive / Power
Enclosure
MTA150 Card not used in BladeRunner
MTA150 Motor Driver Interface Card
The MTA 100 provides a remote (or local) breakout card to access the 5 sets of step & dir signals from the MP3000 AXIS I/O Port . When placed in a separate cabinet with the Motor Drivers and/or power supply, the MTA150 can be mounted so the DB25 connector (AXIS I/O In) can be used with a standard
M-F DB 25 extension cable and IDC Adapter at the UBOBII Axis I/O Header to make avaialble all the signals for using Step & Direction based drives. The Card also has additional connectors that provide interface to an external G540 4 axis Gecko Driver product and headers to plug in CandCNC EZPlug
®
Stepper or Servo Interface cards. Axis I/O interface to the UBOBII can also be via the 26 pin IDC header behind the DB25 connector labeled as AXIS I/O. 5th Axis (B) signals are provided using the B channel signals from the UBOBII but independent 5 axis motion (not hardware slaved) requires a 2nd parallel port card. The following pages show several different type of hookups to common motor drives and to our EZplug cards. The are for illustration only and should be used as guides.
2
1
ACE G540INTERF
B
Dir
U6
STEP
S
D
1
ESPInterface
20
19
J52
1
BAxis
J34
REV4
J55
MTA150 S
S
D
S
D
D
S
D
CandCNC
X
Y
STEP
Dir
STEP
Dir
Z
STEP
Dir
Screw Terminals for
Hard wiring Drives
(non-EZPLUG)
A
STEP
Dir
+5
For +5 Common Drives
+5
PCGND
PCGND
MTA100
PCGND
PCGND
For GND Common Drives
(Gecko 203)
J2
REV2
J1: Sets the source of 5V for Servo Card Encoder.
CAUTION DO NOT CHANGE THIS UNLESS YOU ARE
TOLD to DO SO. This option is for systems running encoders that draw more than 50ma.
Ours do not. It is USED ONLY WITH SERVO SYSTEMS
201
320
201
320
203
203
Geckos
DCVoltsto
X
Y
Z
A
1
X - Y
J3
Z - A
2
1
J19
S&D Test
PC+5
1
PCGND
9
10 2
1
1
B - Y'
J1
Encoder V
5V Source
PCGND
1
PLUG
J5
1
14
AXIS I/O IN
AXIS I/O IN
13
25
AXISI/OPlug
X
J18
10 10 10 10
9 9 9 9
X - Y
J55
2 2 2 2
1 1 1 1
Y
U5
10 10 10 10
9 9 9 9
J20 J21
Z A
J22
J23 J24 J25
S&DCARD
J19
10 10 10 10
9 9 9 9
Z - A
2 2 2 2
1 1 1 1
1 1 1 1
2 2 2 2
D3
D6
D5
J19
D4
D2
D1
B - Y'
10 10 10 10
9 9 9 9 1 1 1 1
2 2 2 2
1
5V Source
J4
Encoder V
1
J1
Drive Common
1
+5
J3
GND
AXIS I/O IN
FP Card
1
10"
10pinribboncables
Screw terminals not used
X Y Z
A
1
X - Y
J3
Z - A
2
1
J19
S&D Test
PC+5
1
PCGND
9
10 2
1
1
Encoder V
5V Source
PCGND
1
PLUG
J5
1
14
AXIS I/O IN
AXIS I/O IN
13
25
G540 Drive UNIT
See GECKO Manual for
Motor connections and
Tuning
CONNECTIONS TO GECKO 540 4 AXIS MOTOR DRIVER.
NOTE: Only signals used too/from G540 are Step & Dir signals for XYZ & A. All Other I/O signals
(outputs, Homes, Limits etc) are handled by the UBOBII and it's I/O cards.
PINOUT INFORMATION for
MTA100 and MTA150 Interface cards supplied with
UBOB Builders Kit; MP3000 (all models).
NOTE: the chart is for reference only. The proper signals are setup in MACH when using the profiles (XML) provided. The auto installer will load the correct profiles, screens and icons.
AXIS I/O CABLE CONNECTIONS MTA100 & MTA150
Connectors
INPUT PINs Signal
1 RX
2 X Step
UBOB
X Step
MTA 150
Serial REC NC Not Used
J18 - 1 S-TERM
3 X Dir
4 Y Step
5 Y Dir
6 Z Step
X Dir
Y Step
Y Dir
Z Step
J18 - 2
J20 - 1
J20 -2
J21 - 1
S-TERM
S-TERM
S-TERM
S-TERM
7 Z Dir
8 A Step
9 A Dir
10 PC GND
Z Dir
A Step
J21 - 2 S-TERM
J22 - 1 S-TERM
A Dir J22 - 2 S-TERM
PC GND J24 & J25 S-TERM
11 STOP SW
12 GND (PS)
J8 - 6
J8 - 2
13 +9 to 12 (PS) J8 - 1
J9 -15
J9 - 6
J9 - 5
Not Used
Not Used
ESP
14 PC +5
15 Estop - NC
16 Estop - Com
17 NC
PC +5
J6 - 1
J6 - 2
J23- 1 & 2 S-TERM
J9 - 8 ESP
J9 - 7 ESP
Not Used
18 B Step
19 B Dir
20 PC +12
21 TX
Port2 out J3 - 1
Port2 out J3 - 2
PC + 12 NC
Serial XMT NC
22 NC
23 STOP LED J8 - 3
24 RUN LED
25 RUN SW
J8 - 4
J8 - 5
S-TERM
S-TERM
Not Used
Not Used
Not Used
J9 - 14 Not Used
J9 - 13 Not Used
J9 - 16 Not Used
Jack numbers are on MTA100 & MTA150 Cards
As part of our
TOTAL MODULAR SYSTEM
CandCNC has developed a product line to make interface to Gecko drives a single cable project. The MTA100 card is the interface to the
EZPLug
Stepper Interface Card
and/or the
EZPlug Servo Interface card.
The following pages show the most common connections and setups for building an integrated Gecko based Controller. The
MP3000 becomes the front end interface to the PC and supports expansion options like Digital
Torch Height Control and Isolated Spindle Speed Control. Because MACH and the MP3000 use
Step & Direction signaling the type of motor is completely dependant on the Motor Drive. Our
Interface cards make it easy to connect any Gecko 200 series (except the 250 and 251) or 300 series servo drives. You can even choose to run a mixed system of steppers and servo motors.
The optional Gecko Mounting plates allow you to build 4 (or up to 6 with Triple Stack version)
Drive stacks. The plates act as heatsinks and mounting for both the Gecko and the EZPlug card and the drive connectors stick out the opposite side to make hooking up motors (and encoders on servos) a 2 second process. If you would like more information about the EZPlug series of cards and plates visit http://www.CandCNC.com and Select MODULAR BLOCKS from the top tabs.
X
J18
Y
10 10 10 10
9 9 9 9
X - Y
J55
2 2 2 2
1 1 1 1
U5
J20
10 10 10 10
9 9 9 9
J21
Z A
J22
J23 J24 J25
S&DCARD
J19
10 10 10 10
9 9 9 9
Z - A
2 2 2 2
1 1 1 1
1 1 1 1
2 2 2 2
D3
D6
D5
J19
D4
D2
D1
B - Y'
10 10 10 10
9 9 9 9 1 1 1 1
2 2 2 2
1
5V Source
J4
Encoder V
1
J1
1
+5
Drive Common
J3
GND
AXIS I/O IN
FP Card
1
EZPLUG MOUNTING PLATE SYSTEM
GECKO
GECKO
UPPER
PLA
TE
LOWER
PLA
TE
EXPLODED VIEW GECKOTRIPLE STACK MOUNING PALTES
Y2 Slaved to Y Hardware
GECKO
B
Y
GECKO
PLA
TE
UPPER
X
MIDDLE
GECKO
PLA
TE
LOWER
PLA
TE
A
Z
POWER DISTRIBUTION CARD
USED in MP3000 rear panel
J4
SafetyRelay
J7
J12
J9
J11
TO MTA100
J63 J65
TABLE I/O
AXIS I/O
J56
1
J57
1
1
U2
1
U3
PORT2 INTERCONNECT
C5
C12
1
UBOB
REV6
POWER
FEATURE
CONN
1
1
1
PC+5
PCGND
+12
FLOAT-GND
UBOB Rev6
1
14
Upper DB25
J1
+
C1
CP
PPORT1
1
SERIAL
SKT
J29
MP3000 Internal Layout
Basic (no Expansion Modules) matching color headers are connected together
PORT2FROMUBOB
1
J7
1
J2
26
25
J6
J8
Pin26out
J3
CON26
PORT2I/O
J3
2
1
J1 J1
MPG
MPG-101
Pin10out
1 1
R1
27
R2
ISO7
4N35
ISO1
4N35
ISO6
4N35
SIP5
ISO5
4N35
U21
ISO2
4N35
ISO4
4N35
J5
J7 J6
4N35
ISO3
J4
24
INSTALLING THE DTHC INTO AN EXISTING MP3000 or BladeRunner
PRODUCT
1. Locate the UBOB card in the unit. It is the card with the PORT1 and Serial
Port inputs. There is a 16 pin FEATURE CONNECTOR. Use the short 16 pin IDC cable included with the DTHC and plug one end into the FEATURE CONNECTOR
2. Mount the DTHC to the Front Panel using the jackscrews on the DB9 Socket.
Remove both hex jackscrews and line up the holes for the TEST LED and the
TEST BUTTON. Replace the hex jackscrews through the front into the DB9
Socket and tighten until the board is snug against the inside of the panel. DO
NOT OVERTIGHTEN AND STRIP THE INTERNAL FASTENERS ON THE DB9!
It will make secure mounting difficult. The threads on the jackscrews are 4-40.
3. Hold the back of the DTHC Card and insert the other end of the 16 pin IDC cable from the UBOB card FEATURE CONNECTOR Header.
4. Proceed to DTHC preliminary testing
TO MTA100
MP3000 Internal Layout w/
DTHC/Spindle Speed Module
AC Switch
J63 J65
TABLE I/O
AXIS I/O
1
14
PLUG
PPORT1
J56
1
J57
1
1
U2
1
U3
PORT2 INTERCONNECT
1
UBOB
REV6
C5
1
POWER
1
1
FEATURE
DTHC Module
PC+5
PCGND
+12
FLOAT-GND
UBOB Rev6
J1
+
C1
1
SKT
J29
CP
SERIAL
DTHC Module
Mounts Above
UBOB Serial
Connector
DTHC Mounts through Front panel
Cutout. 16 pin cable connects to
UBOB Feature Connector
ADDING AN OPTIONAL PORT2 CARD FOR I/O EXPANSION
To PC PORT 2 via
M-M DB25 Extension
J4
J5
J6
ISO3
4N35
J7
ISO4
4N35
ISO2
4N35
ISO1
4N35
ISO7
4N35
Light Gray inputs
NOT USED
ISO5
4N35
ISO6
4N35
IDC to DB9 Male
FOR MPG101B Hookup
U20
MPG-101
MPG
2
1
J3
PORT2 I/O
IDC to DB25 Female
Adapter
1
J3
TABLE I/O
J63
Axis Slave
J65
1
AXIS I/O
C1
PPORT1
PLUG
PORT1 DB25
FAN
CP IND
26 to 26 IDC Ribbon Cable
J57
1
+12
K7 K8
PORT2 INTERCONNECT
PCGND
UBOB
REV1
PC+5
1500MFD 16VDC
J60
FLOAT-GND
J59
J58
FLOAT +12
J62
PWR
1
SERIAL
IMPORTANT NOTE ON INTERNAL PLUGS:
The ribbon cable connectors may not have a key to prevent them from being plugged in backwards
Pin 1 stripe
X
Stripe goes to side with PIN1
PIN1
NOTCH
Typical Ribbon reader
Pin 1 stripe
PIN1
NOTCH
X
IF you unplug an internal cable note the stripe or specific color of the pin 1 wire on the ribbon cable make SURE you plug it back in so that the cable is oriented as shown.
Setting the initial Steps per Unit in MACH3 motor tuning.
Every table will have different Steps per unit, velocity (max speed) and Accleration settings. To do testing on the table you must determine the correct settings for your table. Use the following method:
For Steppers:
1. Determine the number of steps your motors need to make one full revolution
(Normally 200 for most steppers)
2. Determine the ratio of any belt reduction between the motors and the mechanical drive on your table.
3. Determine the drive ratio of your mechanical drive (how far does the leadscrew or pinion move the load with one revolution.
4. Determine the step frequency of you drives (Full, half, quarter, 1/8, etc)
NOTE: All Gecko stepper drives are 1/10 (10X) microstepping
Now, multiply the motor steps times the drive ratio. A reduction (most used) is the step down ration (like 3:1) so it would be (200 X 3) or 600. If the leadscrew for example has to spin 5 times to move one inch multiply the above number by 5 (600 X 5) or 3000. We now know it takes 3000 pulses to move our load 1 inch (obviously if your table is setup in MM then all of the units will be in MM.)
The last number we have to provide is the step frequency of your motor drives. Lets say you are running in ¼ step mode. It will take 4 times as many steps to rotate the motor so you also multiply by the step factor (4 in this case) to get a final answer of 12,000 steps per inch.
If your drive is rack and pinion you may find that the multiplication number is less than one. For example where one revolution of the pinion moves the axis 1.36 inches we need a factional rotation of the pinion to move 1 inch. The number will be one divided by the distance you move in one pinion revolution. For the above pinion example you get 1/1.36 or .7352941 (.7353 is close enough).
That becomes you multiplier for the table ratio so for the above example (given the same belt reduction and steppers the answer would look like this:
(200 X 3)(.7353) or 441.18 pulses
The last number we have to provide is the step frequency of your motor drives. Lets say you are running in ¼ step mode. It will take 4 times as many steps to rotate the motor so you also multiply by the step factor (4 in this case) to get a final answer of 441.18 X 4 or 1764.72 steps per unit.
You have to do the calculation for each axis and enter the number in MACH3. Make sure you do a "SAVE AXIS" (button) on each axis as change them.
For velocity (unless you already know what that should be) enter a conservative number like 120
(120 inches per minute or 120 IPM) and for acceleration use a number of 2X the velocity (240 inch/min/sec). NOTE: Accelation units in MACH are in units/sec/sec so DIVIDE by 60 (240
Inches/min/sec = 4 inches/sec/sec.
These numbers and settings are just to get the machine where you can check the operation of the MP3000 and should be refined before actually trying to make any test cuts.
For proper tuning of MACH3 please refer to the MACH 3 manual. The exact tuning of the software is beyond the scope of this document.
Motor Tuning Screen in MACH3
Testing the MP3000 for motor control
After you have connected the Axis I/O (MTA150) pins to the proper Motor Driver pins and installed the Table I/O card, you will need to check the proper function of those pins. In order to get motion and you need to have MACH3 running with it out of E-stop and the CP LED on the front panel active (ON). Without CP active, you will not get motion.
·
Make sure all of the cables are connected.
·
Power up the MP3000
·
Load Mach3 with the proper profile (MP3000-Basic) and Screen
·
Hit the Reset button. The LED over the Reset in MACH will turn solid
Green
·
The CP LED on the front panel of the MP3000 will turn solid Yellow
·
Make sure power is on to your motors.
·
Use the keyboard arrow keys to jog your machine. Don't worry if they jog the wrong way with the keys or the wrong axis jogs. We will fix that later.
Default jog keys are UP & DWN Arrows are Y jog; Left & Right Arrows are X and Page Up and Page Down are Z up and down.
·
The Optional test Step and Direction Monitor will confirm that the signals are getting out to the MTA150 card. If the LED's flash and you are not getting movement the problem is between the MTA150 and the motor drivers.
Setting up the proper axis direction and motor tuning
While the Profile file (MP3000-Basic.XML) provided with the MP3000 sets up all of the pins there are several things we don't know about your machine and so certain parameters have to be set based on your specific machine. A good example is which axis you may define as X and Y. There are two ways to swap the axis definitions. You can rewire the motor drives (physically move the step and direction signals at the motor drive, or swap the step and direction pins in the setup of MACH3. In either case you need to first get your definition into the setup. To swap the definition in MACH3, open the Config menu off of the top menu bar. Open Ports & Pins and click to open the Motor Outputs Tab.
Note each axis has a Step and Direction pin. To swap the X and Y axis simply swap both parameters. In the example above the step pin for X would be changed to 4 and the direction to 5 while the Y would be 2 and 3 respectively.
At this point do not worry if the axis moves in the wrong direction, simply
that you have the axis as you define them correct.
The next step is to make the axis movement agree with the DRO and g-code commands for that axis. The DRO (Digital Read Out) for each axis is at the top of the screen. You will need to take MACH3 out of E-stop by pressing the Reset button.
·
Jog your machine so the cutting head is away from the limits (approx center of the table is good). Don't worry if the jog keys aren't correct or that the DRO's are running in the wrong direction.
·
If your machine is setup so that one corner is X0,Y0 (lower left corner?) then all moves away from 0,0 should be a positive (increasing) number.
·
The MDI is a line to allow you to type in direct g-code commands to make the machine make specific moves. You don't need to have a deep knowledge of g-code to use it for testing.
(Your MDI may look different)
·
When you type in a g-code command it is not case sensitive but be sure to use zeros's and not "O's" for the numbers! At this point do not worry
about which hotkeys are assigned to a direction.
·
With the machine out of e-stop and power on, type the following into the
MDI Frame: o
Move the screen cursor to the MDI frame and click on it. The frame background color should change to yellow meaning it is ready for input. No other movement keys work when the MDI frame is selected.
o
G00 X3.0
o
Enter key activates command
·
·
·
The X axis should move 3 inches(mm) in some direction It should have moved away from your established X zero and the DRO numbers should have increased. If it did not, then you need to reverse the direction of axis travel.
To reverse the direction of any axis open the Ports and Pins/ Motor
Outputs and change the polarity of the Dir LowActive setting for that axis.
Clicking the Green Checkmark or the Red X will swap the definition. Red
X is positive and Green Check is negative polarity.
Work with each axis to establish that the movement direction is correct.
Use the MDI frame and change the axis letter from X to Y then Z.
Change the polarity of the step signal (Should always be Green
Checkmark for drives that use a +5 common [Gecko 201; Gecko 320] and a RED X for drives that use a GND common [Gecko 203])
The final step is to open the Config/System Hotkeys menu and for each direction select the keyboard hotkey you want to use for that direction of travel. Now when you press that key the machine should jog in the proper direction. There are lots of other parameters in the menus. For more information about them use the MACH3 manual.
A word about homing: It works well to have each axis with a Home switch and to make that position "0" (absolute zero) for that axis. The Z with a floating head (discussed in the DTHC Manual) is an exception.
By having it setup X and Y as 0,0 you can always re-establish you position on the table. There are circumstances where the DRO position can vary from the actual machine position. An example is if you do an e-stop during a cut.
That form of stop, stops the machine instantly and any code in the look-ahead buffer is dropped.
The only way to be certain you have not lost position is to home each axis and reestablish where 0,0 is. The homing in MACH3 is setup using the menu under Config/Motor Home/Soft Limits
(Note: the example above is for our machine and may vary for yours!)
There are several parameters of interest. If you click the Ref X button next to the
X DRO on the Main Screen the machine should start moving towards the home switch for that axis at the speed listed in the Speed % column for that axis. If it moves in the wrong direction flip the polarity of the Home Neg value. You will have to close the menu to test the move. Make sure all axis's move towards the home switch for that axis when the button is activated. The machine should move to the home switch, the switch should make contact and the movement should stop and MACH3 will back off the switch slightly to "un-make" it. You can use the Diagnostics page in MACH3 to "see" the LED for each axis come on as the switch is made and then go off. All limit LED's should remain off unless the switch is activated. You can test each switch manually by pulling up the diagnostics screen and manually clicking each switch on your table and watching the LED's.
If your switch location is not where you want X and Y table zero's (0,0) to be then you can tell MACH3 what offset you want to use. Normally the offset will be a negative number since it says "this axis switch is past the established zero point on the table". The 20% homing speed that is default works well. You do not want to home at high speeds as accuracy (repeatability) will suffer.
Confirming proper operation
1. With Mach3 running and the MP3000 powered up we are going to go through a series of tests that will confirm the unit is operating.
2.
NOTE: If the screen is not correct or any buttons or the background is wrong/missing make sure that the CandCNC directory was created under the
Bitmaps directory of MACH3 and that the MP3000-Basic.set file has been installed in the Main MACH3 folder. DO NOT USE THE 1024.set file that comes with MACH3 or any of the default MACH profiles or SET files.
Confirm the operation of the Table I/O card. Make sure it is connected and that you have your table Home switches connected as shown in the diagram. Open the Diagnostics screen in MACH3 and watch the "M Home" group of status LED's at the upper right side of the screen. If you are going to use Limits then wait until you have the other functions checked and running.
Confirm proper operation of outputs. The 2 outputs can be tested using the screen buttons. (NOTE: Outputs 3 and above only work if you have the Optional
Quad Relay Card/Box with the added relays or are using the Expansin Cards
(DTHC or ISS-02). If you have those cards or this is an MP3000-DTHC or
MP3000-SpindleSpeed unit the install for those features (done AFTER the initial
MP3000-Install) changes outputs around and makes the Torch or the VFD the primary Output and the two aux relays move down to ouput 2 and output 3 respectively Turning on an output should turn on it's associated relay.
Make sure everything jogs in the right direction and moves the correct distance as indicated by the DRO's.
To check calibration on a given axis move the axis close to it's home (0) point and zero the axis DRO. Using the MDI window send that axis out a given length.
The longer you make that the more accurate the measurement can be.
EXAMPLE: Move X 36 inches by G00 X36.00 in the MDI. AFTER you zero X.
Measure with a ruler or tape measure that is accurtate to 1/32 (.03125). Read the tape. If it's short/long of 36" write down the actual measurement. Return the axis to it's set 0 by using G00 X0.00. THEN calculate the percentage you are off in the units (inches/mm) and change your Steps per Unit value by the same percentage. You may end up with fractional (decimal) steps. Put them in up to 4 decimal points. Run the test again and if you are still off continue to make small adjustments in the Steps per Unit unit it is dead on at the longest distance you can move on that axis.
The XHome should light up when you manually activate X Home switch. It should be off when the switch is not active. If it is reversed (i.e. goes OFF when you activate the switch but stays on otherwise) you will need to reverse the polarity of the switch in Ports & Pins/ Input Signals. We recommend using normally open (NO) contacts on Homes and Normally Closed (NC) contacts on the far limits (if used).
The far limits (NC contacts) are wired in series into the Limits Table I/O card and it is setup so breaking the string at any point activates a hard limit. The hard limits are safety switches located at points on the table to prevent the machine from going past the table travel limits. You can have far limits (opposite the 0,0 location of the table) AND near limits (at points where the machine would crash on the other side of the Home switches. Limits are optional and on stepper based systems you could elect to have just hard stops since the motors can be stalled without damage. Servos present a different issue. There can be conditions where a servo will "run away" like if an encoder wire comes loose or becomes defective. Servos are harder to stall and can self-destruct if allowed to stall and voltage is still being applied.
There are other options for using table limits besides just shutting down MACH3.
If you are using our ESP series of Power Controllers you can actually wire the hard limits up to the provided inputs on the ESP controller and an activation of a limit will actually shutdown all power to the motors….period. Please see the ESP manual for details.
Once you have the motors moving the right direction and the right distance then you should go through a tuning procedure to optimize the machine movements.
1. Start by doubling your max VELOCITY on the X and Y axis
NOTE: If you are using a 4 motor setup and software slaving you're A axis to X or
Y then you need to provide both motors with the same velocity and acceleration numbers. While the Steps per Unit should match you can change that slightly to account for mechanical mismatches. Do not run different gears or belt reduction ratios on a slaved axis or you will have a lot of problems getting them to exactly match.
2. Use the calibration technique of typing in a move in the MDI (G00 move) to a point then measure the error. Keep raising both Velocity and Acceleration for each axis by about 20% jumps. At the point you hear the motors start to grind or you start losing position,(or getting a drive fault on a servo system) write down the settings. Back off 20% first on velocity. You would like to have as much acceleration as you can maintain at an acceptable velocity. If you still get lost steps or drive faults then lower the acceleration by 20% and try again.
3. Once you have one axis tuned use the same settings on any axis that has the same motor and gearing and run the tests. You can move it up or down but having a Y that is twice as fast as X won't help much in normal moves since it only moves as fast as the slowest axis during a coordinated move.
4. The Z is normally tuned and calibrated differently than the horizontal axis. Often the Z uses a leadscrew and the calculations are easier. For Gecko's it's 2000 times the number of threads per inch = Steps per Unit. The constant 2000 is the motor steps times the microstepping (200 * 10). For servos we supply the encoder line count is 500. That produces 2000 pulses per rev so the numbers work the same.
You may find you have to increase the MACH Kernel Speed (Ports & Pins main tab) so you can get enough steps per unit to hit higher velocities.
If you plan on using your machine for Torch Height Control or for 3D carving having a fast Z is an advantage. You want to have speed but also good resolution. Make the Z feed too course and the THC moves can be ragged and cause overshoot. A good resolution is about .001 per step (.025mm). A velocity of at least 150 IPM is a target but speeds of at least the velocity of X an Y let you cut 3D a lot faster.
Steppers only spin about 600 to 800 RPM lifting the Z so to get 150IPM your leadscrew needs to not be finer than 5 TPI.
Running the first test cut.
To save frustrations and money do your first G-code run with the Z zeroed a n inch or two above actual material/table height. Open the G-Code folder in MACH and run the RoadRunner.tap file but using the File Load G-code option.
Watch it cut air and make the moves. If you want to have some fun tape down a large piece of pape or cardboard and chuck a marker into the Z head and reset the Z zero so that when the marker tip is touching the Z DRO reads -.100 inches. Run the
RoadRunner again
The DTHC Digital Torch Height Control or the ISS-02 Spindle Speed Modules have their own setup and operation Manuals. You should first run the auto installs for those devices. It will setup a new profile and load different screen sets. You should be aware that each MACH profile has it's own settings including all of the motor tuning and homing, hotkeys, etc. To get those settings into a new profile open the working profile you just completed and either write down the settings or do screen grabs you can refer to. Transfer all of the settings to your new profile.
AT THIS POINT YOU SHOULD REFER TO THE APPROPRIATE MANUALS
IF
You have an Expansion Module or Option not covered in this manual
See the Manuals Section of the CD for specific product manuals. You can also find manuals on our website at http://www.CandCNC.com/Manuals.htm
ADDENDUM SECTION
>
PINOUT CHARTS
>
BLOCK SCHEMATIC (UBOB)
PINOUTS for TABLE I/O Card to UBOB Connector
The Profiles provided and installed during the Auto -Install setup the proper pins in
MACH for normal functions. The charts are provided for troubleshooting and for users looking to do a custom interface.
INPUT PIN Name
1 LIMIT
4 AUX 2
5 GND Float
TABLE I/O CARD
PORT- PIN
PORT 8 - 11
2 ARC OK PORT 8 - 12
3 AUX 1 PORT 2 - 4
PORT 2 -5
Jack/Term
6 GND Float
7 AUX 3
8 AUX 4
9 K5
10 K4
11 K3
12 K2
PORT 2 - 6
PORT 2 - 7
IDC10 - 6
10 Amp T-I/O
20 Amp T-I/O
IDC10 - 5
13 K1 IDC10 - 8
14 X Home PIN 11
On T-I/O
On T-I/O
15 Y Home PIN 12
16 Z Home PIN 13
17 A Home PIN 15
18 +12 PC
19 +12 PC
20 EPO
21 UP
PIN 10
PORT 8 - 13
22 B Home PORT 2 - 2
23 AUX 0 PORT 2 - 3
24 DOWN
25 K6
PORT 8 - 15
IDC10 - 9
T9
J9
T8
T7
IDC10 Header is located on card (10 pin IDC header) for interconnect to Quad Relay Box. PORT 8 and PORT 4 are
VIRTUAL Ports (shared) in MACH3. PORT 2 listed inputs only work if a PORT 2 Card and a 2nd parallel port in the PC is used and setup correctly.
PINOUT CHART for MTA100 & MTA150 card Connectors
AXIS I/O CABLE CONNECTIONS MTA100 & MTA150
Connectors
INPUT PINs Signal UBOB MTA 150
1 RX
2 X Step
3 X Dir
4 Y Step
5 Y Dir
Serial REC NC
X Step
X Dir
Y Step
Y Dir
J18 - 1
J18 - 2
J20 - 1
J20 -2
Not Used
S-TERM
S-TERM
S-TERM
S-TERM
6 Z Step
7 Z Dir
8 A Step
Z Step
Z Dir
A Step
9 A Dir
10 PC GND
11 STOP SW
12 GND (PS)
A Dir
PC GND
J8 - 6
J8 - 2
13 +9 to 12 (PS) J8 - 1
J21 - 1
J21 - 2
J22 - 1
J22 - 2
J9 -15
J9 - 6
J9 - 5
S-TERM
S-TERM
S-TERM
S-TERM
J24 & J25 S-TERM
Not Used
Not Used
ESP
14 PC +5
15 Estop - NC
PC +5
J6 - 1
16 Estop - Com J6 - 2
17 NC
18 B Step
19 B Dir
20 PC +12
21 TX
Port2 out
Port2 out
PC + 12
J23- 1 & 2 S-TERM
J9 - 8
J9 - 7
J3 - 1
J3 - 2
NC
Serial XMT NC
ESP
ESP
Not Used
S-TERM
S-TERM
Not Used
Not Used
22 NC
23 STOP LED
24 RUN LED
25 RUN SW
J8 - 3
J8 - 4
J8 - 5
J9 - 14
J9 - 13
J9 - 16
Not Used
Not Used
Not Used
Not Used
Jack numbers are on MTA100 & MTA150 Cards
PIN
G540 Output J52 From MTA150
Signal
1 NoConnect
2 X Step
3 X Dir
4 Y Step
5 Y Dir
6 Z Step
7 Z Dir
8 A Step
9 A Dir
10 E-Stop J50 - 15
11-17 No Connect
18-25 PC GND
G540 Uses Motor Signals Only. All other signals pass through
UBOB Card
PORT2 INTERFACE CARD is an OPTION and normally used with the MPG101B
Pendant and a 2nd parallel port in the PC to provide the added I/O needed. Because the MPG101B only uses 6 of the 11 available inputs the other inputs become available as auxiliary inputs The charts below show the pin assignments and the connector pins on the PORT2 Interface 25 pin connectorr
IDC PIN
1
4
5
2
3
10
11
12
13
14
8
9
6
7
19
20
21
22
15
16
17
18
23
24
25
SIGNAL
+5VDC
INPUT 12
INPUT 11
INPUT 13
INPUT 10
PORT 2 INTERFACE CARD
PARALLEL
PORT 2 PIN TYPE
N/A DB9-1
PIN 12
PIN 11
PIN 13
PIN 10
DB9-2
DB9-6
DB9-4
DB9-5
INPUT 2
INPUT 9
INPUT 14
INPUT5
INPUT 3
INPUT 4
GND PC
INPUT 6
INPUT 7
PIN 2
PIN 9
PIN 15
PIN 5
PIN 3
PIN 4
18-25
PIN 6
PIN 7
OPTO
DB9-7
DB9-9
OPTO
OPTO
OPTO
DB9-3
OPTO
OPTO
OPTO
PWR
INPUT 8
+9VDC Float
INPUT 11
INPUT 12
OUT 1
OUT2
OUT 3
OUT 4
PIN 8
N/A
PIN 11
PIN 12
PIN 1
PIN 14
PIN 16
PIN 17
DB9-8
STEP
DIR
GND (Float)
GND(Float)
CP - WatchD
N/A
N/A
N/A
PWR
PWR
UBOB SIGNAL
+5
N/A
N/A
N/A
N/A
B HOME
N/A
N/A
AUX 2
AUX 0
AUX 1
GND PC
AUX 3
AUX 4
N/A
+9VDC
N/A
N/A
N/A
B STEP
B HOME
N/A
GND FLOAT
GND FLOAT
Charge Pump
Signals are listed by the pin on the IDC 26 pin header on the PORT 2 card that normally connects to the PORT2 Interface on the UBOB. Signals of type DB-# are shared with DB9 signals in table above. They are not connected at the UBOB end.
DB9 PIN
1
2
5
6
3
4
7
8
9
PORT 2 CARD DB9 Connector
SIGNAL
+5VDC PC
Input 12
PC GND
Input 13
Input 10
Input 11
Input 9
Output 1
Input 14
PORT 2 PIN
N/A
PIN 12
PIN 13
PIN 10
PIN 11
PIN 9
PIN 1
PIN 15
TYPE
N/A
COMP
N/A
COMP
COMP
COMP
COMP
BUFF
COMP
UBOB SIGNAL
Inputs listed as COMP are Comparator Inputs with a 50% Noise threshold. Non-
Isolated. Inputs Listed as OPTO are Opto Isolated
The MPG101B plugs into the DB9 on the PORT2 Card. On some units the PORT2 card may be installed in the MP3000 and the connectors accessed through the panel. The pin functions are as shown. See the following page to determine the pin numbers on a certain Plug type.
PIN IDENTIFIER for DB25 & DB 9 Connectors
1
2
14 15
MALE DB25
PINS
10
20 25
13
13
25
10
FEMALE DB25
Socket
20
2 1
15
14
1
DB 9 MALE
PINS
5
6
9
FUNCTIONAL SCHEMATIC of UBOBII Universal Breakout Card. USED in MP3000 (all series) and Bladerunner (all series)
UBOBII BLOCK
SCHEMATIC
CON26
AXIS I/O
DC-DC
Converter
SI P2
330 X 8
ISOLATED INPUTS
U2 A
PS25 01-4
XH ome
18
19
20
21
22
14
15
16
17
23
24
25
J3
7
8
5
6
9
1
2
3
4
10
11
12
13
DB25 Table I/O
AUX I N 2
U2B
PS25 01-4
YHome
ZHome
AHom e
AR C-OK
Limits
U2C
PS25 01-4
U2D
PS25 01-4
U3 A
PS25 01-4
U3B
PS25 01-4
EPO
THC- Down
R1
THC -UP
U3C
PS25 01-4
DISABLE
U3D
PS25 01-4
+12VDC
AUX 1
AUX 2
AUX 3
AUX 4
BHom
AUX 0
X 6
K3
K2
DRIVERS
K5
CP
I/O
BUFFER
DRIVERS
1
2
ESP-EPO
J6
LATCH
XStep-IN
XDir-IN
YStep-IN
YDi r-IN
ZStep-IN
ZDir-IN
AStep-IN
ADi r-IN
E-STOP
MUX 1
MUX 2
MUX 3
RCK
MUX 4
SCK
CP
PCGND
RS232
SEND/
REC
PCGND
REC
TX
7
6
5
9
8
4
3
2
1
J29
VCC_+5
OUTPUT MUX
CIRCUIT
B Step
B Dir
BHome
AUX 2
AUX 0
AUX 1
PC GND
AUX 3
AUX 4
+ Floating
Floating GND
WD(CP)
CON9
8
9
10
5
6
7
3
4
1
2
11
12
13
14
15
16
17
22
23
24
25
26
18
19
20
21
Shift-In
16
17
18
19
20
21
22
23
24
25
26
12
13
14
15
10
11
8
9
5
6
3
4
7
1
2
+12
J1
PORT1 DB25
JUMPER
D18
LED
R8
1K
1
2
J2
FAN
UNIVERSAL AC-DC SUPPLY
100 - 240 VAC 50 /60 HZ
+5 @ 1A + 12 @ 1.2A
2 +1
J9
+5
J7
CP IND
XDir
YDir
BDir-P2
1
3
5
J63
2
4
6
Slave DIR
XStep
YStep
BStep-P2
1
3
5
J65
Slave STEP
2
4
6
EXPANSION PORT
* Your assessment is very important for improving the work of artificial intelligence, which forms the content of this project