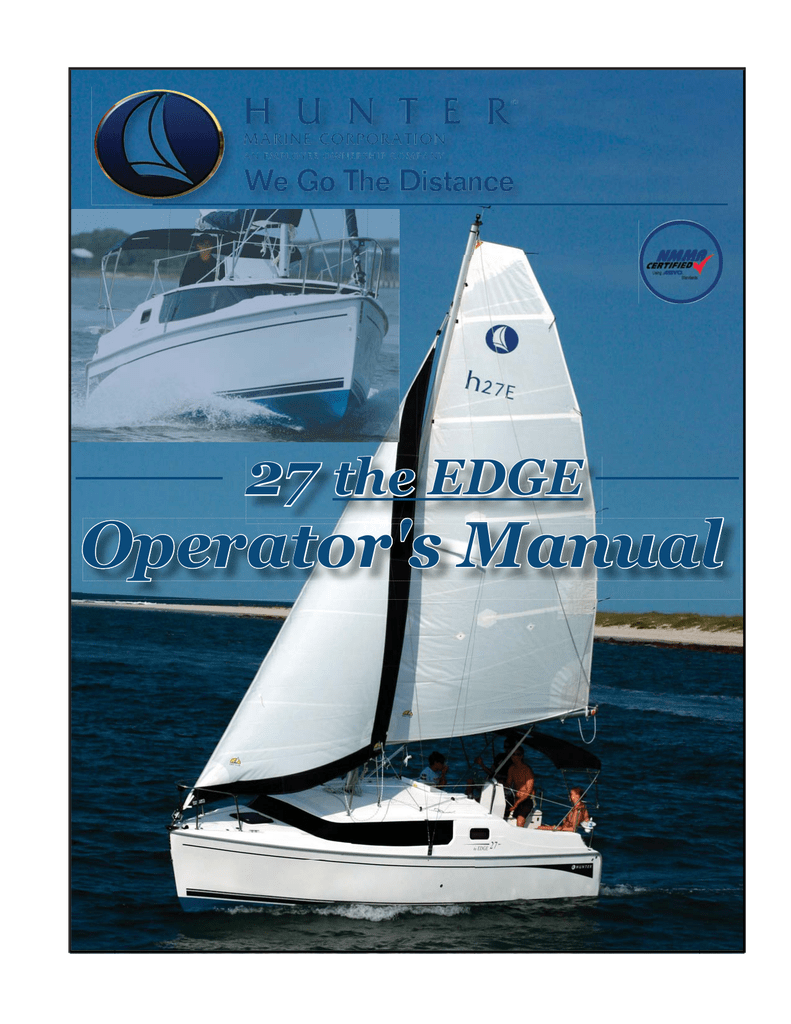 27 the EDGE
Operator's Manual
HUNTER 27 theEDGE OPERATOR'S MANUAL
TABLE OF CONTENTS
INTRODUCTION
Section
1)
2)
3)
4)
5)
6)
Topic
Page
Warranty Registration Form .........................................................
1
Hunter Warranty................................................................ 2
Certification ..................................................................................
8
Brief History..................................................................................
9
Glossary of Sailing Terms ............................................................
10
Explanation of Symbols and Labels ................................ 15
GENERAL HANDLING AND OPERATION
Section
7)
8)
9)
10)
11)
12)
13)
14)
15)
16)
17)
18)
19)
20)
Topic
Page
Safe Boating Tips................................................................ 16
19
Preliminary Care and Maintenance Checklist...............................
Pre-Departure Checklist...............................................................
25
Float Plan.....................................................................................
26
After Sailing Check List ................................................................
27
Trailer Launching and Retrieving .................................................
28
30
Docking and Anchoring ................................................................
Mast Raising and Lowering System ................................ 31
Getting Ready to Sail / Sail Mode ................................................
34
Getting Ready to Power / Power Mode ................................37
Stove and Toilet ................................................................ 40
Pumps and Water System ...........................................................
41
Electrical System................................................................ 42
Environmental Considerations .....................................................
43
MAINTENANCE
Section
21)
22)
23)
24)
25)
26)
Topic
Page
Outboard Engine Maintenance.....................................................
45
Protecting Your Rigging ...............................................................
46
Trailer Maintenance ................................................................
47
49
General Care................................................................................
Storage and Winterization............................................................
51
Electrolysis and Galvanic Protection ................................ 53
I
HUNTER 27 theEDGE OPERATOR'S MANUAL
DESCRIPTION OF MODEL
Topic
Page
Ballast Tank Details Drawing .......................................................
54
Dimensions and Capacities Spreadsheet.....................................
55
Standing Rigging Specs Spreadsheet..........................................
56
Running Rigging Specs Spreadsheet...........................................
57
Sailplan Drawing ..........................................................................
58
Lightning Warning Drawing ..........................................................
59
Deck Plan and Hardware Drawing ...............................................
60
Deck Hardware and Listing Spreadsheet .....................................
61
Interior Plan Drawing....................................................................
62
Mast Arrangement Drawing..........................................................
63
Strut Assembly Drawing ...............................................................
64
Standing Rigging Drawing............................................................
65
Boom Details and Reefing Layout Drawing..................................
66
Reefing Instructions......................................................................
67
Mainsheet Purchase Layout Drawing...........................................
68
Rope Vang Details Drawing .........................................................
69
Standard Jib Sheet Arrangement Drawing ...................................
70
Optional Furling Details Drawing..................................................
71
Mast Raising Details Drawing ......................................................
72
Rudder Arrangement Drawing......................................................
73
Centerboard Raising Details Drawing ..........................................
74
Optional Jib Furling Line Layout Drawing.....................................
76
SYSTEMS AND CIRCUITS
Topic
Page
Plumbing Layout Drawing ............................................................
77
Sheer Thru Hull Locations Drawing..............................................
78
Optional Fresh Water Layout Drawing .........................................
79
Typical Thru Hall Fittings Drawing................................................
80
Deck Lighting
Lighting Layout Drawi
Drawing......................................................
ng......................................................
81
Mast W iring Layout Drawing ........................................................
82
Emergency Tiller Components.....................................................
Emergency Tiller Operation Instruction........................................
II
83
84
1. WARRANTY REGISTRATION FORM
WELCOME TO THE
HUNTER MARINE FAMILY
Congratulations on ownership of your boat theEDGE, manufactured by Hunter Marine. We have engineered and
constructed your boat to the high standards of Hunter Marine, the NMMA, and the ABYC. In order to experience the
best performance and most enjoyment from your boat you should be familiar with its various elements and their
functions. For your boating pleasure and safety, please take time to study this manual.
Hunter stands behind the quality of your boat with a warranty, which you should review. To ensure the validity of your
warranty, please complete the attached card and send it to us within ten (10) days of the purchase date. Section 15 of
the U.S. Federal Boat Safety Act requires registration of a boat's first owner. The warranty data should also be
recorded in the space below for your own reference.
In addition, please complete the warranty cards for your engine, stove, head, electric water pump and other
accessories. These are enclosed in the manufacturers' manuals that are packaged with your Operator's Manual.
This manual has been compiled to help you operate your boat properly and safely. It contains details of the boat,
equipment supplied or fitted, systems, and information on operation and maintenance. Please read it carefully, and
familiarize yourself with the boat before using it. If this is your first sailboat, or you are changing to a type of boat with
which you are not familiar, please ensure that you obtain proper handling, safety and operating experience before you
assume command of the boat. Your dealer, national sailing federation or yacht club can advise you of local sea
schools or competent instructors, such as the ASA (www.ASA.com) or US Sailing (www.USSailing.org). In addition, the
US coast guard can be contacted for important boating and safety information at http://nws.cgaux.org.
PLEASE KEEP THIS MANUAL IN A SAFE PLACE AND TRANSFER TO THE NEW OWNER IF YOU SELL THE
CRAFT.
OWNER INFORMATION CARD
THE HULL IDENTIFICATION NUMBER IS LOCATED ON THE STARBOARD AFT SIDE
OF THE HULL OR TRANSOM. THIS NUMBER MUST BE PROVIDED IN ALL NECESSARY
CORRESPONDENCE.
HULL NO.
DATE DELIVERED TO OWNER
YACHT NAME
OWNER NAME
STREET ADDRESS
CITY
STATE/COUNTRY
ZIP CODE
HOME PORT
ENGINE MODEL
DEALER
SERIAL NO.
PROPELLER SIZE
PHONE
STREET ADDRESS
CITY
STATE/COUNTRY
1
ZIP CODE
2. HUNTER WARRANTY
Hunter offers a limited warranty on every Hunter boat sold through an authorized Hunter dealer. A copy of this warranty
is included here, and in your User's Manual. If for some reason you are not able to understand, read, or view this
manual, please contact your local dealer for a replacement copy.
We stand behind the quality of your boat with a warranty, which you should review. To ensure the operation and
validity of your limited warranty, please complete the attached card and send it to us within ten (10) days of the
purchase date. Section 15 of the U.S. Federal Boat Safety Act requires registration of a boat's first owner. The
warranty data should also be recorded in the space below for your own reference.
The following warranties apply to all 2009 Model Year boats produced by
HUNTER MARINE CORPORATION:
LIMITED ONE-YEAR WARRANTY
Hunter Marine warrants to the first-use purchaser and any subsequent owner during the limited warranty period that
any part manufactured by Hunter will be free of defects caused by faulty workmanship or materials for a period of
twelve (12) months from the date of delivery to the first-use purchaser under normal use and service. During this
period, as the sole and exclusive remedy, Hunter's obligation under the warranty is limited to the repair or replacement
of any such defective part.
LIMITED FIVE-YEAR HULL STRUCTURE AND BOTTOM BLISTER WARRANTY
Hunter warrants to the first-use purchaser and any subsequent owner during the limited warranty period that the hull of
each boat will be free from structural defects in materials and workmanship for a period of five (5) years from the date
of delivery to the first-use purchaser under normal use and service.
This limited warranty applies only to the structural integrity of the hull and the supporting pan/grid or stringer system.
Hulls, pan/grid or stringers modified in any way or powered with engines other than the type and size installed or
specified by Hunter are not covered by this limited warranty. As the sole and exclusive remedy, Hunter's obligation
under the warranty is limited to repair or replacement of any such defective part.
Hunter also warrants to the first-use purchaser and any subsequent owner during the limited warranty period that the
boat will be free from gelcoat blistering on underwater surfaces of the hull, excluding the keel and rudder, for a period
of five (5) years from the date of delivery to the first-use purchaser under normal use and service. During this period,
Hunter will supply or reimburse an authorized Hunter dealer for all of the parts and labor required to repair a blistered
underwater surface of the hull. The labor cost reimbursement will be based on the Labor Allowance Schedule
established by Hunter from time to time; however, if the repair is performed by a non-Hunter dealer, the repair cost
must be authorized by Hunter in advance and be based on a reasonable number of hours as determined by Hunter.
Hunter will not pay transportation, hauling, launching, bottom paint, storage, dockage, cradling rental, rigging and
derigging, or other similar costs. It is recommended that the repair be done during a seasonal haul-out for service or
storage.
PLEASE KEEP THIS MANUAL IN A SAFE PLACE AND HAND OVER TO THE NEW
OWNER IF YOU SELL THE CRAFT
2
2. HUNTER WARRANTY
You should also complete the warranty cards for your engine, stove, head, electric water pump and other accessories.
These are enclosed in the manufacturers' manuals that are packaged with your Operator's Manual.
HUNTER
EXPRESSLY
DISCLAIMS
THE
IMPLIED
WARRANTIES
OF
MERCHANTABILITY AND FITNESS. NEITHER HUNTER NOR THE SELLING
DEALER SHALL HAVE ANY RESPONSIBILITY FOR LOSS OF USE OF A BOAT,
LOSS OF TIME, INCONVENIENCE, COMMERCIAL LOSS, OR CONSEQUENTIAL
DAMAGES.
VOIDED WARRANTIES
The following circumstances will void the bottom blister limited warranty:
1. If the gel-coat has been sanded, sandblasted, or subjected to abrasion or impact.
2. If the instructions provided in the Hunter Operator's Manual are not followed according to Hunter's required bottom
preparation procedures.
RESTRICTIONS APPLICABLE TO WARRANTIES
These limited warranties do not cover:
1. Paint, window glass, Gelcoat, upholstery damage, plastic finishes, engines, engine parts, bilge pumps, stoves,
blowers, pressure water pumps, propellers, shafts, rudders, controls, instruments, keels and equipment not
manufactured by HUNTER. Any warranty made and issued by the manufacturer of such items will be, if and where
available, provided to the first use purchaser.
2. Problems caused by improper maintenance, storage, cradling, blocking, normal wear and tear, misuse, neglect,
accident, corrosion, electrolysis or improper operation.
3. Boats used for commercial activities including charter.
3
2. HUNTER WARRANTY
THESE LIMITED WARRANTIES ARE YOUR SOLE AND EXCLUSIVE REMEDIES AND ARE EXPRESSLY IN
LIEU OF ANY AND ALL OTHER REMEDIES AND WARRANTIES EXPRESSED AND IMPLIED, INCLUDING THE
WARRANTIES OF MERCHANTABILITY AND FITNESS FOR A PARTICULAR PURPOSE, WHETHER ARISING BY
LAW, CUSTOM, CONDUCT, OR USAGE OF TRADE. SOME STATES DO NOT ALLOW LIMITATIONS ON HOW
LONG AN IMPLIED WARRANTY LASTS, SO THE ABOVE LIMITATION MAY NOT APPLY TO YOU. IN THE EVENT
THAT IMPLIED WARRANTIES ARE FOUND TO EXIST UNDER THE LAW OF A PARTICULAR STATE,
NOTWITHSTANDING THE EXCLUSION CONTAINED HEREIN, THE DURATION OF ANY SUCH IMPLIED
WARRANTY SHALL BE LIMITED TO THE DURATION OF THE APPLICABLE LIMITED WARRANTY STATED
HEREIN. THE PURCHASER ACKNOWLEDGES THAT NO OTHER REPRESENTATIONS WERE MADE TO HIM OR
HER WITH RESPECT TO THE QUALITY OR FUNCTION OF THE BOAT. ANY ORAL STATEMENT OR PRINTED
MATERIAL ADVERTISING THE BOAT WHICH SPEAKS TO ANY PERFORMANCE CHARACTERISTIC OF THE
BOAT OR ANY OF ITS COMPONENTS SHALL BE CONSIDERED AND CONSTRUED AS AN ESTIMATED
DESCRIPTION ONLY AND SHOULD NOT BE RELIED UPON AS AN EXPRESS WARRANTY OR AS THE BASIS OF
THE BARGAIN FOR THE BOAT OR ANY OF ITS COMPONENTS.
ANY CONSEQUENTIAL, INDIRECT OR INCIDENTAL DAMAGES WHICH MAY BE INCURRED ARE EXCLUDED
AND PURCHASER'S REMEDY IS LIMITED TO REPAIRS OR REPLACEMENT OF ANY PART(S). SOME STATES
DO NOT ALLOW THE EXCLUSION OR LIMITATION OF INCIDENTAL OR CONSEQUENTIAL OR INDIRECT
DAMAGES, SO THE ABOVE LIMITATION OR EXCLUSION MAY NOT APPLY TO YOU. THIS WARRANTY GIVES
YOU SPECIFIC LEGAL RIGHTS, AND YOU MAY ALSO HAVE OTHER RIGHTS WHICH VARY FROM STATE TO
STATE.
4
2. HUNTER WARRANTY
OWNER INFORMATION CARD
THE HULL IDENTIFICATION NUMBERS IS LOCATED ON THE STARBOARD AFT SIDE OF THE
HULL OR TRANSOM. THIS NUMBER MUST BE PROVIDED IN ALL NECESSARY
CORRESPONDENCE.
HULL NO._________________________________________________________________
DATE DELIVERED TO OWNER________________________________________________
YACHT NAME______________________________________________________________
OWNER NAME_____________________________________________________________
STREET ADDRESS_________________________________________________________
CITY_______________ STATE/COUNTRY______________ ZIP CODE________________
HOME PORT_______________________________________________________________
ENGINE MODEL___________ SERIAL NO.______________ PROPELLER SIZE_________
DEALER PHONE___________________________PHONE__________________________
STREET ADDRESS_________________________________________________________
CITY_______________ STATE/COUNTRY______________ ZIP CODE________________
CUSTOMER SERVICE / WARRANTY___________________________________________
__________________________________________________________________________
__________________________________________________________________________
5
2. HUNTER WARRANTY
WARRANTY REGISTRATION
These limited warranties shall not be effective unless the HUNTER Warranty Registration Form and Pre-Delivery
Service Record, which are furnished with each new boat, are filled out completely and returned to HUNTER within ten
(10) days of delivery.
Return of the Warranty Registration Form to HUNTER, signed by both Dealer and Owner, is critical.
coverage cannot be initiated until the completed form is received at HUNTER.
Warranty
All repairs and/or replacements will be made by an authorized Hunter dealer, or at the option of Hunter, at the Hunter
plant. If the repairs are of such a nature that the warranty work must be performed at the HUNTER plant, transportation
costs to and from the HUNTER plant shall be paid by the owner. The labor cost reimbursement will be based on a
Labor Allowance Schedule established by HUNTER and where not applicable, on a reasonable number of hours as
determined by HUNTER. Any repairs and replacements must be approved in advance by an authorized HUNTER
service representative.
TRANSFER OF LIMITED WARRANTIES
For 1995 and later hull numbers, the limited warranties will be transferred to a subsequent purchaser of the boat if:
1. A notice of the transfer of ownership of the boat is given by the subsequent purchaser in writing to Hunter within
thirty (30) days of the transfer.
2. The notice shall include the name, address and telephone number of the subsequent purchaser, the date of
purchase, the hull number and the name of the seller of the boat.
Hunter will mail to the subsequent purchaser notice of the expiration dates of the limited warranties (see form letter,
attached). The transfer of the ownership of the boat will not extend the expiration dates of the limited warranties.
CUSTOMER SATISFACTION SURVEYS
During the first year of ownership, the first purchaser will receive two Customer Satisfaction Surveys. The first survey
(CSS#1) will be received shortly after taking delivery and focuses on the dealer's ability to sell and commission the
boat and the Owner's initial satisfaction. The second survey (CSS#2), nine to ten months into ownership, "measures"
dealer service capability and allows the owner to evaluate most of the boat's functional systems and characteristics.
Both surveys are dependent upon receipt of the first purchaser's Warranty Registration Form.
6
2. HUNTER WARRANTY
SAMPLE FORM LETTER
March 12, 2008
Mr. John Smith
1456 Joy Street
Sarasota, FL 34266
Dear Mr. Smith,
Thank you for providing written notice of transfer of ownership. We are pleased you have selected a Hunter sailboat, and we will
make every effort to assure Hunter ownership will be a satisfying experience for you.
Based on the information you have provided, we are pleased to notify you of the expiration dates of the limited warranties:
• The limited one-year New Boat warranty expires (d)_____________________.
• The limited five-year Hull Structure and Bottom Blister warranty expires (d)_______________________.
Should you require assistance at any time during ownership, we encourage you to contact your Hunter dealer or to call us directly
at 386-462-3077.
Please confirm the information at the bottom of the page and advise us if any corrections are required.
_________________________________________
Customer Service Manager
--------------------------------------------------------------------------------------------------------------------------------------Hull No: HUN____________________________________ Model:___________________________________
Telephone: (H)___________________________________(B)________________________________________
Date of Purchase:___________________________________________________________________________
Purchased From: Name:_________________________________________________________________
Address:____________________________________________________________________________
City/State____________________________________________________Zip____________________
Country____________________________
(
) Private Owner
7
( ) Dealer
3. CERTIFICATION
CE CERTIFIED
Hunter sailboats are manufactured in the United States and are certified by the IMCI to be in compliance with the
relevant parts of the Recreational Craft Directive 94/25/EC from the European Parliament. The CE mark means the
boat meets or exceeds the applicable current International Organization for Standardization (ISO) standards and
directives as stated on the CE certificate supplied with your craft. The builder's plate, affixed to the boat, describes
various parameters involved in the design of the boat. Please refer to it regularly when operating the boat.
Following are the Design Categories, established by the Recreation Craft Directive, which are to be considered a
guideline of use application as per the Recreation Craft Directive's criteria. Hunter Marine Corporation does NOT
establish these criteria, and the category indicated is only a reference to the assigned category. The safety of the
captain and crew of any vessel is not measurable by such categories, and you should not interpret these categories as
an indication of your safety in such condition. The skill of your captain and crew, proper preparation, appropriate safety
equipment for the given conditions and a well maintained vessel are critical to safe sailing.
CE CRAFT DESIGN CATEGORIES
Category A-"Ocean":
Craft designed for extended voyages where conditions may exceed wind force 8 (Beaufort Scale) and include
significant wave heights of 4m or more; for vessels that are largely self-sufficient.
Category B- "Offshore":
Craft designed for offshore voyages where conditions include winds up to and including wind force 8 and
significant wave heights up to and including 4m may be experienced.
Category C- "Inshore":
Craft designed for voyages in coastal waters, large bays, estuaries, lakes and rivers, where conditions up to
and including wind force 6 and significant wave heights up to and including 4m may be experienced.
Category D- "Sheltered Waves":
Craft designed for voyages on small lakes, rivers and canals, where conditions up to and including wind force
4 and significant wave heights up to and including 0.5m may be experienced.
For additional information, contact:
International Marine Certification Institute (IMCI)
Treves Centre, rue de Treves 45
1040 Brussels, Belgium
FX: (32) 2238-7700
NMMA CERTIFIED
Hunter sailboats are judged by the National Marine Manufacturers Association (NMMA) to be in compliance with the
applicable federal regulations and American Boat and Yacht Council (ABYC) standards and recommended practices in
effect at the time of manufacture.
For additional information, contact:
National Marine Manufacturers Association
200 E. Randolph Dr., Suite 5100
Chicago, IL 60611
PH: (1) 312-946-6200 FX: (1) 312-946-0388
8
4. BRIEF HISTORY
WARREN R. LUHRS
HUNTER MARINE'S OWNER AND FOUNDER
Warren Luhrs was born in East Orange, New Jersey in
1944 into a family with an established tradition in the
maritime and transportation Industries. His greatgrandfather, Henry, was a railroad and clipper-shipping
pioneer in America, while his great-uncle John helped
build the famous St. Petersburg to Moscow railroad for
Czar Alexander II.
In 1960, Luhrs acquired the Ulrichsen Boat Company of
Marlboro, New Jersey. It was here that Luhrs' Alura
fiberglass division was located. In 1965, Henry sold his
company to Bangor Arrostook Railroad, which was to
become the recreational conglomerate Bangor-Punta. It
was also during this period that Silverton of Tom's River,
New Jersey was purchased by John and Warren Luhrs.
Henry Luhrs owned shares in twenty-two different oceangoing vessels – barks, brigs, and schooners - and was
the principal owner of the bark Sophia R. Luhrs, named
for his wife. He was also a partner with Albert Sprout, who
managed the shipyard where the Sophia R. Luhrs was
built in Melbridge, Maine.
Today, Warren R. Luhrs and his brother John own the
Luhrs Group of marine manufacturers, which consists of
Silverton Marine, Mainship Motor Yachts, and Luhrs
Fishing Boats with its Alura division, as well as Hunter
Marine, which exclusively manufactures sailboats.
In January of 1996, the Luhrs family transferred a portion
of the Luhrs Group to its employees through an ESOP
program.
Warren Luhrs' father, Henry, worked at a small boat
manufacturer in Morgan, New Jersey, and later started
his own company, continuing the Luhrs' family sea
tradition during the great depression. During World War II
he repaired boats and installed ice sheathing on the bows
for the Coast Guard.
After the War, Henry built 27-foot fishing boats and in
1948 began to construct custom-built pleasure craft. He
then turned to skiffs and in 1952 incorporated as Henry
Luhrs Sea Skiffs, where he constructed lapstrake sea
skiffs using assembly-line techniques. Henry personally
"shook down" his prototypes on family trips up the
Hudson River to Lake Champlain.
The sea skiff is a class of boat that has been very
popular, owing to its seaworthiness. It features a sharp
bow, which reduces pounding in surf or choppy seas, and
a hull whose forward section is rounded below the
waterline to increase stability in rough water or a following
sea. Such skiffs can either be smooth sided or of a
lapstrake construction.
Inspired by Henry Ford, Henry Luhrs aimed to give the
average man the opportunity to enjoy the luxury of
boating by building an affordable and reliable boat. He
was both designer and engineer, and his progressive new
models exhibited his talent for innovation. He successfully
changed the line of the bow from straight to curve at a
time when the industry trend was a straight square effect,
and he is believed to be the first designer-builder to
popularize a small boat with a fly bridge.
9
5. GLOSSARY OF SAILING TERMS
A
Aback: describes a sail when the
wind strikes it on the lee side.
Abaft: towards the boat's stern.
Abeam: at right angles to the
centerline of the boat.
Aft: at or near the stern.
Amidships: the center of the boat,
athwartships and fore and aft.
Anti-fouling: a poisonous paint
compound used to protect the
underwater part of a hull from marine
growths.
Apparent wind: The direction and
speed of the wind felt by the crew. It
is a combination of true wind and that
created by the movement of the boat.
Astern: behind the boat; to go astern
is to drive the boat in reverse.
Athwartships: at right angles to the
fore and aft line of the boat.
B
Back: when a wind backs, it shifts
anticlockwise.
Back a sail: to sheet it to windward
so that the wind fills on the side that
is normally to leeward.
Backstay: a stay that supports the
mast from aft and prevents its forward
movement.
Ballast: extra weight, usually lead or
iron, placed low in the boat or
externally on the keel to provide
stability.
Ballast keel: a mass of ballast bolted
to the keel to increase stability and
prevent a keel boat from capsizing.
Batten: a light, flexible strip fed into a
batten pocket at the leech of the sail
to support the roach.
Beam: 1, the maximum breadth of a
boat; 2, a transverse member that
supports the deck; 3, on the beam
means that an object is at right
angles to the centerline.
Bear away: to steer the boat away
from the wind.
Bearing: the direction of an object
from an observer, measured in
degrees true or magnetic.
Beat: to sail a zigzag course towards
the wind, close-hauled on alternate
tacks.
Delay: to make fast a rope around a
cleat, usually with a figure-of-eight
knot.
Bend: 1, to secure a sail to a spar
before hoisting; 2, to moor a boat; 3,
a sleeping place on board.
Bight: a bend or loop in a rope.
Bilge: the lower, round part inside the
hull where the water collects.
Block: a pulley in a wooden or plastic
case, consisting of a sheave around
which a rope runs. It is used to
change the direction of pull.
Boot-topping: a narrow colored
stripe painted between the bottom
paint and the topside enamel.
Bottlescrew: see Rigging screw.
Broach: when a boat running
downwind slews broadside to the
wind and heels dangerously. It is
caused by heavy following seas or
helmsman's error.
Broad reach: the point of sailing
between a beam reach and a run,
when the wind blows over a quarter.
Bulkhead: a partition wall in a boat
normally fitted athwartships
C
Caulk: to make the seams between
wooden planks watertight by filling
with cotton, oakum or a compound.
Cavitation: the formation of a
vacuum around a propeller, causing a
loss in efficiency.
Center-board: a board lowered
through a slot in the keel to reduce
leeway.
Center-line: center of the boat in a
fore and aft line.
Center of effort (COE): the point at
which all the forces acting on the sails
are concentrated.
Center of lateral resistance (CLR):
the underwater center of pressure
about which a boat pivots when
changing course.
10
Chain pawl: a short lug which drops
into a toothed rack to prevent the
anchor chain running back.
Chain plate: a metal plate bolted to
the boat to which the shrouds or
backstays are attached.
Chart datum: reference level on a
chart below which the tide is unlikely
to fall. Soundings are given below
chart datum. The datum level varies
according to country and area.
Chine: the line where the bottom of
the hull meets the side at an angle.
Cleat: a wooden, metal or plastic
fitting around which rope is secured.
Clevis pin: a locking pin through
which a split ring is passed to prevent
accidental withdraw.
Clew: the after, lower center of a sail
where the foot and leech meet.
Close-hauled: the point of sailing
closest to the wind; see also beat.
Close reach: the point of sailing
between close-hauled and a beam
reach, when the wind blows forward
of the beam.
Close-winded: describes a boat able
to sail very close to the wind.
Coaming: the raised structure
surrounding a hatch, cockpit, etc.,
which prevents water entering.
Cotter pin: soft, metal pin folded
back on itself to form an eye.
Course: the direction in which a
vessel is steered, usually given in
degrees; true, magnetic or compass.
Cringle: 1, a rope loop, found at
either end of a line of reef points; 2,
an eye in a sail.
Centerboard:
centerboard
is
retractable. The mechanism of
centerboard allows the keel to be
raised to operate in shallow waters.
D
Dead run: running with the wind
blowing exactly aft, in line with the
center-line.
Deviation: the difference between
the direction indicated by the
compass needle and the magnetic
5. GLOSSARY OF SAILING TERMS
meridian; caused by object aboard.
Displacement: 1, the weight of water
displaced by a boat is equal to the
weight of the boat; 2, a displacement
hull is one that displaces its own
weight in water and is only supported
by buoyancy, as opposed to a
planning hull which can exceed its
hull, or displacement, speed.
Downhaul: a rope fitted to pull down
a sail or spar.
Draft: the vertical distance from the
waterline to the lowest point of the
keel.
Drag: 1, an anchor drags when it fails
to hole; 2, the force of wind on the
sails, or water on the hull, which
impedes the boat's progress.
Drift: 1, to float with the current or
wind; 2, US the speed of a current
(rate UK); 3, UK: the distance a boat
is carried by a current in a given time.
Drogue: a sea anchor put over the
stern of a boat or life raft to retard
drift.
Drop keel: a retractable keel which
can be drawn into the hull, when
entering
shallow
waters
and
recovering on to a trailer.
E
Eye of the wind: direction from
which the true wind blows.
F
Fair: well-faired line or surface is
smoother with no bumps, hollows or
abrupt changes in directions.
Fairlead: a fitting through which a
line is run to alter the lead of the line.
Fathom: the measurement used for
depths of water and lengths or rope.
1 fathom = 6 ft. or 1.83m.
Fid: a tapered tool used for splicing
heavy rope and for sail-making, often
hollow.
Fiddle: a raised border for a cabin
table, chart table etc., to prevent
objects falling off when the boat
heels.
Fix: the position of the vessel as
plotted from two or more position
lines.
Forestay: the foremost stay, running
from the masthead to the stemhead,
to which the headsail is hanked.
Freeboard: vertical distance between
the waterline and the top of the deck.
G
Genoa: a large headsail, in various
sizes, which overlaps the mainsail
and is hoisted in light to fresh winds
on all points of sailing.
Gimbals: two concentric rings,
pivoted at right angles, which keeps
objects horizontal despite the boat's
motion, e. g. compass and cooker.
Go about: to turn the boat through
the eye of the wind to change tack.
Gooseneck: the fitting attaching the
boom to the mast, allowing it to move
in all directions.
Goosewing:
to
boom-out
the
headsail to windward on a run by
using a whisker pole to hold the sail
on the opposite side to the mainsail.
Ground tackle: general term used
for anchoring gear.
Guard rail: a metal rail fitted around
the boat to prevent the crew falling
overboard.
Gudgeon: a rudder fitting. It is the
eye into which the pintle fits.
Guy: a steadying rope for a spar; a
spinnaker guy controls the fore and
aft position of the spinnaker pole; the
foreguy holds the spinaker pole
forward and down.
Gybe: to change from one tack to
another by turning the stern through
the wind.
H
Halyard: rope used to hoist and
lower sails.
Hank: fitting used to attach the luff of
a sail to a stay.
Hatch: an opening in the deck giving
access to the interior.
Hawes pipe: see Navel pipe.
Head-topwind: when the bows are
pointing right into the wind.
11
Headfoil: a streamlined surround to a
forestay, with a groove into which a
headsail luff slides.
Heads: the toilet.
Headway: the forward movement of
a boat through the water.
Heave-to: to back the jib and lash the
tiller to leeward; used in heavy
weather to encourage the boat to lie
quietly and to reduce headway.
Heaving line: a light line suitable for
throwing ashore.
Heel: to lean over to one side.
I
Isobars: lines on a weather map
joining places of equal atmospheric
pressure.
J
Jackstay: a line running fore and aft,
on both sides of the boat, to which
safety harnesses are clipped.
Jury: a temporary device to replace
lost or damaged gear.
K
Keel: the main backbone of the boat
to which a ballast keel is bolted or
through which the centerboard
passes.
Kicking strap: a line used to pull the
boom down, to keep it horizontal,
particularly on a reach or run.
L
Lanyard: a short line attached to one
object, such as a knife, with which it
is secured to another.
Leech: 1, the after edge of a triangle
sail; 2, both side edges of a square
sail.
Leehelm: the tendency of a boat to
bear away from the wind.
Lee shore: a shore on to which the
wind blows.
Leeward: away from the wind; the
direction to which the wind blows.
Leeway: the sideways movement of
a boat off its course as a result of the
wind blowing on one side of the sails.
5. GLOSSARY OF SAILING TERMS
Lifeline: a wire or rope rigged around
the deck to prevent the crew falling
overboard.
Limber holes: gaps left at the lower
end of frames above the keel to allow
water to drain to the lowest point of
the bilges.
List: a boat's more or less permanent
lean to one side, owing to the
improper distribution of weight, e.g.,
ballast or water.
Log: 1, an instrument for measuring
a boat's speed and distance traveled
through the water; 2, to record in a
book the details of a voyage, usually
distances covered and weather.
Luff: the forward edge of a sail. To
luff up is to turn a boat's head right
into the wind.
Luff groove: a groove in a wooden
or metal spar into which the luff of a
headsail is fed.
Lurch: the sudden roll of a boat.
M
Marlin spike: a pointed steel or
wooden spike used to open up the
strands of rope or wire then splicing.
Mast Step: the socket in which the
base of the mast is located.
Measured mile: a distance of one
nautical mile measured between
buoys or transits/ranges ashore, and
marked on the chart.
Member: a part of the skeleton of the
hull, such as a stringer laminated into
fiberglass hull to strengthen it.
Meridian: an imaginary line encircling
the Earth that passes through the
poles and cuts at right angles through
the Equator. All lines of longitude are
meridians.
Mizzen: 1, the shorter, after-mast on
a ketch or yawl; 2, the fore and aft
sail set on this mast.
N
Navel pipe: a metal pipe in the
foredeck through which the anchor
chain passes to the locker below.
Noon Sight: a vessel's latitude can
be found, using a sextant, when a
heavenly body on the observer's
meridian is at its greatest altitude.
The sight of the sun at noon is the
one most frequently taken.
O
Off the wind: with the sheets slacked
off, not close-hauled.
On the wind: close-hauled.
Out haul: a rope used to pull out the
foot of a sail.
Overall length (LOA): the boat's
extreme length, measured from the
foremost past of the bow to the
aftermost part of the stern, excluding
bowspirt, self-steering gear etc.
P
Painter: the bow line by which a
dinghy, or tender, is towed or made
fast.
Pintle: a rudder fitting with a long pin
that fits into the gudgeon to form a
hinged pivot for the rudder.
Pitch: 1, the up and down motion of
the bows of a boat plunging over the
waves; 2, the angle of the propeller
blades.
Point of sailing: the different angles
from which a boat may sail; the boat's
course relative to the direction of the
wind.
Port: the left-hand side of the boat,
looking forward (opp. of starboard).
Port tack: a boat is on a port tack
when the wind strikes the port side
first and the mainsail is out to
starboard. A boat on the port tack
gives way to a boat on a starboard
tack.
Position line/ Line of position: a
line drawn on a chart, as a result of
taking a bearing, along which the
boat's position must be i.e. Two
position lines give a fix.
Pulpit: a metal guard rail fitted at the
bows of a boat to provide safety for
the crew.
Pushpit: a metal guard rail fitted at
the stern.
12
Q
Quarter: the portion of the boat
midway between the stern and the
beam; on the quarter means about 45
degrees abaft the beam.
R
Rake: the fore and aft deviation from
the perpendicular of a mast or other
feature of a boat.
Range: 1, see transit; 2, of tides, the
difference between the high and low
water levels of a tide; 3, the distance
at which a light can be seen.
Rating: a method of measuring
certain dimensions of a yacht to
enable it to take part in handicap
races.
Reach: to sail with the wind
approximately on the beam; all sailing
points between running and closehauled.
Reef: to reduce the sail area by
folding or rolling surplus material on
the boom or forestay.
Reefing pennant: strong line with
which the luff or leech cringle is
pulled down to the boom when
reefing.
Rhumb line:
a line cutting all
meridians at the same angle; the
course followed by a boat sailing in a
fixed direction.
Riding light to anchor light: an allaround white light, usually hoisted on
the forestay, to show that a boat
under 50 ft. (15m.)is at anchor. It
must be visible for 2 mls. (3 km.).
Rigging screw: a deck fitting with
which the tensions of standing
rigging, e.g. stays, shrouds, etc. are
adjusted.
Roach: the curved part of the leech
of a sail that extends beyond the
direct line from head to clew.
Run: to run with the wind aft and with
the sheets eased well out.
Running rigging: all the moving
lines, such as sheets and halyards,
used in the setting and trimming of
sails.
5. GLOSSARY OF SAILING TERMS
S
Scope: the length of rope or cable
paid out when mor anchoring.
Scuppers: 1, holes in the toe rail that
allow water to drain off the deck; 2,
drain cockpit through hull.
Seacock: a valve that shuts off an
underwater inlet or outlet passing
through the hull.
Seize: to bind two ropes together, or
a rope to a spar, with a light line.
Serve: to cover and protect a splice
or part of a rope with twine bound
tightly against the lay.
Serving mallet: tool with a grooved
head, used when serving a rope to
keep the twine at a constant and high
tension.
Set: 1, to hoist a sail; 2, the way in
which the sails fit; 3, the direction of
tidal current or steam.
Shackle: a metal link with a
removable bolt across the end; of
various shapes: D, U.
Sheave: a grooved wheel in a block
or spar for a rope to run on.
Sheet: the rope attached to the clew
of a sail or to the boom, enabling it to
be controlled or trimmed.
Shrouds: ropes or wires, usually in
pairs, led from the mast to the chain
plates at deck level to prevent the
mast falling sideways; part of the
standing rigging.
Sloop: a single-masted sailing boat
with a mainsail and one head sail.
Spar: a general term for any wooden
or metal pole, e.g., mast or boom,
used to carry or give shape to sails.
Spindrift: spray blown along the
surface of the sea.
Spinnaker: a large, light, balloon
shaped sail set when reaching or
running.
Splice: to join ropes or wire by
unlaying the strands and interweaving
them.
Split pin: see cotter pin.
Spreaders: horizontal struts attached
to the mast, which extends to the
shrouds and help to support the mast.
Stall: a sail stalls when the airflow
over it breaks up, causing the boat to
lose way.
Stanchion: upright metal post bolted
to the deck to support guardrails or
lifelines.
Standing part: the part of a line not
used when making a knot; the part of
a rope that is made fast, or around
which the knot is tied.
Standing rigging: the shrouds and
stays that are permanently set up and
support the mast.
Starboard: right-hand side of a boat
looking forward (opp. of port).
Starboard tack: a boat is the
starboard tack when the wind strikes
the starboard side first and the boom
is out to the port.
Stay: wire or rope which supports the
mast in a fore and aft direction; part
of the standing rigging.
Steerage way: a boat has steerage
way when it has sufficient speed to
allow it to be steered, or to answer
the helm.
Stem: the timer at the bow, from the
keel upward, to which the planking is
attached.
Sternway: the backward, stern-first
movement of a boat.
Stringer: a fore and aft member,
fitted to strengthen the frames.
T
Tack: 1, the lower forward corner of a
sail; 2, to turn the boat through the
wind so that it blows on the opposite
sides of the sails.
Tacking: working to windward by
sailing close-hauled on alternate
courses so that the wind is first on
one side of the boat, then on the
other.
Tack pennant: a length of wire with
an eye in each end, used to raise the
tack of a headsail some distance off
the deck.
Tackle:
a
purchase
system
comprising of rope and blocks that is
13
used to gain mechanical advantage.
Tang: a strong metal fitting by which
standing rigging is attached to the
mast or other spar.
Tender of dinghy: a small boat used
to ferry stores and people to a yacht.
Terminal fitting: fitting at the end of
a wire rope by which a shroud or stay
can be attached to the mast, a tang
or a rigging screw/ turnbuckle.
Tide: the vertical rise and fall of the
oceans caused by the gravitational
attraction of the moon.
Toe rail: a low strip of metal or
molding running around the edge of
the deck.
Topping lift: a line runs from the
masthead to a spar, normally the
boom, which is used to raise it.
Topsides: the part of a boat's hull
that is above the waterline.
Track:
1, the course a boat has made good;
2, a fitting on the mast or boom into
which the slides on a sail fit; 3, a
fitting along which a traveler runs,
used to alter the angle of the sheets.
Transit: two fixed objects are in
transit when seen in line; two transit
give position fix.
Traveler: 1, a ring or hoop that can
be hauled along a spar; 2, a fitting
that slides in a track and is used to
alter the angle of the sheets.
Trim: 1, to adjust the angle of the
sails, by means of sheets, so that
they work most efficiently; 2, to adjust
the boat's load, and thus the fore and
aft angle at which it floats.
True wind: the direction and speed
of the wind felt when stationary, at
anchor or on land.
Turnbuckle: see Rigging screw.
U
Under way: a boat is under way
when it is not made fast to shore, at
anchor or aground.
Up-haul: a line used to raise
something
vertically,
e.g.,
the
spinnaker pole.
5. GLOSSARY OF SAILING TERMS
V
Veer: 1, the wind veers when it shifts
in clockwise direction; 2, to pay out
anchor cable or rope in a gradual,
controlled way.
W
Wake: the disturbed water left astern
of a boat.
Waterline: the line along the hull at
which a boat floats.
Waterline length (WL): the length of
a boat from stem to stern at the
waterline. It governs the maximum
speed of displacement hull and
effects a boats rating.
Weather helm: ( opp. of lee helm).
Weather side: the side of a boat on
which the wind is blowing.
Wetted surface: the area of the hull
under water.
Whisker pole: a light pole used to
hold out the clew of a headsail when
running.
Winch:
a
mechanical
device,
consisting usually of a metal drum
turned by a handle, around which a
line is wound to give the crew more
purchasing power when hauling taut
a line, e.g. a jib sheet.
Windage: those parts of a boat that
increase drag, e.g., rigging, spars,
crew, etc.
Windlass: a winch with a horizontal
shaft and a vertical handle, used to
haul up the anchor chain.
Windward: the direction from which
the wind blows; towards the wind
(opp. of leeward).
Y
Yawl: a two masted boat with a
mizzen stepped aft of the rudder
stock/ post.
14
6. EXPLANTATION OF SYMBOLS AND LABELS
T HIS MANUAL CONT AINS SAF ET Y PRECAUT IONS T HAT MUST BE
OBSERVED WHEN O PERAT ING OR SERVICING YOUR BO AT . REVIEW
AND UNDERST AND T HESE INST RUCT IONS.
Denotes an extreme intrinsic hazard exists which will
result in death or serious injury if proper precautions are not
taken
Denotes a potential hazard exists which can result in injury or
death if proper precautions are not taken
Denotes a reminder of safety practices or directs attention to
unsafe practices which could result in personal injury or damage
to the craft or components
15
7. SAFE BOATING TIPS
*** BE PREPARED ***
Take a safe boating course. In the U.S., contact your
local Boating Industry, such as the ASA
(www.ASA.com) or US Sailing (www.USSailing.org),
for course information.
SAFETY HAZARD
Obtaining and maintaining the necessary
safety equipment is the responsibility of
the owner. For more information about
equipment required, contact local boating
authorities
Carry all safety equipment required by the laws that
apply to your area. Requirements are generally available
from the Coast Guard (http://nws.cgaux.org) or your local
boating industry.
MINIMUM RECOMMENDED SAFETY EQUIPMENT
•
•
•
•
•
•
•
•
Required life saving equipment, including life vests
and throwables.
First Aid kit
Anchor with sufficient line and/or chain
Flashlight with good batteries
Binoculars
Appropriate navigational charts
Flares
Noise emitting device
•
•
•
•
Sufficient food and water provisions
Sunglasses and block
Blanket
Oar(s)
The legally required on-board safety equipment may
vary by region or body of water. Please check with
local authorities prior to departure for a safety
examination.
LIFE JACKETS
WEARING a life jacket may save your life. Keep jackets
in a readily accessible place – not in a closed
compartment or stored under other gear. Remove them
from any packaging and keep throwable floatation
devices ready for immediate use.
DROWING HAZARD
Children under 12, those physically restricted,
and non-swimmers must wear lifejackets at all
times. Make sure all passengers are properly
instructed in use of life saving gear.
FIRE EXTINGUISHERS
Approved fire extinguishers are required on most
boats, local authorities can provide details. All
passengers should know the location and operating
procedure of each fire extinguisher. Fire extinguishers
are normally classified according to fire type. Be
familiar with the type of fire extinguishers required on
board.
FIRE HAZARD
Understand and provide the type and quantity
of fire extinguishers required on your boat.
Refer to your boating handbook for
extinguisher specifications and quantities
required for your boat.
16
7. SAFE BOATING TIPS
FLARES
Most boats operating on coastal waters are required to
carry approved visual distress signals, therefore check
with your local authorities as to which types are
required.
FIRE/EXPLOSION HAZARD
Pyrotechnic signaling devices can cause
injury and property damage if not handled
properly. Follow manufacturer's directions
regarding the proper use of signaling
devices.
ALCOHOL / DRUGS AND BOATING
Drugs and alcohol affect a person's ability to make
sound judgments and react quickly. As a responsible
boater, you should refrain from using drugs or alcohol
(singly or combined) while operating your boat.
Operation of motorized vessels while under the
influence carries a significant penalty. Drugs and
alcohol decrease your reaction time, impair your
judgment and inhibit your ability to safely operate your
boat.
IMPAIRED OPERATION HAZARD
Impaired vision or judgment on the water
can lead to accidents and personal injury.
Operating any boat while intoxicated or
under the influence of drugs is both
dangerous and illegal.
BEFORE GETTING UNDERWAY
•
•
Leave a float plan (see example Section 10).
Perform a pre-departure checklist (see example
Section 9).
•
Check the weather. Do not venture out if the
weather is, or will be, threatening.
WHILE UNDERWAY
•
•
•
Keep a good lookout. Keep a watch to the
leeward under the headsail. Keep away from
swimmers, divers and skiers.
Know and obey local boating laws.
Respect bad weather, and be prepared for
quickly changing conditions.
COLLISION HAZARD
Use extra caution in shallow water or where
underwater/floating objects may be present.
Hitting an object at speed or severe angle
can cause serious injure and/or damage
your boat.
17
7. SAFE BOATING TIPS
BALLAST TANK
power. A completely full tank will allow stability under
motor power. If under sail, the ballast tank must be
full. Any tank state other than full when under sail
will produce instability and may lead to a capsized
vessel.
This boat is equipped with an internal ballast tank.
The ballast tank must be either completely empty or
full, depending on the mode of travel. If under power,
the ballast tank must be either completely empty or
completely full. A completely empty tank will allow
efficient and economical movement under motor
CREW SIZE & WEIGHTS
The boat is weight specified at a maximum crew size
of 6 persons, or no more than 1,386 pounds (960kg).
Crew weight should be evenly distributed port to
starboard.
18
8. PRELIMINARY CARE AND MAINTENANCE CHECKLIST
Dear Hunter Owner,
Attached you will find a list of items and recommendations that we believe should be incorporated into your own
ongoing list of preventative maintenance items and safety check points. THIS LIST SHOULD NOT BE
CONSIDERED A COMPLETE SERVICE MANUAL OR THE ONLY ITEMS ON YOUR BOAT IN NEED OF
ROUTINE MAINTENANCE, INSPECTION OR ATTENTION.
You will find that we address commonly found optional equipment items installed on Hunter boats, as well as most
standard equipment from Hunter Marine. Owners need to familiarize themselves with individual equipment manuals
on all such items, especially aftermarket purchases or optional equipment installed by your dealer or Hunter Marine.
This should ensure that you are following the manufacturer's recommendations for proper maintenance and upkeep.
We strongly recommend that all owners complete a Power Squadron course followed with a complementary boat
inspection before leaving the dock. To locate a Power Squadron in your area please visit < www.usps.org >.
Reviewing and familiarizing yourself with the Chapman's Piloting Manual is also highly recommended for every boat
owner. This manual contains demonstrations for safety drills which should be practiced routinely, dealing with
adverse conditions, general boat handling and recommended safety equipment. Our opinion is that no boat owner
should operate a boat without first reviewing this manual and without having ready access to it while sailing.
We hope that this list will be beneficial to you in your ongoing maintenance and upkeep. Safe boating!
Thank You
Hunter Marine
19
8. PRELIMINARY CARE AND MAINTENANCE CHECKLIST
OUT OF WATER INSPECTION CHECKLIST
REFER
TO
THE
DRAWINGS
IN
THE
DESCRIPTION OF MODEL SECTION OF THIS
MANUAL FOR ADDITIONAL INFORMATION.
A QUALIFIED TECHNICIAN SHOULD BE USED IF
YOU ARE NOT COMPLETELY CONFIDENT IN
YOUR ABILITY TO MAKE REPAIRS OR
INSPECTIONS.
TRAVEL HAZARD
Check the ballast tank water intake guillotine
valve for proper function prior to any launch
procedure. Ensure the ballast tank guillotine
valve and vent valve are closed. Failure to do
so may cause unexpected results under
power or sail.
Ballast tank guillotine valve is properly
functioning
All thru-hulls and valves inspected for
corrosion, labels and closed until after
launch
Transducer(s) are in place and secured
properly; throttle/ transmission control
handle rotates smoothly
Hose clamps on all systems below water
line are tight
Centerboard(Keel) bolts tight and clean
Boat is free of internal and external water
leaks above water line (Failure to stop water
intrusion could result in permanent damage
or deterioration of structural coring
materials, internal wiring and cause mildew
and molding)
Centerboard(Keel) raising line working
properly
Mast Assembly
General
Maintain mast assembly according to
manufacturer's recommendations
Spreaders securely fastened; mast and
spreaders free of corrosion and stress
cracks
Standing rigging and pins inspected for
wear, tear, corrosion and cracking
External wiring secured for navigation lights
(anchor/steaming lights, bow light and stern
light)
Bottom paint in satisfactory condition
Hull freshly cleaned and waxed (free of
gelcoat damage)
Optional electronic wind indicator installed
per manufacturer's recommendation
Mooring, safety lines and fenders onboard
and in good condition
Optional wind indicator installed and
functioning properly
Inspect start battery and optional 2 battery
for proper installation, fully charged and
functioning
Optional VHF antenna installed and working
properly
All battery terminals clean and wires
secured
Optional headsail furling system installed
and inspected per manufacturer's
recommendations
Inspect outboard engine according to
manufacturer's recommendations
Running rigging inspected for wear and tear
nd
20
8. PRELIMINARY CARE AND MAINTENANCE CHECKLIST
Mast step stand-up blocks secured and
operational
Main sail, jib sail and flaking system
inspected for wear and tear
Check condition and operation of sails
Mast to deck wiring is properly attached
Specified pre-bend and diagonal tensions
attained in mast according to the mast
manufacturer's commendations
Electric bilge pump, float switch (discharge
hose has anti-siphon loop in place to
prevent back flow under sail) operating
properly
Optional fresh water pumps functioning
properly
Optional toilet flush pumps functioning
properly
Illumination and Small Electrical
Components Check
Anchor System and Ground Tackle
Optional anchor secured in bow roller
assembly
Bow light, cabin lights, stern light, masthead
light, chart light illuminating
Anchor light illuminating
Anchor line pays out and retrieves into
anchor locker without difficulty
Anchor assembly inspected and free of
abrasions
Anchor locker hatch secures properly with
anchor and line in place
Optional 110 or 220 VAC outlets operational
– Ground fault circuits functioning
Anchor locker free of debris inside
Optional 110 or 220 VAC/battery charging
systems functioning properly
Compass and compass light functioning
properly
Optional spare anchor onboard and
accessible; see Chapman's Manual for
recommendations on anchors, anchor lines
and drogues
Anchor locker drain-plate is free of debris
Steering System
Smoke detectors operational
CO detector operational
High water bilge alarm functioning properly
Optional shore power cord and adapter plug
operational
Fresh Water Systems
Rudder turns easily and correctly with wheel
direction
Portable water tank and galley faucet water
pump functioning properly
Rudder raising system working and
functioning properly
Optional water tank and shut-off valve
functioning
Inspect rudder for cracks and/or concealed
damage
All water lines and components purged of
air and checked for leaks
Bolts and brackets secured and steering
cable functioning properly
Sinks and drains checked for leaks and
adequate flow
Optional cockpit shower operational
Primary Pumps
Optional bilge pump and manual bilge pump
functioning properly
21
Optional fresh water system strainer clean
8. PRELIMINARY CARE AND MAINTENANCE CHECKLIST
Head and Holding Tank Systems
Portable sanitation head holding tank clean
Optional marine head toilet flushes to
holding tanks properly
Optional marine head holding tank waste
level checked
Optional marine head fittings and hoses
checked for leaks or signs of cracks
Optional marine head vent clear from tank
to atmosphere
Optional butane stove operational; refer to
manufacturer's manual for proper operation
and trouble shooting
Optional electric cooler operational and
proper temperature attained
Galley sink drain plate free of debris
Galley sink drain ball valve/handle
functioning properly
Hose clamps tight and secured; no signs of
cracks on sink drain hose
Deck
Swim seats/ladders/grab plate operational
Companionway drop-ins fit properly in
companionway and line locker
Optional canvas properly cleaned and
installed
Optional cockpit cushions cleaned and
installed
Lifeline shackles tight and secure
Port/starboard chainplate assemblies are
secured and tightened
Plexiglass hatches, ports, windscreens and
windows adjusted and cleaned
All thru deck fittings sealed properly; flipping
cap on thru deck fitting functioning properly
Topside surface clean and free of damage
Interior Inspection
Galley Systems
Companionway hatches operate properly
(recheck this after the boat is in water)
Drop-in hatches for bunks and floors in
place and fit securely
Interior steps and grab rails secured
Bilges clean and free of debris (is this
possible??)
Opening port and hatch screens in place
Head door open/shut/latch properly
Optional stereo/CD operational
Safety gear onboard, readily available and
up to date. See Chapman's Manual and US
Coast Guard website at < www.uscg.mil
>for details
Operator's Manual onboard
Ballast tank access cover secured; no signs
of cracks on ballast tank
Optional blinds/privacy curtains, shades and
interior cushions cleaned and secured
Ensure all wires and connection on
distribution panels are tight (should be
professionally inspected)
Owner supplied Chapman's Manual
onboard and readily available
User's Manual onboard
Outboard Engine and Fuel System
Rubrail sealed and secured to hull
Load bearing hardware sealed and securely
fastened; this includes but is not limited to
chainplates, winches and handrail
22
Review manufacturer's outboard engine
manual for operating procedure and
maintenance
8. PRELIMINARY CARE AND MAINTENANCE CHECKLIST
Outboard engine mounting bolts in
place, tightened, secured and properly
torqued
Crankcase oil at full mark (per engine
manual)
Transmission fluid/oil at full mark (per
engine manual)
Seawater intake free of debris
Throttle and outboard engine steering
linkages smooth and operational
Air bled from fuel lines and no sign of fuel
leaks at fittings
Date of inspection:
Inspection made by:
23
Throttle cable tension set properly
Shifter with trim switch functioning properly
Fuel lines clean and free of cracks or
damage, hose clamps tightened and
secured
Starting sequence and alarms correct
according to engine manufacturer's
recommendations
Shutdown system operational
Fuel tank clean, no cracks or damage, shut
off valve closed properly
8. PRELIMINARY CARE AND MAINTENANCE CHECKLIST
IN WATER INSPECTION CHECKLIST
REFER
TO
THE
DRAWINGS
IN
THE
DESCRIPTION OF MODEL SECTION OF THIS
MANUAL FOR ADDITIONAL INFORMATION.
Dockside Pre-sail Inspection
CAPSIZE HAZARD
The ballast tank must be either completely
empty or full, depending on the mode of travel.
If under power, the ballast tank must be either
completely empty or completely full. If under
sail, the ballast tank must be completely full.
Any tank state other than empty or full will
produce instability and may lead to a capsized
vessel and could result in property damage,
serious injury or death.
Dockside Inspection of Outboard Engine
and Operating System
Review manufacturer's engine manual for
proper engine starting procedure
Correct idle rpm (per engine manual)
Standing rigging tuned statically – all fittings
pinned and secured (re-check after sailing)
Jib sail installed, optional furling system
operational
Main sail installed and operates smoothly
Main sail flaking system properly adjusted
Topping lift and outhaul operational
All line stoppers operational and labeled
Secure and evenly distribute all loose
equipment and weight
Complementary onboard inspection made
by local Power Squadron
Hour meter operational
Neutral safety start switch operational
No fuel/oil/water leaks on engine
Engine seawater flowing properly
Date of inspection:
Inspection made by:
24
All reefing points in good condition and
working properly
Sheets/blocks/winches operate correctly
and easily under load
All electronic equipment calibrated
Owner Supplied VHF operational
Complete safety package onboard and upto date (see Chapman's manual and US
Coast Guard rules and regulations)
9. PRE-DEPARTURE CHECKLIST
necessary for optimal sailing performance. An
empty or partially full tank will result in an
unstable sailing condition and may capsize the
boat. No matter the tank state, the ballast tank
guillotine valve and vent valve must always be
closed when not filling or emptying the tank.
theEDGE is designed to operate under sail mode or
power mode. You must clearly understand the basic
factors directly affecting your chosen mode of travel
before departing.
Your boat can not operate at speeds over 6 mph
under both auxiliary power and under sail. This will
cause significant stability issues and is extremely
dangerous.
3. Centerboard – when operating your boat under
power, the centerboard is in the raised position.
The lower portion of the centerboard remains
exposed and acts as a fin (stabilizer) enhancing
directional stability as speed increases. Under
sail, lower the centerboard to adjust the center of
gravity to provide greater stability.
Depending on your mode of travel, verify the following
conditions and their status: rigging, ballast tank,
center board, rudder and outboard engine.
1. Rigging - when operating your boat under power,
the rigging may be installed, setup and secured,
but the sails must be down (main and jib sails).
Also, it is not recommended to leave the mast on
the crutches when powering the boat.
4. Rudder - when operating your boat under power,
the rudder is in the raised position. With the
rudder fully raised and locked in position, the tip
portion of the rudder becomes a fin which
provides directional stability of water flow to the
outboard engine. When under sail, lower the
rudder to allow for proper steering.
.
5. Outboard engine – when operating your boat
under power, the outboard engine must be in the
down position. When under sail, tilt the outboard
engine to the full up position.
2. Ballast tank – when operating your boat under
power, the ballast tank can be completely full or
completely empty. When full, the boat will
provide greater stability. When empty, the boat
will be lighter. When operating your boat under
sail, the ballast tank must be completely full. A
full tank will provide the adjusted center of gravity
Check weather conditions and tides
Fuel for stove
Check food supply
Foul weather gear
Linen, sleeping bags
Fuel
Check bilge for extra water
Water
Sunscreens and sunglasses
Tools
Cooking and eating utensils
Doors and drawers secured
Halyards and sheets are clear and ready to
run
No lines or other obstructions near propeller
or bow
Anchor ready to run
Docking and anchoring gear
Check radio operations
Navigation charts and instruments
Float plan to a friend or Coast Guard (see
next page)
25
Check that the battery is fully operational
Oil level, tight Vp-belts
Check for loose electrical connections in
engine compartment
Check steering lock to lock
Check mast for rigging irregularities and
tightness
Check lifelines for tightness
Turn on fuel and waterlines
Stow all loose gear
10. FLOAT PLAN
1. Name and telephone number of the reporting person:
2. Description of boat
NAME
TYPE
MAKE
LENGTH
REGISTRATION#
HULL COLOR
STRIPE COLOR
DECK COLOR
OTHER DISTINGUISHING MARKS
3. Number of Persons aboard
NAME
AGE
PHONE #
AGE
PHONE #
AGE
PHONE #
H.P.
FUEL CAPACITY
ADDRESS
NAME
ADDRESS
NAME
ADDRESS
4. Engine
TYPE
5. Safety equipment
PFDs
Flares
Food
Water
6. Radio
TYPE
Mirror
Flashlight
EPIRB
Raft/Dinghy
FREQUENCIES
7. Trip Expectations
DEPARTURE TIME
DATE
DESTINATION
RETURN DATE
8. Automobile:
LICENSE #
STATE
COLOR
9. If not returned by-
FROM
NO LATER THAN
MAKE
PARKED AT
Contact the Coast Guard orCALL -
AT-
26
11. AFTER SAILING CHECKLIST
When leaving your Hunter boat at the dock for more than a short time, it is a good idea to review the
following checklist to make sure everything is in order. This will help protect the boat's components and
add to their attractiveness and usable life.
REFER
TO
THE
DRAWINGS
IN
THE
DESCRIPTION OF MODEL SECTION OF THIS
MANUAL FOR ADDITIONAL INFORMATION.
Maintain a full or fill ballast tank to provide
stability
Flake mainsail and cover or remove and
bag
Remove and stow all portable deck
hardware such as winch handles, etc.
Secure the topping lift to the boom and
secure it firmly with the mainsheet
Coil and stow all lines
27
Close all fuel lines (refer to your
manufacturer's outboard engine manual for
details)
Switch off the electrical system; if the boat
has the optional battery charger, switch off
the main battery switch
Pump out the bilge and make sure the
optional high water bilge float switch is free
of debris
Check air vents, secure ports and hatches,
and clean deck stainless, especially if you
have operated in saltwater
Make a final check of mooring lines,
fenders, etc.
12. TRAILER LAUNCHING AND RETRIEVING
REFER TO THE DRAWINGS IN THE DESCRIPTION
OF MODEL SECTION OF THIS MANUAL FOR
ADDITIONAL INFORMATION.
BE SURE TO THOROUGHLY FAMILIARIZE
YOURSELF WITH THE TOWING REGULATIONS
OF YOUR STATE AND IN ANY OTHERS YOU MAY
TRAVEL THROUGH. REGULATIONS VARY FROM
STATE TO STATE REGARDING THE TOWING OF
BOAT TRAILERS, GOVERNING BOTH THE WIDTH
OF THE LOAD AND THE LENGTH OF MAST
OVERHANG AT THE REAR OF THE TRAILER.
SPECIAL PERMITS MAY BE REQUIRED AND
OTHER REGULATIONS MAY APPLY. CONSULT
YOUR LOCAL AUTHORITIES FOR MORE
INFORMATION.
TOWING HAZARD
Trailer
towing
can
be
hazardous.
Overloading can cause serious injury or
equipment damage. Do not overload your
trailer.
TOWING HAZARD
Check the certification decal located near
the hitch of your trailer. The Gross Vehicle
Weight Rating (GVWR) for your trailer is
5,000 lbs. Total boat weight with all possible
Hunter options installed is 4,920 lbs.
(including full fuel and ½ water supply). It is
your responsibility to ensure any gear or
supplies loaded in the boat while under tow
does not exceed the total load limit of 5,000
lbs.
PRE-LAUNCH PROCEDURES
1. Ensure the centerboard and rudder are up and
secured.
2. Check for damage to the boat caused by towing
3. The engine should be raised so it will not hit
bottom during launching.
4. Ensure thru hull ball valves are closed. Ensure the
galley sink drain valve and ballast tank guillotine
valves are closed. The rudder drum overflow drain
ball valves should remain open.
TOWING HAZARD
Ensure the tow vehicle has a towing capacity
higher than that of the trailer's GVWR. Using
an under-rated tow vehicle is dangerous and
illegal.
5. Remove trailer tie-down straps and ropes and
make sure that the winch snap hook is properly
attached to the bow eye and locked in position.
6. Connect the fuel tank, check fluid levels and
safety equipment.
7. Disconnect the trailer light plug to prevent shorting
TOWING HAZARD
Tow your boat with the ballast tank empty. If
the ballast tank is not empty you will exceed
the GVWR limit of the trailer and can cause
equipment damage and serious injury.
the electrical system or burning out a bulb.
8. Loose gear and provisions can be loaded via the
swim ladder on the transom.
9. If launching at a dock, attach a line to the bow and
the stern of the boat so it will not drift away after
launching.
THE MAST MAY BE RAISED WHILE THE BOAT IS
ON THE TRAILER OR AFTER THE BOAT IS
LAUNCHED. MAKE SURE THAT ALL HALYARDS
AND REEFING LINES ARE INSTALLED USING
THE MESSENGER LINES ALREADY RUN IN THE
MAST. MAKE SURE THE CENTERBOARD AND
THE RUDDER ARE SECURED AT ALL TIMES.
10. Visually inspect the launch ramp for hazards such
as a steep drop off, slippery areas and sharp
objects.
11. When ready, proceed slowly to the ramp.
28
12. TRAILER LAUNCHING AND RETRIEVING
2. Ensure the rudder and centerboard are raised and
secured.
LAUNCHING
3. Unload the boat away from the launch ramp.
1. Drive to the ramp area and back the boat and
CAREFULLY maneuver the boat under power to
the retrieving site.
trailer down the appropriate ramp.
2. Keep the rear wheels of the towing vehicle out of
4. Back the trailer down the appropriate ramp. Keep
the water. This will generally keep the exhaust
pipes out of the water. If the exhaust pipes
become immersed in the water, the engine may
stall.
the rear wheels of the towing vehicle out of the
water. This will generally keep the exhaust pipes
out of the water. If the exhaust pipes become
immersed in the water, the engine may stall. Set
the parking brake and put the transmission in a
parking gear and ensuring the vehicle will not
move.
3. Set the parking brake and place the transmission
in a parking gear ensuring the vehicle will not
move.
5. Payout the towing strap so the snap hook can be
4. After the boat is in water, turn the winch to payout
attached to the bow eye. To avoid hitting the
bottom, the outboard engine might need to be
partially raised when motoring onto the trailer.
When properly aligned on trailer, raise the
outboard engine to full up position. Winch the
boat securely onto the trailer. Confirm the boat's
position on the trailer and secure it.
the towing strap but do not allow the boat to drift
away from the trailer.
5. Lower the outboard engine and prepare to start
the engine. Make sure the transmission is not
engaged at this time. Make sure the lanyard is
properly attached to operator.
6. If the ballast tank was not emptied under power,
open the ballast tank guillotine valve located on
the transom and the vent valve located in the port
aft hanging locker. Slowly drive the trailer forward
and stop to allow time for the ballast tank water to
discharge.
6. Start the outboard engine and ensure that water is
passing through the engine's cooling system.
Check with the engine's owners manual for proper
operation.
7. Release the winch and disconnect the winch strap
7. De-rig and unstep the mast if not already
snap hook from the bow when the boat's operator
is ready. At this point, the boat should launch with
a light shove or by backing off from trailer under
power.
completed. BEWARE OF NEARBY POWER
LINES WHEN LOWERING MAST. Secure mast.
8. Attach rear straps from to trailer and stern of the
boat. Confirm that all gear and supplies are
secured before driving.
8. Return the towing vehicle and the trailer to the
parking area.
9. When the ballast tank is fully drained, carefully
9. Finish any final loading of your boat at the dock.
drive the trailer with the boat aboard out of the
ramp to the washdown area for cleanup and
reloading.
RETREIVING
The steps for retrieving the boat from the water are
basically the reverse of those taken to launch it.
1. Consider the following conditions which may have
changed since you launched your boat:
• wind direction and/or speed
• current and/or tide
• visibility
29
13. DOCKING AND ANCHORING
DOCKING
Your Hunter comes with an on-deck anchor well and
optional anchor. The optional anchor is selected to
suit the size and weight of your boat under normal
anchoring conditions, and provides its best holding
characteristic in muddy or sandy bottoms. When
anchoring, the following should be considered:
Docking the boat should be handled carefully to avoid
damage. Under normal wind and water conditions, the
following considerations should be made:
1. Whenever possible, approach the dock against
the prevailing wind and current to assist in
stopping the boat. Where these conditions are
contrary, the stronger of the two should be used
to determine approach.
1. Pay particular attention to the slope of your
anchor rode (i.e., the relationship between the
depth of the water and the length of the rode). A
good rule of thumb is to allow a scope of about
7:1 (a rode seven times as long as the vertical
distance from the bow to the bottom). A helpful
aid is to mark the rode every 20 feet or so with
knots or other types of indicators. Before dropping
anchor, make sure the bitter end is secured to the
cleat in the anchor well.
2. When approaching the dock, dock lines should be
at the ready, loose gear stowed and decks
cleared. Determine the direction of the wind and
current and when you decide which side of the
boat will be against the dock, rig dock lines and
fenders on the appropriate side.
3. To tie up, attach bow and stern lines to dock with
2. Consider wind direction, currents, mean low tide
the fenders between the dock and boat. Rig
crossing spring lines to limit motion forward and
aft. Be sure to allow some slack in all lines to
compensate for tidal activity if present. Never use
bow rail, stern rail, or stanchions to secure a
vessel, even for brief periods. Consult an
approved boating guide if you are new to
docking or mooring
depths, local conditions and the position of any
anchored boats nearby when anchoring.
3. To raise anchor, motor or sail (under main only)
forward slowly. When at the point directly above
the anchor, a tug should free it from the bottom.
Consult an approved boating guide for
additional information.
ANCHORING
SAFETY HAZARD
Anchoring in unusual water and/or weather
conditions will require additional precautions.
Consult an approved guide for suggestions.
30
14. MAST RAISING AND LOWERING SYSTEM
REFER TO THE DRAWINGS IN THE DESCRIPTION
OF MODEL SECTION OF THIS MANUAL FOR
ADDITIONAL INFORMATION.
allow all halyards hanging loose during the mast
raising.
STEPPING THE MAST
1. Untie the mast from the mast crutches and slide
ELECTROCUTION HAZARD
Make sure that the mast and riggings are
clear of all overhead electrical cables when
being raised, lowered or maneuvered about
the launch area. Contact with an electrical
cable can result in property damage,
serious injury or death.
the mast aft on the crutch roller until the bottom of
the mast is over the mast step. At this point, the
mast will be balanced on the roller only, so do not
let it go of the mast base. Remove the safety pin
and align the mast base, vang toggle and bottom
block. Insert the safety pin and install cotter pin
on safety pin. The mast should now be secured to
the mast step.
INSERTING THE GIN POLE
MAST RAISING
1. Attach jib halyard to the aft thimble on the top of
the gin pole. Attach main sheet fiddle block to the
bottom thimble of the gin pole. Make sure both
attachments to the thimble are secured.
BEFORE STEPPING THE MAST
2. Install the gin pole vertically in the hole in the front
1. If raising the mast in the water, ensure the ballast
base of the mast. Attach the lower mainsheet
fiddle block (the one with cam cleat) on the U bolt
in the anchor-well. Make sure the entire mast
raising system is secured and safe for operating.
tank is full.
2. Install lower struts. The lower struts should be
secured on the mast and to the base bracket on
the deck, but do not tighten down the bolts at this
time. Make sure the bolts will remain attached
during the entire procedure. The lower strut
fasteners will be tightened down after the mast is
fully raised.
3. Check to make sure the forestay is not twisted
around the jib halyard and the lower shrouds and
cap shrouds are not twisted around each other.
All shrouds should be outside the life lines, the
turnbuckles should be vertical on the chainplate.
Recheck that all shrouds, forestays and shackles
are properly attached. Make sure the mast is
clear of all overhead electrical wiring.
3. Attach the lower shroud to the turn buckles on
chainplate in front of the carriage hole. Install cap
shroud turnbuckles on all carriage holes of the
chainplate. Make sure turnbuckles are pinned
and secured.
RAISING THE MAST
4. Confirm that all standing rigging and spreaders
are connected and secured to the mast. The
spreader mounting bracket bolts should be
secured and tightened. Make sure there are no
signs of cracks on the mast, shrouds and
masthead light wiring harness. Ensure that
masthead light is functioning.
1. Tension the halyard with the gin pole in a vertical
position (make sure that the jib halyard is being
tensioned and not the main halyard). Secure the
jib halyard to the cleat on the mast. The mast
struts prevent the mast from moving side to side.
2. Raise the mast by pulling in the main sheet
5. Confirm that backing shells on top of D2, marine
through the cam cleat.
eye terminal on top of forestay and spreader end
plugs are secured on the mast.
3. As soon as the mast is raised, leave the
mainsheet jammed and tensioned. Connect the
forestay turnbuckle to stem plate; meanwhile,
install clevis pin and cotter pin to secure the
connection.
6. Main halyard, jib halyard, topping lift and shackles
should be installed and secured on cleats; do not
31
14. MAST RAISING AND LOWERING SYSTEM
4. Tension cap shrouds, lower shrouds and forestay
by turning the turnbuckle. Use a tension gauge to
check loading tensions on standing rigging.
When done, all turnbuckles should have cotter
pins installed to keep them from reopening.
5. Check the rig tension.
6. After the mast is secured by all standing riggings,
remove gin pole and mainsheet system from the
mast raising system.
7. Connect the mast wiring plug to the deck fitting at
starboard base of the mast.
BOOM INSTALLATION
1. Connect topping lift on aft bale of the boom.
Attach and install forward end of the boom on the
mast goose neck. Install bolt and nut to secure
this connection.
2. Recheck all riggings, make sure they are secured
and safe for operation.
MAINSHEET PURCHASE
1. Reinstall the mainsheet on boom and on top of
cockpit stainless grab rail; the fiddle with cam
cleat should be attached on the grab rail. Ensure
the system is secured for operation.
BOOM VANG INSTALLATION
1. Attach and install the lower fiddle block (with cam
cleat) on vang toggle on mast step safety pin.
Attach boom vang upper fiddle block on forward
bale of the boom. Make sure the shackles are
secure for operation.
2. Refer to Section 15 GETTING READY TO SAIL.
32
14. MAST RAISING AND LOWERING SYSTEM
MAST LOWERING
13. Slide mast forward on mast crutch roller until base
1. Remove sails, boom vang and boom.
of mast rests in bow pulpit support cradle. Secure
mast in place at pulpit and at mast crutch. Take
slack out of shrouds and secure forestay forward.
2. Install mast support crutch to transom, if not
already done.
3. Horizontally install gin pole.
4. Attach jib halyard shackle to upper spliced eye at
forward end of gin pole.
5. Tension jib halyard (again confirming that it is the
jib halyard being tensioned and not the main
halyard—check the color coding) so that the pole
angles up at the front end approximately 10
degrees. Secure halyard to cleat on side of deck
and lock down the line on cleat.
6. Attach bottom end of mainsheet to "U" bolt in
anchor locker and top end to the bottom loop at
end of the gin pole. Tension mainsheet tackle so
jib halyard takes the load off the forestay. Make
sure mainsheet is jammed and, for extra security,
secure to bow mooring cleat.
7. Loosen forestay turnbuckle and remove forestay
from stemhead fitting.
8. Check for overhead electrical cables, make sure
that no one is standing in the cockpit or under the
mast, and confirm that the mast is in all respects
ready to lower.
9. Allowing the mainsheet to hook around the bow
mooring cleat, unjam the mainsheet and, holding
the mainsheet tail in one hand, ease tension on
the mainsheet tackle while pushing the mast aft
with your other hand. Retaining the deflection of
the mainsheet around the cleat, ease the
mainsheet further until the mast begins to hinge
aft.
10. Continue lowering the mast, remembering that the
load on the tackle will increase as the mast is
being lowered until it rests in the mast crutch.
11. Disconnect the gin pole and mast electrical wiring
so the mast can slide forward.
12. Remove mast step pin and disconnect mast base
from step while restraining bottom end of mast
and retaining boom vang strap. Replace pin, vang
strap and cotter pin.
33
15. GETTING READY TO SAIL / SAIL MODE
REFER TO THE USER'S MANUAL FOR MORE
DETAILS ON OPERATING YOUR BOAT UNDER
SAIL.
6. Using the main halyard, center the rig in the
middle of the boat by first jamming the halyard in
a position so that the halyard shackle just
contacts a known point on the toe rail adjacent to
the mast on the port side. Transfer the halyard to
the starboard side and, applying the same amount
of tension, see if the shackle contacts the
corresponding position on the starboard toe rail. If
the shackle falls short, ease the port upper shroud
turnbuckle and tension the starboard, always
maintaining some tension on each shroud so they
are not slack. If the shackle overshoots the mark
on the toe rail, ease the starboard upper shroud
turnbuckle and shorten the opposite side until the
halyard shackle contacts both points on the
opposite toe rail uniformly. Turnbuckles are
tensioned by turning the center portion counter
clockwise and loosened by turning it clockwise.
The turnbuckle's upper swage, the one on the
wire, should be held with a wrench to prevent it
from turning as the turnbuckle rotates.
REFER TO THE DRAWINGS IN THE DESCRIPTION
OF MODEL SECTION OF THIS MANUAL FOR
ADDITIONAL INFORMATION.
THE MAST MAY BE RAISED WHILE THE BOAT IS
ON THE TRAILER OR AFTER THE BOAT IS
LAUNCHED. MAKE SURE THAT ALL HALYARDS
AND REEFING LINES ARE INSTALLED USING
THE MESSENGER LINES ALREADY RUN IN THE
MAST. MAKE SURE THE CENTERBOARD AND
THE RUDDER ARE SECURED AT ALL TIMES.
1. The rudder must be in the down position. Lower
the rudder inside the helm seat by removing the
safety pin to allow the rudder to drop below the
safety bracket; replace the pin. Pull the downhaul sheeting until the rudder is completely down
then tie the sheeting to the cleat. The rudder
trunk overflow drain ball valves (upper and lower
ball valves) must be open. These open ball valves
will allow draining of excess water built up during
operation. If the ball valves are closed, water may
overflow the upper rudder bearing and may flood
the aft cabin.
7. After the mast is centered, check to see if the rake
of the mast is approximately one degree aft. This
can be measured by hanging plumb line or a
weight, such as an adjustable wrench, from the
main halyard shackle and adjusting the halyard so
the weight is suspended immediately above the
deck. With the boat level, this plumb line or
weight, should be 22" from the aft of the mast.
Adjust the forestay turnbuckle as necessary to
achieve this position.
2. The centerboard must be in the down position.
To lower the centerboard, coil raising line around
starboard winch and hold firm, unlock
sheetstopper, slowly payout raising line until
centerboard is completely down.
3. If not already done, open the ballast tank
8. Tension the upper shrouds uniformly, alternately
guillotine valve, located on the stern of the boat,
and the ballast tank vent valve, located in the port
locker, and begin filling the ballast tank. To verify
the tank is full, open the ballast tank access cover
under the lower step and locate the Minimum
Water Level Mark. When the water level reaches
the Minimum Water Level Mark, close the
guillotine valve and vent valve.
taking six turns on one, then the other, until the
upper shrouds are tight. The upper shrouds put
tension on the forestay and reduce forestay "sag".
ELECTROCUTION HAZARD
Make sure that the mast and rigging are clear
of all overhead electrical cables when being
raised, lowered or maneuvered about a
launching area. Contact with an electrical
cable can result in property damage, serious
injury or death.
4. If the rig was not setup on trailer, follow the mast
raising instruction section to setup the rigs on
boat. After the mast has been raised, attach the
forestay turnbuckle to the most forward of the two
holes in the stem fitting. Turnbuckle should be
about ¾ open. Confirm that the upper and lower
shrouds are supporting the mast.
9. Check if the mast is straight when looking at is
from the stern of the boat. To "sight" it up, use the
main halyard by tensioning it to the mast's base
plate. If the mast appears to bow to one side,
5. Remove the mast-raising pole.
34
15. GETTING READY TO SAIL / SAIL MODE
ease the lower shroud on that side and tension
the shroud on the opposite side until the mast
appears straight.
"round up". The cleat is provided to retain the
blade in the correct position.
10. Once the mast is straight when viewed from the
17. If sailing off an anchorage. Make sure the anchor
is retrieved and stowed properly.
back or front, sight up the mast from the side to
see if there is any fore and aft bend. The mast
should be bowed forward at the spreaders by
approximately 4". Ease or tension the lower
shrouds uniformly until this slight amount of bend
is achieved. When finished, the lower shroud
should be slightly less tight than the main
shrouds. If you sail in a predominately heavy air
region, slightly more mast bend, in the 5" to 6"
range, may be desirable in order to flatten and
depower the main sail.
18. Raise sails, beginning with the main and then the
jib while motoring into the wind. Once each
halyard, beginning with the main, is tensioned, the
halyard can be tied down into its respective cleat
and the excess line coiled. When the sails are
raised, the boat can be turned away from the
wind. Once sailing the engine can be turned off
and tilted upward to clear the water.
19. When the main is sheeted in confirm that the
11. After tuning the rig, install cotter pins in all
mainsail to main halyard. Attach tack of mainsail
to cunningham hook. Attach clew of mainsail on
outhaul line.
topping lift is not lifting the boom. The main should
be capable of sheeting in hard without the topping
lift being tight. With the main sheeted in hard, the
topping lift should have eight to ten inches of sag
and should be adjusted accordingly. When at
dock or at mooring, the topping lift can be
readjusted to raise the boom to a comfortable
height above the cockpit.
13. Install the reefing line (the longer of the two) in the
20. Final tuning of the rig will take place when sailing
boom with the messenger line provided and lead
from the sheave through the upper cringle at the
back of the sail down to the sliding eye on the
bottom of the boom. Pull enough slack into the
reef line so that the sail can be fully raised
unimpeded by the reef line. Tie the mainsail onto
the boom with the sail ties.
by sighting up the mast while going upwind in
about ten to twelve knots of breeze. The mast
should maintain its 4" (10.2cm) fore and aft bend,
but should also still appear straight transversely
with the leeward main shroud still retaining its
tension and not going slack. If the leeward rigging
does go slack when sailing, apply more tension
uniformly to both shrouds by first tightening the
leeward rigging and then tension the new leeward
rigging the same amount. Continue this
procedure, as necessary until the leeward upper
shrouds no longer appear slack and forestay sag
has been reduced. Removal and reinstallation of
the turnbuckle cotter pins will be necessary to
make these fine tuning adjustments.
turnbuckles to prevent them from moving while
sailing.
12. Install the battens in the mainsail. Attach head of
14. Attach the jib sheet onto the jib and lead the
sheets inside the shrouds to the lead blocks on
the deck house top, then aft to the cam cleat on
the house top. Tie figure eight knots in the end of
the sheets to prevent them from running back
through the jams. Shackle the bottom of the jib to
the padeye aft of stemhead and hank the jib onto
the forestay. Bunch and tie to prevent it blowing
overboard before it is ready to hoist.
21. Once the upper shrouds are tensioned, again
sight up the spar to make sure that the middle of
the spar at the spreaders is not falling to leeward
or bending to weather. Adjust and uniformly
retention the lower shrouds as necessary.
15. Attach jib and main halyards to their respective
sails.
16. Lower the rudder blade to the full down position..
NOTE: Standing rigging will stretch slightly when
initially loaded. Therefore, the rigging may have to
be further tensioned slightly after a few sails in a
strong breeze to compensate for this initial
stretch. Once the mast is tuned and initial stretch
The rudder must be down to achieve the correct
balance for the proper helm loading. A rudder,
which is not lowered, will load up excessively in
severe conditions preventing the helmsman from
responding to puffs and thus allowing the boat to
35
15. GETTING READY TO SAIL / SAIL MODE
is taken out, the rig should need retuning only at
the beginning of each season.
22. Once done sailing, the sails should be lowered
while motoring into the wind, with the jib lowered
first and then the main.
36
16. GETTING READY TO POWER / POWER MODE
REFER TO THE USER'S MANUAL FOR MORE
DETAILS ON OPERATING YOUR BOAT UNDER
POWER.
2. Always use fresh gasoline. Gasoline will oxidize,
resulting in loss of octane and volatile
compounds, as well as the produce gum and
varnish deposits, which can damage the motor.
REFER TO THE DRAWINGS IN THE DESCRIPTION
OF MODEL SECTION OF THIS MANUAL FOR
ADDITIONAL INFORMATION.
3. Additives: Do not use any additives other than
THOROUGHLY FAMILIARIZE YOURSELF WITH
THE
CONTENTS
OF
THE
ENGINE
MANUFACTURER'S OWNER'S MANUAL.
THE
FOLLOWING INFORMATION SHOULD NOT BE
CONSIDERED A REPLACEMENT OF THE
MANUFACTUERER'S MANUAL NOR A COMPLETE
LIST
OF
INSTRUCTIONS
OR
RECOMMENDATIONS.
BEFORE START-UP
approved by the engine's manufacturer. Use of
other additives can result in poor performance or
engine damage.
SAFETY HAZARD
Lanyard MUST be securely attached to the
operator, and clip MUST be installed on key
switch. DO NOT operate outboard with clip
removed from switch, except in an emergency.
OUTBOARD ENGINE
The engine manufacturer's owner's manual is
accompanied with the Hunter Operator's Manual. This
manual will contain technical specifications, running
instructions and a maintenance schedule on
lubricants and other important functions. For longer
engine life, follow the routine maintenance schedule
recommended by the manufacturer.
Make sure to follow the outboard engine manual
instructions for first time starting of the engine. It's
recommended that you consult with your local dealer
and follow the dealer's recommendations for this
procedure.
RUNNING CHECKS
FUEL RECOMMENDATIONS
FIRE HAZARD
Gasoline is extremely flammable and highly
explosive under certain conditions. Improper
handling of fuel could result in property
damage, serious injury or death. Always turn
off the outboard before fueling. Never permit
anyone other than an adult to refill the fuel
tank. Do not fill the fuel tank all the way to the
top or fuel may overflow when it expands from
sunlight. Remove portable fuel tanks from the
boat before fueling and always wipe off any
fuel spillage. Do not smoke, allow open flames
or sparks or use electrical devices such as
cellular phones in the vicinity of a fuel leak or
while fueling.
1. Octane: Refer to the manufacturer's manual for
minimum to maximum octane rating for the
outboard engine.
37
SAFETY HAZARD
DO NOT run outboard without a water
supply to the outboard's cooling system.
Cooling system and/or powerhead
damage could occur.
DO NOT run outboard in water when in
the up position.
DO NOT run the engine indoors without
adequate ventilation or permit exhaust
fumes to accumulate in confined areas.
Engine exhaust contains carbon
monoxide which, if inhaled, can cause
serious brain damage or death.
Contact with a rotating propeller is likely
to result in serious injury or death.
Ensure the engine and propeller area is
clear of people and objects before
starting engine or operating boat.
DO NOT allow anyone near a propeller,
even when the engine is off. Propeller
blades can be sharp and can continue to
turn even after the engine is off.
16. GETTING READY TO POWER / POWER MODE
Operating Temperature
An outboard running at idle speed should achieve a
temperature based on the engine's thermostatic
control. In general, the powerhead temperature
should reach at least 104°F ( 40°C) after five minutes
of idling. Check that the powerhead reaches idle
temperature.
System Check Operation
1. Attach emergency stop lanyard.
2. Turn key switch to ON.
3. Observe the System Check self-test function.
Warning horn should sound for ½ second and all
warning lights should turn on at the same time
then turn off one at a time.
Fuel System
1. Squeeze fuel primer bulb until hard. Observe all
fuel hoses and connections. Repair any leaks.
2. Start outboard. Inspect all hoses and connections.
Repair any leaks or misrouted hoses immediately
Break-In
Please refer to the correct break-in procedure in the
manufacturer's manual.
Emergency Stop / Key Switch
Check emergency stop function. With outboard
running at idle, pull safety lanyard from emergency
stop switch. Outboard should stop immediately.
Warm-up
Before cruising, run the engine at a low speed for
about three minutes as a warm-up operation to allow
the oil to circulate throughout the machine. Otherwise,
the life of the engine will be negatively affected.
During warm-up operation, confirm that cooling water
is discharged from its check port.
Remote Control Operation
Make sure the control can be easily moved into all
gear and throttle settings. Do not shift remote control
when outboard is not running.
Start-in-Gear Prevention
Please follow the manufacturer's
performing
this
"Starter-in-Gear
procedure.
Idle Speed
Outboard idle speed is essential for proper outboard
control and shift function. Make sure the outboard
idles within the specified idle RPM range. If the
outboard is run on a flushing device, the idle and
quality may not be representative of actual "in water"
use.
manual for
Prevention"
Fueling
When fueling your engine, be sure to use fresh fuel.
Fuel that has been in a tank too long can form gum
and varnish, which can affect performance. Use oil as
recommended by the manufacturer. Two stroke
engines require a special oil to be either mixed with
gasoline or injected from a remote tank. This
lubrication is essential for the operation of the engine.
SAFETY HAZARD
Make certain that the starter will not operate
when the outboard is in gear. The starter-in
gear prevention feature is required by the
United State Coast Guard to help prevent
personal injuries.
•
Tachometer Pulse Setting
1. Confirm accuracy of tachometer reading.
2. Adjust dial on back of tachometer to required
•
•
setting (the outboard should not be running).
3. Refer to outboard engine manual for settings of
•
tachometer of particular outboard model.
Water Pump Overboard Indicator
A steady stream of water should flow from the
overboard indicator.
38
EXPLOSION/FIRE HAZARD
Store flammable material in safety approved
containers. Keep containers in an area
designed for that purpose. Never store in a
non-vented space.
Observe no-smoking while fueling
Fill to less than the capacity of the tank.
Allow for fuel expansion.
Inspect fuel system regularly for leaks.
16. GETTING READY TO POWER / POWER MODE
5. Put the outboard engine in the full down position
and locked. (Do not operate your outboard in the
up position).
6. Close and secure the forward deck hatch. It is
CAPSIZE HAZARD
Your boat has been designed for boating
under sail OR power mode. Boating under sail
and power at same time may cause the boat to
capsize and could result in property damage,
serious injury or death.
recommended that all deck ports (windows) be
closed.
7. All loose items throughout the boat are securely
stored. Ensure no loose items remain on deck.
8. If the boat is equipped with transducer, make sure
the control panel is functioning and monitoring
speed and depth.
9. If anchored, make sure the anchor is retrieved,
MOTOR POWER
anchor and properly stowed.
When powering your boat, ensure the following:
1. The ballast tank is completely empty or
completely full. If the tank is full and must be
emptied, open the ballast tank guillotine valve,
located at the aft end of the boat, and the ballast
tank vent valve, located in the port locker, and
begin motoring. Do not exceed 6 mph. Verify the
ballast tank is emptying by noting water
discharging from the guillotine valve. When water
no longer flows from the valve, close the guillotine
valve and vent valve. Fill the tank when the boat
is stationary. Do not attempt to fill the ballast tank
by reversing the boat.
This may cause
overpressure in the tank and possible damage.
Do not run the outboard engine while filling the
tank.
CAPSIZE HAZARD
Powering your boat at high speed with rudder
and centerboard down may cause the boat to
capsize and result in damage or injury.
CAPSIZE HAZARD
Powering your boat at high speed in rough
water may cause the boat to capsize and could
result in property damage, serious injury or
death. Decrease speed in uncertain waters.
2. Bring the sails down and tie them off with the
boom properly secured.
3. Put the rudder in the up position. To raise the
rudder, simply pull the up-haul line located inside
the helm seat. Use the safety pin to lock the
rudder on the pivot joint bracket. The rudder trunk
overflow drain ball valves (upper and lower ball
valves) must be open. These open ball valves will
allow draining of excess water built up during
operation. If the ball valves are closed, water may
overflow the upper rudder bearing and flood the
aft cabin.
CAPSIZE HAZARD
DO NOT POWER OVER 6 MPH WITH SAILS
UP. If the boat is traveling at a higher rate in
calm winds and turns, aggressive winds will
fill the sales and may cause the boat to
capsize and could result in property damage,
serious injury or death.
4. Put the centerboard in the up position with the uphaul locked in the sheet stopper. For greater
control, the centerboard can be in the down
position when motoring at speeds less than 6
mph.
39
17. STOVE AND TOILET
STOVE
Carefully read and understand the manufacturer's
instructions prior to operating your stove. Save the
instructions for review and to transfer to
subsequent owners.
STAINING/PRESSURE HAZARD
• Avoid adding holding tank deodorant
through the bowl. If adding to the bowl,
slide valve must be fully opened. Avoid
spilling or splashing deodorants on slide
valve seals or bowl. Rinse off any spilled
or splashed deodorant immediately.
• Atmospheric pressure and temperature
changes may cause pressure buildup in
lower holding tank. Caution should be
used when first opening slide valve.
USE ONLY THE FUEL RECOMMENDED BY THE
MANUFACTURER AND STORE THE FUEL IN AN
APPROVED CONTAINER.
DO NOT SMOKE WHILE WORKING WITH FUEL.
IMMEDIATELY CLEAN UP ANY SPILLED FUEL.
EXPLOSION/FIRE/ASPHYXIATION HAZARD
• Open flame cooking appliances consume
oxygen. This can cause asphyxiation or
death.
• Maintain open ventilation.
• Liquid fuel may ignite, causing severe
burns.
• Use fuel appropriate for type of stove.
• Turn off stove burner before filling.
• Do not use stove for comfort heating.
• Use special care with flames or high
temperatures near urethane foam. Once
ignited, it burns rapidly, producing extreme
heat, releasing hazardous gasses and
consuming a large amount of oxygen.
TOILET
theEDGE comes standard with a portable, selfcontained marine toilet. Please refer to the
manufacturers instructions to familiarize yourself
with the correct operation of your toilet.
Be sure to keep your toilet secured by connecting it
to supplied hold down brackets. Add a holding tank
deodorant to the lower unit of the tank, which is the
holding tank
Empty the holding tank at an approved permanent
toilet facility. Ensure the valve is closed and carry it
by the built-in handles. Empty, rinse with fresh
water and reassemble the unit.
40
18. PUMPS AND WATER SYSTEM
REFER TO THE DRAWINGS IN THE DESCRIPTION
OF MODEL SECTION OF THIS MANUAL FOR
ADDITIONAL INFORMATION.
PUMPS
All pumps should be checked frequently to ensure
proper operation. This is a critical regular maintenance
item. Properly operating pumps could save your
vessel from costly damage.
Inspect all bilge pump hoses for chafing and dry rot.
Ensure all hose clamps are tight. Check that the bilge
pump impeller area is clean and free of obstructions.
Inspect electrical wiring for corrosion. Ensure that the
float switch functions properly.
WATER SYSTEM OPERATION
theEDGE is equipped with a manual pump water
system, incorporating a water tank and a level
actuated manual pump. After sitting for sometime, the
pump will need a few strokes to prime the system. If
you are using water for drinking or washing, be aware
of the quality of the water on board and periodically
flush the water tank to keep it clean. When storing the
boat for the winter, empty the water tank and pump the
line dry.
SINKING HAZARD
Ensure proper bilge pump operation.
EQUIPMENT DAMAGE HAZARD
Take note of the water tank location when
adding options or additional features. When
installing, ensure fasteners do not violate the
tank housing.
41
19. ELECTRICAL SYSTEM
REFER TO THE DRAWINGS IN THE DESCRIPTION
OF MODEL SECTION OF THIS MANUAL FOR
ADDITIONAL INFORMATION.
BREAKERS,
FUSES
THIS SECTION PROVIDES BASIC INFORMATION
TO UNDERSTAND, OPERATE AND MAINTAIN
YOUR DC ELECTRICAL SYSTEMS. IT IS NOT
INTENDED TO EDUCATE YOU ON REPAIRING OR
EXTENDING THE ELECTRICAL SYSTEM.
All electrical systems aboard the boat are provided
with over-current protection in the form of breakers or
fuses. Breakers can be found at the component
controls at the 12 Volt Panel or in the battery selector
switch panel. The systems that require energizing are
given switches.
BATTERIES
LIGHTING SYSTEMS
The batteries installed in the boat have been selected
for their ability to furnish starting power based on
engine starting requirements, as well as their ability to
power the DC components attached to the electrical
system.
There are three distinct lighting systems aboard your
boat: the interior (Cabin), the exterior and the
navigational lighting. The lights are powered from the
12 Volt DC Panel.
SWITCHES,
AND
ELECTRIC COOLER (OPTION)
The DC power source is a 12V battery, just as with an
automobile, and it must be charged regularly. Some
outboard motors include a small alternator which will
assist in recharging the battery. If not, you must use a
battery charger. Perform regular visual inspections to
ensure proper water levels and terminals free of
corrosion. If the boat sits for long periods without use,
it is recommended to remove the battery(s) and
connect them to a trickle charger to keep them fully
charged and ready for use.
If the boat is equipped with the electric cooler option,
the manufacturer's manual will be included and
normally found in the cooler. Follow the instructions
from the manufacturer's manual on cooler use.
MAINTENANCE
The electrical system is a 12-volt, negative ground
installation. On a weekly basis, you should inspect
batteries, terminals and cables for signs of corrosion,
cracks, and electrolyte leakage. Battery terminals are
to be kept clean and greased. Ensure all connections
are clean, tight and covered with a corrosion inhibitor
compound. Refer to specific instructions on batteries,
wiring diagrams, and electronics.
CHEMICAL HAZARD
Batteries contain Sulfuric Acid and can
cause severe personal injury if mishandled.
Avoid contact with eyes, skin, or clothing. In
case of contact, flush with water at least 15
minutes. If swallowed, drink large quantities
of water or Milk of Magnesia, beaten egg, or
vegetable oil and get medical attention
immediately.
SAFETY HAZARD
• Carefully follow safety instructions
included with battery.
• Always charge battery in a ventilated
location.
42
20. ENVIRONMENTAL CONSIDERATIONS
FUEL AND OIL SPILLAGE
The spilling of fuel or oil into our waterways
contaminates the environment and is dangerous to
wildlife. Never discharge or dispose of fuel or oil into
the water. It is dangerous and unlawful. Common
types of accidental discharge include over-filling the
fuel tank and pumping contaminated bilge water into
the sea.
EXPLOSION/FIRE/HAZARD
Ventilate when painting or cleaning.
Ingredients may be flammable
explosive.
and/or
CLEANING CHEMICALS
EXPLOSION/FIRE/POLLUTION HAZARD:
Fill fuel tank to less than rated capacity to
allow for expansion. Overfill forces fuel out
the tank vents, which can cause explosion,
fire, or environmental pollution.
Cleaning chemicals should be used sparingly and not
discharged into waterways. Never mix cleaners and
be sure to use plenty of ventilation in enclosed areas.
Do not use products that contain phosphates,
chlorine, solvents, nonbiodegradable or petroleum
based products. Common household cleaning agents
may cause hazardous reactions. Fumes can last for
hours, and chemical ingredients can attack people,
property and the environment.
DISCHARGE AND DISPOSAL OF
WASTE
BOTTOM PAINTING
Waste includes all forms of garbage, plastics,
recyclables, food, wood, detergents, sewage, and
even fish parts in certain waters. We recommend you
return with everything from offshore for proper
disposal onshore.
Choose a bottom paint system that suits the
environment in your area.
Follow the procedure recommended by the
manufacturer of the paint, while making sure not to
void the Hunter Hull Blistering Warranty. The
procedure for preparing and applying paint varies
between paint manufacturers, but should always
include de-waxing, etching and sometimes priming of
the surface.
Your marine holding tank (if so equipped) must, in
many areas, be pumped out by an approved pumpout facility generally found at marinas.
EXHAUST EMISSIONS
Do not use any sanding, sandblasting or other
abrasive preparation of the bottom, as this will void
your hull blistering warranty.
Hydrocarbon exhaust emissions pollute our water and
air. Keep your engine properly tuned to reduce
emissions and improve performance and economy.
EPOXY BARRIER COAT
ANTI-FOULING PAINTS
Sanding of the gel coat bottom surface will be
permitted should a customer wish to have an epoxy
barrier coat applied to the hull, (example Interlux
Interprotect 1000, 2000, West System or VCTar).
The use of anti-fouling paints is common for boats
maintained in water. Be aware of environmental
regulations that may govern your paint choice. These
regulations may affect which paint may be used, and
also its application or removal. Contact your local
boating authorities for more information
Hunter Marine distinguishes between epoxy barrier
coatings and epoxy primer paints. If an epoxy barrier
coat is applied to a Hunter vessel, it must be
43
20. ENVIRONMENTAL CONSIDERATIONS
registered with the Warranty Department prior to
application of the product. If the dealer applies bottom
paint only, sanding will not be allowed and the no
sanding system must be used.
FIRE HAZARD
Cleaning agents and paint ingredients may
be flammable and/or explosive and
dangerous to inhale. Be sure to use
adequate ventilation and appropriate safety
protection
(gloves,
safety
glasses,
respiration, etc).
44
21. OUTBOARD ENGINE MAINTENANCE
performance as well as contribute to other potential
engine problems.
PROPER ATTENTION TO AND MAINTENANCE OF
YOUR ENGINE WILL ASSURE YOU MANY HOURS
OF PLEASURABLE, SAFE BOATING, AND WILL
PREVENT UNNECESSARY ENGINE PROBLEMS.
YOU MUST, THEREFORE, BECOME
THOROUGHLY FAMILIAR WITH ALL ASPECTS OF
THE ENGINES PROPER OPERATION OUTLINED
IN THE MANUFACTURERS OPERATOR'S
MANUALS.
GENERAL INSPECTION RULES
1. Conduct Periodic Inspections for Your Safety The functions of engine components will
degenerate and engine performance will drop
based on engine use. If countermeasures are not
taken, you may encounter unexpected troubles
while cruising at sea. Consumption of fuel or
lubricating oil may become excessive and exhaust
gas and engine noise may increase. These all
shorten the life of the engine. Periodic inspection
and service increase your safety at sea.
OPERATIONAL HAZARD
Take proper care when washing down or
cleaning your engine to ensure water does
not enter the air in-takes. Water in the air
intakes may travel directly to the cylinders,
resulting in rust and possible internal engine
damage.
2. Inspect Before Starting - Make it a daily rule to
inspect before starting.
3. Periodic Inspections at Fixed Intervals Periodic inspections must be made after every
manufacturer's recommended hours of use.
Conduct periodic inspections according to the
procedures described in your outboard engine
manufacturer's manual. Routine inspection and
maintenance is necessary to prolong outboard
life. Outboards used in rental, commercial, or
other high hour applications require more
frequent inspections and maintenance. Adjust
schedule for operating and environmental
conditions.
Follow the fuel and lubrication requirements in the
manufacturer's engine manual. Check oil levels prior
to starting, and use lubricants as recommended.
Always check fuel lines and connections for possible
leaks, which may create a dangerous situation.
ENGINES ARE NOT WARRANTIED BY THE
HUNTER CORPORATION; ENGINE WARRANTIES
ARE
WRITTEN
BY
THE
ENGINE
MANUFACTURERS.
4. Servicing Tools - Have servicing tools available
onboard to be ready for inspecting and servicing
the engine and other equipment.
5. Tightening Torque of Bolts & Nuts - Overtightening of bolts and nuts causes them to come
off or their threads to be damaged. Insufficient
tightening causes oil leakage from the installation
face or issues due to the loosening of bolts. Bolts
and nuts must be tightened to the appropriate
torque specs. Critical parts must be tightened with
a torque wrench to the correct tightening torque
and in the right order.
EXPLOSION/FIRE HAZARD
Fuel system connections that are too loose
or too tight can leak, resulting in possible
fuel loss, environmental pollution, explosion
or fire hazard.
If you use your outboard in salt water, wash down the
exposed drive unit after every use to limit corrosion.
Also, it is recommended to completely flush out the
raw water cooling system as described in the
manufacturer's owner's manual. Regularly check the
propeller and drive unit for any damage or other signs
of serious wear. Propeller damage will reduce
45
22. PROTECT YOUR RIGGING
WITHOUT CAREFUL INSPECTION AND PROPER
MAINTENANCE, THE RIG IS SUBJECT TO
FATIGUE,
WEAR,
DISCOLORATION
AND,
THEREFORE, PRODUCT FAILURE. REMEMBER,
REGULAR INSPECTION AND CLEANING WILL
INCREASE THE LIFE OF YOUR INVESTMENT AND
SECURE YOUR RIGGING.
and continue to the luff. Lash to the boom with sail
ties or shock cord.
To protect your rigging we suggest the following:
Check all fittings regularly to be sure screws are tight.
Occasionally lubricate (use silicone lubricants) all
moving parts on such fittings as blocks, turnbuckles
and cam cleats, as well as the locking pins of snatch
blocks, track slides, spinnaker poles, etc. Inspect cleat
and fairleads for roughness or smoothness with finegrained emery paper if necessary. Also, replace any
missing or damaged cotter pins in turnbuckles and
shackles and either tape them or use them or use
protective covers manufactured for that purpose.
Grease winches annually at a minimum.
GENERAL HARDWARE
MAINTENANCE
1. Always rinse your rigging with fresh water after
sailing, especially salt-water sailing. Salt can
create corrosion pits, causing cracks and
deterioration.
2. Clean
with a water-soluble chlorine-free
detergent. Nonabrasive cleansers are best for
hard white vinyl coated cables.
3. Inspect rigging for stains. Rust stains may indicate
stress cracks or corrosion. Remove stains with
synthetic or brass pads. Never use steel wool
pads.
WINCH MAINTENANCE
4. Look for broken wires, a sign of fatigue in rigging.
Follow the maintenance instructions prescribed by the
winch manufacturer. We recommend a minimum of an
annual cleaning and light greasing.
Replace standing rigging if wires are broken.
5. Never mix stainless steel and galvanized metals
on cables, fittings, pins, cotter keys, etc. If mixing
dissimilar metals, electric currents may conduct
between metals causing rapid deterioration
6. After unstopping, make sure to release all
standing rigging to avoid bending, crushing and
kinking.
7. Store rigging in a dry place. Never store in a
plastic bag, which can cause corrosion.
SAIL CARE
Sunlight is a sail's worst enemy, so cover the
mainsail when not in use. An ultraviolet guard, fitted
down the leech of a roller headsail, will protect the
exposed part from the weathering effect of the sun
and from dirt and grit. Mildew can be prevented by
storing sails dry and by hand washing twice a season.
Check all sails regularly for chafe, particularly where
they chafe on deck fittings or rigging, at reef points,
batten sleeves and the foot of the headsail. Sail
batten pockets should also be inspected on a regular
basis.
To stow the mainsail, start at the leech and flake it
onto the boom, left and right, in about 18-in. (46 cm)
folds while pulling the leech aft. Secure with a sail tie
46
23. TRAILER MAINTENANCE
PROTECTING AND MAINTAINING
YOUR TRAILER
TOWING HAZARD
Trailer
towing
can
be
hazardous.
Overloading can cause serious injury or
equipment damage. Do not overload your
trailer.
Before launching your boat, we recommend the
light harness be disconnected from your vehicle
and allow enough time for bulbs to cool. This will
greatly extend the life of your bulbs.
1. The trailer has a galvanized frame, however,
some parts, including the brakes, axles, hubs,
springs, U bolts, and plates, are not galvanized.
Most of these parts have been sprayed with a
high gloss black rust resistant paint, plus a clear
coating. After launching (especially in salt water
locations), rinse your trailer, including the painted
components. As a continuing measure to protect
your trailer, periodically refinish and repaint
surfaces that show signs of rusting.
TOWING HAZARD
Check the certification decal located near
the hitch of your trailer. The Gross Vehicle
Weight Rating (GVWR) for your trailer is
5,000 lbs. Total boat weight with all possible
Hunter options installed is 4,920 lbs.
(including full fuel and ½ water supply). It is
your responsibility to ensure any gear or
supplies loaded in your boat while under tow
does not exceed the total load limit of 5,000
lbs.
2. Periodically and regularly check your wheel
bearings for sufficient grease and tightness. The
more launching you do, the more likely for the
need to regrease these bearings.
TOWING HAZARD
Ensure your tow vehicle has a towing
capacity higher that the trailer's GVWR.
Using an under-rated tow vehicle is
dangerous and illegal.
WINCH MAINTENANCE
1. Periodically grease the gears of your winch with
an all-purpose grease.
2. Regularly check the winch cable for signs of wear
or damage and replace immediately if needed.
BEFORE USING YOUR TRAILER
WIRING AND LIGHTING
Check all bolts and nuts for tightness, including the
lug nuts for the wheels.
1. Be sure your vehicle is equipped with the proper
1. Check to ensure that all lights are working
lighting connections to avoid overloading circuits.
properly.
2. At least once a year, remove light lenses and
2. Always maintain the tires at recommended air
spray metal components with WD40 or apply a
light coating of petroleum jelly.
pressure.
3. For improved tire life, have your tires spin
3. Always carry spare light bulbs.
balanced by a qualified tire service center.
4. When the trailer is hitched to your vehicle,
remove the two-speed winch handle before
departing.
BEARINGS AND HUBS
5. Always check hitch, safety chain connection and
boat tie downs prior to departing.
47
23. TRAILER MAINTENANCE
Check wheel bearings periodically with the following
procedure:
2. If you must park your trailer outdoors, install a
1. Leave the trailer connected to the tow vehicle with
boat cover that is tight enough for adequate
protection but not air tight.
brake set and wheels choked. (Trailer must be on
level ground).
3. Service or repack wheel bearings according to
manufacturer's instructions.
2. The first step in jacking up your trailer is to block
the wheel on the opposite side, both front and
back.
4. Jack up the trailer and place blocks under the
trailer frame to take most of the weight off trailer
springs and tires.
3. Position the jack on the frame as near to the
wheel as possible with supporting-stands installed
properly.
5. Loosen tie-downs and winch line, but be sure the
4. Proceed to spin the wheel and listen for any
6. If the boat has a drain plug, remove it and elevate
boat is resting properly on hull supports.
noise. Feel the wheel for any roughness in its
rotation. If your trailer is equipped with brakes, be
certain that the brake shoes are not dragging. A
quiet and smooth rotation indicates that the
bearings are in good shape. If a noise or grinding
sound is evident, the wheel bearing may need an
adjustment. To check if an adjustment is needed,
grip the edge of the wheel to see if it rocks, or can
move. If the wheel moves at all, an adjustment is
necessary. Please contact your local dealer for
proper procedure. ALL WORK SHOULD BE
DONE BY A QUALIFIED MECHANIC.
the trailer tongue slightly (just an inch or two) to
allow water to drain out and keep the boat dry. Tie
the plug to something obvious, like the steering
wheel, so you will remember to replace the drain
plug before you take your next trip.
7. While boat is in storage, it is a good time to touch
up rust spots, nicks and chips and replace
damaged tie-downs, winch line, wiring, etc.
8. Lubricate all moving parts such as rollers, winch,
etc.
TIRE PRESSURE
PROPER MAINTENANCE AND CARE OF YOUR
TRAILER WILL HELP ENSURE A MORE TROUBLE
FREE HAULING EXPERIENCE.
The recommended air pressure can also be found on
trailer's certification plate and it will be found molded
on the tire. If the plate is damaged, your local dealer
can help you in determining the proper tire and rim
size.
NUTS AND BOLTS
Check on all bolts and nuts for tightness. All bolts and
nuts should be checked periodically. Please refer to
the Manufacturer's manual for torque specification
information.
TRAILER STORAGE
While in storage, the following steps are
recommended to ensure continuous optimal
performance:
1. If at all possible, park your trailer rig in a protected
area, i.e. garage, carport, etc.
48
24. GENERAL CARE
basis depending on use and exposure to dirt and/or
staining agents. It is important to begin treatment of a
stain as soon as possible after a spill. It is advisable
to clean these products as soon as the first signs of
dinginess occur; otherwise, delaying clean up will
require a much greater effort to restore the product to
its original appearance.
CLEANING FIBERGLASS
SURFACES
Fiberglass surfaces should be cleaned regularly.
Normal accumulations of surface dirt can be removed
easily by occasional rinsing with water. If you operate
your boat in salt water, more frequent rinsing will be
required. To remove stubborn dirt, grease or oil, use a
mild detergent and a soft brush. Rinse with fresh
clean water. Avoid the plexiglass companionway
slider, windshield, deck hatches and fixed ports when
using a deck brush, since these surfaces can scratch.
Regular cleaning requires the use of a mild cleaner
such as Murphy's Oil soap and water. In situations
where the vinyl has not been washed regularly and
there is a build up of dirt, stronger vinyl cleaners such
as Simonize's Tuff Stuff or Turtle Wax's vinyl/fabric
cleaner are recommended. We do not recommend the
use of any other cleaners. The use of cleaners other
than those recommended may result in irreparable
damage to the product.
It is a good idea to wax the fiberglass once or twice a
year to maintain a deep, glossy appearance. Your
local marine supply should be able to provide an
appropriate wax.
In order for the above listed cleaning solutions to work
effectively on stubborn stains, please allow time for
the cleaning solution to soak in thoroughly. Be sure to
remove the cleaning solution before it has time to dry.
Regardless of the type of cleaner used, it is necessary
to finish up with a thorough rinse using fresh water on
a clean sponge or rag. A soft bristled nylon or natural
fiber brush can be used to remove built-up dirt and
staining agents.
EXPLOSION/FIRE HAZARD
Cleaning agents and paint ingredients may be
flammable and/or explosive and dangerous to
inhale. Be sure to use adequate ventilation,
and appropriate safety gear (gloves, safety
glasses, respirator, etc.).
Finally, please remember that all our fabric grain
vinyls require a greater cleaning effort to maintain
than comparable smooth grain vinyls. These products
will provide an attractive and durable alternative to
conventional fabrics and vinyls if properly maintained.
CLEANING ACRYLIC
Use only mild soap and water to clean acrylics, i.e.
windows. Do not use products containing solvents
such as ammonia, which is found in many window
cleaners.
FABRICS
Leather: Use mild soap water. Blot dry. Do not scrub
as this will stretch and scratch. Wipe with leather
cleaner/oil to preserve and help prevent cracks before
and after storage.
DAMAGE HAZARD
Use care when cleaning acrylic. Dry cloth and
many glass cleaners will scratch. Solvents will
attack the surface.
Fabric: Blot dry. Do not machine wash. Use only mild
soap and water. Wipe with a clean white cloth. If stain
persists, dry clean. Be sure to treat cleaned surfaces
with scotch guard. Stretched or loose covers may be
steam leaned. If foam is removed, it will restuff more
easily if wrapped with thin plastic.
Storage: Cover with airflow fabric to reduce dust build
up. Do not use plastic, as this will cause cushions to
sweat and mildew.
VINYL
These patterns, like all fabrics, require a regularly
scheduled cleaning program. A thorough cleaning
should be administered on a daily, weekly or monthly
Cushions: If wet, prop cushions vertically to promote
airflow around each cushion. Cushions can be
49
24. GENERAL CARE
cleaned by most dry cleaners. Dry clean only.
WOOD MAINTENANCE
Over time, the boat interior may exhibit normal signs
of wear and tear and reveal blemishes in the cherry
wood finish. To address light to heavy blemishes, we
recommend the following items be used within the
process:
• 220 sand paper
• Mohawk Satin Top Coat
• Mohawk Sealer
• Cherry Glaze Blended Stick
Begin by sanding the blemish until it disappears.
Touch up the area with the cherry blended stick and
smooth out with a finger until well blended. If it is a
light blemish, conclude the procedure by applying the
Mohawk top coat until you achieve the desired look. If
it is a heavier blemish, apply the Mohawk Sealer and
allow to dry for 20 minutes. Apply any additional
coats if necessary, sanding between each coat.
Conclude the procedure by applying the Mohawk top
coat until you achieve the desired look.
50
25. STORAGE AND WINTERIZATION
THIS
SECTION
PROVIDES
BASIC
RECOMMENDATIONS
ON
STORAGE
AND
WINTERIZATION
AND
SHOULD
NOT
BE
CONSIDERED A COMPLETE OR EXACT LIST.
CONSULT YOUR LOCAL DEALER FOR SPECIFIC
STORAGE AND WINTERIZATION INSTRUCTIONS.
STORAGE METHODS
Winter storage is recommended to be done in one of
the following three ways:
1. Cradle blocking
2. Chained stands on level ground
3. Water with a bubbler system to prevent icing
(damage to your boat, including engine
misalignment caused by twisting, is not covered
by the warranty)
Open a faucet and allow the pump to empty the tank.
Then add approximately two gallons (7.6L) of nontoxic antifreeze solution to the tank and repeat the
pumping out procedure.
A second method is to disconnect the hoses at the
pump, allowing them to drain. Find the lowest point in
the system and disconnect the fitting. Open all faucets
to allow the lines to drain. If possible, use a short hose
on the faucet to blow through the lines to clear all
water. A diluted solution with baking soda will help
freshen the system.
TOILET AND HOLDING TANK
Drain and flush toilet. Using non-toxic antifreeze,
pump through toilet and into holding tank.
OUTBOARD ENGINE
SAILS
Store your engine in a safe place. Refer to
manufacturer's manual for specific storing and
maintenance.
Sails should be properly folded and stowed in a dry,
well-ventilated place. Many sailboat owners send their
sails back to the sail manufacturer at the end of each
season. The sail maker will check the stitching and
sailcloth for wear and store the sails until the start of
the next season.
DEPARTURE FROM THE BOAT
ELECTRICAL
Remove battery from boat (refer to manufacturer's
manual) and charge. It is a good idea to also remove
the electronics (radio, radar, etc) and store in a safe
place.
CUSHIONS
Cushions should be removed and stored at home if
possible. If not, prop them vertically to promote air
flow around each cushion. Dry clean only!
HATCHES
Tenting the deck during storage will help prevent ice
from forming and damaging hatches and deck fittings.
The installation of a passive vent will help with
ventilation while the boat is in storage.
WATER SYSTEM
Invest the time necessary to compile and complete a
storage checklist.
Addressing overlooked items
generally becomes impractical or impossible once
later remembered. Primary on this list are items
relating to the safety and security of the unattended
craft: turning off fuel valves, properly setting electrical
switches, pumping out bilges and leaving the switch
on automatic (or arranging for periodic pumping). It is
recommended that the power be turned off when
leaving the boat. Other departure checklist items
should include securing ports, windows, hatches and
doors.
ROUTINE MAINTENANCE
Routine maintenance checklists should include items
based on boat use (usually in terms of engine hours)
and on calendar dates (weekly, monthly or seasonal
checks).
Boat use items typically include oil level checks/
changes and oil and fuel filter changes.
Calendar based items typically include electrolyte
51
25. STORAGE AND WINTERIZATION
levels in batteries, pressure gauges on dry chemical
fire extinguishers, and navigation lights.
Check the operation of automatic bilge alarms or
pump switches by running water into the boat.
Periodically close and open sea cocks several times
to ensure their free and easy operation in case they
are needed in an emergency. Emergency equipment
and supplies should be inspected for any signs of
deterioration.
52
26. ELECTROLYSIS AND GALVANIC PROTECTION
Salt water allows electric current to flow from anodic to
cathodic material. For any two distinct metals, their
relative positions in the galvanic rating table will
determine which loses material (the anode) and which
remains largely undisturbed (the cathode). The
distance between the two metals on the galvanic table
determines the rate of wear. Thus a sacrificial zinc
anode is often fitted to the underwater area of a boat
to attract any destructive currents away from bronze or
steel propeller shafts, for example. An easy place to fit
an anode is on the propeller shaft, or covering the
propeller nut. The anode should not be painted; this
would render it ineffective.
It is not enough to know that your boat does not suffer
from electrolysis; a newcomer in the adjacent marina
berth may unintentionally allow an unwanted
association between metal components.
To prevent electrolysis in seawater, the difference
between the voltages of the two adjacent metals
should not exceed 0.20 V. For example, zinc and
carbon steel can be used together to avoid corrosion;
however, lead and active stainless steel are
compatible. Metals with a high voltage corrode faster
and require a larger area to diffuse the electrochemical
reaction.
53
DIMENSIONS AND CAPACITIES
LENGTH OVERALL
28' 06"
8.69m
HULL LENGTH
26' 04"
8.69m
LENGTH OF WATERLINE (LWL)
23' 04"
7.11m
BEAM (MAX)
8' 04"
2.53m
BEAM WATERLINE
7' 07"
2.31m
DRAFT CENTERBOARD DOWN
5' 11"
1.8m
DRAFT CENTERBOARD UP
1' 06"
0.46m
DISPLACEMENT WITH BALLAST
5540 LBS
2513 KG
BALLAST
1600 LBS
727 KG
MAST HEIGHT FROM WATERLINE
33' 11"
9.42m
SAIL AREA (Actual Area Including Roach and Overlap)
333 SQ.FT.
30.94 SQ.M.`
WATER CAPACITY/STANDARD
2.5 U.S. Gallons
9.45 Liters
WATER CAPACITY/OPTION
20 U.S. Gallons
75.7 Liters
HOLDING TANK CAPACITY
12 U.S. Gallons
STANDARD (PORTA-POTTY)
2.8 U.S. Gallons
10.61 Liters
OPTION ( WITH. MARINE HEAD)
12 U.S. Gallons
45.46 Liters
FUEL TANK CAPACITY (MAX)
2 x 12 U.S. Gallons
2 x 45.42 Liters
BATTERY CAPACITY
DEALER SUPPLIED
ELECTRICAL VOLTAGES (STANDARD)
12V
ELECTRICAL VOLTAGES (OPTION)
110V
OPT. OUTBOARD ENGINE
UP TO 75 H.P.
MAXIMUM LOADING
6 PERSONS/1,386LBS630 kg
56.25 kw
PAGE 55
STANDING RIGGING
QTY
ITEM
WIRE
SIZE
TOP
BOTTOM
WIRE LENGTH PIN SIZE
(2/3)
NOTES
2
Cap shroud
4mm
434 ball 422 turnbuckle
315.35 Inches
(8,010 mm)
8mm
2/3 open turnbuckle
1
Headstay
4mm
444 eye 5422 turnbuckle + 5621 toggle 333.66 Inches
(8,475 mm)
8mm
2/3 open turnbuckle
2
Lowers
4mm
434 ball 422 turnbuckle
8mm
2/3 open turnbuckle
173.82 Inches
(4,415 mm)
PAGE 56
PAGE 57
OPT/STD
STD
STD
STD
STD
STD
STD
STD
STD
STD
STD
STD
STD
#
1
2
3
4
5
6
7
8
9
10
11
12
ITEM
MAINSHEET
VANG
MAIN HALYARD
JIB HALYARD
TOPPING LIFT
JIB SHEET
CENTERBOARD UPHAUL
CENTERBOARD CONTROL
RUDDER RAISING LINE
REEF STRING
OUTHAUL
REEFING LINE #1
Boat: HUNTER 27 THE EDGE
1
1
1
1
1
2
1
1
1
1
1
1
QTY
3/8
1/4
5/16
5/16
5/16
13/32
3/8
3/8
1/4
VARIES
5/16
5/16
SIZE/IN
9.5
6.3
8
8
8
10
9.5
9.5
6.3
VARIES
8
8
SIZE/MM
WHITE W/ BLUE/RED TRACER
WHITE W/ BLUE/YELLOW TRACER
BLUE FLECK
RED FLECK
GREY SOLID
GREEN FLECK
WHITE
WHITE
BLACK
VARIES
RED FLECK
BLUE FLECK
COLOR
HUNTER 27TE STANDARD
RUNNING RIGGING SPECIFICATIONS
EYE
EYE
EYE
EYE
EYE
BARE
BARE
BARE
BARE
BARE
BARE
BARE
END 1
BARE
BARE
BARE
BARE
BARE
BARE
BARE
BARE
BARE
BARE
BARE
BARE
END 2
Date: 8/11/08
47.0
20.0
65.6
65.6
59.0
55.0
12.0
8.0
14.0
32.8
24.6
37.7
14.3
6.1
20.0
20.0
18.0
16.7
3.7
2.4
4.3
10.0
7.5
11.5
LENGTH/FT LENGTH/M
27 theEDGE DECK HARDWARE LIST
ITEM
1
2
3
4
5
6
7
8
9
10
11
12
13
14
15
16
17
18
19
20
21
22
23
24
25
26
26A
27
28
29
30
30A
31
31A
32
33
34
35
36
37
38
39
40
41
42
43
44
45
46
47
48
49
49A
50
50A
50B
50C
50D
51
52
DESCRIPTION
MAST FORWARD CRUTCH SUPPORT (ON BOW RAIL)
BOW ROLLER
ANCHOR WELL LID HINGES
PORT FORWARD MOORING CLEAT
DECK FORWARD HATCH
STANCHION
THRU DECK BLOCK
MAST STEP
MAST PORT LOWER STRUT MOUNT
PORT JIB SHEET TURNING BLOCK
PORT CHAIN PLATE
PORT EYE BROW
CAM CLEAT
PORT WINCH
PORTLIGHT WITH SCREEN
PORT AFT STANCHION
COCKPIT GRABRAIL
COMPASS
PORT AFT MOORING CLEAT
COCKPIT STORAGE COMPARTMENT LID
COMPANIONWAY HATCH ASSEMBLY
STEERING PEDESTAL ACCESS COVER
HELMSEAT / RUDDER COMPARTMENT
OUTBOARD FUEL TANK COMPARTMENT
PORT STERN RAIL
MAST AFT SUPPORT CRUTCH
STEERING ARM COVER
STERN LIGHT
INSULATION BOOT FOR ENGINE CONTROL CABLES
INSULATION BOOT FOR ENGINE STEERING CABLE
SWIM LADDER WITH GRAB PLATE
SWIM LADDER GRABRAIL
STARBOARD STERN RAIL
TRANSOM "U" BOLT
STARBOARD AFT MOORING CLEAT
OUTBOARD ENGINE THROTTLE / TRANSMISSION LEVER
COCKPIT STEERING PEDESTAL
JIB FURLING CLEAT
STARBOARD AFT STANCHION WITH FURLING BULLSEYE
STARBOARD WINCH
STARBOARD PORTLIGHT
CAM CLEAT
SINGLE LINE SHEET STOPPER
PAD EYE
STARBOARD JIB SHEET TURNING BLOCK
DECK STARBOARD FIXED WINDOW
MAST STARBOARD LOWER STRUT MOUNT
CENTERBOARD RAISING TURNING CHEEK
STARBOARD FORWARD STANCHION WITH FURLING BULLSEYE
STARBOARD EYE BROW
STARBOARD FORWARD MOORING CLEAT
ANCHORWELL LINE CLEAT
FURLING LINE TURNING BLOCK
ANCHORWELL LATCH
ANCHORWELL "U" BOLT
ANCHORWELL DRAIN PLATE
STEM PLATE
STEM PAD EYE
BOW LIGHT (ON BOW RAIL)
ANCHOR WELL LID
PAGE 61
27 theEDGE REEFING INSTRUCTIONS
IF THE WIND STRENGTH BUILDS TO THE POINT
WHERE THE BOAT HEELS EXCESSIVELY OR
UNCOMFORTABLY, YOU MAY REDUCE THE SAIL
AREA BY TAKING IN A REEF. REEFING IS EASIEST WHEN DONE ON A STARBOARD TACK
(WHEN THE WIND IS BLOWING FROM THE STARBOARD SIDE) SINCE THE JIB SHEET IS ON THE
PORT SIDE, AND THE HALYARD WINCH IS THEN
FREE. HOWEVER, REEFING CAN BE DONE ON
EITHER TACK.
1. FEATHER THE BOAT INTO THE WIND
SLIGHTLY TO REDUCE THE HEEL.
9. IF THE WIND CONTINUES TO INCREASE, YOU
MAY DROP THE JIB COMPLETELY AND LASH
IT TO THE DECK USING A SAIL TIE. THIS
WILL ALLOW YOU TO SAIL ON A REEFED
MAIN ALONE. IN SOME CASES, YOU MAY
FIND IT MORE EFFECTIVE TO DROP THE JIB
FIRST, INSTEAD OF / BEFORE YOU TAKE IN A
REEF. IT MAY ALSO BE EASIER TO TAKE IN A
REEF BY TEMPORARILY LOWERING THE JIB
DURING THE REEFING PROCESS.
SHAKING OUT A REEF
2. EASE THE TENSION ON THE MAINSHEET.
3. MAKE SURE THE STARBOARD WINCH IS
FREE BY EITHER PUTTING THE BOAT ON A
STARBOARD TACK OR BY TAKING THE JIB
SHEET AND JAMMING IT IN THE JIB SHEET
JAM CLEAT BEFORE REMOVING IT FROM
THE WINCH.
4. TRANSFER THE MAIN HALYARD TO THE
WINCH, AND TAKE UP FULL TENSION OF THE
HALYARD BETWEEN THE WINCH AND THE
SHEET STOPPER. THEN UNLOCK THE MAIN
HALYARD SHEET STOPPER.
5. LOWER THE MAIN HALYARD UNTIL THE FORWARD REEF CRINGLE ON THE SAIL CAN BE
SECURED BY INSERTING THE REEF HOOK
THRU LOCATED ON THE BOOM GOOSE NECK
THROUGH THE CRINGLE.
1. TRANSFER MAIN HALYARD TO THE WINCH
AS EXPLAINED ABOVE.
2. EASE THE MAIN HALYARD DOWN ENOUGH
TO REMOVE THE FORWARD REEF CRINGLE
FROM THE REEF HOOK ON THE BOOM
GOOSENECK.
3. UNJAM THE REEF LINE AT THE FORWARD
END OF THE BOOM.
4. RAISE MAIN HALYARD USING THE WINCH.
WHILE DOING SO, ENSURE THE REEFING
LINE CONTINUES TO RUN THROUGH THE
SAIL REEF CRINGLE AND THE FORWARD
BOOM JAM.
5. TENSION THE MAIN HALYARD AND REJAM
6. ADJUST THE SHEET AND VANG AS NECESSARY.
6. RETENSION THE MAIN HALYARD UNTIL ALL
THE SLACK OR WRINKLES ARE REMOVED
FROM THE LUFF.
7. TIGHTEN THE REEF LINE AT THE FORWARD
END OF THE BOOM BY PULLING THE LINE
DOWN THROUGH THE SHEAVE AND JAM UNTIL THE AFT REEFING CRINGLE IS AGAINST
THE BOOM AND THE LINE CANNOT BE TENSIONED ANY FURTHER. THE MAINSHEET
AND VANG MAY HAVE TO BE LOOSENED TO
BE ABLE TO ACHIEVE THE PROPER TENSION.
8. JAM THE REEF LINE AT THE GOOSENECK.
RETENSION THE VANG AND MAINSHEET ACCORDINGLY. REJAM THE MAIN HALYARD
AND TRANSFER THE JIB SHEET BACK TO
THE WINCH IF NECESSARY.
PAGE 67
EMERGENCY TILLER OPERATION INSTRUCTION:
1. Check for damages on the steering system. If the rudder
assembly (includes rudder upper, lower bearings and
bearing rods) is still functioning properly. The emergency
tiller can be possibly used for steering the boat at low
speed as the boat's operator decision. Please do the
following when the boat is stationary:
2. Remove the emergency tiller assembly from the packet,
the assembly comes with three major components, tiller
handle, tiller base and rudder control arm release bar.
3. Maker sure the rudder is at down position and the
downhaul line is secured on cleat. Locating the drag link
mounting bracket, it's located in front section of the upper
bearing. The fastener secured on the bracket need to be
loosened to free the rudder from steering wheel. Use the
control arm release bar to release the lock nut that secured
on the drag link. Now, the rudder should be free to turn if
there is not any damage on rudder assembly.
4. Since the rudder is down and secured, insert tiller handle
on top of tiller base with the safety pin secured, then insert
the entire assembly with keyway installed on key in rudder
bracket.