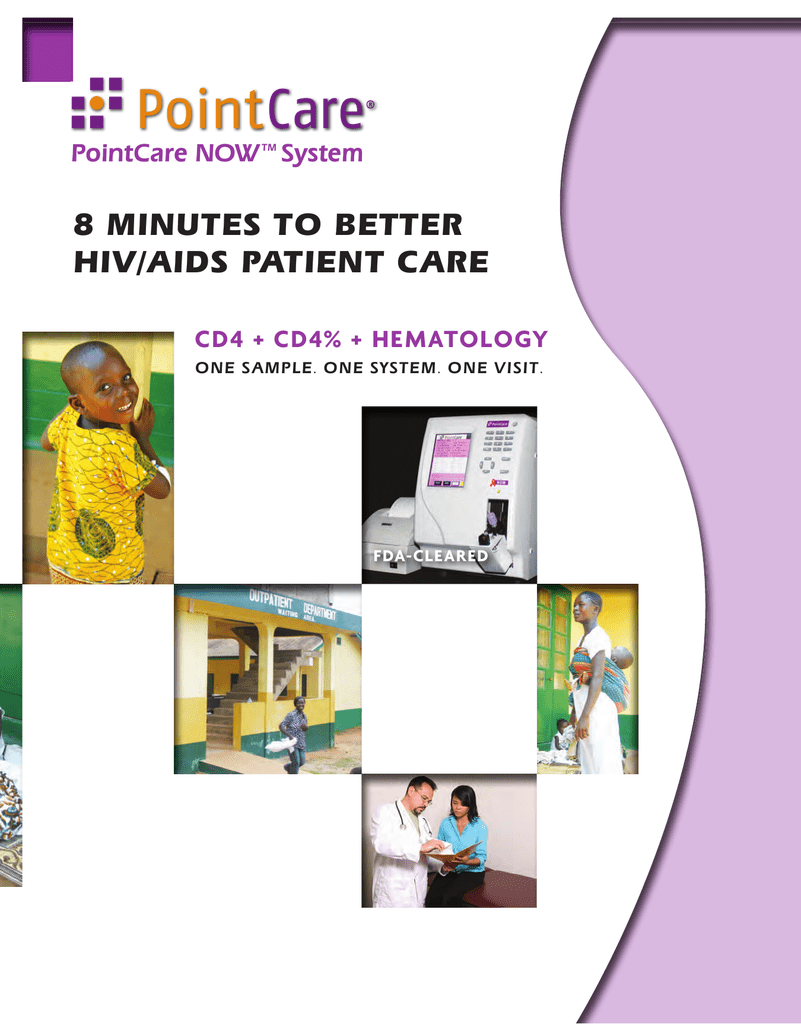 PointCare NOW System
TM
8 MINUTES TO BETTER
HIV/AIDS PATIENT CARE
CD4 + CD4% + HEMATOLOGY
ONE S AMP LE. ON E S YS T EM . ONE VI S I T .
FDA-CLEARED
IMPROVE HIV/AIDS PATIENT CARE IN 8 MINUTES
Imagine the power of knowing in just eight minutes and in one easy report, 12 results critical to better disease
management: CD4, CD4%, and selected hematology parameters. The FDA-cleared PointCare NOW system with
flexible power options lets you test anywhere, anytime, enabling fast, easy set-up for clinic and mobile use. We
supply all you need for testing in one box – from reagents, controls, and phlebotomy supplies to barcoded patient
ID labels and printer paper. Unlike traditional instruments, the PointCare NOW system requires minimal training
to operate. And there is no need for "cold-chain" transport, refrigeration, or protection from bright lights or
extremes of temperature for reagents – all logistical obstacles are gone!
ONE SAMPLE. ONE SYSTEM. ONE VISIT. IT'S EASY:
1. Draw
2. Test
All phlebotomy supplies included
• Scan sample ID with barcode reader
• Simply drop in sealed reagent vials &
capped blood sample
• WALK AWAY!
Capped blood-sample tube
No exposure risk
No pipetting
No manual steps
Ready-to-use reagents
3. Take Clinical Action NOW!
0 - 8 Minutes
-
• Read 12 results in one
simple report (printed & stored)
• Reduce loss-to-follow-up
Automated software interprets raw data
No subjective interpretation of "dot plots"
8,000 results stored on board
USB port to transfer results
(USB flash drive included)
2
DESIGNED SPECIFICALLY FOR LOW-RESOURCE
SETTINGS, NO OTHER DEVICE OFFERS THE
SIMPLICITY, FLEXIBILITY, & IMMEDIACY
OF THE POINTCARE NOW SYSTEM
• Proven, field-tested technology – Introduced in 2007, busy clinics
around the globe, including the largest HIV/AIDS programs, use the
FDA-cleared PointCare NOW system.
• Comprehensive results in just 8 minutes – CD4, CD4%, and
hematology parameters, including white blood count (WBC), lymphocyte,
neutrophil, monocyte, eosinophil, and hemoglobin.
• Walk-away, sample-in/results-out automation – There are no
manual steps required, and it's easy to operate after only minimal training.
• The ultimate in user safety – This fully enclosed, automated system
with closed-cap sampling offers significant biosafety features over other
available CD4 systems. No hoods!
• Heat-stable reagents & Daily CheckTM controls – Eliminate the
considerable hidden costs of cold-chain shipping and refrigerated storage.
No light-sensitivity.
• Rugged system with flexible power – Battery and solar option and
fast, easy set-up for mobile use. Operational for patient testing 20 minutes
after transport.
• Easy logistics & supply chain with all you need for testing in
one box – All reagents, Daily Check controls, phlebotomy, and other
necessary supplies required to run 100 patient samples.
NO REFRIGERATION REQUIRED!
Serve More Patients, Reduce Loss-to-Follow-Up, & Improve Outcomes
with the PointCare NOW System!
3
SEE THE WHOLE PICTURE:
the PointCare NOW system delivers
on-the-spot results before the
patient leaves the clinic
CD4 + CD4% +
HEMATOLOGY TESTING =
BETTER CLINICAL DECI SIONS
Loss-to-follow-up has consequences far
greater than the health of the individual patient. It
wastes precious resources and exacerbates the HIV/
AIDS crisis – increasing the chance of drug-resistant
strains of infection and hampering efforts to reduce
mother-to-child transmission of HIV. However, there
is a simple, cost-effective way to reduce loss-tofollow-up and improve health outcomes: the PointCare NOW system.
No more logistical headaches sending samples
to an off-site lab. No more waiting days or weeks
only to find that the blood sample is damaged, the
patient is impossible to locate, or she is too sick to
return to the clinic. With one sample, one system, one
visit, and in just eight minutes, the PointCare NOW
system gives you the essential information you need
to make clinical decisions.
The system performs all data analysis automatically – there's no manual gating or interpretation of
There is much more to proper management of
HIV/AIDS patients than a regular evaluation of
T-cell status. It requires assessment, diagnosis,
and treatment of underlying health conditions.
That's why the PointCare NOW system delivers
12 results total in one easy report:
• CD4/CD4%
• WBC
• Hemoglobin
• Lymphocyte, neutrophil, monocyte,
eosinophil (count and percent for all)
Is it time to initiate or change antiretroviral
therapy? Are there indicators of opportunistic
infections or parasites? The system's CD4/CD4%
and hematology parameters give you greater
insight into the patient's overall health – on the
spot, before he leaves the clinic – so you can
follow up and treat accordingly.
data required.
4
POINTCARE NOW PARAMETERS FOR BETTER DISEASE MANAGEMENT
White blood cell count
monitoring can help detect
opportunistic infection.
Lymphocyte to monocyte
ratio may help flag HIV
patients co-infected with
tuberculosis.
Eosinophils can be a
valuable marker to flag
and monitor parasitic
infection.
Hemoglobin concentration can
help identify anemia early to
improve health outcomes.
L neutrophils put HIV/AIDS
Low
p
patients
at increased risk for
bacterial
b
and fungal infection.
CD4% is a critical parameter
in pediatric and adult care
Unlike absolute CD4 values, CD4%
values remain constant within the
increasing or decreasing lymphocyte population. When viewed
together, CD4, CD4%, and lymphocyte can be a more-accurate
indicator of immune status than
CD4 count alone, facilitating
internal cross-checking of each
CD4 patient report.
Visit www.pointcare.net/publications/ for more information on the value of the CD4, CD4%, and hematology parameters on the PointCare NOW system, as well as
references to relevant medical studies.
5
FDA- CL E A R E D P O IN TC A R E N O W – SY STEM SP ECIFIC ATIO NS
T EC H N O LO GY
The FDA-cleared PointCare NOW system achieves its breakthrough
performance in speed, simplicity, ease of use, and stability because
developers chose proven optical-measurement techniques for its core
technology and designed modular, injection-molded housings with
few moving parts to create a robust instrument ideal for challenging
environments and low-resource settings. The system has solid-state
electronics, and comes pre-calibrated from the factory, eliminating the
need for calibration by the operator.
The instrument platform combines two diagnostic systems in one
rugged, small-footprint unit that the user operates like a hematology
analyzer. Its fluidics system prevents operator contact with blood,
blood or fluid aerosols, and liquid waste, therefore eliminating the
costly need for a biosafety hood, which is mandatory for traditional
flow cytometry systems. The operator takes a capped phlebotomy
blood-sample tube and, with the cap still in place, inserts the tube into
a receiving slot in the instrument. There are also two additional slots
for reagent vials (sufficient for 20 samples). The instrument takes the
tube inside automatically, and the door closes and locks to prevent user
interaction with fluids. In a fully automated process, the system pierces
the cap, withdraws a precise aliquot of whole blood, and biochemically
processes the sample internally to give the results.
The door opens after eight minutes and the capped tube is returned
to the user after the results are displayed on the instrument screen. A
printer comes standard with every system to generate a paper record
of results. Waste generated during the test is decontaminated automatically and confined to a sealed container. Users are not exposed to the
biohazardous conditions encountered with standard methods of CD4
lymphocyte enumeration because operators do not remove the bloodtube cap, they do not pipette the sample and reagents into open tubes,
they do not vortex mix in an open tube, and there are no contaminated
reaction tubes and pipette tips for disposal.
The PointCare NOW system delivers 12 results in just eight minutes
in one easy report that can be printed and stored. It generates a white
cell differential, a total white cell count, and a hemoglobin concentration measurement, employing the same proven hematology technology
used in reference labs. The system also provides both absolute CD4
count and CD4%, expressed as a percent of total lymphocytes. This is
achieved by using a label to change the natural light scatter character-
P OIN TC A R E NOW CORREL ATI ON
istics of the CD4 subclass of lymphocytes to perform CD4 enumeration. The label consists of anti-CD4 antibodies coupled to nano-sized
gold particles. PointCare achieves a fast (< 1 minute) antibody reaction
time by adding a proprietary charge-neutralizing reagent to the whole
blood.
An axial light loss detector identifies any cell carrying the CD4
antigen on the basis of the granularity added by the colloidal gold
label. The system also employs a forward scatter detector in combination with the axial light loss detector to eliminate monocyte interference from the CD4 lymphocyte count and provide a differential
count for four classes of white blood cells (lymphocytes, monocytes,
neutrophils, and eosinophils). The optical system uses a long-lifetime
LED (light emitting diode) light source. LED light sources consume less
power and tend to be more stable than the lasers used in traditional
instruments, enabling long, service-free operation. Power consumption for the total system is approximately 60 watts on average, which
is much lower than the multi-kilowatt levels of power consumption
encountered with laboratory flow cytometers.
The PointCare NOW system provides internal and external measures
of quality control to ensure proper test performance for every sample.
Onboard controls automatically monitor and record more than 50
check points during every sample run. When appropriate, the system
flags any abnormality that may require further clinical intervention
from the laboratory or physician. This eliminates errors by the operator
in performing and reporting the test result, and reduces requirements
of clinician time to troubleshoot and interpret inconclusive reports.
Data-analysis software automatically identifies dot plot clusters for
cell enumeration, as well as abnormal clusters. When abnormal clusters
occur, and accurate cell enumeration is compromised, the software
alerts the user via a screen message, and does not report a result.
Operators are locked out of this software and cannot alter gates,
results, or flag messages, thus assuring the highest-quality results at all
times. External Daily Check controls are included with test kits at no
extra charge to ensure that the system pipettes, pumps, valves, and
optics are operating as specified. Users should run Daily Check controls
at the beginning of each workday before performing sample analysis.
CD4 Count/System
Hematology*/System
2007 POI N TCA R E N OW 5 1 0 ( K ) M ULT I - CO UNTRY STU DY
Pearson R: 0.989
Pearson R: 0.956 to 0.994
Samples: 161 Sites: 3
EPICS® XLTM, FACSCaliburTM & AuRICATM
Sysmex
2008/09 N ATI ON A L P UB L I C H E A LT H L A B O F H AITI STU DY
Pearson R: 0.924
Pearson R: 0.975 to 0.991
Samples: 81 Sites: 3
FACSCountTM
Sysmex
* WBC, HGB, NEU, LYM, EOS, MON
P OIN TC A R E NOW PRECI SI ON
The 2008/09 study at the National Public Health Laboratory of Haiti ran a CD4 Low Control 20 times in order to
evaluate repeatability. The CD4 count precision (CV) from this study was 13.5% .
After the release of PointCare NOW System Version 2 in 2010, PointCare conducted an internal study to reevaluate
precision for Low and Normal levels of CD4. Precision (CV) was ≤ 9.0% at the Low level, and ≤ 4.9% at the Normal level
when run 20 times each on two instruments.
6
SYSTEM INF ORMATI ON
Optional Accessories
• Portable travel case (holds instrument, printer,
barcode reader, power cords, reagents, etc.)
• Portable battery pack
• Folding solar panel
Customer Installation Package
With purchase of an instrument the following
is provided standard:
• The PointCare NOW instrument
• Printer
• Barcode reader
• USB flash drive
• Preventive-maintenance kit
• User manual
• Reusable waste container
• On-site installation & operator training
• 1-year limited warranty
Required Materials Not Provided
• None
Flexible Power Options
• Uninterruptible Power Supply (UPS) – 110 V or 220 V
• Portable battery power system
• Solar charge system
Space Requirements
Instrument:
• Height: 35 cm
• Width: 25 cm
• Depth: 34 cm
• Weight: 12 kg
Printer:
• Height: 14 cm
• Width: 16 cm
• Depth: 25 cm
• Weight: 2.7 kg
Regulatory Status
• FDA/IVD cleared
• CLIA moderate-complexity rating
• CE marked
• ISO 13485:2003 certified manufacturer
• UL listed
S A MP LE & R E SULT S PECI FI CATI ONS
Sample Information
• Sample volume: 40 μL whole blood
• Sample tube: 2 mL vacuum K2 EDTA blood-collection tubes
provided (system also accepts 3 and 4 mL tubes)
• Sample stability: 8 hours from time of draw
Specifications
• Time to result: 8 minutes for all results
• Throughput: 50 samples per day
• Batch size: One; samples are run individually
PRECISION & REPORTABLE RANGES
REPORTABLE RANGE
PARAMETER
CD4 Count
50 to 6,000
CD4 Count*
–
3.0 to 77.0
CD4 Percent (%)
WBC
0.5 to 40.0
Hemoglobin
1.0 to 20.0
Lymphocyte Count
0.2 to 15.0
Lymphocyte Percent (%)
12.0 to 80.0
Neutrophil Count
0.2 to 23.5
Neutrophil Percent (%)
12.0 to 80.0
Monocyte Count
0.0 to 5.9
Monocyte Percent (%)
1.5 to 20.3
Eosinophil Count
0.0 to 5.8
Eosinophil Percent (%)
0.6 to 60.0
Results Provided
• CD4 absolute count & percent
• WBC
• Hemoglobin concentration
• Lymphocyte count & percent
• Neutrophil count & percent
• Monocyte count & percent
• Eosinophil count & percent
UNITS
PRECISION LEVEL
CV
cells/μL
–
%
103/μL
g/dL
103/μL
%
103/μL
%
103/μL
%
103/μL
%
600/μL
100 to 200/μL
–
6.0 103/μL
12 g/dL
2.0 103/μL
–
2.0 103/μL
–
1.0 103/μL
–
0.3 103/μL
–
< 10%
< 15%
–
< 3%
< 2%
< 5%
–
< 3%
–
< 7%
–
< 15%
–
* Determined by CD4NOW Control Low
LINE ARITY & CARRYOVER
PARAMETER
RANGE
UNITS
PEARSON R
% CARRYOVER
WBC*
Hemoglobin*
0.1 to 42.3
0.0 to 18.3
103/μL
g/dL
0.999
0.999
0.10%
0.5%
* System linearity for all other parameters traceable to WBC; system carryover below threshold for all other parameters
7
REAGENT
KIT INFORMATION
(Test Kit/Consumables)
PointCare NOW Reagent Kit 100 contains all reagents, controls,
• 3 CD4NOW
LiquiPacks - Containing
diluent
• 1 CD4NOW
Gold Pack - Containing
colloidal
• Daily Check Controls
• All phlebotomy
and supplies needed for 100 tests:
lysing reagent and cleaning solution
for 100 tests
gold reagent for CD4 labeling (for 100 tests)
- 3 tubes each of Low and Normal levels
supplies - Tourniquets,
needles, needle holders, gloves, blood-collection
• All other necessary supplies - Barcoded patient
tubes, alcohol swabs, gauze pads
ID labels, waste tablets, printer paper, and ribbon
Note: No cold-chain or refrigeration required. Reagents & controls are not light sensitive
Shelf Life
Reagents:
• 12 months from date of manufacture
-~
0
when stored at 2° to 30° C (36 to 86° F)
• Transient exposure (shipping delay or temperature
excursion) of 10 days at 50° C (122° F)
------.
Daily Check Controls:
• 6 months from date of manufacture when stored at 2° to 42° C (36° to 108° F)
• Transient exposure (shipping delay or temperature excursion) of 10 days at 50° C (122° F)
_
..IIIL •••••
_
•• lIUI ••• ·
.•...,
Quality Control Information
• Internal: 53 check points monitored
and recorded on every sample
• External: Daily Check Low and Normal levels run once a day
• Validation
results avai lab Ie upon request
• Levey-Jennings plots g~nerated automatically
• Log for QC data recorded as mean, SD, and CV
• Additional
hematology
and CD4 external controls
available in two levels
System Operation
Ease of Use:
• Fully automated
- No manual steps for pi petting,
incubation,
vortexing,
etc.
• Barcode reader & labels - Simple sample tracking and reagent management
• Factory calibrated
Instrument
- Low power consumption
LED (no laser); no gain adjustments
or color compensation
required
Software:
• Data storage - 8,000 onboard
• Automated
patient
records; unlimited
patient records transferable
to USB
data analysis - No manual gating or data interpretation
• Menu languages - English, French, Spanish, Portuguese, and Indonesian (in development)
User Safety:
• No exposure - Closed-tube
sampling; no exposure to contaminated
• Closed waste handling - All hazardous waste is contained
blood
and decontaminated
for safe disposal
CUSTOMER SUPPORT
At PointCare, we're proud of our record of quality, performance, and customer support We listened to users and
designed everything - the PointCare NOW instrument and kits, ordering logistics, service, and support - to make
it easy for customers in resource-limited locations. When you purchase a PointCare NOW system, you can count
on us to help you be successful. On-site installation services and user training come standard. And help is just a
phone call, or e-mail away. Our typical response time is within one business day. Our field-service staff members
are strategically located around the globe to support our customers.
Call customer support at: 1'1800.346.6906,
E-mail: [email protected]
or from outside North America: +1 508.281.6925
II
8
"WE'RE A MILE AWAY FROM THE RAINFOREST
WHERE THERE ARE MOUNTAIN GORILL AS,
RIGHT ON THE BORDER BETWEEN UGANDA
AND THE DEMOCRATIC REPUBLIC OF CONGO.
There aren't any tarmac roads here, there isn't any public transport,
and lots of the patients live a day's walk from the hospital. Many of
them live a subsistence existence and they can't afford to get here.
So we drive to remote communities in our mobile HIV outreach
clinic vehicle equipped with the PointCare NOW system, and are
up-and-running testing patients within 20 minutes of arrival.
Before we had this machine, we'd see somebody in the clinic, then
we'd have to see them on another day to collect a blood sample.
We had a system of motorcycle riders that went 'round all of our
outreach sites on a particular day to collect samples. They would
have to ride for four hours along a muddy road through the Impenetrable Forest, to a laboratory on the other side, where we could get
them tested.
It took us three days to get the result, and we couldn't get it back to
the patient until we saw them again two weeks later. Now, with this
simple piece of technology, we can deal with problems immediately.
We're able to diagnose [AIDS] early, manage it early, and keep people
living with HIV fit and well... we've been able to change HIV from
being a death sentence into something that people can live with
and lead productive lives."
– Dr. Paul Williams, Bwindi Community Hospital, Uganda
T H E P O I N T C A R E N O W S Y S T E M A D VA N TA G E
Absolute CD4 T-Cell Count & CD4%
Lymphocyte, Neutrophil, Monocyte, Eosinophil (Count and Percent for All)
Simultaneous Hematology, CD4, & CD4%
No Reagent Cold-Chain or Refrigeration
No Reagent Light Sensitivity
Easy to Use with Only Minimal Training
Fully Automated System
No Manual Gating Required
No Manual Pipetting Required
Extensive Onboard Data Storage & Management
Closed and Decontaminated Waste System
Simple & Low Power LED Light Source
Low Energy Consumption
Flexible Electrical Power (Battery/Solar Option)
An industry first
9
√
√
√
√
√
√
√
√
√
√
√
√
√
√
√
ABOUT POINTCARE TECHNOLOGIES
Our mission is to bring appropriate point-ofcare
diagnostics to resource-limited settings. We
design, manufacture, and market our products
to provide clinicians with the rapid results they
need to improve patient care. PointCare is a
privately held, FDA-registered, ISO-certifi ed
company.
Ordering information:
Description
Part No.
PointCare NOW System Installation Package
(includes instrument, barcode reader, USB
flash drive, preventive-maintenance kit, user
manual, reusable waste container, on-site
installation, & operator training, 1-year
limited warranty)
36008
PointCare NOW Reagent Kit 100
(contains all reagents, controls, and supplies
needed for 100 tests)
36000
Uninterruptible Power Supply 110 V
Uninterruptible Power Supply 220 V
Portable Battery Power System
Solar Charge System
25052
25054
25161
10214
To order, obtain product information, or for any other
inquires please contact:
Telephone: +1 508.281.6925
Fax: +1 508.281.6930
E-mail: [email protected]
Headquarters: USA
PointCare Technologies, Inc.
257 Simarano Drive, Suite 101
Marlborough, MA 01752 USA
Telephone: +1 508.281.6925
Fax: +1 508.281.6930
E-mail: [email protected]
www.pointcare.net
Specifications subject to change
without notice
F-291 Rev C
©2010 PointCare Technologies, Inc.
ISO 13485:2003
PointCare Field Service & Support
Regional Field-Service Contacts:
Caribbean (US-based)
Haiti
Indonesia
Malawi
Malaysia
Nigeria
Senegal
South Africa
Tanzania
Thailand
Uganda
Zambia
Our list of regional offices and distributors
is growing. Check our Web site for the
latest contact details at
www.pointcare.net/contact,
or call +1 508.281.6925.