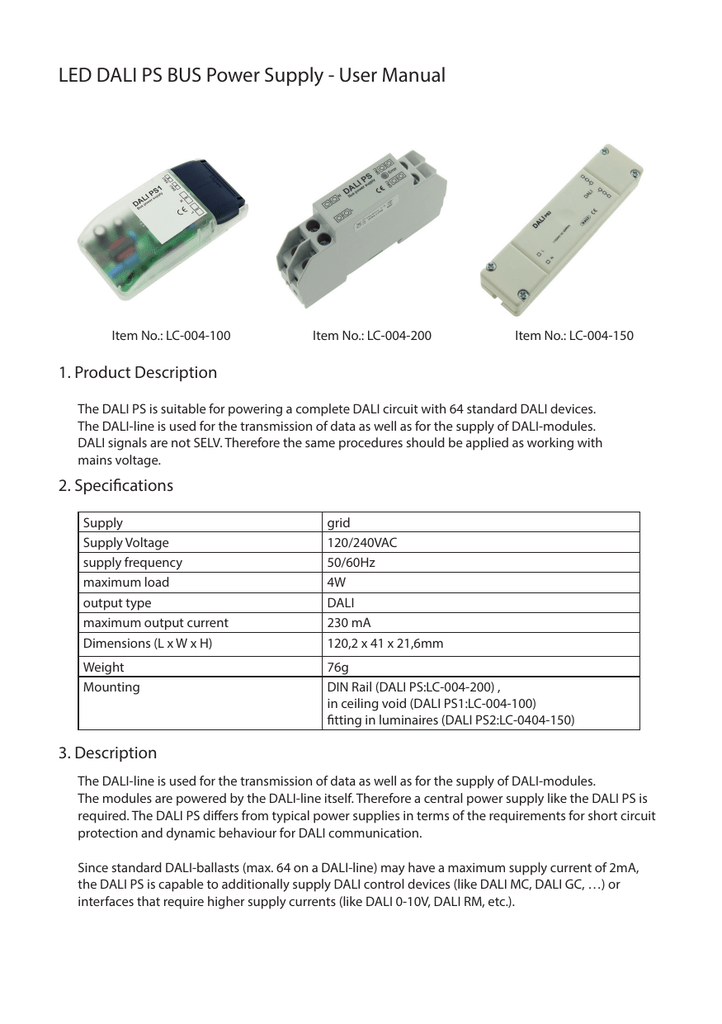 LED DALI PS BUS Power Supply - User Manual
Item No.: LC-004-100
Item No.: LC-004-200
Item No.: LC-004-150
1. Product Description
The DALI PS is suitable for powering a complete DALI circuit with 64 standard DALI devices.
The DALI-line is used for the transmission of data as well as for the supply of DALI-modules.
DALI signals are not SELV. Therefore the same procedures should be applied as working with
mains voltage.
2. Specifications
Supply
Supply Voltage
supply frequency
maximum load
output type
maximum output current
Dimensions (L x W x H)
grid
120/240VAC
50/60Hz
4W
DALI
230 mA
120,2 x 41 x 21,6mm
Weight
Mounting
76g
DIN Rail (DALI PS:LC-004-200) ,
in ceiling void (DALI PS1:LC-004-100)
fitting in luminaires (DALI PS2:LC-0404-150)
3. Description
The DALI-line is used for the transmission of data as well as for the supply of DALI-modules.
The modules are powered by the DALI-line itself. Therefore a central power supply like the DALI PS is
required. The DALI PS differs from typical power supplies in terms of the requirements for short circuit
protection and dynamic behaviour for DALI communication.
Since standard DALI-ballasts (max. 64 on a DALI-line) may have a maximum supply current of 2mA,
the DALI PS is capable to additionally supply DALI control devices (like DALI MC, DALI GC, …) or
interfaces that require higher supply currents (like DALI 0-10V, DALI RM, etc.).
4. Dimensions
DALI PS 1
DALI PS
DALI PS 2
5. Wiring Diagram
6. Safety Warnings
6.1. To avoid installed the product in minefield, strong magnetic field and high voltage area.
6.2. To ensure the wiring is correct and firm avoiding short circuit damages to components and
cause fire.
6.3. Please install the product in a well ventilated area to ensure appropriate temperature
environment.
6.4. The product must be worked with DC constant voltage power supply.
Please check the consistence of input power with the product, if the output voltage of the
power comply with that of the product.
6.5. Connect the wire with the power on is forbidden. Ensure proper wiring first then check to
ensure no short-circuit, then power on.
6.6. Don't repair it by yourself whenever an error occur. Contact the supplier for any inquiry.

* Your assessment is very important for improving the work of artificial intelligence, which forms the content of this project