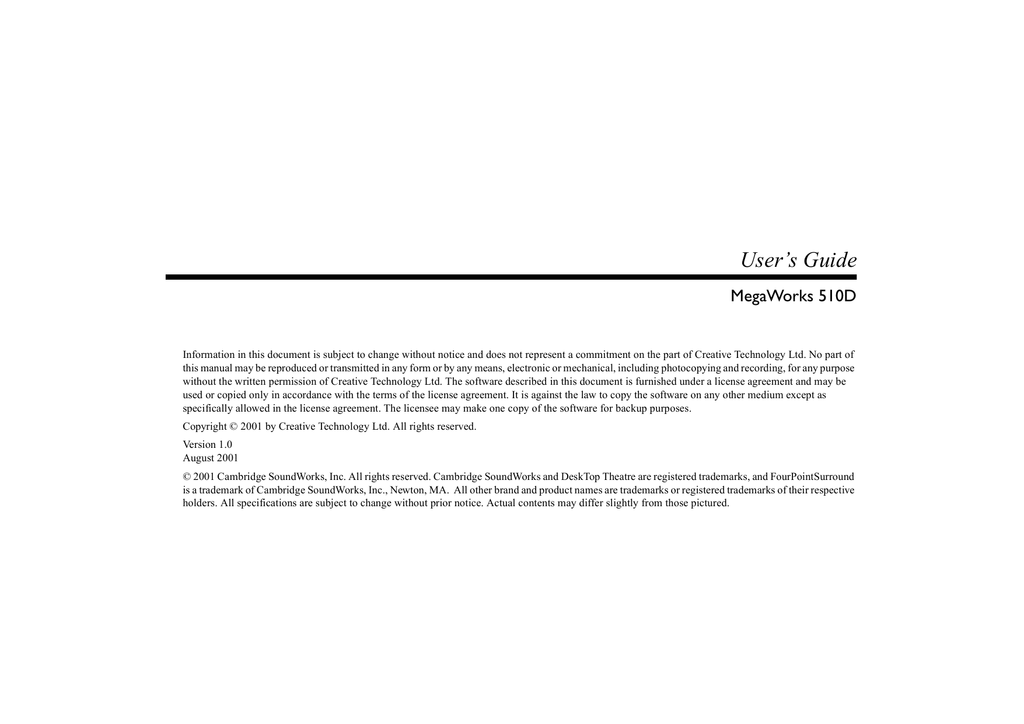 User's Guide
MegaWorks 510D
Information in this document is subject to change without notice and does not represent a commitment on the part of Creative Technology Ltd. No part of
this manual may be reproduced or transmitted in any form or by any means, electronic or mechanical, including photocopying and recording, for any purpose
without the written permission of Creative Technology Ltd. The software described in this document is furnished under a license agreement and may be
used or copied only in accordance with the terms of the license agreement. It is against the law to copy the software on any other medium except as
specifically allowed in the license agreement. The licensee may make one copy of the software for backup purposes.
Copyright © 2001 by Creative Technology Ltd. All rights reserved.
Version 1.0
August 2001
© 2001 Cambridge SoundWorks, Inc. All rights reserved. Cambridge SoundWorks and DeskTop Theatre are registered trademarks, and FourPointSurround
is a trademark of Cambridge SoundWorks, Inc., Newton, MA. All other brand and product names are trademarks or registered trademarks of their respective
holders. All specifications are subject to change without prior notice. Actual contents may differ slightly from those pictured.
Safety & Regulatory Information
The following sections contain notices for various
countries:
CAUTION: This device is intended to be connected by
the user to a CSA/TUV/UL certified/listed IBM AT or
compatible personal computer in the manufacturer's
defined operator access area. Check the equipment
operating/installation manual and/or with the equipment
manufacturer to verify/confirm if your equipment is
suitable for devices.
Modifications
Any changes or modifications not expressly approved by
the manufacturer of this device could void the user's
authority to operate the device.
WARNING: To prevent fire or
shock hazard, do not expose this
appliance to rain or moisture.
Compliance
This product conforms to the following Council
Directive:
❑
2
Directive 89/336/EEC, 92/31/EEC (EMC),
73/23/EEC (LVD), (73/23/EEC), as amended by directive 93/
68/EEC.
Important Notice
The serial number for the MegaWorks 510D is located on
the subwoofer. Please write this number down and keep
it in a secure area. This is for your security.
CAUTION
Take care to prevent accidental operation of your new
loudspeaker system at excessive sound pressure levels!
In a typical personal computer installation, the
MegaWorks 510D satellite speakers are less than a meter
from the listener.
If you do not hear sound from your new speaker, keep
the MegaWorks 510D's volume control at 40% of its
rotation range (the 11:o'clock position,approxmately)
until you hear sound. This will prevent accidental
operation at uncomfortably loud levels.
IMPORTANT SAFETY INSTRUCTIONS
READ INSTRUCTIONS - All safety and
operating instructions should be read
before the MegaWorks 510D amplified
subwoofer/satellite system is operated.
RETAIN INSTRUCTIONS - The safety and
operating instructions should be retained
for future reference.
HEED WARNINGS - All warnings on the
subwoofer and in the operating instructions
should be adhered to.
FOLLOW INSTRUCTIONS - All operating and
use instructions should be followed.
CLEANING - Unplug the subwoofer from the
wall outlet or other power source before
cleaning. Do not use liquid cleaners or aerosol
cleaners. Use a damp cloth for cleaning.
ATTACHMENTS - Do not use attachments not
recommended by Cambridge SoundWorks
as they may cause hazards.
WATER AND MOISTURE - Do not use the
subwoofer near water—for example, near a
bath tub, wash bowl, kitchen sink, or
laundry tub; in a wet basement; or near a
swimming pool; and the like.
ACCESSORIES - Do not place the
MegaWorks 510D system on an unstable
cart, stand, tripod, bracket, or table. The
subwoofer or satellites may fall, causing
serious injury to a child or adult, and
serious damage to the product. Use only
with a cart, stand, tripod, bracket, or table
recommended by Cambridge SoundWorks,
or sold with the product. Any mounting of
the satellites or subwoofer should follow
the manufacturer's instructions, and should
use a mounting accessory recommended
by Cambridge SoundWorks.
VENTILATION - Slots and openings in the
cabinet are provided for ventilation, to
ensure reliable operation of the subwoofer
and to prevent it from overheating; and
these openings must not be blocked or
covered. The openings should never be
blocked by placing the product on a bed,
sofa, rug, or other similar surface. The
subwoofer should not be placed in a built-in
installation such as a bookcase or rack
unless proper ventilation is provided or
Cambridge SoundWorks' instructions have
been adhered to.
HEAT - The subwoofer should be situated
away from heat sources such as
radiators, heat registers, stoves, and
other products (including amplifiers) that
produce heat.
POWER SOURCES - The subwoofer should
be operated only from the type of power
source indicated on the marking label. If
you are not sure of the type of power supply
to your home, consult your product dealer
or local power company. For products
intended to operate from battery power or
other sources, refer to the operating
instructions.
POLARIZATION - The subwoofer may be
equipped with a polarized alternatingcurrent line plug (a plug having one blade
wider than the other). This plug will fit into
the power outlet only one way. This is a
safety feature. If you are unable to insert
the plug fully into the outlet, try reversing
the plug. If the plug should still fail to fit,
contact your electrician to replace your
obsolete outlet. Do not defeat the safety
purpose of the polarized plug.
POWER-CORD PROTECTION - Power-supply
cords should be routed so that they are not
likely to be walked on or pinched by items
placed upon or against them, paying
particular attention to cords at plugs,
convenience receptacles, and the point
where they exit from the subwoofer.
LIGHTNING - For added protection for the
MegaWorks 510D system during a
lightning storm, or when it is left unattended
and unused for long periods of time, unplug
it from the wall outlet. This will prevent
damage to the subwoofer due to lightning
and power-line surges.
OVERLOADING - Do not overload wall outlets,
extension cords, or integral convenience
receptacles as this can result in a risk of fire
or electric shock.
OBJECT AND LIQUID ENTRY - Never push
objects of any kind into the subwoofer
through openings as they may touch
dangerous voltage points or short out parts
that could result in a fire or electric shock.
Never spill liquid of any kind on the
subwoofer.
SERVICING - Do not attempt to service the
subwoofer yourself as opening or removing
covers may expose you to dangerous
voltage or other hazards. Refer all servicing
to qualified service personnel.
DAMAGE REQUIRING SERVICE - Unplug
the subwoofer from the wall outlet or other
power source and refer servicing to
qualified service personnel under the
following conditions:
a) When the power-supply cord or plug is
damaged.
b) If liquid has been spilled, or object have
fallen into the subwoofer.
c) If the subwoofer has been exposed to rain
or water.
d) If the subwoofer does not operate normally
by following the operating instructions; or
exhibits a distinct change in performance.
e) If the product has been dropped or
damaged in any way.
REPLACEMENT PARTS - When replacement
parts are required, be sure the service
technician has used replacement parts
specified by Cambridge SoundWorks or
have the same characteristics as the
original part. Unauthorized substitutions
may result in fire, electric shock, or other
hazards.
SAFETY CHECK - Upon completion of any
service or repairs to the MegaWorks 510D
system, ask the service technician to
perform safety checks to determine that the
MegaWorks 510D system is in proper
operating condition.
WALL OR CEILING MOUNTING - The
MegaWorks 510D satellites should be
mounted to a wall or ceiling only as
recommended by Cambridge SoundWorks.
3
Contents
MegaWorks 510D
Inventory ...........................................................................................................................6
Thank you for buying MegaWorks 510D by Cambridge SoundWorks. This 5.1
amplified multimedia speaker system supports the best audio technology
today: EAX ™ , DirectSound ® 3D, Dolby ® Digital 5.1 and four-channel
gaming, from either an analog source or a digital source of up to 96 kHz
datarate or 24 bit word length. This makes MegaWorks 510D the ideal
companion for the latest Sound Blaster Audigy/Live! sound cards supporting
5.1-channel output. Enjoy Dolby Digital 5.1-channel surround sound using
software DVD.
Volume Control ................................................................................................................8
Speaker Placement............................................................................................................ 7
Stand Removal and Installation ....................................................................................... 9
Satellites on Flat Surfaces ................................................................................................ 9
Mounting Satellites on Walls...........................................................................................9
The Centre Stand ............................................................................................................10
Audio Source Connection - Analog ..............................................................................11
Audio Source Connection - Digital ...............................................................................12
Speaker Connections......................................................................................................13
Volume Control and Power Connections .........................................................14
Tonal Adjustments..........................................................................................................14
Controlling Noise and Distortion...................................................................................15
Specifications..................................................................................................................15
EAX™.............................................................................................................................16
Technical Support...........................................................................................................17
Limited Warranty ...........................................................................................................20
5
Inventory
❒ Examine each unit carefully. If
anything is missing or damaged, do
not install or use the system. Contact
the retailer where the system was
purchased.
❒ Save the carton and its inserts in case
you need to ship or move your
MegaWorks 510D system later.
Satellites (5)
Subwoofer
Desktop stands (installed on satellites, removable)
Strips of transparent Rubber Pads
(20 pads total)
Volume Control
Centre Stand
AC Power Cable, UK
Triple Stereo Line In
Audio Cable
Screws and plastic anchors (5)
3m Speaker Cable (3)
AC Power Cable, Europe
Digital Cable (3-channel
miniplugs)
5m Speaker Cable (2)
6
Hook and loop fasteners for Volume
Control and Monitor Stand
Speaker Placement
The Volume Control can be mounted in either of the Desktop Stands.
Place the front satellites to the sides
Use the Centre Stand to place the centre satellite either in front of or
Adjust the Centre Stand down for monitor
placement,
up for desktop placement
on toptoofayour
monitor. surface with the hook and loop fastener
of your monitor.
If you wall-mount
the front satellites, you can attach the Volume Control
convenient
provided.
Unscrew the thumbscrew to
Note: The subwoofer is not
magnetically shielded. Do
not place it near your monitor. Don't store magnetic
within 8 inches
of it.Desktop
releasemedia
the satellite
from the
For the strongest bass output, place
the subwoofer on the floor in a
corner.
Stamd. Reverse the process to install a Centre Stand.
Rear satellites mounted on walls
beside you.
Rear satellites placed at the extreme
corners of your desk.
7
Volume Control
The Volume Control can be mounted
in either of the Desktop Stands.
You can also mount the front three
satellites on a wall
Rear satellites mounted on floor
stands. (if purchased)
Note: Floor stands for the rear satellites
are available from www.creative.com
8
If you wall-mount the front
satellites, you can attach the Volume
Control to a convenient surface with
the hook & loop fastener provided.
Stand Removal
and Installation
Unscrew the thumbscrew to release
the satellite from the Desktop Stand.
Reverse the process to install a
Centre Stand.
Satellites on Flat
Surfaces
Before placing the satellites on a flat
surface, apply the rubber pads to the
bottom of the satellite.
Mounting Satellites on Walls
Mount satellites only on walls that are structurally sound.
Position front satellites at or slightly below ear level.
Position rear satellites to the sides and a little above ear level.
rubber pads
1 onApply
the back of each
rear satellite.
2
Drill a hole about
2 cm (1 inch) deep
into wall.
3
Tap plastic anchor
into hole until it is
flush with wall.
a M5 x 25 mm screw
into anchor, leaving about
4 Screw
0.5 cm (¼ inch) protruding.
keyhole slot of each rear
onto protruding
5 Slipsatellite
screw.
9
The Centre Stand
To adjust the satellite/Centre Stand
assembly's vertical attitude, grip the
satellite in one hand and the stand
base in the other.
On Top of the Monitor
For safety and convenience, adhere
the base of the Monitor Stand to the
top of the monitor using the two
strips of hook and loop fasteners.
Adjust the satellite to point
horizontally or downward.
In Front of a Monitor
To prevent movement on the desktop,
apply the soft feet as shown.
Adjust the satellite to point upward.
10
Audio Source Connection - Analog
Use the triple cable
A To Sound Blaster Audigy/Live! 5.1 series sound card
❒ Front, rear and centre/subwoofer miniplugs.
❒ 5.1-channel output is produced.
B To 4-channel sound card
❒ Front and rear miniplugs.
❒ 4.1-channel output is produced.
C To 2-channel sound card
❒ Front miniplug only.
❒ 2.1-channel output is produced.
D
To 2-channel stereo player
❒ Front miniplug only.
❒ 2.1-channel output is produced.
11
Audio Source Connection - Digital
Use the Digital cable
To Sound Blaster Audigy/Live! 5.1 series sound card
❒ Digital Out miniplug only.
❒ 5.1-channel output is produced.
❒ Be sure the "Digital Output Only" option is selected in the
sound card's control software.
To other sound cards with minijack digital output
Use the Digital cable
❒ Digital Out miniplug only.
❒ Channel output is dependant on the sound card.
To a digital output that is not a minijack:
Use an adapter (not provided) to convert the program source's digital output to a 3.5 mm
minijack, then connect to Digital In. The most common output type would be an RCA
jack. Use a mono RCA plug to mono minijack adapter.
12
A second audio program source can be mixed with the
main program (analog or digital) when connected to AUX. For a source
with a 3.5mm stereo minijack output (like a headphone or line out jack
on an MP3 or CD player), use a 2-meter signal cable with a 3.5mm
stereo miniplug at each end. Other sources may need a cable with a
3.5mm stereo miniplug and two RCA plugs or a 3.5mm stereo miniplug
and a 3.5mm stereo minijack.
Speaker Connections
13
Volume Control and Power Connections
Tonal Adjustments
Adjust the Bass level
control to achieve the
bass output you like
Adjust the Treble switch to
your preferred setting.
14
Controlling Noise and Distortion
MegaWorks 510D has moderately
high input sensitivity, so it may
amplify the hum and hiss inherent in
some audio program sources (more
common in analog rather than digital
sources).
Any noise is not due to a fault in the
speaker system. You can minimize
background noise as follows:
Use the MegaWorks 510D volume
control as your master level control.
Examine your computer's sound
control software (Mixer program in
Sound Blaster software). Turn off
any inputs you don't need
(Microphone, for instance). Set the
remaining input volume controls to
about 70% of their overall scale.
Adjust the sound control program's
master output level so that the
MegaWorks 510D reaches a
comfortably loud output level when
the control is set straight up (12
o'clock).
Specifications
MegaWorks 510D
Six-Channel Amplifier
Satellite amplifiers, each of five:
60 watts RMS per channel at less
than .1% total harmonic distortion at
1 kHz.
Subwoofer amplifier:
150 watts RMS at less than .3% total
harmonic distortion at 100 Hz.
Amplifier signal to noise (analog or
digital):
Greater than 95 dB.
15
™
EAX is a collection of powerful,
innovative audio technologies.
Designed by Creative's world-class
audio scientists and built into
groundbreaking Personal Digital
Entertainment (PDE) solutions, EAX
is changing the way audio is
experienced.
EAX offers advanced, interactive
audio and high-definition sound to a
new generation of portable audio
appliances, audio applications, and
internet services.
16
With its five compact, amplified
satellite speakers and separate
subwoofer, theMegaWorks 510D is
an ideal 5.1 entry-level EAX speaker
system for your home theatre
entertainment. With it, you will
experience exceptional 3D positional
and 5.1 audio for movies and games,
when used with the powerful Sound
Blaster Live! series of audio cards.
For more information on EAX, be
sure to visit EAX.creative.com.
Technical Support
chat or email ensuring that you receive the best possible service
in the manner that is most comfortable to you.
Webchat
We are committed to giving you the best products aswell as the
best service by providing you with a comprehensive suite of
eService options complemented by telephone support.
With Creative's eService strategy, we deliver the best possible
customer experience using our multilingual Customer support
portal, interactive chat, email support and our self-service
knowledgebase.
The European support area on our website at
www.europe.creative.com contains the following options:
Knowledgebase
Creative's Self-service knowledgebase empowers you to
quickly resolve your queries by using natural language support
and stepping you through targeted questions to help pinpoint
the best solution to your particular problem. Should you need
additional help, you can escalate your query online through live
Creative's interactive TextChat enables you to contact our
Technical Support team through a real-time chat facility.
Additional features, such as web page pushing, collaborative
browsing and file and brochure exchange, transform your chat
session into a fully interactive support experience.
eMail
Should you not obtain a solution to your query using our
Knowledgebase system, you can click the 'Not Solved' button
located at the bottom of any suggested solution document to
escalate your query via eMail. If you do not have access to our
website then you can mail us directly at
[email protected]
Telephone
You have the option to contact our service support team via
17
telephone. Telephone numbers can be found in the 'Creative
European Contact Centre' section below.
Download Drivers
The Creative website offers a range of updates and drivers for
our products in a variety of operating systems.
If you have a problem installing or using your Creative product,
please use the Creative eServices and/or telephone support for
assistance. Should you contact Technical Support, you may be
asked for information regarding the following:
❑
❑
❑
❑
The model and serial number of your Creative product
Error information on the screen and how it came about
Information on the adapter cards which may be causing a
conflict
Hardware configuration information such as the base I/O
address,
IRQ line, DMA channels used
Motherboard information: BIOS manufacturer/version and
chipset manufacturer
Type and version of your operating system, e.g., Windows
95/98 or Windows NT, Windows 2000 or Windows Me
Download Manuals
❑
Browse Creative's extensive library of product installation and
user guides to find documentation for your Creative product.
❑
If You Have a Problem
If, after using the Creative support services, you believe your
Creative product to be defective, you should verify the purchase
date and the take the appropriate action as detailed below:
Please retain all contents including packaging and proof of
purchase until you are fully satisfied with your product.
18
Less than 30 days since date of purchase
Should your store receipt indicate that the product is less than 30
days old, you have the option of returning the full product to the
Dealer/Retailer for a replacement or credit. The 30-day time
period may not apply in all instances, so please check the
Dealer/Retailer replacement/credit terms.
More than 30 days since date of purchase
Contact European Technical Support to clarify the nature of the
problem and to obtain details of our repair/replacement
procedure.
Returning a product for repair
Creative Labs requires that all returns for repair/replacement
must first be issued with an authorisation number, therefore
you need to contact Technical Support to receive this
number.
❑ Technical Support will communicate how to return the
product in question for
repair/replacement.
❑ You should only return the hardware item in question and
return it to the address provided by Technical Support. Please
retain all software, accessories and the original packaging.
Please quote the authorisation number clearly on the outside
of the packaging
in which you return the hardware item.
❑ After receiving the hardware, Creative will process the
return.
❑
Creative may replace or repair the product with new or reconditioned parts, and the faulty parts will become the property
of Creative. The warranty period for your repaired/replacement
item is 90 days from the date of shipment from Creative, or what
is left on the original item's warranty, whichever is longer.
To avoid tariffs when shipping a product to Creative Labs from
outside the E.U. or from zones with special tax status, you must
complete the relevant customs documentation before shipping the
product.
❑
Operating Hours
Knowledgebase
Available on-line 24 hours a day
Webchat*
10:00-18:30 CETMonday - Friday
*
10:30-19:00 CETMonday - Friday
Telephone
*
Closed Sat-Sun & Public Holidays
19
Limited Warranty
Creative Labs (Ireland) Limited ("Creative") warrants to you, the
original buyer and holder of this warranty, as it stands in the
accompanying warranty card, that the hardware product will be free of
defects in materials and workmanship for a period of two years after
the date of purchase, or such other period as may be expressly
specified by Creative or required by applicable law ("Warranty
Period").
Creative's entire liability and your remedy will be, at Creative's sole
discretion, the repair or replacement (with the same or similar model)
of any hardware or accompanying item(s) not meeting the "Limited
Warranty" explained above that is returned to Creative's authorised
distributor or dealer during the Warranty Period with a copy of your
receipt.
What this warranty does not cover
To the maximum extent permitted by applicable law, Creative
disclaims all other warranties and conditions, expressed or implied,
including the conditions of quality, merchantability or fitness for a
particular purpose with respect to the use of this product. Creative also
disclaims any obligation to support products for all operating
environments - for example, by ensuring interoperability with future
versions of software or hardware. In no event shall Creative or its
licensors be liable for any indirect, incidental, special or consequential
loss or for any lost profits, savings or data arising from or relating to
the use of this product, even if Creative or its licensors have been
advised of the possibility of such loss.
20
Specifically, this warranty does not cover failures of the product which
result from accident, abuse, misuse, alterations (by persons other than
Creative or its authorized repair agents), moisture, corrosive
environments, shipping, high voltage surges, or abnormal working
conditions. This warranty does not cover normal wear and tear. You are
specifically advised to take a backup copy of any software provided
with the Creative product for security purposes.
This warranty gives you specific legal rights. You may
have other rights which vary from country to country.
Certain limitations in this warranty are not permitted by the
jurisdiction of some countries, so some limitations here
may not apply to you.
Creative European Contact Centre
CREATIVE LABS (IRELAND) LTD.,
Technical Support Department,
Ballycoolin Business Park, Blanchardstown, Dublin
15, Ireland.
Fax: +353 1 8205052
United Kingdom
Tel
+353 1 4333200
Germany
Tel
+353 1 4380000
Ireland
Tel
+353 1 8207555
France
Tel
+353 1 4333220
Spain
Tel
+353 1 4380020
+353 1 4333210
Holland
Tel
+353 1 4333272
Austria
Tel
+353 1 4380060
Switzerland
Tel
+353 1 4380070
Belgium
Tel
+353 1 4333291
Portugal
Tel
+353 1 4380010
Denmark
Tel
+353 1 4333230
Czech Republic
Tel
+353 1 4333280
Finland
Tel
+353 1 4333270
Poland
Tel
+353 1 4380040
Norway
Tel
+353 1 4333240
Hungary
Tel
+353 1 4333290
Sweden
Tel
+353 1 4380030
Russia
Tel
+353 1 4380080
Italy
Tel
Please note that international call rates will apply. Please contact your telecoms company to verify the exact rate you will be
charged.