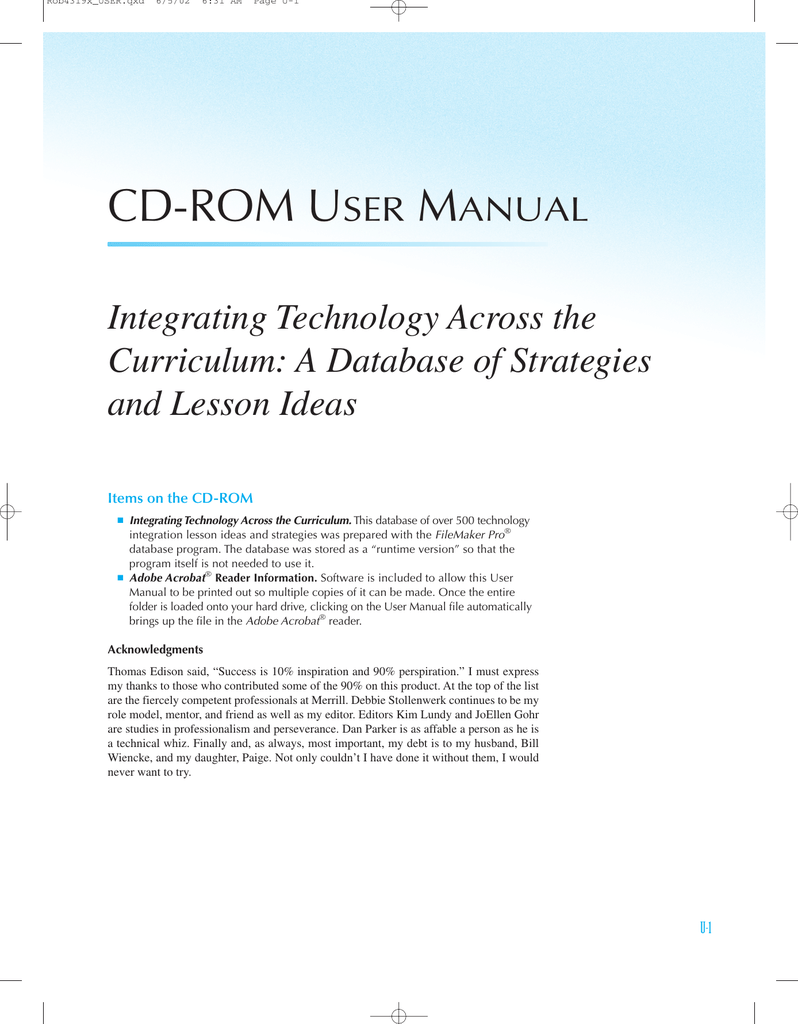 Rob4319x_USER.qxd
6/5/02
6:31 AM
Page U-1
CD-ROM USER MANUAL
Integrating Technology Across the
Curriculum: A Database of Strategies
and Lesson Ideas
Items on the CD-ROM
■
■
Integrating Technology Across the Curriculum. This database of over 500 technology
integration lesson ideas and strategies was prepared with the FileMaker Pro®
database program. The database was stored as a "runtime version" so that the
program itself is not needed to use it.
Adobe Acrobat® Reader Information. Software is included to allow this User
Manual to be printed out so multiple copies of it can be made. Once the entire
folder is loaded onto your hard drive, clicking on the User Manual file automatically
brings up the file in the Adobe Acrobat® reader.
Acknowledgments
Thomas Edison said, "Success is 10% inspiration and 90% perspiration." I must express
my thanks to those who contributed some of the 90% on this product. At the top of the list
are the fiercely competent professionals at Merrill. Debbie Stollenwerk continues to be my
role model, mentor, and friend as well as my editor. Editors Kim Lundy and JoEllen Gohr
are studies in professionalism and perseverance. Dan Parker is as affable a person as he is
a technical whiz. Finally and, as always, most important, my debt is to my husband, Bill
Wiencke, and my daughter, Paige. Not only couldn't I have done it without them, I would
never want to try.
U-1
Rob4319x_USER.qxd
U-2
6/5/02
6:31 AM
Page U-2
CD-ROM USER MANUAL Integrating Technology Across the Curriculum
Part I: Introduction
■
What Is the Integrating Technology Across the
Curriculum Database?
Integrating Technology Across the Curriculum is a collection
of over 500 technology integration ideas stored in a computer program called a "database." Database programs let
people put information into the computer in such a way that
it is easy to get out only those items of information that meet
a certain need. For example, a teacher may want lesson ideas
that use multimedia/hypermedia at elementary levels. Rather
than reading each lesson to find those that meet this particular need, the teacher simply tells the database to list only
those lessons that use multimedia with Grades K–5.
Classroom-tested technology integration examples
have been published in many formats (e.g., articles, books,
on the Web). Lessons were gleaned from several of these
sources. They were summarized and placed on a database
developed with FileMaker Pro® software.
■
■
Locating an idea to meet a certain need. Teachers
can use it to answer questions such as: "Can technology be used to support teaching writing in an interdisciplinary way?" or "What are some good examples of
using spreadsheets in mathematics?"
Illustrating technology integration strategies for
various resources. Have students ask, "How can word
processing be used in areas other than language arts?"
Teaching database use and searches. Show preservice
students how to locate all lessons for a given grade level,
content area, and/or type (e.g., plans in science at the fifth
grade level), or teach them how to add lessons of their own.
What Do You Have to Know to Use It?
This product was designed for non-technical teachers and
students. You do not have to know much about databases to
use it. That is because this manual gives explanations and
examples to help new users, and the database structure itself is very intuitive and easy to use.
New in This Version
Why Was This Collection Developed?
This collection of lesson ideas was developed to promote
and support the integration of technology into teaching in
content areas such as mathematics, science, and language
arts. These "technology integration strategies," or descriptions of when, where, and how to use technology to help
teach school topics, help schools take advantage of technology's power and potential in several ways. They help:
■
■
■
■
Focus teacher training on technology integration
strategies, rather than on how various technologies work
Allow teachers to look at good, classroom-tested examples of integration strategies in many content areas
Give preservice/inservice teachers and teacher educators good models for how to use technology resources
(e.g., multimedia, spreadsheets, the Internet)
Help teachers find specific technology integration
strategies to meet their classroom needs.
In this, the second version of Integrating Technology Across
the Curriculum, several new and valuable features have
been added:
■
■
Who Can Use This Product?
Integrating Technology Across the Curriculum is useful for:
■
■
■
Classroom teachers looking for resources and lesson
ideas
Teacher educators and trainers showing examples
of technology integration in various content areas
Inservice/preservice teachers learning how to use
databases.
How Can It Be Used?
This database could supplement and enhance any teacher
training course or workshop; or it could be useful to teachers in classrooms. Activities that could be done with it include the following.
Over 250 additional lesson ideas. Many of the new
entries focus on the Internet and online learning and
have been drawn from sites recommended by Blue
Web 'n, an online collection of prize-winning Internet
teaching and learning strategies. Other new entries
have been based on articles from 1999–2002 issues of
ISTE's Learning and Leading with Technology.
Relative advantage emphasis. This new lesson descriptor focuses on the unique or powerful aspects technology
resources bring to a lesson, thus allowing teachers to do
something they could not do or could not do as well as
they could without the resources. Relative advantage is a
term used by diffusion of innovations expert Everett
Rogers to refer to perceptions by those considering the
adoption of an innovation of the benefits of the new
method or resource over what they currently use. (See
the list of the types of Relative Advantage in Figure 1.)
Part II: Contents of the Database
An Overview of the Lessons
The 500 lesson ideas in this database are drawn from
these sources:
■
The International Society for Technology in Education's (ISTE) Learning and Leading with Technology
(formerly The Computing Teacher). Many articles
from this popular periodical, now in its 30th year of publication by the country's premier educational technology
Rob4319x_USER.qxd
6/5/02
6:31 AM
Page U-3
CD-ROM USER MANUAL Integrating Technology Across the Curriculum
Figure 1 Lesson Idea Descriptors
Grade Levels:
Grade-free
Pre-K
Kindergarten
Primary
Elementary
Middle School
Secondary
1
2
3
4
5
6
7
8
9
10
11
12
Content Areas:
Interdisciplinary
Art
English
Foreign Languages
Language Arts
Mathematics
Music
Physical Education
Social Studies
Science
Technology
Other
Topics:
Algebra
Anthropology
Archeology
Arithmetic
Art history
Astronomy
Biology
Botany
Business math
Calculus
Charting/graphing
Chemistry
Civics
Computer applications
Cultures
Drawing/painting
Ecology
Economics
Electricity
French
Geography
Geology
Geometry
German
Grammar
Health and nutrition
History
Literature
Math problem solving
Math word problems
Measurement
Multicultural
Musical composition
Music history
Physical education
Physics
Poetry
Political Science
Problem solving (non-math)
Programming
Psychology
Reading
Research methods
Sociology
Spanish
Spelling
Statistics
Study skills
Trigonometry
Vocabulary
Weather
Writing
Other
Electronic encyclopedia
E-mail
Fax
Games
GIS
Graphics tools
Groupware
Handheld computer/PDA
Instructional software
Internet
Local Area Network (LAN)
Logo
Map utilities
MIDI interfaces
Movies/videos
Multimedia/hypermedia
Music synthesizers
PDF files
Presentation software
Probeware/MBL
Problem solving software
Programming languages
Robotics
Simulation software
Speech synthesizers
Spreadsheets
Statistical software
Story starters
TDD
Tutorial software
VCR
Video development
Videodisc-Level I
Videodisc-Level III
Virtual reality
Voice recognition
Word prediction software
Word processing
Technologies:
All
Adaptive/assistive devices
Alternative keyboards
Animation software
Artificial intelligence
Atlases
Audio players
Barcode generators
Brainstorming tools
Calculators
CD-ROM
Charting/graphing
Computer Assisted Design (CAD)
Concept maps
Databases
Desktop publishing
Dictionaries (word atlases)
Distance learning
Drill and practice software
Electronic books
Relative Advantage:
Makes unfamiliar topics more visual, understandable
Makes abstract topics more visual, concrete
Supports manual operations in high level learning
Interaction and immediate feedback support skill practice
Visual presentations help illustrate real-life relevance
Visual presentations aid transfer to real-world problems
Professional, polished looking products motivate students
Format aids collaborative, cooperative group work
Develops technological/information literacy skills
Saves teacher time in grading students' work
Provides self-paced instruction to motivated students
Saves teacher/student time on production tasks
Saves money on consumable materials
Easier, faster access to information sources
Easier, faster updates/corrections to work products
Note: Some of the "Technologies" descriptors have no lesson entries. Users can use the Add Lesson Idea feature to add their own lesson entries for these if they like.
U-3
Rob4319x_USER.qxd
U-4
■
■
■
■
6/5/02
6:32 AM
Page U-4
CD-ROM USER MANUAL Integrating Technology Across the Curriculum
organization, are by teachers describing their own successful classroom strategies. Lesson activities selected in
this database were based on the best lessons from a dozen
years of these articles.
Internet lesson and project sites recommended by Blue
Web 'n, an online collection of prize-winning Internet
teaching and learning strategies.
Productivity in the Classroom booklets (also available at Microsoft's online site) were produced by
Microsoft, Inc., in conjunction with Scholastic, Inc.
Lessons in this database were based on some of these
activities. Visit their site: http://www.microsoft.com/
education (Look under the K–12 area and select "Instructional Resources.")
Problem Solving Across the Curriculum by John
Beaver (Copyright © 1994 by ISTE).
Lesson plan issues of The Florida Technology in Education Quarterly. Lessons on the database are based
on those in the Spring 1991 ESE lesson ideas issue, the
Winter 1992 elementary lesson ideas issue, and the
Spring 1993 telecommunications issue (all selected by
FTEQ Editor M. D. Roblyer).
Each lesson in the database is an edited, summarized
version based on the original article or lesson plan.
Organization of the Database
■
Page 3 describes lesson activities and assessments.
■
Page 4 shows images associated with the lesson.
■
Page 5 gives reference information on where the lesson was obtained.
Find lesson plan. Each lesson is stored with a set of "descriptors" or labels that describe the contents and let teachers locate lessons that meet their needs. For example, one
descriptor is "Grade Levels" (the grade levels the lesson addresses); another is "Technologies." (See a listing of descriptors in Figure 1.) Teachers also can locate lesson entries
by "keywords." For example, type in "butterflies" in the Directions field to see if there are any lessons on butterflies.
The first screen that appears shows the three main activities:
Add lesson plan. This option lets teachers enter their own
descriptors and lesson activities to describe a new lesson
and add it to the collection.
Other options such as printing lessons and duplicating
lessons may be selected from later screens. See directions
for how to use Find, Add, and Other Options under Part III
of this manual.
Anatomy of a Typical Lesson
Five screens make up the "skeleton" or underlying structure of the database:
■
View lesson plan. See a list of the 500 lesson idea titles.
Each lesson has five main screens or "pages" (see example,
beginning on this page):
■
Page 1 gives lesson objectives.
■
Page 2 lists the lesson descriptors (Grade Levels, Content Areas, Topic Areas, Technologies, and Relative
Advantage).
Page 1: Lesson plan objectives and national content
area standards the plan addresses.
Rob4319x_USER.qxd
6/5/02
6:32 AM
Page U-5
CD-ROM USER MANUAL Integrating Technology Across the Curriculum
■
Page 2: Descriptors that define the lesson plan characteristics (see a list of all descriptors in Figure 1).
■
■
U-5
Page 5: Author name(s), bibliographic source, and site
of field-tests, if any.
Page 3: Detailed directions for the lesson idea. At the
bottom of the lesson directions for all non-Internet lessons is a list of required resources a teacher needs to
carry out the lesson activities. Also at the bottom of
this field are suggestions for assessments.
Part III: How to Use the Database
How to Start the Program
■
■
Page 4: Many plans also have associated graphics
(e.g., diagrams, photos, or screens of example products).
Page 4 continued: Click on one of the graphics in the
list; a page with the image appears. Sometimes the
size of the computer screen makes these images too
small to see clearly on the monitor. In these cases, it is
necessary to print the image and look at the paper
copy.
The database may be opened and used directly from the
CD, or it may be moved to the hard drive first and used
from there. Use from the hard drive is required if you want
to add to or modify the lessons.
■
To use from the CD in the Macintosh platform:
– Insert the CD.
– Open the Macintosh folder and double-click the Lesson icon to load the database file.
■
To use from the CD in Windows 95, 98, 2000, NT,
and XP platforms:
– Insert the CD.
– Double-click "My Computer."
– Select the CD drive.
– Open the Windows folder.
– Double-click the Lesson icon to load the database
file.
■
To use on your hard drive:
– If you want to modify lessons or add your own lessons, you must move the database to your own hard
drive. (You cannot store anything on the CD-ROM.)
– Insert the CD.
Rob4319x_USER.qxd
U-6
6/5/02
6:32 AM
Page U-6
CD-ROM USER MANUAL Integrating Technology Across the Curriculum
– Follow your system procedures for moving the lesson and art files over to your hard drive. (Usually this
means dragging the files from the CD to your hard
drive window.)
How to Protect the Hard Drive Copy
PLEASE NOTE: To protect the copyright on this product, we have limited the number of times you can copy
it on to your hard drive.
Under General options, select "Read only." As with Mac
versions, you can unlock the file when you want to add
lesson ideas to the database or modify them.
How to Find Lesson Ideas by Browsing through Titles
From the main screen, clicking "View Lesson Idea" gives
you a list of lesson titles through which you can scroll.
Once the database is on your hard drive, it is very easy to
change it—even unintentionally. For example, if you highlight one of the Descriptor fields, the one you highlight will
take the place of the ones that came with the database.
However, if the copy on the hard drive becomes damaged,
or you change it unintentionally and want to re-install it,
you may do so only a limited number of times. That is why
it is a good idea to protect the copy on your hard drive and
make sure you don't make changes unintentionally by doing the following:
■
Macintosh version: Once the file is on your hard
drive—and before you run the program—click once on
the file name to highlight it. Then press Open-Apple-I.
The box shown here will appear. To lock the file, click
on the option at the bottom left.
When you want to see more detail on a lesson, click
once on the title to see its Objectives page. Click on one of
the other tabs to see the Lesson descriptors, Lesson directions, Associated graphics, or Source information pages for
that lesson.
To review a lesson's descriptors, click on Lesson Descriptors, then on one of the descriptor boxes; a pulldown
menu will show you all the descriptors. The ones checked
are those for the lesson.
When you want to add or modify lesson ideas, you can
bring this box up again and unlock the file by clicking the
same option.
■
Windows versions: Once the file is on your hard drive—
and before you run the program—right-click once on the
file name, and select the Properties option from the box.
Rob4319x_USER.qxd
6/5/02
6:32 AM
Page U-7
CD-ROM USER MANUAL Integrating Technology Across the Curriculum
How to Find Lesson Ideas by Using Descriptors
■
■
■
Click on Find Lesson Idea from the View Lesson Idea
screen or the Main Menu screen.
Click on Find by Criteria.
Select options you want under each descriptor by
clicking on a box, then clicking on the option.
■
■
U-7
Select Duplicate and Modify from the View screen to
make a copy of an existing lesson.
Make changes to it as desired. Remember to change
the title; otherwise, the lesson will have the old title
with the word "copy" after it. The program will save
the new lesson to your hard drive automatically.
Other Options
NOTE: If you want more than one option under a descriptor (e.g., Spreadsheets AND Graphics under the
Technologies descriptor), hold the Shift key down each
time you select an option. Repeat this step until all desired options are checked.
■
■
After you select all options, click Start Search. You
will see a list of lessons that meet the criteria.
Click on a lesson title to see its contents. When you
are finished looking at a lesson, click the "Previous
lesson" or "Next lesson" button to see another lesson
in the group from your search.
Additional options are at the bottom of the main pages:
■
■
■
How to Find Lessons by Using Keywords
■
■
■
■
Click on Find Lesson Idea from the Main Menu
screen or the View Lesson Idea screen.
Click on Find by Keyword.
Type in words you want to find under each field.
Click Start Search.
Saving to Disk
Use the following steps to save a lesson or the entire database to a disk other than the hard drive.
■
Save a single lesson plan by selecting Import/Export,
then select Export from the File menu. Then:
– Select the location (the disk and the folder or directory) where you want to save the lesson plan.
– Name the file when you see the Save As box. If you
want to view the lesson plan without having FileMaker Pro® on your hard drive, save in a text file or
other format.
■
Save the entire database by selecting Save a Copy
from the program's File Menu. (You will need a Zip
disk to hold all the contents.)
How to Find Lessons by Using a Combination of
Descriptors and Keywords
You can use a combination of descriptors and keywords to
do a search. For example, if you want an Internet lesson
idea that addresses the topic of "money," you would select
Find Lesson Idea, then click on Find by Keyword and enter "money" in the Lesson Directions field. Then click on
Find by Criteria and select "Internet" from the Technologies list and click Start Search.
How to Add Your Own Lessons
To add a new lesson idea, first load on to your hard drive all
of the files from the CD-ROM. You cannot add lesson ideas
to the database on the CD-ROM.
■
■
■
Click on Add Lesson Idea from the main screen.
Fill in information in all descriptor boxes. Be sure to
give the lesson a title so the lesson appears in the list.
Fill in information for all of the related screens: Objectives, Lesson Descriptors, Lesson Directions, and
Source Information.
How to Modify Existing Lessons
As you do for adding a new lesson plan, first load on to your
hard drive all of the files from the CD-ROM.
Printing. Print a lesson by selecting Print. Print
graphics by clicking Associated Graphics, selecting
the image from the list of images, then clicking Print
This Image. To print all images associated with a lesson, click the Print All Images button.
Help. Clicking Help provides you with an explanation
and examples of various options and how to use them.
Navigation options. You can return to the main page
or choose other options to try.
Part IV: Classroom Applications
This collection can be used in many ways by several kinds
of people. No matter who uses it, it is best to begin by reviewing the following sequence of introductory activities.
■
■
■
■
Get familiar with the database structure. You either
can page through lessons one at a time, or you can
search for lessons that have certain words in them or
that address certain students, tools, or topics.
Examine the parts of an activity. Look at the information provided with each lesson idea activity.
Peruse the lesson ideas. Page through several lesson
ideas to get a feel for the kinds of approaches represented.
Do some sample searches. Try locating lesson ideas
that meet your needs.
Rob4319x_USER.qxd
U-8
6/5/02
6:32 AM
Page U-8
CD-ROM USER MANUAL Integrating Technology Across the Curriculum
Example Applications for College Instructors
Teacher educators can use this collection of lesson ideas
and activities as model applications of the technology tools
and teaching methods they introduce in their classrooms.
Some example uses follow.
Example Activity #1: Find a way to teach poetry. With
the whole class, do a search on lessons by using "poetry"
in the Lesson Directions field. Divide the class into small
groups; have each group analyze one of the lessons in the
database, discuss it, and develop a lesson based on that approach. Have each group present its lesson to the class, explaining why the technology resource they used contributed
significantly to teaching poetry.
Example Activity #2: How is the Internet being used?
With the whole class, do a criteria search on lessons using
"Internet" in the Technologies field. After each student
reads the lessons and reviews uses of the Internet, hold a
class discussion on the ways the Internet is being used and
how it is contributing to learning. Divide the class into
small groups; have them develop their own lessons using
the Internet and present them to the class.
Example Activity #3: Develop a good lesson. Have the
class form small groups and select a technology resource
such as word processing or multimedia. Have them search
for and review lessons that use this resource and develop a
good lesson of their own to add to the database. It must
specify all required descriptors and detailed directions.
Have groups present their lessons to the class.
Example Applications for Pre K–12 Teachers
Inservice teachers can use this collection as a source of
ideas for how to use technology to teach various topics and
content area standards. Some example uses follow.
Example Activity #4: Collaborative projects. An area
that is seeing great emphasis in recent years is teaching students how to work cooperatively to develop products and
solve problems. Teachers can locate examples of how to do
this effectively by doing a search for "collaboration" or
"collaborate" or "cooperative" in the Lesson Directions
field.
Example Activity #5: Addressing ISTE or national
standards. Each lesson in the database lists ISTE NETSS and national standards addressed for each of several content areas. Teachers can do a search on the Objectives field
to find lessons that address desired standards, e.g., ISTE
Standard 1, Civics, Economics, NCTE, NSTA, NCTM,
History, Science.
Example Activity #6: Interdisciplinary activities.
Teachers can locate good examples of teaching activities
that address more than one content area in the same lesson.
They can do a search by criteria, and select Interdisciplinary in the Content Areas field.
Example Applications for
Teacher Education Students
As they learn how to integrate various technologies into the
classroom, future teachers can see what classroom teachers
consider good uses of these resources. Some example uses
follow.
Example Activity #7: Find a multicultural activity.
Many lessons model how to emphasize multiculturalism in the course of content area learning. Students can
find these examples by doing a search by criteria using
"Multicultural" or "Cultures" in the Topic Areas field, or
by searching Lesson Directions using the keyword
"cultural."
Example Activity #8: How is technology used in the (insert your own) content area? Students can do a search for
all lessons in a given content area, browse through all the
lessons, and review which technology resources are used
and how they are used. This activity will give them a good
introduction to and overview of how technology is being
integrated into their content areas.
Example Activity #9: What are some whole-class strategies? Many K–12 classrooms have only one computer. By
searching on "one computer" in the Lesson Directions
field, teacher education students can see examples of how
inservice teachers are making the best use of limited resources. The lessons will model how to structure goals and
objectives and carry out activities that can be accomplished
with one computer.