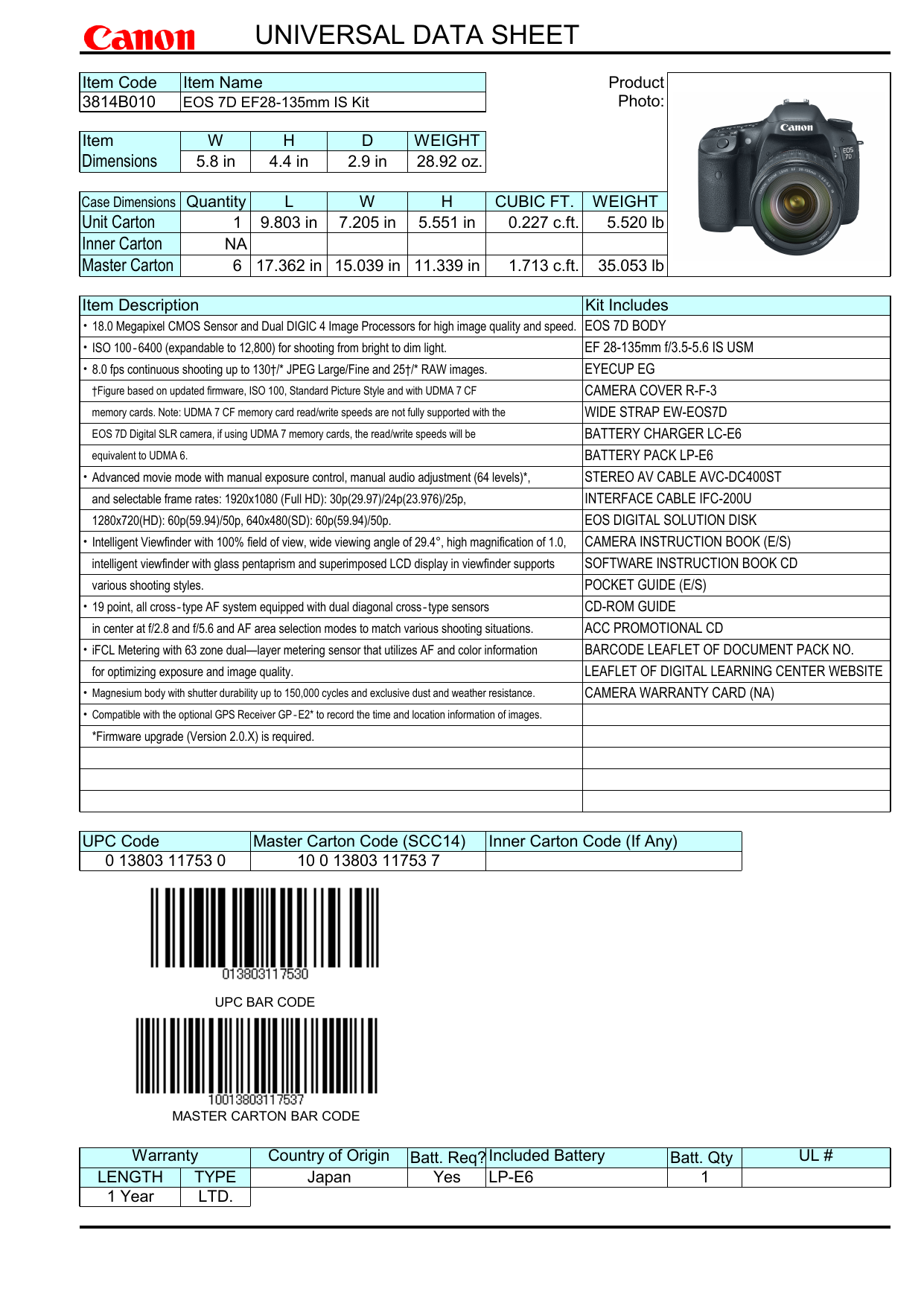 UNIVERSAL DATA SHEET
Item Code
3814B010
Item Name
Product
Photo:
EOS 7D EF28-135mm IS Kit
Item
W
5.8 in
Dimensions
H
4.4 in
D
2.9 in
WEIGHT
28.92 oz.
Case Dimensions Quantity
Unit Carton
Inner Carton
Master Carton
L
W
H
CUBIC FT. WEIGHT
1 9.803 in 7.205 in 5.551 in
0.227 c.ft.
5.520 lb
NA
6 17.362 in 15.039 in 11.339 in
1.713 c.ft. 35.053 lb
Item Description
Kit Includes
h 18.0
Megapixel CMOS Sensor and Dual DIGIC 4 Image Processors for high image quality and speed. EOS 7D BODY
h ISO
100‐6400 (expandable to 12,800) for shooting from bright to dim light.
h 8.0
fps continuous shooting up to 130†/* JPEG Large/Fine and 25†/* RAW images.
†Figure based on updated firmware, ISO 100, Standard Picture Style and with UDMA 7 CF
memory cards. Note: UDMA 7 CF memory card read/write speeds are not fully supported with the
EOS 7D Digital SLR camera, if using UDMA 7 memory cards, the read/write speeds will be
equivalent to UDMA 6.
h Advanced
movie mode with manual exposure control, manual audio adjustment (64 levels)*,
and selectable frame rates: 1920x1080 (Full HD): 30p(29.97)/24p(23.976)/25p,
1280x720(HD): 60p(59.94)/50p, 640x480(SD): 60p(59.94)/50p.
h Intelligent
Viewfinder with 100% field of view, wide viewing angle of 29.4°, high magnification of 1.0,
intelligent viewfinder with glass pentaprism and superimposed LCD display in viewfinder supports
various shooting styles.
h 19
point, all cross‐type AF system equipped with dual diagonal cross‐type sensors
in center at f/2.8 and f/5.6 and AF area selection modes to match various shooting situations.
h iFCL
Metering with 63 zone dual—layer metering sensor that utilizes AF and color information
for optimizing exposure and image quality.
h Magnesium body with shutter durability up to 150,000 cycles and exclusive dust and weather resistance.
EF 28-135mm f/3.5-5.6 IS USM
EYECUP EG
CAMERA COVER R-F-3
WIDE STRAP EW-EOS7D
BATTERY CHARGER LC-E6
BATTERY PACK LP-E6
STEREO AV CABLE AVC-DC400ST
INTERFACE CABLE IFC-200U
EOS DIGITAL SOLUTION DISK
CAMERA INSTRUCTION BOOK (E/S)
SOFTWARE INSTRUCTION BOOK CD
POCKET GUIDE (E/S)
CD-ROM GUIDE
ACC PROMOTIONAL CD
BARCODE LEAFLET OF DOCUMENT PACK NO.
LEAFLET OF DIGITAL LEARNING CENTER WEBSITE
CAMERA WARRANTY CARD (NA)
h Compatible with the optional GPS Receiver GP‐E2* to record the time and location information of images.
*Firmware upgrade (Version 2.0.X) is required.
UPC Code
0 13803 11753 0
Master Carton Code (SCC14)
10 0 13803 11753 7
Inner Carton Code (If Any)
UPC BAR CODE
MASTER CARTON BAR CODE
Warranty
LENGTH
TYPE
1 Year
LTD.
Country of Origin
Japan
Batt. Req? Included Battery
LP-E6
Yes
Batt. Qty
1
UL #
Product Number: 0345B002
EF 70-300mm f/4-5.6 IS USM Lens
The EF 70-300mm f/4-5.6 IS USM telephoto zoom lens has been developed to meet the high-performance
standards that today's photographer demands. Improved Image Stabilizer Technology provides up to three
stops of "shake" correction, and the "Mode 2" option stabilizes images while panning with a moving subject.
Compared to the original Canon EF 75-300mm IS zoom lens, this telephoto lens has faster autofocus, and
overall the lens is lighter and has a smaller diameter than the original. The zoom ring can be locked at the
70mm position, making this powerful lens easy to transport, too.
Specifications
Lens
Focal Length & Maximum Aperture
70-300mm f/4-5.6
Lens Construction
15 elements in 10 groups
Diagonal Angle of View
34° - 8° 15' (with full-frame camera)
Focus Adjustment
Front-focusing method with helicoid ring drive
Closest Focusing Distance
4.9 ft. / 1.5m
Zoom System
6-group helical zoom (rotational angle: 84°)
Filter Size
58mm
Max. Diameter x Length, Weight
3.0 in. x 5.6 in., 22.2 oz. / 76.5mm x 142.8mm,
630g (lens only)
Product Number: 300 DG
Black Digital Gadget Bag
If you love your digital SLR cameras and lenses, then make sure to add the Canon 300DG
digital camera gadget bag to your list. In addition to its attractive styling, this camera bag is
specifically designed with SLR cameras in mind. It's built with special compartments
intended to hold up to two SLR camera bodies, three lenses, and a host of accessories.
Canon has also included several padded easy-access side storage pockets so you can get at
an extra memory card or lens cloth in a snap. The durable, water-repellent nylon exterior
and weather-flap lid help keep the elements out, while the double-clasp closures keep your
cameras safe and secure inside the bag.
 Designed to hold 1-2 SLR digital cameras
 Hold up to two SLR camera bodies, two-three lenses, and accessories
 Padded, easy-access side pockets for extra memory cards
 Durable, water-repellent nylon exterior and weather-flap lid
 Inside dimensions measure 9.5 x 7 x 6 inches (WxHxD)
 Product dimensions: 12 x 6 x 9 inches (WxHxD)
 Weight 2 lbs.

* Your assessment is very important for improving the work of artificial intelligence, which forms the content of this project