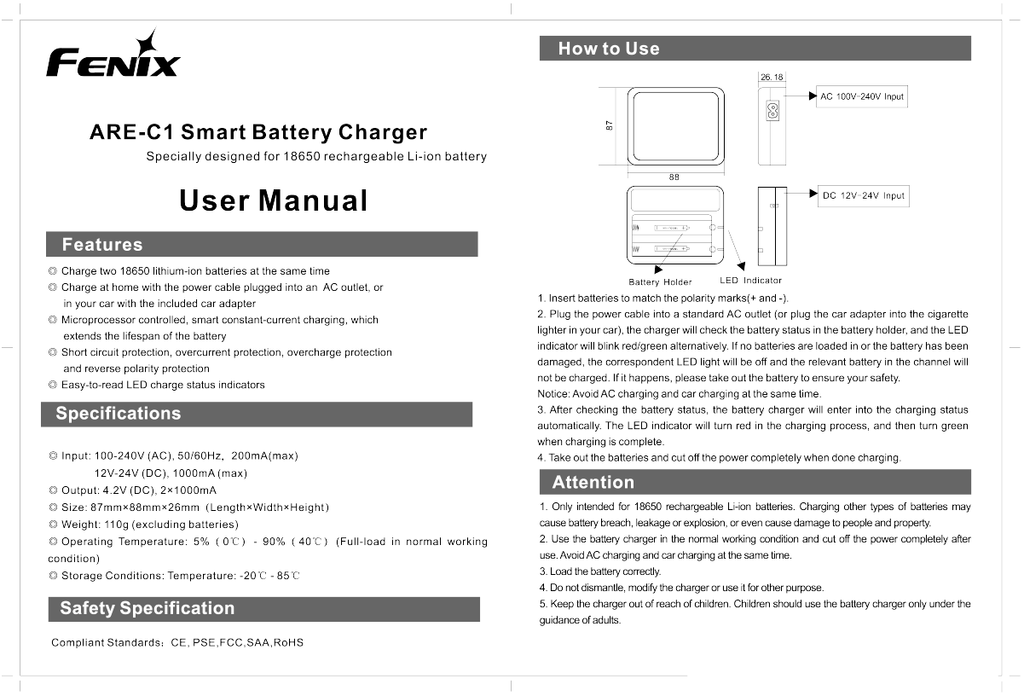 Fenix
ARE-C1 Smart Battery Charger
Specially designed for 18650 rechargeable Li-ion battery
User Manual
E
O Charge two 18650 lithium-ion batteries at the same time
© Charge at home with the power cable plugged into an AC outlet, or
in your car with the included car adapter
© Microprocessor controlled, smart constant-current charging, which
extends the lifespan of the battery
© Short circuit protection, overcurrent protection, overcharge protection
and reverse polarity protection
© Easy-to-read LED charge status indicators
Specifications
© Input: 100-240V (AC), 50/60Hz, 200mA(max)
12V-24V (DC), 1000mA (max)
O Output: 4.2V (DC), 2x1000mA
© Size: 87mmx88mmx26mm (LengthxWidthxHeight)
© Weight: 110g (excluding batteries)
O Operating Temperature: 5% (OC) - 90% (40€) (Full-load in normal working
condition)
O Storage Conditions: Temperature: -20€ - 85€
Safety Specification
Compliant Standards: CE, PSE,FCC,SAA,RoHS
26.18
a — AC 100V-240V Input
[cal
87
I» DC 12V-24V Input
a
О
Battery Holder LED Indicator
1. Insert batteries to match the polarity marks(+ and -).
2. Plug the power cable into a standard AC outlet (or plug the car adapter into the cigarette
lighter in your car), the charger will check the battery status in the battery holder, and the LED
indicator will blink red/green alternatively. If no batteries are loaded in or the battery has been
damaged, the correspondent LED light will be off and the relevant battery in the channel will
not be charged. If it happens, please take out the battery to ensure your safety.
Notice: Avoid AC charging and car charging at the same time.
3. After checking the battery status, the battery charger will enter into the charging status
automatically. The LED indicator will turn red in the charging process, and then turn green
when charging is complete.
4. Take out the batteries and cut off the power completely when done charging.
1. Only intended for 18650 rechargeable Li-ion batteries. Charging other types of batteries may
cause battery breach, leakage or explosion, or even cause damage to people and property.
2. Use the battery charger in the normal working condition and cut off the power completely after
use. Avoid AC charging and car charging at the same time.
3. Load the battery correctly.
4. Do not dismantle, modify the charger or use it for other purpose.
5. Keep the charger out of reach of children. Children should use the battery charger only under the
guidance of adults.

* Your assessment is very important for improving the work of artificial intelligence, which forms the content of this project