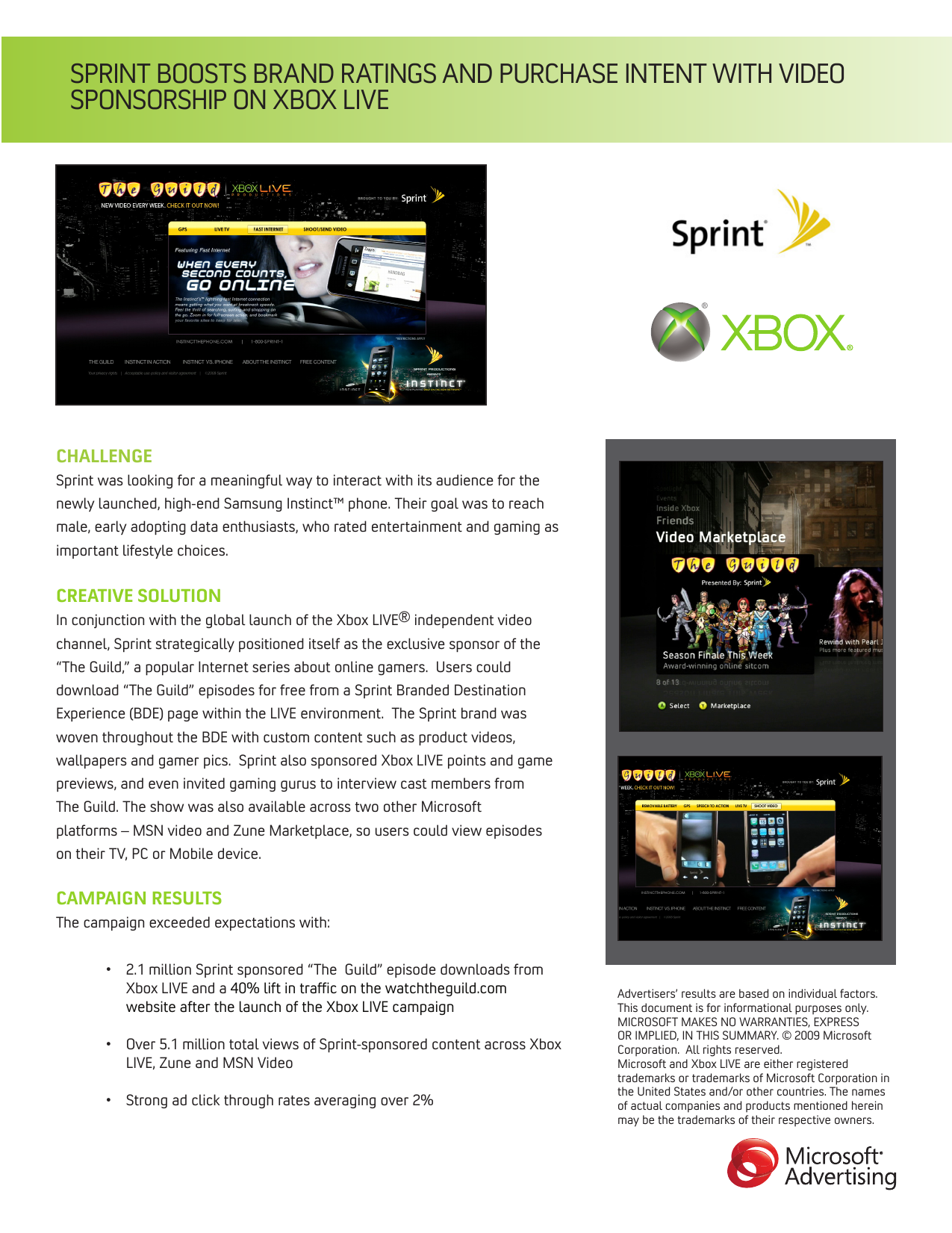 SPRINT Boosts brand ratings and purchase intent with video
sponsorship on Xbox LIVE
CHALLENGE
Sprint was looking for a meaningful way to interact with its audience for the
newly launched, high-end Samsung Instinct™ phone. Their goal was to reach
male, early adopting data enthusiasts, who rated entertainment and gaming as
important lifestyle choices.
CREATIVE SOLUTION
In conjunction with the global launch of the Xbox LIVE® independent video
channel, Sprint strategically positioned itself as the exclusive sponsor of the
"The Guild," a popular Internet series about online gamers. Users could
download "The Guild" episodes for free from a Sprint Branded Destination
Experience (BDE) page within the LIVE environment. The Sprint brand was
woven throughout the BDE with custom content such as product videos,
wallpapers and gamer pics. Sprint also sponsored Xbox LIVE points and game
previews, and even invited gaming gurus to interview cast members from
The Guild. The show was also available across two other Microsoft
platforms – MSN video and Zune Marketplace, so users could view episodes
on their TV, PC or Mobile device.
CAMPAIGN RESULTS
The campaign exceeded expectations with:
• 2.1 million Sprint sponsored "The Guild" episode downloads from Xbox LIVE and a 40% lift in traffic on the watchtheguild.com website after the launch of the Xbox LIVE campaign
• Over 5.1 million total views of Sprint-sponsored content across Xbox LIVE, Zune and MSN Video
• Strong ad click through rates averaging over 2%
Advertisers' results are based on individual factors.
This document is for informational purposes only.
MICROSOFT MAKES NO WARRANTIES, EXPRESS
OR IMPLIED, IN THIS SUMMARY. © 2009 Microsoft
Corporation. All rights reserved.
Microsoft and Xbox LIVE are either registered
trademarks or trademarks of Microsoft Corporation in
the United States and/or other countries. The names
of actual companies and products mentioned herein
may be the trademarks of their respective owners.
RESEARCH RESULTS
Sprint's Xbox LIVE campaign yielded compelling lifts in brand awareness,
favorability and purchase intent along with high exposure for the Sprint brand through its
sponsorship of "The Guild." Gamers who were exposed to the Sprint campaign on
Xbox LIVE were:
• 124% more likely to rate the Sprint brand very good or excellent
• 70% more likely to consider a switch to Sprint services
• 96% more likely to recommend the Sprint brand
•Awareness and consideration of the Samsung Instinct phone also increased with
a 32% increase in awareness an 82% increase purchase intent
Brand rating (Very Good + Excellent)
56%
+124%
Brand consideration to switch
+70%
Recommend brand to others
+96%
Recognized the Samsung Instinct after exposure to campaign
+32%
More likely to select Samsung Instinct as a phone to purchase
+82%
CONCLUSION
The value of sponsorship on Xbox LIVE is demonstrated through the high level of brand
interaction and the resulting increase in brand favorability, awareness and purchase intent.
The amazing consumer response and corresponding lifts clearly demonstrate how Xbox
LIVE delivers positive results for advertisers.
Methodology
Xbox LIVE worked with Interpret
LLC to recruit 800 active Xbox
LIVE gamers aged 18 – 49 into
a control group (did not see
campaign) and a test
group (opportunity to be
exposed to campaign). Both
groups answered an online
questionnaire that measured
their awareness and opinions
of the brand.

* Your assessment is very important for improving the work of artificial intelligence, which forms the content of this project