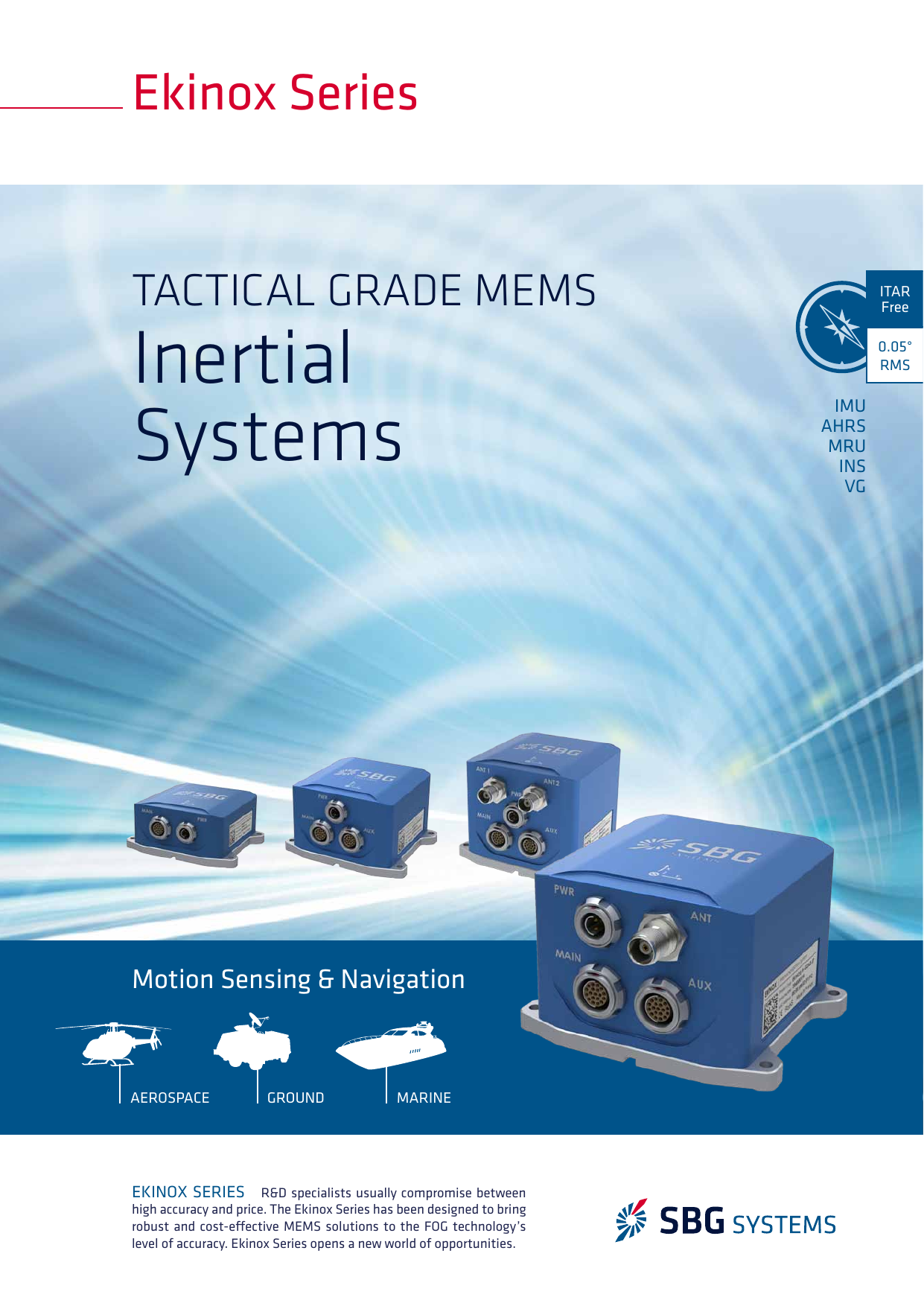 Ekinox Series
TACTICAL GRADE MEMS
Inertial
Systems
Motion Sensing & Navigation
AEROSPACE
GROUND
MARINE
EKINOX SERIES R&D specialists usually compromise between
high accuracy and price. The Ekinox Series has been designed to bring
robust and cost-effective MEMS solutions to the FOG technology's
level of accuracy. Ekinox Series opens a new world of opportunities.
ITAR
Free
0.05°
RMS
IMU
AHRS
MRU
INS
VG
Ekinox Series
Brings robust and
cost-effective MEMS
to the Tactical Grade
Ekinox Series is a product range of high accuracy inertial systems. It has been
designed to bring robust, maintenance free, and cost-effective MEMS to the
tactical grade. Thanks to a drastic selection of high end MEMS sensors, an
advanced calibration procedure, and powerful algorithm design, the Ekinox
Series achieves 0.05° attitude accuracy.
» High Performance Inertial Systems
» ITAR Free
» Cost-effective & Robust MEMS technology
» Maintenance Free
KEY FEATURES
» Up to 4 connected equipment
» Survey Grade GNSS receiver (Ekinox-N/D)
» 8 GB Data Logger
» IP68 Enclosure
» Web Interface & Ethernet
Accuracy
3D ORIENTATION
Roll, Pitch
0.05°
0.02°
Real-Time
Post-Processing
Heading
0.5°
0.1°
0.05°
0.03°
Magnetometers
GPS
Dual Antenna GPS
Post-Processing
» 200 Hz Output Rate
GNSS POSITIONING
Ekinox-N
Single Point L1
1.5 m
Single Point L1/L2
1.2 m
SBAS
0.6 m
DGPS
0.4 m
RTK
No aiding for 30 sec
No aiding for 60 sec
0.02 m
5m
16 m
Post-processing
0.02 m
Ekinox-D
Included
Option
VELOCITY AIDED POSITIONING
Odometer
< 0.1% TD
Depends on odometer performance
DVL *
< 0.2% TD
External Gyro-compass or GPS Heading
< 0.3% TD
Internal Magnetometer. Lawn mower pattern
with 1 km lines.
Real-time
5 cm or 5%
Whichever is greater, velocity aided
Wave period
0 to 25 s
Auto-adjusting
Delayed
2.5 cm or 2.5%
Whichever is greater, velocity aided
Wave period
0 to 50 s
HEAVE
* Depends on DVL performance. - TD: Travelled Distance.- Typical RMS values.
A Cutting-Edge Architecture
IMU
OUTPUTS
EKINOX
INTEGRATION at 1kHz
DATA
LOGGER
3 Axis Gyroscopes
Serial
Ethernet
CAN
3 Axis Accelerometers
DATA FUSION
3 Axis Magnetometers
Extended Kalman
Filter at 200 Hz
Ekinox-A
Ekinox-E
Ekinox-N
Ekinox-D
Roll, Pitch, Heading
Heave, Surge, Sway
IMU sensor data
GPS 1
GPS 2
External
Aiding
Data
-
Navigation: Position, Velocity
INPUTS
Serial
Ethernet
CAN
Ekinox-A
Ekinox-E
Ekinox-N
Ekinox-D
Internal Single GPS
Internal Dual GPS
GPS Position/Velocity
GPS True Heading
GPS RTK Correct.
-
Odometer
-
DVL
-
USBL *
-
EM Log *
-
* Contact us for more information
Included
Included
External Aiding Required
Software
sbgCenter
CONFIGURATION,
REAL-TIME DISPLAY & REPLAY
Configuration is made easy through our
intuitive embedded web interface where
all parameters can be quickly displayed
and adjusted.
The sbgCenter offers all the tools for realtime visualization (200 Hz) and replay of
the records stored in the internal data
logger.
Embedded Web Interface
Applications
AEROSPACE
Ready-to-use INS/GPS (Ekinox-N)
Mid-sized & large UAV
Designed for harsh environments
Avionics
Temperature calibrated (-40 to 75°C)
LiDAR
Unmatched precision in high vibration
Gyro-stabilized camera
conditions (MIL-STD-810G)
Flight data recorder
Robust IP68 enclosure
LAND
All-in-one solution with Dual Antenna GPS,
Car motion
RTK GNSS, and odometer (Ekinox Land Solution)
Unmanned Ground Vehicle
Ethernet & CAN connectivity
Camera and 3D scanner
Precise GPS UTC synchronization (20 Nano-sec)
SATCOM antenna
Low latency (3ms)
Machine Control
Very low noise on Attitude & Navigation data
MARINE
Integrated Dual Antenna GPS for True Heading
Hydrography
(Ekinox-D)
Motion monitoring
Real-time Auto adjusting heave period on 4
Performance sailing
monitoring points
Offshore
NMEA, TSS & Simrad protocols
Targeting system
Ethernet & Web interface
SUBSEA
Compact and low-power consumption
AUV, ROV
Real-time data fusion with DVL, USBL, etc.
SONAR, LiDAR, Camera
Up to 4 simultaneously connected equipment
Seamless Integration
DEVELOPMENT KIT
NEED A CUSTOM PACKAGE?
The Development Kit comes with the
Ekinox model you would like to test. It
consists of a waterproof transport box
including power supply, Ethernet cable,
a quick start guide, a user manual,
GPS Antennas (1x for Ekinox-N, 2x for
Ekinox-D) and related communication
cables. A set of software tools is included
such as the sbgCenter application, API C
libraries with code examples, etc.
Every industry has its own constraints.
Our Sales Engineers will work with you
to recommend the right solution for
your project, or for an entirely custom
design.
SBG SYSTEMS SERVICES
Support – Training - Custom Design
Specifications
SENSORS PERFORMANCE
Accelerometers
Gyroscopes
Magnetometers
Measurement range
5g
400 °/s
6 Gauss
Non-linearity (% of Full Scale)
0.05
0.05
0.1
Bias in-run stability
20 µg
< 3 °/hour
-
Gain (ppm)
300
300
1,000
In Band Noise (RMS)
200 µg
0.3 °/s
50 µGauss
Bandwidth (3 dB)
100 Hz
100 Hz
50 Hz
Resolution threshold
250 µg
0.03 °/s
120 µGauss
Sampling rate
5 k Hz
1 k Hz
1 k Hz
Alignment error
0.03°
0.03°
0.03°
INTERFACE
Aiding Sensors
2x GPS, RTCM, Odometer, DVL, USBL*, Depth,
EM log*, External Magnetometer, Gyro-compass,
User Inputs
Protocols
NMEA, ASCII, Binary, TSS, Simrad
Output Rate
0.1 to 200 Hz
Logging Capacity
8 GB or 48h @ 200 Hz
Serial RS-232/422
Model N/D - 2 outputs / 4 inputs
Model E - 3 outputs / 5 inputs
Model A - 1 output / 1 input
CAN
1 CAN 2.0 A/B bus up to 1 Mbit/s
Pulses
Inputs: PPS, Event marker up to 1 kHz
Outputs: SyncOut, Trigger
Model E/N/D – 5 inputs / 2 outputs
Model A – 1 input / 2 outputs
PRODUCT CODE INS
standard product options
EKINOX-#-G4A#-PS
MODEL
A: AHRS
E: INS
N: INS with internal GPS
D: INS with internal Dual GPS
GYROSCOPES
* Contact us for more information
4: 400 °/s
ACCELEROMETERS
ENVIRONMENTAL SPECIFICATIONS
Operating Vibrations
8 g RMS – 20 Hz to 2 k Hz as per MIL-STD-810G
IP Rating
IP68
Operating Temperature
-40 to 75°C / -40 to 167°F
MTBF
50,000 hours
1: 2 g
2: 5 g
3: 10 g
4: 30 g
PHYSICAL CHARACTERISTICS
Ekinox-A
Ekinox-E
Ekinox-N
Ekinox-D
GPS
-
-
L1/L2 GPS + GLONASS
receiver
L1/L2 Dual Antenna GPS +
GLONASS receiver
Weight
350 grams
0.77 pounds
400 grams
0.88 pounds
500 grams
1.10 pounds
600 grams
1.32 pounds
Dimensions (L x W x H)
10 x 8.6 x 4.3 cm
3.9 x 3.4 x 1.7 "
10 x 8.6 x 5.8 cm
3.9 x 3.4 x 2.2 "
10 x 8.6 x 6.4 cm
3.9 x 3.4 x 2.5 "
10 x 8.6 x 7.5 cm
3.9 x 3.4 x 2.9 "
Power Consumption
<3W
<3W
<5W
<7W
Supply Voltage
9 to 36 VDC
Typical RMS values. All specifications subject to change without notice.
9 to 36 VDC
9 to 36 VDC
9 to 36 VDC
SBG Systems is a leading French supplier of MEMS-based inertial motion sensing solutions.
The company provides a wide range of inertial solutions from miniature to high accuracy.
Combined with cutting-edge calibration techniques and advanced embedded algorithms,
SBG Systems products are ideal solutions for industrial & research projects such as unmanned
vehicle control, antenna tracking, camera stabilization, and surveying applications.
PRODUCTS
TEST RESULTS
Ekinox Test Results
TEST
ENVIRONMENT
Ekinox Test Results
MARINE
TEST
ENVIRONMENT
Ekinox Series
PRODUCT
ON TEST
AUTOMOTIVE
Ekinox Series
Ekinox-A
Motion Sensor
PRODUCT
ON TEST
Ekinox Land
Solution
Real time GPS data
Real time Ekinox INS output
Test 1 - Countryside
TEST CONDITIONS
TESTED PRODUCTS
Ekinox-A Motion Sensor
TESTED PERFORMANCE
Heave, Roll, and Pitch
PLACE
Brest (France) at the IFREMER
Institute
CONDITIONS
Sea conditions simulated on a
Hexapod
FULL REPORT : Send an email to
[email protected] to receive the
complete version of this test.
Subsea MRU & INS
Ekinox INS with
RTK base station
and odometer
SBG Systems EMEA (Headquarters)
Phone: +33 1 80 88 45 00
E-mail: [email protected] SBG Systems North America
Phone: +1 (773) 754 3272
E-mail: [email protected]
www.sbg-systems.com
V1.0 - February – All rights reserved © 2014 SBG Systems
Marine
Tested Equipment
The test session simulated a
complete 6 degrees of freedom (DOF).
The hexapod reproduced various sea
conditions while providing accurate
reference data. A wide range of heave
frequencies and amplitudes have
been initiated as well as periods in
the range of 5 to 12 s.
The test included eight sessions of
five minutes tests and an additional
fifteen minutes test to check longer
operation periods.
Special thanks to IFREMER Institute
and Mr. Pierre Merriaux (IRSEEM and
ESIGELEC) who conducted this performance test.
Ekinox-D, Inertial Navigation System with integrated Dual Antenna
GNSS receiver.
MOUNTING ON THE
HEXAPOD
All tested sensors were mechanically strapped on the Hexapod
platform which provides accurate
6 degrees of freedom.
Precision alignment ensured a
0.1° alignment accuracy on roll
and pitch angles.
RTK GNSS base station
with a SATEL RF modem
to transmit differential
corrections to the Ekinox.
Odometer connected to
the Ekinox-D for velocity
aiding.
Results
When entering in a small village downtown, the Radio was not able to send
enough corrections to maintain RTK positioning accuracy. Spikes and jumps are
observed on GPS data (in red on the picture above). The Ekinox data fusion (in
blue) behaved exactly as expected in these situations and maintained optimal
positioning accuracy. As there is no long outages in such environment, the use
of an odometer is not required.
REAL-TIME 3D ORIENTATION
(RMS)
Roll
Pitch
Yaw
0.028°
0.032°
0.14°
Roll and Pitch are more accurate than
the announced accuracy (0.05°). With
a baseline of 1.2m, Heading accuracy
is within expectations (0.2° with 1 m
baseline). A better heading accuracy
could be achieve with a larger baseline.
Automotive
REAL-TIME POSITION
Northing
Easting
Altitude
2.0 cm
2.7 cm
3 cm
RMS errors observed here are close
to what is achievable when RTK data
reception is poor.