Philips 28PW6618/01 User manual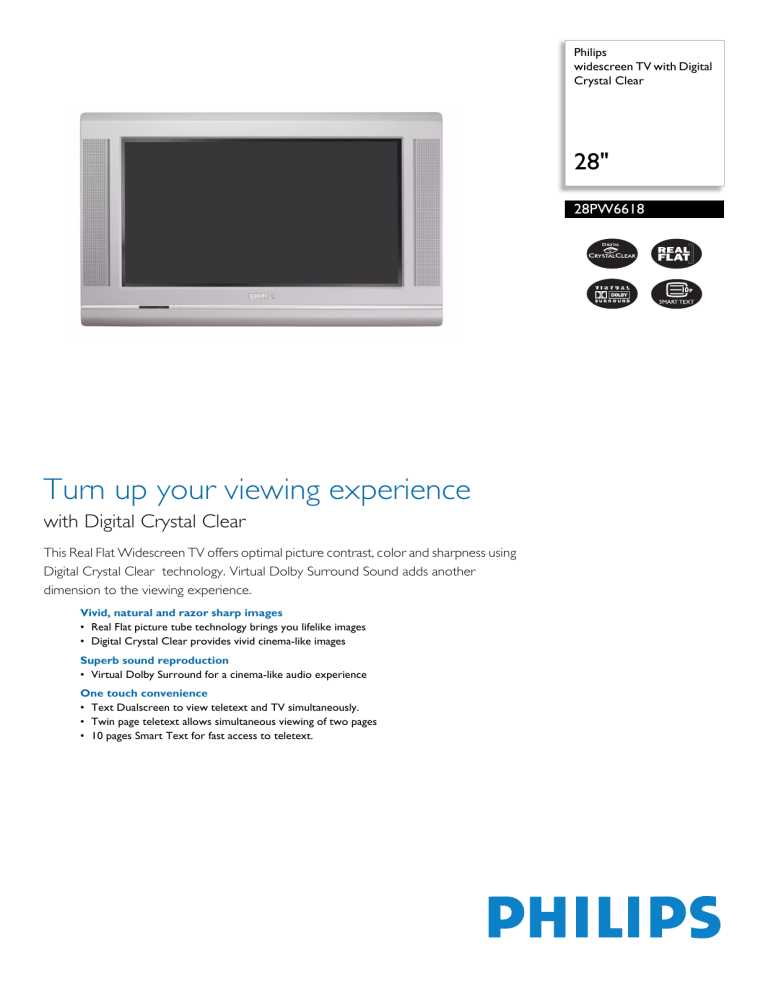 For preview purpose only
Philips
widescreen TV with Digital
Crystal Clear
28"
28PW6618
Turn up your viewing experience
with Digital Crystal Clear
This Real Flat Widescreen TV offers optimal picture contrast, color and sharpness using
Digital Crystal Clear technology. Virtual Dolby Surround Sound adds another
dimension to the viewing experience.
Vivid, natural and razor sharp images
• Real Flat picture tube technology brings you lifelike images
• Digital Crystal Clear provides vivid cinema-like images
Superb sound reproduction
• Virtual Dolby Surround for a cinema-like audio experience
One touch convenience
• Text Dualscreen to view teletext and TV simultaneously.
• Twin page teletext allows simultaneous viewing of two pages
• 10 pages Smart Text for fast access to teletext.
For preview purpose only
28PW6618/01
widescreen TV with Digital Crystal Clear
28"
Technical specifications
Product highlights
Picture/Display
•
•
•
•
•
Aspect ratio: Widescreen, 16:9
Diagonal screen size: 28 inch / 70 cm
Visible diagonal screen size: 66 cm
Display screen type: Real Flat picture tube
Picture enhancement: Digital Crystal Clear,
Color Transient Improvement, Color
Temperature Adjustment, Sharpness
Adjustment, Luminance Transient Improver,
Black stretch
• Picture processing: 50 Hz
Sound
•
•
•
•
Sound Enhancement: Ultra Bass
Sound System: Virtual Dolby Surround
Output power (RMS): 2x10W
Music Power: 40 W W
Loudspeakers
• Built-in speakers: 2
Zoom, Super Zoom, Widescreen, Zoom 14:9,
Zoom 16:9
Tuner/Reception/Transmission
• Tuner bands: Hyperband, S-Channel, UHF, VHF
• TV system: PAL B/G, PAL D/K, PAL I, SECAM B/
G, SECAM D/K, SECAM L/L', SECAM
• Video Playback: NTSC
• Aerial Input: 75 ohm coaxial (IEC75)
• Number of Preset Channels: 100
Connectivity
•
•
•
•
•
Number of Scarts: 2
Ext 1 Scart: CVBS in/out, RGB
Ext 2 Scart: CVBS in/out, S-video in
Other connections: Stereo constant level out
Front / Side connections: Audio L/R in, CVBS in,
Headphone out, S-video in
• Headphone: 3.5 mm
Power
Convenience
• Ease of Installation: Autostore, Fine Tuning, PLL
Digital Tuning, Plug & Play, Sorting, Smart ATS
and ACI
• Ease of Use: Picture Tilt, Smart Listening, Smart
Picture Control, Smart Sound Control, Top
Controls
• Remote control type: RCLE017
• Teletext: 10 page Smart Text
• Teletext enhancements: 4 favourite pages,
Program information Line
• Picture in Picture: Text dual screen, Twin page
text
• Screen Format Adjustments: 4:3, Continous
Zoom, Subtitle and Heading Shift, Subtitle
• Power consumption: 91 W
• Standby power consumption: <1W
• Mains power: AC 220 - 240 V +/- 10%
Dimensions
•
•
•
•
Product weight: 38 kg
Weight incl. Packaging: 44 kg
Color cabinet: Pearl - White Silver (11092)
Box dimensions (W x H x D):
884 x 662 x 660 mm
• Set dimensions (W x H x D):
766 x 501 x 487 mm
•
Date of issue 2006-08-16
Version: 7.0
12 NC: 8670 000 19262
EAN: 87 10895 80640 4
Specifications are subject to change without notice.
Trademarks are the property of Koninklijke Philips
Electronics N.V. or their respective owners.
© 2006 Koninklijke Philips Electronics N.V.
All Rights reserved.
www.philips.com
Real Flat picture tube
The flatter tube provides a wider viewing angle while
minimizing reflections for the best picture possible. The
special alloy invar shadow mask helps maintain sharper
focus and eliminates 'color blooming' compared to
standard tubes.
Digital Crystal Clear
Digital Crystal Clear is a package of picture innovations
that digitally adjusts and optimizes picture quality to
optimal contrast, color and sharpness levels. It's like
watching vivid cinema-like images.
Virtual Dolby Surround
Virtual Dolby Surround is a processing technology for
enhancing surround sound effects. It which create the
sensation of Dolby Pro Logic without the necessity of
additional rear speakers. You become totally immersed
in your television experience.
Video and teletext dual screen
Video and teletext dual screen provides you with the
capability to show video and teletext pages from the
same channel side by side on one screen.
Twin page teletext
Twin page teletext allows you to simultaneously view
two teletext pages side by side
10 page Smart Text
The teletext is a common system transmitted by most
broadcasters. The 10 page smart text feature gives you
fast access to information when changing pages.

* Your assessment is very important for improving the work of artificial intelligence, which forms the content of this project