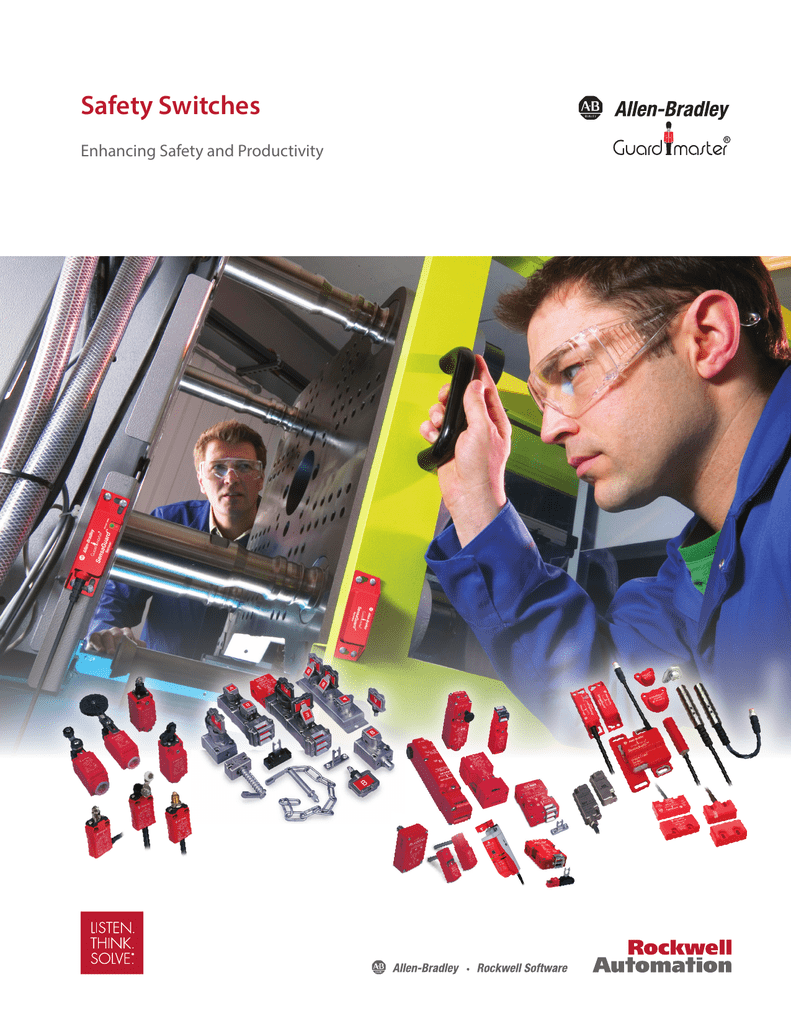 R
Safety Switches
Enhancing Safety and Productivity
R
A COMPREHENSIVE FAMILY OF SAFETY SWITCHES
Allen-Bradley® Guardmaster® safety switches from Rockwell Automation® help protect
personnel and equipment by providing physical interlocking of guard doors and equipment,
allowing access to potentially hazardous areas only when the area is safe.
1C
2
1C
1A
2
1C
3
3
Note: Representative applications only. Actual solutions may vary.
1 Safety Interlock Switches
Ideal for interlocking sliding, hinge and
lift-off guard doors, safety interlock switches
offer electrical interlocking of the machine's
control circuit to the guard door.
They include:
1A Tongue operated interlock switches
1B Hinge operated interlock switches
1C Guard locking interlock switches
2
2 Non-contact Interlock Switches
Ideal for sliding, hinge, or lift-off machine
guard doors , non-contact switches offer
simple setup and alignment, less wear,
and fully-sealed IP67 and IP69K housings.
They include:
• RFID-coded switches
(standard and unique coding)
• Magnetically actuated switches
(coded or non-coded)
• Plastic or metal housings
Built to global standards for high reliability, stability and quality, Allen-Bradley Guardmaster safety
switches are ideally suited for applications where personnel safety is a priority. Our innovative
products help protect your people, machinery and environment while maximizing uptime.
1B
1C
4
3 Safety Limit Switches
4 Prosafe Trapped Key Interlocks
Safety limit switches are designed
for position limit control in
applications such as sliding guard
doors and moving machine beds.
They are ideal for applications
requiring sensing at either side of
a sliding guard door. Available in:
• A variety of actuator and
contact configurations
• NEMA or IEC versions
• Plastic or metal housings
Prosafe trapped key interlock
switches are ideal for enforced
sequential interlocking and are
designed for safety applications
requiring a pre-defined sequence
of operations.
• Electrical isolators
• Key exchange units
• Interlocks
3
PRODUCT SPOTLIGHTS
SensaGuard™ RFID Coded Non-Contact Interlocks
Featuring RFID technology for coding, inductive technology for sensing and combining a large sensing range with optimal
operation and a generous tolerance to misalignment, SensaGuard switches offer a cost-effective solution that is ideally suited
to a wide range of safety applications and is intended for use with all types of guard doors.
•
•
•
•
•
•
•
•
•
RFID unique (high) or standard (low) coded actuators
No dedicated controller required
PLe, Cat 4, SIL 3 rating maintained when connected in series
Switches can be connected in series with other devices
Flat pack and barrel (plastic and stainless steel housing)
Stainless steel versions suitable for use in harsh environments
Standard, magnetic hold, and integrated latch versions available
IP69K washdown rating
10 to 25 mm assured ON (depending on version)
Integrated Latch Version
Actuator
Adjustable magnetic
holding force
Rectangular Flat Pack Version
RFID coded security
offers tamper
resistant operation
Sensor
LED offers diagnostics for
switch status, margin
alignment and fault finding
Short circuit and over
voltage protection allows
switch to be reset
Optional magnetic
hold feature aids door
stability and reduces
nuisance tripping
M12, 5 or 8 pin quick connect
pigtail simplifies installation
and maintenance
Other Rockwell Automation safety products…
4
Safety light curtains , camera and scanners
Pressure sensitive devices
Enabling switches
Emergency stop devices
TÜV certification to the new rigorous
EN/ISO 14119:2013 and EN/ISO 13849-1
standards for achieving Performance Level "e",
Cat 4 — the highest level of safety for guard
position and lock monitoring.
QR code links to the
440G-LZ User Manual
Bright 270 degree wrap-around
LEDs provide status and smart local
diagnostics
440G-LZ
The Allen-Bradley Guardmaster 440G-LZ from
Rockwell Automation is a guard locking switch designed
for partial body access guards. Combining microprocessor
technology with an RFID coded actuator, the 440G-LZ
features a locking bolt drive mechanism that will only lock
when the correct actuator is detected. The locking bolt is
continuously monitored for correct insertion within the
actuator. This extra functionality allows the 440G-LZ to be
certified PLe, Cat 4 , SIL 3 – the highest level of safety for guard
position and lock monitoring – and it can be connected directly
or in series with other PLe, Cat 4, or SIL 3 rated safety devices.
The 440G-LZ runs "cool" and has low power (2.5 W) consumption
due to its bi-stable solenoid and built-in energy storage.
The 440G-LZ consumes up to 60% less energy when compared
to other guard locking switches, making it a truly 'green' safety
solution. It achieves this level of energy efficiency thanks to
advanced algorithms and a bi-stable solenoid design that
consumes little power for switching, regardless of whether it is
in the locked or unlocked state.
GuardLogix and Compact GuardLogix
SmartGuard 600
TLS-Z Guard Locking Switch
The TLS-Z features an RFID door target that is mounted
with the supplied fully-flexible actuator. Using built-in
microprocessor technology and two channel OSSD solid-state
outputs, these switches operate using a logic-level signal input.
The RFID door target is uniquely coded and provides the
internal microprocessor with additional door position
information. This device can be used in a guard locking system
to achieve PLe, Cat 4 and SIL 3.
•
•
•
•
•
RFID unique (high) coded door target
Power-to-Release (safety of people) and Power-to-Lock
(protection of machine production) versions available
Solid-state OSSD outputs allow the switch to be connected
in series with other devices while maintaining safety ratings
Meets EN/ISO 14119:2013, EN/ISO 13849-1 and EN 62061
PLe, Cat 4 and SIL 3 for guard position and lock monitoring
440G-LZ Features
• TÜV certified to PLe, Cat 4 per EN/ISO 13849-1, SIL 3 per
EN 62061 and EN/ISO 14119:2013
• Uses up to 60% less power than competitive products
• RFID unique (high) or standard (low) coded actuators
provide application flexibility
• High holding force (Fzh) per EN/ISO 14119:2013
• Power-to-Release (safety of people) and Power-to-Lock
(protection of machine production) versions available
• IP69K washdown rating
• Compact 45 mm housing with four actuator positions
for flexibility of mounting
Safety relays and configurable safety relays
Variable speed and servo drives
5
SAFETY SWITCH SELECTION
1
Scan to learn more about
safety switches and interlocks
on ab.com
Trapped Key Systems
Is it a Sequential
Access Control
application?
Yes
No
2
Guard Locking Switches
Does the machine
have a long run
down time (high
inertia machine)?
Yes
No
3
Non-Contact Interlock Switches
Is it a washdown
environment?
Yes
Guard Locking Switches
Safety Limit Switches
Or
Or
No
Type of Guard
Recommended
Switch Type
6
Swinging
Sliding
Removable
Tongue
P
P
P*
P
P*
Guard Locking
P
P*
P*
P
P*
Non-Contact
P
P
P
P
P
Hinge
P
P*
P
* Depending on mounting
SAFETY SWITCHES AND INTERLOCKS
Tongue Operated Interlock Switches – 440K
Safety Limit Switches – 440P
Description
Description
• Provide electrical interlocking of a machine's
control circuit to the guard door
• Offering flexible keys for enhanced tolerance to
misalignment to meet a wide range
of applications
• Available in a variety of packages,
contact configurations and degrees
of holding force
• Easy to install and cost-effective
• Available in four different body styles with a broad
selection of operator types, circuit arrangements and
connection options
• 30 mm metal, 22 mm metal and plastic,
and 15 mm plastic body styles
• Wide range of actuator and contact
configurations for installation flexibility
• Positive opening-action contacts,
making them ideal for safety-related applications
Guard Locking Switches – 440G
Prosafe Interlocks – 440T
Description
Description
• Provide electrical interlocking of a machine's
control circuit to the guard door
• Ideal for applications that require a guard
door to remain closed and locked until
potential hazards have stopped or come to
a predetermined safe state
• Help reduce the risk that a guard opens during
hazardous machine motion
• Cost-effective solution for protecting machines
from interruptions in production
• Ideal for interlocking guard doors, cams and valves
• By using coded Prosafe keys, the system ensures the
interlocks cannot be operated or opened while the key
is being used in another part of the system
• Unlocking of the interlocks can be carried out
only when the correct coded key is inserted
Hinge Operated Interlock Switches – 440H
Prosafe Electrical Isolators – 440T
Description
Description
• Connect directly to a guard door hinge and
allow immediate opening of the guard
• Provide good clearance due to convenient,
unobtrusive mounting
• Well-suited for machines where product is
loaded through a hinged guard
• Ideal for machines with misaligned guards
or applications with contaminants that could
get caught in a key slot
• Designed to isolate the machine's power and ensure
the power remains off while the key is being used in
another part of the interlocking system
• Basic rotary switch isolators for immediate
power isolation
• Solenoid key release units
• Timed delay isolators offering a pre-determined
delay before the key can be removed
• Stopped motion units that don't allow the key to be
removed until all monitored hazardous motion has
come to a stop or a pre-determined safe state
Non-Contact Interlock Switches – 440N
Prosafe Key Exchange Units – 440T
Description
Description
• Require no physical contact with the actuator,
allowing immediate opening of the guard door
• No contact between sensor and actuator helps
reduce risk of debris contamination
• Large sensing field helps compensate for
door misalignment
• Types: RFID coded (standard & unique) and
magnetically coded
• Control units are required for some systems
• Simple setup and alignment, helping
to reduce installation costs
• Used in an interlocking sequence to link other devices
• Caters to complex operating sequences
• Primary keys remain trapped until all secondary keys
have been re-inserted, rotated, and trapped in the key
exchange unit
• Used to trap and release keys in a
pre-determined sequence
• Options for multiple keys to be entered or withdrawn
• Can be used as part of a lock-out process
• Solutions do not need power for interlocking
• Up to 25 key sequence
* For more detailed information, please visit www.ab.com/safety
7
SAFETY CONNECTION SYSTEMS
The Allen-Bradley Guardmaster safety connection systems are complete wiring
solutions dedicated to machine safety. These quick disconnect-based systems consist of:
• Safety wired t-ports
• Distribution boxes
•Patchcords
• Shorting plugs
Our safety connection systems are designed to reduce installation costs, ease system
expansion and simplify troubleshooting.
Rockwell Automation provides a full suite of electronic tools to help
build your safety system including:
- Safety Automation Builder
- Safety Functions
- SISTEMA
- Safety Accelerator Toolkit, and more
http://discover.rockwellautomation.com/SFTY_EN_tools.aspx
On-Line Product Directory
Our extensive product portfolio is designed to improve your processes through every stage of your
manufacturing cycle. http://www.rockwellautomation.com/products/
Product Selection Toolbox
Our powerful range of product selection and system configuration tools assist you in choosing and
applying our products. http://www.rockwellautomation.com/en/e-tools/
Our innovative safety products and solutions improve the functional operation of your machinery while helping to
increase personnel safety, efficiency and productivity. Our safety portfolio includes:
- Connection Devices
- Drives and motors
- Input/Output (I/O) Modules
- Motion Control / Motor Control
- Programmable Controllers
and Safety PLCs
- Push Buttons and Signaling Devices
- Relays and Timers
Rockwell Automation, Inc. (NYSE:ROK), the world's largest company dedicated to industrial automation, makes its
customers more productive and the world more sustainable. Throughout the world, our flagship Allen-Bradley® and
Rockwell Software® product brands are recognized for innovation and excellence.
Follow ROKAutomation on Facebook & Twitter.
Connect with us on LinkedIn.
For more information about our Safety Switches solutions, please visit:
http://ab.rockwellautomation.com/Sensors-Switches/Safety-Interlock-Switches
Allen-Bradley, Guardmaster, Integrated Architecture, Listen. Think. Solve., Product Selection Tools, Prosafe, ProposalWorks, Rockwell Automation, GuardLogix,
SmartGuard 600 and SensaGuard are trademarks of Rockwell Automation, Inc. Trademarks not belonging to Rockwell Automation are property of their
respective companies.
Publication GLSAFE-BR002A-EN-P – February 2014
Copyright © 2014 Rockwell Automation, Inc. All Rights Reserved. Printed in USA.