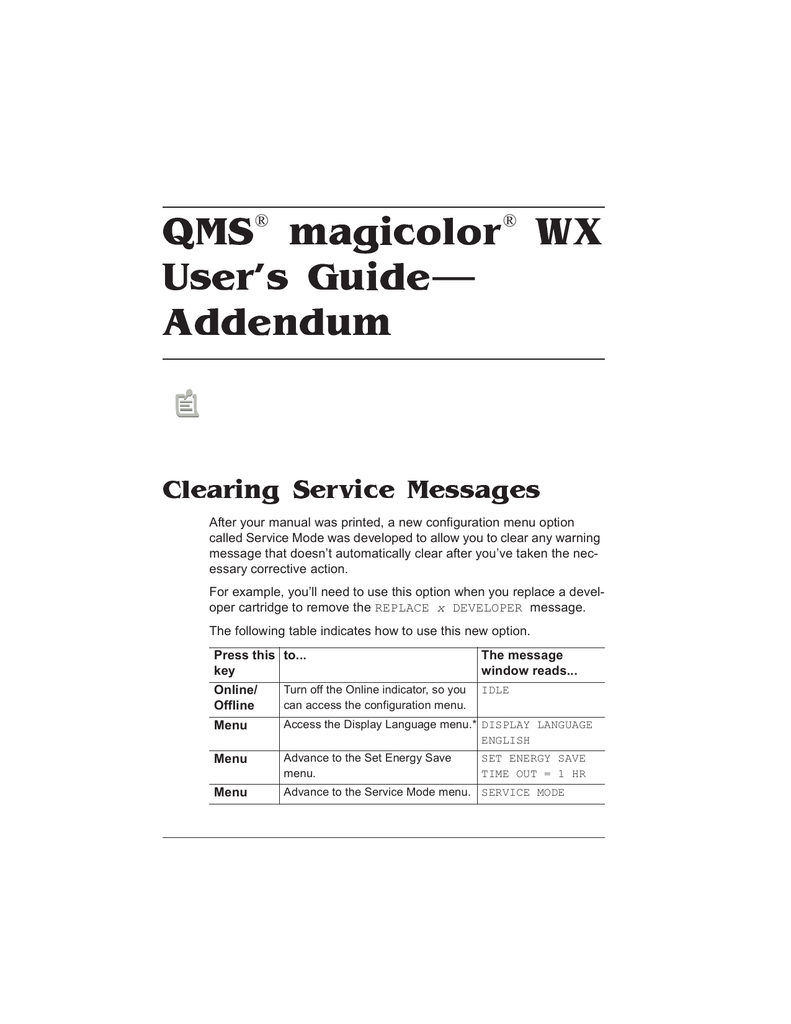 QMS
®
magicolor
User's Guide
®
WX
—
Addendum
Clearing Service Messages
After your manual was printed, a new configuration menu option
called Service Mode was developed to allow you to clear any warning
message that doesn't automatically clear after you've taken the necessary corrective action.
For example, you'll need to use this option when you replace a developer cartridge to remove the REPLACE x DEVELOPER message.
The following table indicates how to use this new option.
Press this to...
key
The message
window reads...
Online/
Offline
Turn off the Online indicator, so you
can access the configuration menu.
Menu
Access the Display Language menu.* DISPLAY LANGUAGE
ENGLISH
Menu
Advance to the Set Energy Save
menu.
Menu
Advance to the Service Mode menu. SERVICE MODE
IDLE
SET ENERGY SAVE
TIME OUT = 1 HR
Clearing Service
Messages
Press this to...
key
The message
window reads...
Select
SERVICE MODE
Select Service Mode to clear the
warning message and save all
configuration selections (including the
Tray Select key selection).
Online/
Offline
Exit from the menu and ready the
printer to accept new print jobs.
IDLE
*The first menu and option that display will be the last ones that were previously
accessed.
1800446-001A
QMS, magicolor, and the QMS logo are registered trademarks of QMS,
Inc.
Copyrighted © 1996 by QMS, Inc., One Magnum Pass, Mobile, AL 36618.

* Your assessment is very important for improving the work of artificial intelligence, which forms the content of this project