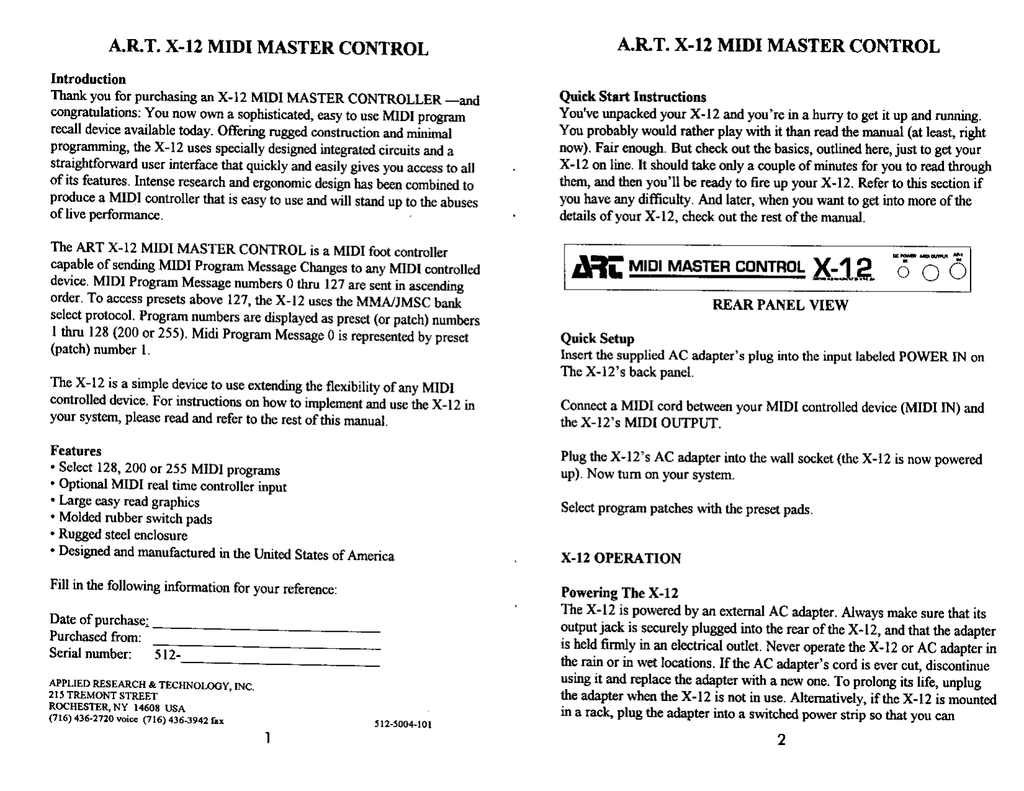 A.R.T. X-12 MIDI MASTER CONTROL
Introduction
Thank you for purchasing an X-12 MIDI MASTER CONTROLLER —and
congratulations: You now own a sophisticated, easy to use MIDI program
recall device available today. Offering rugged construction and minimal
programming, the X-12 uses specially designed integrated circuits and à
straightforward user interface that quickly and easily gives you access to all
of its features. Intense research and ergonomic design has been combined to
produce a MIDI controller that is easy to use and will stand up to the abuses
of live performance.
The ART X-12 MIDI MASTER CONTROL is a MIDI foot controller
capable of sending MIDI Program Message Changes to any MIDI controlled
device. MIDI Program Message numbers O thru 127 are sent in ascending
order. To access presets above 127, the X-12 uses the MMA/JMSC bank
select protocol. Program numbers are displayed as preset (or patch) numbers
1 thru 128 (200 or 255). Midi Program Message 0 is represented by preset
(patch) number 1.
The X-12 15 a simple device to use extending the flexibility of any MIDI
controlled device. For instructions on how to implement and use the X-12 in
your system, please read and refer to the rest of this manual.
Features
* Select 128, 200 or 255 MIDI programs
* Optional MIDI real time controller input
* Large easy read graphics
* Molded rubber switch pads
* Rugged steel enclosure
* Designed and manufactured in the United States of America
Fill in the following information for your reference:
Date of purchase;
Purchased from:
Serial number: — 512-
APPLIED RESEARCH £ TECHNOLOGY, INC.
215 TREMONT STREET
ROCHESTER, NY 14608 USA
(716) 436-2720 voice (716) 436-3942 fax 512-5004-101
A.R.T. X-12 MIDI MASTER CONTROL
Quick Start Instructions
You've unpacked your X-12 and youre in a hurry to get it up and running.
You probably would rather play with it than read the manual (at least, right
now). Fair enough. But check out the basics, outlined here, just to get your
X-12 on line. It should take only a couple of minutes for you to read through
them, and then you'll be ready to fire up your X-12. Refer to this section if
you have any difficulty. And later, when you want to get into more of the
details of your X-12, check out the rest of the manual.
Dx POWER: 0 (UTE ма
ДНИ MIDI MASTER CONTROL X-12 6 0 Ô
REAR PANEL VIEW
Quick Setup
Insert the supplied AC adapter's plug into the input labeled POWER IN on
The X-12's back panel.
Connect a MIDI cord between your MIDI controlled device (MIDI IN) and
the X-12°s MIDI OUTPUT.
Plug the X-12"s AC adapter into the wall socket (the X-12 is now powered
up). Now tum on your system.
Select program patches with the preset pads.
X-12 OPERATION
Powering The X-12
The X-12 is powered by an external AC adapter, Always make sure that its
output jack is securely plugged into the rear of the X-12, and that the adapter
is held firmly in an electrical outlet. Never operate the X-12 or AC adapter in
the rain or in wet locations. If the AC adapter's cord is ever cut, discontinue
using it and replace the adapter with a new one. To prolong its life, unplug
the adapter when the X-12 is not in use. Alternatively, if the X-12 is mounted
in a rack, plug the adapter into a switched power strip so that you can
2
A.R.T. X-12 MIDI MASTER CONTROL
conveniently turn it off with your other gear. Refer to the label on the adapter
for proper operating voltages.
When power is first applied to the X-12, it runs through an auto-test
sequence turning on everything that lights up for about a second. This allows
the user to be sure that all display elements are working and that displayed
information will be accurate.
MIDI MASTER CONTROL
' F v # » a
7 я я
F ix ix
Ш JF a
a a Ш
Ш ri a
BANK SELECT 1/8 2/7 3/8
FRONT PANEL VIEW
Seven Segment Display
The Seven Segment Display keeps you constantly informed of your Preset
Number or Operation Mode. When programming the X-12, all information is
shown using this display.
Pad LEDs
Each preset pad has an indicator LED to show which preset number is active.
When you select a preset, the associated LED will light.
Selecting a Preset With the Pedal
Pads on the pedal arc labeled Bank Select Arrow Up and Arrow Down, 1/6,
2/7, 3/8, 4/9 and 5/0. Pressing a numbered pad causes a MIDI program
change message to be sent. The selected preset number is displayed in the
window, and the foot pad's associated LED is lit to indicate the pad hit.
Pressing the UP or DOWN pads moves you into the next higher or lower
group of 5 presets. The display will show the lowest numbered preset
available in this bank and the foot pad LED's are extinguished to indicate that
the display has nothing to do with the last preset selected. The last preset
selected remains active when these pads are being engaged. Pressing and
3
A.R.T. X-12 MIDI MASTER CONTROL
holding the UP or DOWN pedals causes the display to automatically scan
banks until the foot pad is released. You can scroll through the last bank
allowing you to start at the beginning numbers.
Optional External Pedal
You may hook up an external pedal such as the A.R.T. Power Pedal to act as
an optional MIDI Controller Pedal. The AP-1 In Jack will accept information
from an analog pedal. The X-12 will convert the analog information into a
MIDI message for use in controlling MIDI assigned parameters in effects
devices, keyboards, preamps or any other MIDI controllable device. You may
use any analog pedal to access this function.
Use a standard guitar cable to connect the external pedal to the X-12. The
connection is made from the Output of the pedal to the AP-1 IN Jack of the
X-12. When first using the external pedal. it is necessary to calibrate the
pedal for optimum performance. See the section Pedal Calibrate and Check
Modes later in this manual for instructions to calibrate your pedal.
Factory Reset:
A factory reset will restore all programmable parameters to their initial
(factory) values.
To reset the unit, press the UP, 2, and 5 pads simultaneously.
Programmable Parameters which are reset by a factory reset are:
NOTE: default values are in parenthesis
* Midi Channel Number (channel 1)
* Bank Select protocol Mode (mode 0, Program change only )
* Midi Controller Number (MC4)
* Midi Inter message delay (0)
* Pedal Offset (0)
* Pedal Scale factor (na)
PROGRAMMING THE X-12
Chances are you won't ever reprogram your X-12! If you do need to change
something, refer to this section on how to do it. The chart silk screened on the
chassis of the X-12 next to the seven segment display shows you which pads
4
A.R.T. X-12 MIDI MASTER CONTROL
to press to get into the correct programming mode. When you enter one of
these programming modes, an edit indicator will light in the seven segment
display. One of these edit indicators will light when you are changing MIDI
Channel #, preset bank or MIDI Controller # When all three indicators are
lit, you are in pedal calibrate mode.
Whenever you reprogram the X-12, the new information is stored
automatically when you leave edit mode.
EDIT INDICATOR PAD
O00 e © (5) Press pads 1 and 5 to change the MIDI Channel #.
CHANNEL SELECT
о ео (1) (a) Press pads 1 and 4 to change the preset bank select.
BANK SELECT
® OO (1) (3) Press pads 1 and 3 to change the MIDI Controller 4
CONTROLLER SELECT
Press pads (Arrow) Down and 5 to calibrate an
® e à
| peo ALC » (9) external volume pedal.
Follow the directions in each of the following sections to reprogram your X-
12
Channel Select:
To set the channel to something other than 1: Press both 1 and 5 pad
simultaneously. In Channel Mode the Decimal point just to the left of the
ones digit ts illuminated; All the pad LEDs are illuminated as well during
any set-up mode. The display will read *1-1*6 (i.e. channel 1 is displayed as
"*1"). The * is the edit indicator. Up pad increases the channel number,
Down decreases it, any number pad returns to normal ("preset") mode and the
information is automatically saved.
A.R.T. X-12 MIDI MASTER CONTROL
Bank Select
Press both 1 and 4 pad
MODEPRESET RANGE
0 001-128 simultaneously. In Bank Select
1 001-200 Mode , the decimal point to the
2 001-255 upper left of the tens digit 15
illuminated. All the pad LEDs
are illuminated. Mode O sends
only the program change message, and so can only access 128 presets. Note
that in bank mode 0 the last bank of "switches" starts at 126. This means
that the two far right switches would (if they could) send preset change for
presets 129 and 130. This 1s impossible in this mode so the display shows
"E-P" (Error: Preset") for these two locations. In Bank Mode 1, the
maximum recallable preset is 200, and in bank mode 2, 255. In both these
modes, there are no "erroneous" presets.
The bank select protocol when enabled 1s always used in its entirety. That is,
we don't rely on "running status." When the mode is changed from a mode
which had enable bank select protocol to the one that doesn't, a bank select
protocol message 15 sent to return all those units that might be listening to
"bank 0" (presets 1-128).
MODE 1; Use for non-A R.T. manufactured products and A.R.T.
products not listed below.
MODE 2; Use with A RT. SGX 2000 EXPRESS, SGX NIGHTBASS
STUDIO EDITION, ALPHA 2.0 STUDIO EDITION, and DR-X 2100
STUDIO EDITION.
MODE 3; Use with A RT. FXR SERIES signal processors.
Controller Select:
Press both 1 and 3 pad simultaneously. In controller number set-up mode,
the decimal to the upper left of the hundreds digit is illuminated. All the pad
LEDs are lit. Controller numbers range from 0 to 121. Factory default
controller number is #4.
A.R.T. X-12 MIDI MASTER CONTROL
Pedal Calibrate and Check Modes:
Whenever you hook up a volume pedal such as the A.R.T. AP-1 Power
Pedal, it is a good idea to run it through pedal calibrate mode. Doing this will
ensure your external pedal information is interpreted correctly by the X-12.
NOTE: The X-12 is designed to work best with a volume pedal with a 100K
Anti log taper pot as its volume control. Other values and expression pedals
may work, but the 'feel' will be more sensitive.
Press both Down and 5 pad simultaneously. The display shows the digitized
pedal value. All display decimal points are lit as are the pad leds in both the
set-up and check modes. Run the pedal through the full normal range of
operation. Press any number pad. Now you are in Check mode, the display
Jumps to the MIDI value scaled from the converted number range. In this
mode the display should run from 0 (maybe 1) to 127. These are the
numbers that would be sent as controller values in preset mode. No
controller messages arc sent in any mode other than preset mode. Touch a
second number pad to return to preset mode and save the newly measured
pedal parameters.
Midi Delay Select
Press both Down and 4 pad simultaneously. Display changes to "d##" where
## 1s the number required to elapse between controller messages. No Edit
Indicators are lit; but all the pad LEDs are lit. The default value is 0; the max
value is 15.
The MIDI Delay sets a delay time between controller messages so the MIDI
system doesn't overload. Unless a device in your system reports a MIDI
overflow, leave this set at 0. Increments are 4ms with a maximum MIDI
message delay of 60ms.
A.R.T. X-12 MIDI MASTER CONTROL
TROUBLESHOOTING
If you have difficulty with your MIDI Pedal, you can check the following;
I. Make sure that the power supply is working, correctly. (Use it with
something else, like a cassette player or measure its voltage)
2. Make sure that the connection between the eliminator and the
pedal is snug,
3. Make sure that the MIDI connections between the devices pedal is snug,
If you see EP in the display, contact the factory. The pedal may still work,
even if the EP is displayed at power-up, but don't be surprised 1f some feature
of the pedal does not work. If ever EP is displayed by your unit, please
contact the factory.
Display Definitions
1: An O1 in the display window after power has been applied indicates that
the unit has tested itself, found everything to be O.K., and is ready to go to
work.
EC: An EC (Error Checksum) in the display window indicates that the unit
has tested itself, found something incongruous to proper operating conditions,
and should be returned for service.
EP: When operating in the 128 preset mode, in the last bank of presets there
are only 3 valid preset switches: 126, 127. and 128. If the rightmost two
switches are depressed in this bank, no MIDI message 1s sent and EP (Error
Preset) appears in the display to indicate that no preset is associated with this
pad in this bank.