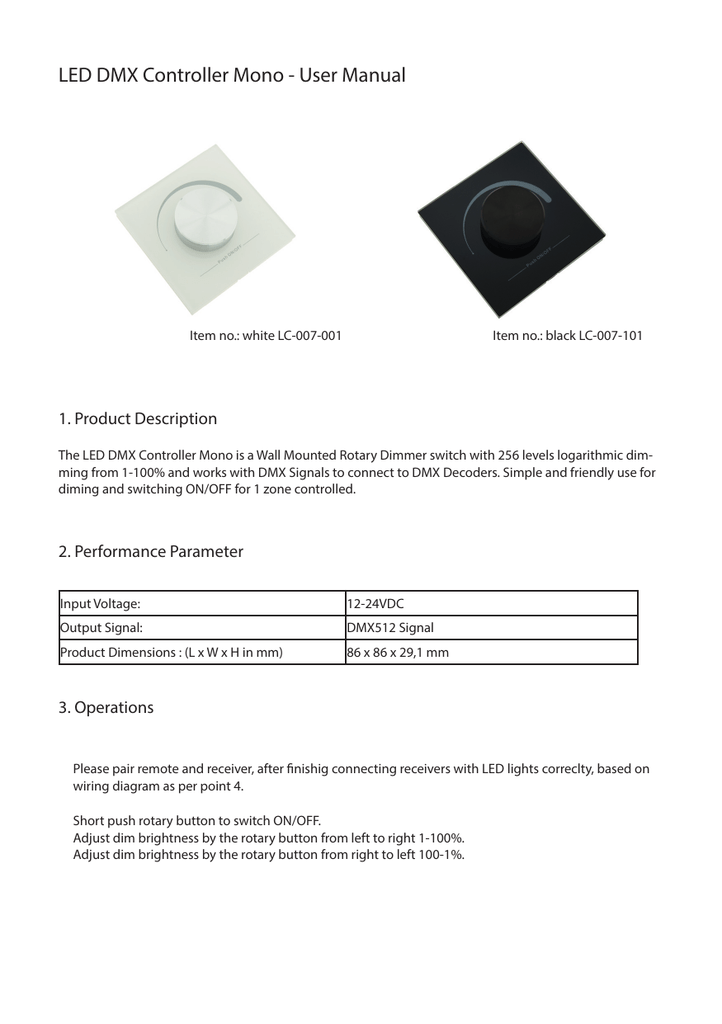 LED DMX Controller Mono - User Manual
Item no.: white LC-007-001
Item no.: black LC-007-101
1. Product Description
The LED DMX Controller Mono is a Wall Mounted Rotary Dimmer switch with 256 levels logarithmic dimming from 1-100% and works with DMX Signals to connect to DMX Decoders. Simple and friendly use for
diming and switching ON/OFF for 1 zone controlled.
2. Performance Parameter
Input Voltage:
12-24VDC
Output Signal:
DMX512 Signal
Product Dimensions : (L x W x H in mm)
86 x 86 x 29,1 mm
3. Operations
Please pair remote and receiver, after finishig connecting receivers with LED lights correclty, based on wiring diagram as per point 4.
Short push rotary button to switch ON/OFF.
Adjust dim brightness by the rotary button from left to right 1-100%.
Adjust dim brightness by the rotary button from right to left 100-1%.
4. Wiring Diagram
5. Installation
6. Safety Warnings
6.1. To avoid installed the product in minefield, strong magnetic field and high voltage area.
6.2. To ensure the wiring is correct and firm avoiding short circuit damages to components and
cause fire.
6.3. Please install the product in a well ventilated area to ensure appropriate temperature
environment.
6.4. The product must be worked with DC constant voltage power supply.
Please check the consistence of input power with the product, if the output voltage of the
power comply with that of the product.
6.5. Connect the wire with the power on is forbidden. Ensure proper wiring first then check to
ensure no short-circuit, then power on.
6.6. Don't repair it by yourself whenever an error occur. Contact the supplier for any inquiry.

* Your assessment is very important for improving the work of artificial intelligence, which forms the content of this project