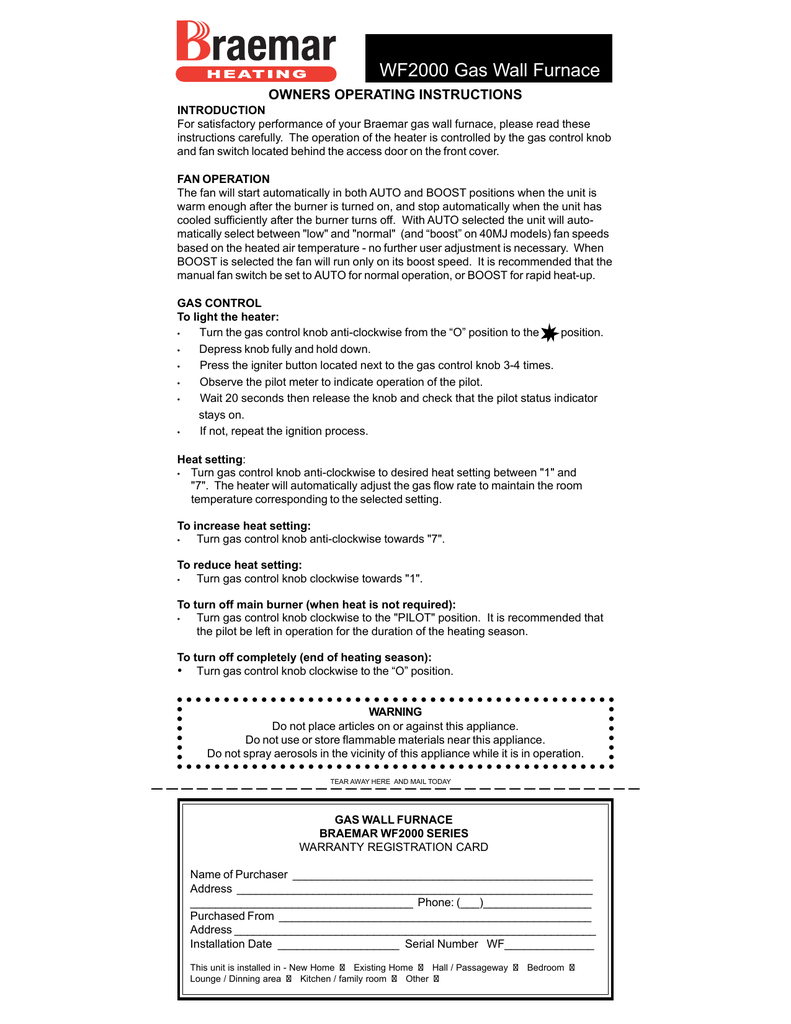 WF2000 Gas Wall Furnace
OWNERS OPERATING INSTRUCTIONS
INTRODUCTION
For satisfactory performance of your Braemar gas wall furnace, please read these
instructions carefully. The operation of the heater is controlled by the gas control knob
and fan switch located behind the access door on the front cover.
FAN OPERATION
The fan will start automatically in both AUTO and BOOST positions when the unit is
warm enough after the burner is turned on, and stop automatically when the unit has
cooled sufficiently after the burner turns off. With AUTO selected the unit will automatically select between "low" and "normal" (and "boost" on 40MJ models) fan speeds
based on the heated air temperature - no further user adjustment is necessary. When
BOOST is selected the fan will run only on its boost speed. It is recommended that the
manual fan switch be set to AUTO for normal operation, or BOOST for rapid heat-up.
GAS CONTROL
To light the heater:
•
Turn the gas control knob anti-clockwise from the "O" position to the
position.
•
Depress knob fully and hold down.
•
Press the igniter button located next to the gas control knob 3-4 times.
•
Observe the pilot meter to indicate operation of the pilot.
•
Wait 20 seconds then release the knob and check that the pilot status indicator
stays on.
•
If not, repeat the ignition process.
Heat setting:
• Turn gas control knob anti-clockwise to desired heat setting between "1" and
"7". The heater will automatically adjust the gas flow rate to maintain the room
temperature corresponding to the selected setting.
To increase heat setting:
Turn gas control knob anti-clockwise towards "7".
•
To reduce heat setting:
•
Turn gas control knob clockwise towards "1".
To turn off main burner (when heat is not required):
•
Turn gas control knob clockwise to the "PILOT" position. It is recommended that
the pilot be left in operation for the duration of the heating season.
To turn off completely (end of heating season):
• Turn gas control knob clockwise to the "O" position.
WARNING
Do not place articles on or against this appliance.
Do not use or store flammable materials near this appliance.
Do not spray aerosols in the vicinity of this appliance while it is in operation.
TEAR AWAY HERE AND MAIL TODAY
GAS WALL FURNACE
BRAEMAR WF2000 SERIES
WARRANTY REGISTRATION CARD
Name of Purchaser _______________________________________________
Address ________________________________________________________
___________________________________ Phone: (___)_________________
Purchased From _________________________________________________
Address _________________________________________________________
Installation Date ___________________ Serial Number WF______________
This unit is installed in - New Home
Existing Home
Hall / Passageway
Lounge / Dinning area
Kitchen / family room
Other
Bedroom
CARE INSTRUCTIONS
External surfaces should be cleaned with warm water and detergent with the heater turned
off. Do not use abrasive cleaners, as scratching of the surface will occur.
RECOMMENDED MAINTENANCE SCHEDULE
Periodic maintenance of your Braemar wall furnace will ensure a long and satisfactory service
life with the heater delivering optimum performance. It is recommended that you contact your
authorised Braemar service agent to arrange a routine maintenance check before the start of
each heating season.
Service and maintenance work must only be carried out by Authorised personnel
WARRANTY
The manufacturer, Seeley International Pty. Ltd.
(Seeley), warrants that the product is free from
defects in the material and factory workmanship. Subject to these terms of warranty, Seeley will repair or replace at its option, the product or any part thereof, which examination
shows to be defective, for a period of two (2)
years from the date of purchase when the unit
is used for personal, domestic household
purposes, and for one (1) year for nondomestic heating applications.
A ten (10) year warranty applies for the heat
exchanger and main burner.
This warranty applies to all components which
form part of the original Braemar Gas Wall Furnace, but excludes other related installation
components.
During the period to which any expressed warranty applies, all defective part(s) shall be replaced or repaired (at the discretion of Seeley)
without charge for either parts or labour, during normal working hours. Travel charges apply for units located more than 35 kms from an
authorised Braemar Service Agent.
No other person, company or corporation is
authorised to offer, or give on our behalf, any
other warranty. Nothing in this warranty shall
be construed as affecting any rights you may
have under all the relevant laws, or Commonwealth or state Legislation which give you rights
which cannot be modified or excluded by agreement. The benefits conferred are in favour of
the original Retail Purchaser and any person
deriving title to the Braemar Gas Wall Furnace
whilst in its original place of installation.
This warranty does not apply to any consequential loss suffered through, or resulting
from, the non-operation, or ineffective operation of the gas heater.
This warranty does not cover damage to the
gas Wall Furnace or other loss from acts of God.
This warranty is conditional on the unit being
installed, operated and maintained in accordance with the instructions provided. The warranty does not apply to damage or adjustment
due to misuse of the unit or faulty installation
or commissioning, or where non-Braemar components have been used.
Note: The Manufacturer and its Agents reserve
the right to refuse service unless safety and
accessibility to the unit can be guaranteed.
The cost of any extra equipment required to
provide access to the unit for servicing is the
responsibility of the owner. If a service call reveals no fault found with the gas Wall Furnace,
a charge will be made for the call.
A.C.N. 054 687 035
77 North Street
Albury NSW 2640
Service & Warranty: 1300 650 644
TEAR AWAY HERE AND MAIL TODAY
No postage stamp required
if posted in Australia
Business Reply Post No. 10
Seeley International Pty. Ltd.
P.O. Box 140
Melrose Park
South Australia 5039
612195 /c
Manufactured by:
Seeley International Pty. Ltd.

* Your assessment is very important for improving the work of artificial intelligence, which forms the content of this project