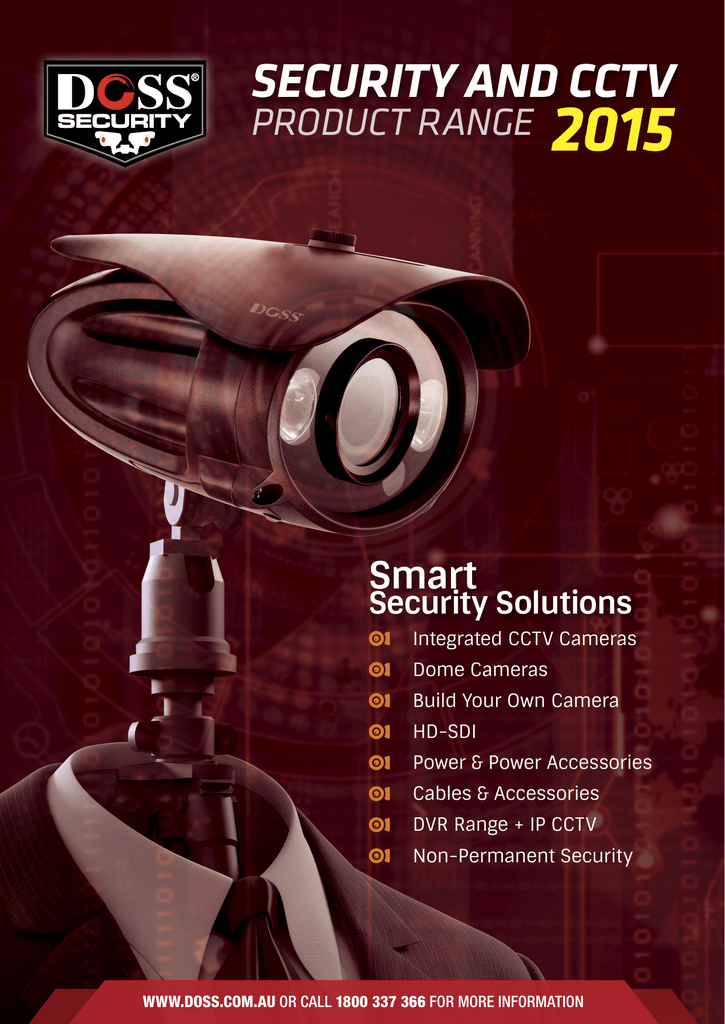 SECURITY AND CCTV
PRODUCT RANGE
2015
Smart
Security Solutions
Integrated CCTV Cameras
Dome Cameras
Build Your Own Camera
HD-SDI
Power & Power Accessories
Cables & Accessories
DVR Range + IP CCTV
Non-Permanent Security
WWW.DOSS.COM.AU OR CALL 1800 337 366 FOR MORE INFORMATION
Welcome
SCAN NOW
http://goo.gl/36EdkH
Be in the know!
Watch informative videos and
get the low down on Doss
Security products.
DOSS SECURITY AND CCTV
CONTENTS
Integrated CCTV Cameras
[Pg. 5]
Full range of Bullet cameras that provide longer range compared to
Dome cameras.
Dome Cameras
[Pg. 7]
Compared to Bullet cameras, Dome cameras provide added benefits
such as easy ceiling mount and vandal proof options in a low profile
design.
Build Your Own Camera
[Pg. 8]
Choose the body, choose the lens, housing and bracket and you are
good to go. We show you all the parts you need.
HD-SDI[Pg. 10]
High Definition Serial Digital Interface is ideal for upgrading existing
analogue CCTV systems to Digital Full HD CCTV.
2
2015
EDITION
Power & Power Accessories
[Pg. 12]
Power is important. Have a look at voltage converters, power supplies,
splitters, DC plugs, sockets and more.
Cables & Accessories
[Pg. 16]
Any type and length of cable for any job. Find a massive range of video
baluns as well as BNC accessories here.
DVR and IP CCTV Range
[Pg. 18]
See our traditional coaxial Digital Video Recorders or our new IP based
NVR and HD IP cameras that easily plug in via your existing network.
Non-Permanent Security
[Pg. 20]
Video intercoms, vehicle cameras, pinhole cameras, door sensors and
more, including a complete wireless security solution for renters!
2014 DOSS SECURITY & CCTV | www.doss.com.au
3
CCTV Camera Factory Quality Control
Here at Doss, we strive to provide our
customers the best quality products at
reasonable prices. As such, our factories
adopt manufacturing techniques and
strategies that ensure our products meet
the highest standards. An inspection to
our camera factory showed us just what
lengths they go to, to ensure a reliable
product.
Once assembled, every camera is tested
to ensure they operate over their specified
minimum and maximum temperature
range in a large oven-like machine, and
aged for a full 7 days straight before the
rest of the testing.
First their infrared capabilities are tested
to ensure a quality image in 0 Lux (ie
using only the cameras' built-in IR LED
Unlike some factories, all PCBs are
lighting). Next the focus is checked
produced and assembled in-house and
using charts. The cameras are then
tested thoroughly before assembly. Any
subjected to impact shock and vibrations
defective circuit boards are able to be
and rechecked to make sure camera
diagnosed at chip level and, if possible are construction is solid. The cameras are
repaired.
then put through their paces in a number
of lighting conditions and scenarios, and
only those that meet the high standard
make it through.
As if that wasn't enough, after all testing
is completed, 30% of all cameras in
storage awaiting shipping are picked at
random, and retested using this method.
So you can be confident when you buy a
Doss CCTV camera, you are receiving a
quality camera!
1 Faulty component identified on PCB
to be repaired or replaced.
2 Device used to test products'
temperature ranges – like a
combination fridge-oven!
3 PTZ controls and Dome cameras half
TEMPERATURE
AGEING
INFRARED
FOCUS
way through their 7-day ageing stage.
4 Factory worker testing camera in
completely dark environment. His hand
is behind a curtain holding the camera.
5 Staff select at random 30% of all
completed stock and unpacks them for
repeat testing.
SHOCK
VIBRATION
COLOUR &
LIGHTING
Factory tour
1
2
4
4
3
5
30% ALL
STOCK
Integrated CCTV Cameras
Sensor
IN15ECO
IN15
IN30
IN30PRO
IN50
IN50PRO
IN100
IN120
43150004
43150008
43150012
43150013
43150016
43150017
43150030
43150032
1/3" Sony Super
HAD II CCD
1/3" Sony EXview
HAD II CCD
1/3" Sony Super
HAD II CCD
1/3" Sony EXview 1/3" Sony EXview
HAD II CCD
HAD II CCD
1/3" Sony Super 1/3" SONY EXview 1/4" Sony Super
HAD II CCD
HAD II CCD
HAD CCD
DSP NEXTCHIP 2030
Resolution
700 TVL
700 TVL
700 TVL
700 TVL
700 TVL
700 TVL
560 TVL
(680 B&W)
4.9mm x 3.7mm
4.9mm x 3.7mm
4.9mm x 3.7mm
4.9mm x 3.7mm
4.9mm x 3.7mm
4.9mm x 3.7mm
2.7mm x 3.6mm
24 x Ø5mm
24 x Ø5mm
36 x Ø5mm
36 x Ø5mm
48 x Ø5mm
48 x Ø5mm
48 x Ø5mm
+ 2 Hi-Lux IR spots
48 x Ø5mm
10 - 15m
10 - 15m
20 - 30m
20 - 30m
40 - 50m
40 - 50m
80 - 100m
80 - 120m
3.6mm M12
3.6mm M12
6mm M12
4 - 9mm Manual
4 - 9mm Manual
4 - 9mm Manual
3.6 - 16mm
3.3 - 99mm
IP66
IP66
IP66
IP66
IP66
IP66
IP66
IP66
> 48 dB
> 48 dB
> 48 dB
> 48 dB
> 48 dB
> 50 dB
50 dB AGC Off
> 52 dB
600 TVL
Sensor Size 2.7mm x 3.6mm
IR LEDs
IR Distance
Lens
IP Rating
Signal to Noise Ratio
Effective Pixels
Power (Max)
Samsung DSP
NTSC: 510 x 492 NTSC: 976 x 494 NTSC: 976 x 494 NTSC: 976 x 494 NTSC: 976 x 494 NTSC: 976 x 494 NTSC: 976 x 494 NTSC: 752 x 582
PAL: 500 x 582 PAL: 976 x 582 PAL: 976 x 582 PAL: 976 x 582 PAL: 976 x 582 PAL: 976 x 582 PAL: 976 x 582 PAL: 768 x 582
12 V DC
400 mA (IR)
12 V DC
400 mA (IR)
12 V DC
450 mA (IR)
12 V DC
450 mA (IR)
12 V DC
600 mA (IR)
12 V DC
600 mA (IR)
12 V DC
1000 mA (IR)
12 V DC
1000 mA (IR)
White Balance
Auto
Auto
Auto
Auto
Auto (ATW,
Manual, User1,
Auto (ATW, AWB, Manual, User1,
Auto (ATW, AWC,
User2, Push Lock,
Fixed, Manual) User2, Push Lock,
Manual)
CRR, ATW
CRR)
Auto Gain Control
Auto
Auto
Auto
Auto
On / Off (0 ~ 255)
On / Off
Auto / Manual
On / Off (0 ~ 128)
-
-
-
-
Electronic Shutter
Auto
1/50 ~ 1/100K
sec.
Auto
1/50 ~ 1/100K
sec.
Auto
1/50 ~ 1/100K
sec.
Auto
1/50 ~ 1/100K
sec.
FLK / Manual /
Fixed
1/50 ~ 1/100K
sec.
Auto / Manual
1/50 ~ 1/100K
sec.
Auto / Manual
1/60 ~ 1/100K
sec.
Auto / Manual
1/50 ~ 1/120K
sec.
Privacy Function
-
-
-
-
4 zones
4 zones
4 zones
32 zones
Motion Detection
-
-
-
-
64 zones
4 zones
4 zones
4 zones
BLC (Back Light
Compensation)
-
-
-
-
On / Off
(64 zones)
HLC / BLC / OFF
HLC / BLC / OFF SSDR / BLC / OFF
Other features
-
-
-
-
2D-NR,
Flickerless mode,
Mirror function,
ATR on/off
2D-NR,
Mirror function,
ATR
OSD
Flickerless mode,
Mirror function
RS-485
communication
port
IR Distance
2015 DOSS SECURITY & CCTV | www.doss.com.au
5
Cooking With Doss Security
Think that Doss CCTV products
are only for security purposes?
Think again! One of our customers thought outside the
CCTV box to put together a dynamic classroom that
allows better interaction with students, providing a new
perspective on cooking demonstrations.
Traditionally cooking class demonstrations were
performed using an over-bench mirror, by which students
Ingredients:
3. The RPDVR4CH DVR receives all four video signals
and is able to output them all simultaneously via the
4x IN30PRO 700TVL Security Cameras
projector onto the screen.
1x RPDVR4CH with 1TB HDD
4x CEL15M Camera Extension Leads
While this could have been achieved with a simple
1x PW8204 2.1mm to 4X 2.1mm Plugs Adapter
4-input video multiplexer, the use of the DVR allows
1x SM1250 Switchmode Power Supply 12VDC/5Amp
the lecturer to manually configure the camera views on
1x Epson EB925 Projector
the screen via a laptop, or even an iPhone or Tablet.
1x 100" Projector Screen
This means when greater clarity is required, the
corresponding camera source can be made fullscreen
were able to see what was happening on the bench top
Method:
from above.
1. Three of the high resolution (700TVL) IN30PRO
automatic using built-in motion detection to change the
cameras were installed above the workbench, focused
video output so no hands are required at all!
Today with emerging remote learning, the classroom has
to keep up to provide students who cannot always travel
to see live demonstrations with the same feature rich
experience as being there physically.
at a touch. Alternatively, video switching can be made
on three commonly used workspaces allowing the
The DVR also allows remote viewing via the internet,
traditional overhead view. This resulted in a much clearer
allowing students to watch live video from their own
view of techniques and preparation of ingredients than a
home or any other location with internet access.
mirror alone could afford.
Audio can also be recorded via the DVR's audio input. A
2. The fourth camera was situated slightly behind
simple lapel mic or area mic can be connected so audio
lecturer, so that technique could be easily demonstrated
can be recorded along with video eliminating the need for
from the point-of-view of the lecturer. Something that
post-processing audio synchronisation.
would not be possible with mirrors.
Before installation: Basic mirror not only limited in
view–also warped, affected by steam & viewing angle.
Four camera views available at once so students can
see everything as it happens.
Full screen view of stove-top. Students can clearly
view cooking process.
Camera Accessories
DOME30 WALL
BRACKET
|
DOME30 CEILING
BRACKET
J41 43150931
|
■■
■■
■■
|
High sensitive microphone (-65dB) ■ Inline design
■■ 2.1mm Socket/BNC Socket/RCA Socket
to 2.1mm Plug/BNC Plug ■ DC12V power operation
6
■■
■■
Access holes for conduit
Suitable for IN15-IN100
|
|
■■
Mount the MINIPTZ from
the corners of internal and
external walls!
RS232 TO RS485 CONVERTER
|
AA002 43158025
RS001 30578005
■■
■■
High sensitive microphone (-65dB)
■■ 45cm Power & audio cable ■ DC12V power operation
MINI SPEED DOME
CORNER BRACKET
J29 43150928
|
CMB07 43150933
AUDIO PICK UP MICROPHONE
AA001 43158020
■■
Length: 6cm
■■ Multiple extensions can be
fit together for more length
Modify the viewing height
of your DOME30
INLINE PICK UP MICROPHONE
CAMERA
MOUNTING BOX
IN50CEB 43150929
|
J38 43150930
Allows you to mount the
DOME30 to a wall
IN50 BRACKET
EXTENSION
Does not need power supply ■ Supports hot switching
■■ Enables control of PTZ cameras from RS232 devices (eg: PC)
Dome Cameras
MINIDOME
WIDEDOME
43150086
43150087
43150082
STEALTHDOME
43150084
Sensor
700 TVL
OSD
-
-
Lens
3.6mm
Lens origin
IR Distance
Horizontal view
Privacy zones
700 TVL
700 TVL
700 TVL
2.8mm
4-9mm
3.6mm
-
4-9mm
4-9mm
China
China
Korea
China
-
Korea
Korea
10-15m
5-10m
-
-
-
20-30m
20-30m
24 x Ø5mm
6 x Ø5mm
-
-
-
36 x Ø5mm
36 x Ø5mm
90°
150°
98-38°
90°
-
98-38°
98-38°
4
8
4
8
-
4
8
-
Vandal-proof,
IP65
Lightning proof,
IP65, bracket
adjustable
Yes (64 zones)
|
Neatly and stylishly mount
the MINIPTZ to any wall
-
-
|
Vandal-proof, 3-axis
bracket adjustable,
IP65, Flickerless
mode, Mirror mode
MINI SPEED DOME
CEILING MOUNT
|
Vandal-proof,
3-axis bracket
adjustable, IP65
DOME30 MOUNTING
BRACKET
|
FHDDOME FLUSH
MOUNT BRACKET
|
FHDDOME
MOUNTING BOX
|
J22 43150927
P06G 43156105
J57 43156110
P10 43156115
■■
■■
Also in White
■■ Neatly mount the DOME30
to any solid wall or ceiling
■■
■■
Mount the MINIPTZ from
the ceiling; ideal for shops
with high ceilings
PTZ KEYBOARD CONTROLLER
KT301 43150160
43150090
43150091
600 TVL
Backlight
compensation
J21 43150926
DOME30PRO
43150088
43150089
700 TVL
Yes (4 zones)
MINI SPEED DOME
WALL MOUNT
DOME30
43150070
NEXTCHIP 2030
Motion detection
Other features
■■
NEXTCHIP 2040
700 TVL
LEDs
DOME15PRO
43150080
1/3" Sony Super HAD CCD II
DSP
Resolution
DOME15ECO
FHDDOME WALL MOUNT BRACKET
|
J11 43156100
Mount the FHDDOME and
DOME15PRO cameras
flush to any ceiling
Mount the FHDDOME and
DOME15PRO cameras to
any solid wall or ceiling
MINI SPEED DOME CAMERA PTZ
|
MINIPTZ 43150130
■■
High Resolution: 540TVL with colour mode
■■ RS485 control bus: multiple protocols supported
■■ Perfect for fixing DOSS Dome Cameras to a wall or poles ■■ IP66 waterproof ■ 1/4" Super HAD Sensor
■■ Up to 256 Cameras/devices ■ Left/Right, Up/Down, Zoom ■■ IP66 waterproof ■ Also suitable for DOME15PRO
■■ 10x optical zoom lens ■ Comes with J21 wall bracket
2015 DOSS SECURITY & CCTV | www.doss.com.au
7
Build Your Own Camera
1
2
4
WIDE DYNAMIC RANGE CCD
|
WDRBODY 43150028
■■ 1/3" SONY Super HAD CCD ■ 550TVL Resolution
■■ Motion detection & privacy zone ■ OSD Menu
■■ Dimensions: 130 x 65 x 60mm (LWH)
|
CBP001 43156005
■ Ball and socket joint – mount camera in any position!
CAMERA HOUSING BRACKET
|
DCMB10 43157991
■ Constructed of cast metal
■■ Suitable for large camera housings
3.5MM-8MM VARI-FOCAL
|
SSVO358G 43150855
■■ C or CS mount ■ Auto-Iris Lens ■ Length: 48mm
■■ Wide range zoom ■ Aperture: f/1.4
ALUMINIUM CAMERA BRACKET
|
CBA005 43156060
■■ Made from durable aluminium
■■ Suitable for large camera housings
6MM-15MM VARI-FOCAL
|
5
SSVO615G 43150860
■■ C or CS mount ■ Auto-Iris Lens ■ Length: 61mm
■■ Mid-range zoom ■ Aperture: f/1.4
6MM-60MM VARI-FOCAL
|
3
CAMERA BRACKET MAX 3KG
SSVO660G 43150854
■ C or CS mount ■ Auto-Iris Lens
■ Aperture: f/1.6 ■ Designed in Japan
■■ Telephoto range zoom ■ Length: 70mm
ALUMINIUM CAMERA HOUSING
|
AH24 43150942
■■ Slide off top ■ Built-in blower (On: >40°C Off: <30°C)
■■ Max camera: 215x105x80mm (LxWxH)
■■ 3mm glass window
ASSEMBLE!
Tips for building your own camera:
ALUMINIUM CAMERA HOUSING
■■
Make sure your camera + lens fits the housing:
This also includes any plugs, adapters and leads that
may be required, so take them into account when
measuring up
■■ Consider the detail that you require to be recorded
and choose a lens that will give you the zoom/view you
require to obtain that detail.
■■ Camera housings generally do not come with
mounting brackets to allow customers to decide on a
mounting solution suitable for their own situation
|
OH335 43150940
■■ Slide off top ■ 3mm thick glass window
■■ Max camera: 270x85x70mm (LxWxH)
■■ Cable glands seal out moisture
ALUMINIUM CAMERA HOUSING
|
AH20 43150938
■■ Slide off top ■ 3mm thick glass window
■■ Max camera: 140x85x70mm (LxWxH)
■■ Cable glands seal out moisture
How To Choose A Lens
Lens zoom or area of view is dependent on several factors – these include the camera's
sensor size (eg 1/4" or 1/3"), and the focal length of the lens. This means when choosing
a lens, you must first choose a camera.
The following table can be
used as an estimate for
working out:–
The angle of view,
■■
the horizontal width of
view and,
■■
the distance of view.
TOP
of view
Distance
*Width of view is based on a camera distance of 10m from target area
†
Distance based on a camera width of view of 5m
8
Width
■■
Angle
FOCAL
LENGTH
Deg
1/4" SENSOR
Width*
Dist †
Deg
1/3" SENSOR
Width*
2.0mm
84.0°
2.8mm
65.5°
18.0m
2.8m
100.4°
24.0m
2.1m
12.9m
3.9m
81.2°
17.1m
2.9m
3.5mm
54.4°
6.0mm
33.4°
10.3m
4.9m
68.9°
13.7m
3.6m
6.0m
8.3m
43.6°
8.0m
6.3m
Dist †
8.0mm
25.4°
4.5m
11.1m
33.4°
6.0m
8.3m
15.0mm
13.7°
2.4m
20.8m
18.2°
3.2m
15.6m
20.0mm
10.3°
1.8m
27.8m
13.7°
2.4m
20.8m
25.0mm
8.2°
1.4m
34.7m
11.0°
1.9m
26.0m
40.0mm
5.2°
0.9m
55.6m
6.9°
1.2m
41.7m
50.0mm
4.1°
0.7m
69.4m
5.5°
1.0m
52.1m
60.0mm
3.4°
0.6m
83.3m
4.6°
0.8m
62.5m
Sony CCD Camera Sensors
Security cameras are used 24 hours a day, 365 days a
Sony reanalysed the conventional CCD sensor structure
year in a wide range of environments. The performance
and, building on technologies from their Super HAD CCD II
and reliability of these cameras has come to be seen
range, developed the EXview HAD CCD II.
as extremely important, especially the light resistance
Sony's EXview HAD CCD II incorporates sensitivity
characteristics, which allow their use in environments in
enhancements developed to improve light sensitivity of its
which the cameras are subject to long periods of intensely
CCD by a factor of two for visible light and a factor of four
bright ambient light.
for near-infrared wavelengths.
Constantly striving for high sensitivity and even lower
Smearing is a problem for night imaging, and actually
noise is important in the security camera field, so Sony
occurs in the CCD structure itself. If a light source is
has employed new technologies in the forming and design
HAD CCD II range.
The Sony Super HAD CCD II has implemented improved
Infrared range
Other conventional CCD Micro-lens array (left) vs.
Sony's HAD II CCD Micro-lens array (right): Height and
form has been optimised for ability to gather light, resulting
in greater sensitivity and performance.
Realative sensitivity
of their CCDs to improve the structure of their new Super
colour filters that remain strongly resistant to fading and,
with new colour pigments, achieves increased colour
300
400
500
600
700
800
900
1000
1100
1200
Wavelength (nm)
sensitivities, especially in the blue range.
Other conventional CCDs (grey) vs. Sony's EXview
HAD II CCDs (red): Relative sensitivity over visible to
IR wavelengths
Not only has the photosensor area been increased, making
highly efficient opto-electronic conversion possible, but
bright enough, it can leak through the photo-sensor and
the percentage of light focused on the individual photo-diodes
penetrate the electrical layer of the CCD, introducing
(light sensors) has been increased significantly by making
unwanted light signals. As such, CCD design and materials
the sensor apertures larger, and by improving the form
play a heavy role in reducing image smear – something
and height of the micro-lenses. This allows significant
Sony considered when developing the EXview HAD CCD II
increases in sensitivity and improves colour balance,
and produced a CCD with a 20dB reduction in smear.
while also gaining improvements in colour noise and colour
These technologies produced a sensor that is capable of
saturation signals.
All these improvements means Sony's Super HAD CCD II
technology delivers superb images in a much wider range of
lighting environments that CCDs were previously capable of.
Other conventional CCD (left) vs. Sony's EXview HAD II
CCD (right): Sensitivity in the IR range has been increased
and smearing has been reduced resulting in better low
light image capture.
completely covert surveillance, with superbly clear, low
noise, and high brightness images. This allows cameras
with EXview to literally see in the dark and still acquire
incredible detail.
CCTV Monitors and Testers
3.5" PALM/WRIST CCTV LCD
MONITOR/TESTER
2.8" PTZ CCTV SECURITY TESTER 7" MULTIFUNCTION HD SDI/CCTV
TESTER
|
M700SDI 43150580
|
M035LCD 43150521
■■
AV In & Out
3.5" TFT LCD monitor
■■ Wall-mountable (mount not included)
■■ DC 12V Output; test camera without separate power
■■ Use it on your desk or attach it to your waist with its
versatile kick-stand ■ Rechargeable batteries included
■■
|
M281PTZ 43150570
With UTP cable tester, colour-bar signal generator, CCTV
camera video input and more, the M281PTZ is a versatile
device for CCTV installers.
■■ Built-in PAL/NTSC Colour Bar Signal Generator—
transmits/receives colour signals
■■ PTZ (RS485) Protocol analysis and identification
including address scanning
Offers a wide range of features to simplify CCTV camera
installations. Power, focus and aim your cameras locally
without a trip back to the control room. The unit´s bright
screen and easy to use menu are ideal for outdoor use.
■■ SDI HD video in & out with HDMI/ VGA/ BNC in
■■ Displays analog camera image and PTZ Control
■■ Detect video peak level, SYNC level, colour burst, IP
address search, ping, port flicker network testing and
much more!
2015 DOSS SECURITY & CCTV | www.doss.com.au
9
HD-SDI
HD8200VPDx Series
What is
HD-SDI?
The DOSS HD8200VPD Series is an active high definition digital signal extender
solution for HD-SDI links, operating over 75Ω coaxial cable. Each unit can
transmit a HD-SDI high definition digital signal up to 200m over coaxial cable. It
can be used with multiple repeaters to extend distance up to 1km.
High Definition
Serial Digital
Interface
Features:
ʷʷ Compatible with HD-SDI and
SD-SDI signals
ʷʷ Transmission Distance:
200m (HD-SDI 1.485Gbps);
400m (SD-SDI)
ʷʷ Characteristics: Automatically clock
recovery caching processing technology
ʷʷ In conjunction with multiple repeaters,
the distance can reach up to 1km max.
ʷʷ Automatically conforms to SMPTE and
ITU digital video standards
ʷʷ Embedded ESD to protect the circuit
HD-SDI is a digital video
interface that transports Full HD
(1080p) video using basic RG59
cabling and uses connectors
similar to BNC connectors.
This makes it ideal for
upgrading existing analogue
CCTV systems to Digital Full HD
CCTV as only the hardware and
connectors require replacement,
and not the cabling!
HD8200VPDT
TRANSMITTER
ʷʷ High interference suppression,
anti-surge technology
ʷʷ Supports high-definition HD-SDI digital
video at 720p/60, 1080i/60 and
1080p/30 formats at all frame rates
ʷʷ Integrated cable equalizer for long
distance video transmission without
quality loss
ʷʷ High-quality digital video and audio
transmission with nearly zero latency
ʷʷ +12~24V DC Supply range
up to 160m
up to 200m
up to 1km
HD8200VPDM
REPEATER
up to 200m
multiple repeaters
can be utilised
HD8200VPDM
REPEATER
up to 200m
HD8200VPDR
RECEIVER
up to 160m
power supply
powers all amplifiers
in the chain
Coaxial
RS485
|
|
|
HD8200VPDT 43151150
HD8200VPDR 43151155
HD8200VPDM 43151160
TRANSMITTER
RECEIVER
REPEATER
10
HD800xD Series
For splitting high definition digital signals, the DOSS HD800xD series is ideal. Being
active splitters, they are also capable of extending HD-SDI signals up to 200m on
each output.
ʷʷ Excellent SDI signal jitter
Whether it's simply hooking up your SDI CCTV
system to your home TV or distributing HDMI
around your home on economical coax cables,
DOSS' HDMI••SDI converters fit the bill.
ʷʷ Power supply and SDI signal
SDI TO HDMI CONVERTER
Features:
ʷʷ Supports SD-SDI (270Mbps) &
HD-SDI (1.485Gbps)
ʷʷ Full HD video format
ʷʷ Built-in cable equalizer, re-clocker &
cable driver
ʷʷ Distance (Max):
SD-SDI 400m, HD-SDI 200m
suppression function
format indicator
ʷʷ Embedded ESD to protect the circuit
ʷʷ +12~24V DC Supply range
1-IN 2-OUT SDI AMPLIFIER
HDMI/SDI
Conversion
1-IN-4-OUT SDI AMPLIFIER
|
SDI2HDMI 64550065
■■
Equalized Loop SDI/HD-SDI output
■■ HDCP Compliant
HDMI TO SDI CONVERTER
|
|
HD8002D 43151165
HD8004D 43151170
■■
■■
Split HD-SDI signals to two outputs without loss of
data/resolution
Split HD-SDI signals to four outputs without loss of
data/resolution
Usage example:
up to 200m
|
HDMI2SDI 64550075
■■
Full HDMI support including embedded audio
■■ Distributes 1x HDMI source to 2x SDI output simultaneously
HD-SDI DVR & Cameras
FULL HD-SDI CMOS CAMERA
1080P OVER COAX
4CH HD-SDI DVR 2RU
UP TO 24TB INTERNAL STORAGE + 1080P H.264 RECORDING
|
|
FHDDOME 43150105
FHDBODY 43150050
|
RPDVR4SDI2U 43170902
■■
4CH HD-SDI 1080P video input
■■ High resolution, dual-stream recording:
■■ Stream 1: 1080p / 720p / D1
■■ Stream 2: D1 / CIF / QCIF
■■ Embedded Linux operating system
■■ 8x Internal SATA HDD Ports; 1x eSATA Port
■■ Maximum 3TB per HDD
■■ Maximum total internal storage: 24TB
■■
Supports network video preview,
storage and playback
■■ HDMI and VGA video output -resolutions up to 1920*1080
■■ Supports Dynamic DNS, Email Notification,
Alarm Inputs and Outputs, Two-way Talkback
■■ Supports Web browser interface, Mobile
and Desktop clients, CMS monitoring
Capable of capturing 2.1 Megapixels
and viewing at 1080p real-time.
■■ Includes 6mm F1.4 CS lens (FHDBODY)
■■ SDI 1080P full real time transmission
■■ Transmit over 300m at 1.485Gb/s
■■ High resolution 64X digital zoom (D-ZOOM)
■■ DWDR, HLC, Electronic shutter adjustable,
3DNR, anti-flicker, Defog
■■ OSD menu, Lightning-proof, Back focus adjustable
2014 DOSS SECURITY & CCTV | www.doss.com.au
11
Power & Power Accessories
DC/AC TO 12VDC CONVERTER
DC/AC TO 12VDC CONVERTER
Why would I
need a Voltage
converter?
???
There are two common applications – Stepping
down higher voltage DC power and secondly,
converting from 24V AC power down to 12V DC.
For Doss CCTV, we test cabling and cameras
at 100m distance. The biggest limitation to the
distance is the voltage drop in the cabling – if you
feed 12V into the system, 100m later, you might
be left with, say, 11V. If it is a 200m or 300m
run, at some point the voltage will be too low to
operate the cameras.
|
|
PC500 33774925
PC1A 33774930
■■
2.1mm DC plug Regulated output, 500mA max
■■ Convert AC: 14-24VAC or DC: 15-30VDC to 12VDC
■■
DC POWER SUPPLY – 12V/4AMP
DC POWER SUPPLY – 15V/4AMP
■
Screw Terminals ■ Input: AC18~26V; DC18~28V
■■ Output: DC12V regulated ■ 1000mA Max.
Volts
Camera Max
+12V
Camera Min
??
Distance
Voltage to converter / after cable drop
Voltage out of converter (regulated)
One solution is to input say 24V DC. In this case
you can afford to lose a whole 12V – a voltage
converter ensures the supply to the camera is
regulated at a safe 12V DC level.
?
24V AC is also commonly used in security
installations. Since all Doss cameras operate on
12V DC, you'll need a voltage converter behind
the camera to fit your camera into an existing
24V AC System.
2.1MM TO 8X 2.1MM PLUGS
|
|
|
SM1240 33771335
SM1540 33774436
■■
Regulated output, 4.0A max ■ Short-circuit protection
■■ Switchmode with MEPS class IV efficiency ■ Auto reset
■■ 2.5mm DC plug ■ Mains Cable supplied
■■
DC POWER SUPPLY – 12V/5AMP
DC POWER SUPPLY – 12V/6.5AMP
|
SM1250 33771340
Switchmode with MEPS class IV efficiency
■■ Short-circuit protection ■ Auto reset ■ 12VDC / 5.0Amp
■■ 2.1mm Plug ■ Mains Cable supplied
■■
2.1MM TO 4X 2.1MM PLUGS
|
PW8208 30978208
PW8204 30978204
■■
1x 2.1mm DC Power Socket 20cm Lead
■■ 8x 2.1mm DC Power Plugs 28cm Lead
■■
2.5MM SOCKET TO 2.1MM PLUG
2.1MM SOCKET LEAD
1x 2.1mm DC Power Socket 20cm Lead
■■ 4x 2.1mm DC Power Plugs 28cm Lead
Regulated output, 15V 4.0A max ■ Short-circuit protection
■■ Switchmode with MEPS class IV efficiency ■ Auto reset
■■ 2.1mm DC plug ■ Mains Cable supplied
|
SM1265 33771345 12VDC / 6.5AMP
■■ Switchmode with MEPS class IV efficiency
■■ Short-circuit protection ■ Auto reset ■ 12VDC / 6.5Amp
■■ 2.1mm Plug ■ Mains Cable supplied
Why Use DC
Power Splitter
Cables?
Running a CCTV system from one location is
preferable, as a single power supply minimises the
level of maintenance. For commercial sites you
also don't need a electrician to change multiple
power outlets to "24-hour power". Also, a single
UPS can be used to supply backup power to
whole system.
???
Installers will often calculate the total power
draw of all the cameras. This is often 500mA per
camera.
For a 8 camera system, they'll need a power
supply that can supply say 4 amps at 12 volts.
From there, they'll place a 8 way DC splitter cable
and connect it to each cable run.
|
PW8190 30978190
■■
■■
2.5mm Socket to 2.1mm Plug
■■ Great for converting plug sizes of power supplies for use
with 2.1mm DC extension and splitter leads
12
POWER SUPPLY RATING
|
PW8019 30978019
2.1mm Socket preterminated on 130mm lead
■■ Perfect for cameras with power screw terminals or for
connection to power converters
1AMP
2AMP
4AMP
4-WAY
250mA
500mA
1A
6.5AMP
1.6A
8-WAY
125mA
250mA
500mA
800mA
8 PORT 12VDC PSU
WITH BATTERY
???
Why are PTC resettable fuses so common in Doss products?
For over-current protection and power recovery, PTC fuses are a great solution. If the manufacturer pays a little
extra and uses PTCs, the system will require less maintenance and downtime is reduced. They provide protection
like a fuse, but are capable of self-resetting, so no maintenance or repair is required when something goes wrong.
8 PORT 12VDC WALL MOUNT PSU 16 PORT 12VDC WALL MOUNT PSU
|
PW408U 33774945
■■
8x Individual protected PTC type fused outputs (1.1A)
■■ Supplies up to 4Amp (0.5Amp per output)
■■ Backup battery installed: Automatic switch over to
stand-by battery when Mains AC fails (3.0AH)
■■ LED indication of battery status
|
|
PW408S-12R 33774950
PW816S-12R 33774955
■■
■■
8x Individual protected PTC type fused outputs (1.1A)
■■ Supplies up to 4Amp (0.5Amp per output)
16x Individual protected PTC type fused outputs (1.1A)
■■ Supplies up to 8Amp (0.5Amp per output)
16 PORT 12VDC REGULATED PSU 1-IN 9-OUT POWER DISTRIBUTOR
Recycled or
non-recycled
plastics?
|
|
PR816-12R 33774940
■■
■■
■
12VDC/8Amp power supply 16x 0.5Amp outputs
Individual PTC self-resetting protection on each output
PD009 33774935
Plastics exposed to sunlight (UV) over longer
■■
periods of time can become brittle and break.
■■
Individually PTC self-resetting protected outputs: 1.1A
Individual status LEDs ■ Supports up to 30VAC/VDC
This is particular prevalent in Australia, where
the UV intensity is much higher.
SCREW TERMINATED DC PLUG
SCREW TERMINATED DC SOCKET
Although recycled plastics are cheap, they have
been particularly poor at coping with these
conditions. For that reason, Doss Antennas have
always contained non-recycled plastics. Doss
cable ties then moved to non-recycled plastics.
Now, you'll notice that even the terminals at
the back of the DC plugs are white (previously
green), indicating non-recycled plastic and better
|
long-term use when exposed to the elements.
|
PW8018 30978018
PW8050 30978050
■■
■■
2.1mm DC plug to screw terminals
2.1mm DC socket to screw terminals
Terminals made from non-recycled materials for longer life
???
Screw Terminated DC Power Plugs and Sockets
In the past, installers had to solder DC plugs onto
Figure-8 cable or the power cable on the CCTVCOM24
cables. In 2008, screw in DC plugs were introduced
(RG59U & Power Combo) Cable. At the power supply
and have become the standard for the industry.
end, a PW8050 DC socket is used. This can plug
Now Doss CCTV cameras come standard with a plug
directly into the DC power supply without the need to
like the PW8018. This will screw into either Doss 2x24
cut the power supply's lead.
Green terminals made
from recycled plastics
White terminals made
from non-recycled plastics
2015 DOSS SECURITY & CCTV | www.doss.com.au
13
Balun Factory & Quality Control
Finding a Factory
Doss knows how important reliability is when it comes
complex, and replacing faulty components once installed
Our new range of CCTV Video Baluns have been specially
sourced for their quality and reliability. The factory goes
through a stringent quality control process to ensure this:
can often be a nightmare. And we frankly don't like
1 The balun balance coils are actually manufactured in
to security systems. We know that installations are often
house to ensure the components meet the engineers'
specifications completely.
replacing faulty products!
Not only is reliability an important factor when sourcing
2 Only the best materials are used. For example, only
products, but so are the features of the products. We
want to be proud of the products we sell – so we look for
products that give our customers real value for money.
Value to us means features and reliability that save you
time and money. For this reason we search for factories
3All passive components manufactured in house are
with the same ethics and take true pride in their products.
tested thoroughly to ensure they are not defective and
are within the very tight specifications.
That's why we source our products from only the best
In-house manufacture
of balun coils means
all parts meet high
standards. 100% copper
is used to ensure
minimal imperfections
and impurities, reducing
variation in signal quality.
All products produced
in-house are tested
thoroughly. Every passive
component is tested to
ensure specifications are
met. All active products
are aged for a minimum
of 3-days.
4 Every active device produced is worn-in for at least
factories we can find. Doss only chooses factories that
have a strong focus on producing a high-quality product
our customers can rely on.
100% copper is used in the manufacture of the balun
coils. Not only the quality of the material is important, but
more windings are added to the balun coils than typical
balun coils, to reduce variation in signal responses.
72 hours before passing testing, resulting in a product
you can be sure works out of the box.
Balun Design Decisions
Strong durable push-pin
terminals can hold up to 10kg
of weight – the copper conductor
is not sandwiched by flat
metal terminals, rather the
terminal grips onto the conductor
tighter when it's pulled!
An internal shot of one of our passive
video baluns: it may be small but there's
a lot in even our basic model. It features a
100% copper balance coil that has finer
wire, but more winds for a more uniform
winding (helps reduce eddy-currents and
therefore improves signal quality).
Our Doss passive balun hub (left) vs another brand
(right). Components used are over-rated to ensure
down-time and maintenance costs are kept low.
You can also see there is simply more copper in
our balance coils, and the windings are evenly
distributed to ensure a nice, clean signal.
14
Our power hubs feature exactly the same components
and features as the individual baluns – only possible when
a factory produces all their products in-house.
Our baluns (left x2) may look like other
baluns (right) but there are some massive
differences that you can't see.
This ensures compatibility between all devices and that
they all work together with-in specification.
The conductor pin in our BNC plugs and
sockets are 100% copper which improves
impedance matching, and reduces signal
losses. Our baluns all have built-in surge
protection and the balance coils are all
specially engineered and tested in-house!
There are several different
forms that our baluns come
in. Sealed for weather-proof
installation, small and compact
for direct connection to camera
bodies, and several different
terminations: screw, push-pin,
solder, and also RJ45 socket.
Big features in a small package: PTC self-resettable
over-current protection, surge protection, quality
balance coils and easy to install RJ45 connection.
The new range of screw
terminals and push-pin
terminals will be made from
harsh-environment tolerant
non-recycled plastics.
CCTV Over UTP
UTP Passive Video Baluns With Power
DOSS VPB45
VIDEO BALUNS
WITH POWER
DOSS IN50
CAMERAS
DOSS RPDVR8CHD1
DOSS BP8CH12V8A
BALUN HUB W/ POWER
VIDEO + POWER BALUN [PUSH-PIN] VIDEO + POWER BALUN [RJ45]
|
100-240VAC
TO 4x CAMERAS
via
4x VIDEO BALUNS
WITH POWER
UTP CAT5E (up to 250metres)
VIDEO + POWER BALUN
WITH DC TO DC CONVERTER
|
|
VPBPP 43151205
VPB45 43151200
VPB45PCD 43151210
■■
8-Way Push-pin terminals ■ Relocate camera power pack
■■ Transmit Video+Power up to 250m over CAT5e UTP
■■
RJ45 Jack for quick connection CAT5e UTP cable
■■ Features overload and lightning protection
■■
4CH VIDEO BALUN POWER HUB
8CH VIDEO BALUN POWER HUB
16CH VIDEO BALUN POWER HUB
|
High quality parts ensure excellent video signal transmission
■■ Converts 24-28V DC to regulated 12V DC at camera balun
|
BP4CH12V5A 43151135
BP8CH12V8A 43151140
■■
■■
Transmit power up to 250m over CAT5e UTP cable
■■ Powers up to 4 cameras with built-in 12VDC/5A supply
Powers up to 8 cameras with built-in 12VDC/8Amp supply
■■ 8x Video outputs ■ Works with Doss Video+Power baluns
UTP Passive Video Baluns with Power+Data
VIDEO + POWER + DATA [PUSH PIN] VIDEO + POWER + DATA [RJ45]
|
|
VPPBPP 43151225
VPPB45 43151220
■■
■■
8-Way Push-pin terminals ■ Supports RS485 transmission
■■ Transmit Video+Power+PTZ up to 200m over CAT5e
CAMERAS
RJ45 Jack for quick connection CAT5e UTP cable
■■ Features overload and lightning protection
|
BP16CH12V16A 43151145
With the same features and abilities as the DOSS
Video+Power baluns, and the convenience of a single box
with built-in power supply, the BP16CH12V16A is able to
supply 16x CCTV cameras with 12VDC, up to 1A each.
Video received from the transmitting baluns is output via
16x Female BNC connections straight into your DVR or
other recording device.
The superior interference rejection and low emissions
of the BP16CH12V16A allow signals to coexist in the
same wire bundle as telephone, datacom, or lowvoltage power circuits. This allows the use of a shared
or existing cable infrastructure.
■■ Powers up to 16 cameras with built-in 12VDC/12Amp
supply
■■ Same transmission quality features as Video+Power
baluns
■■ Built-in TVS (Transient Voltage Suppressors) for surge
protection
VPPB45
VIDEO BALUNS
WITH POWER+PTZ
DOSS RPDVR4CH
VPPB45
VIDEO BALUNS
WITH POWER+PTZ
DOSS KT301 PTZ CONTROLLER
UTP CAT5E CABLES (up to 200m)
MONITOR
2015 DOSS SECURITY & CCTV | www.doss.com.au
15
CCTV Coaxial Cables and Accessories
RG59U SOLID CORE COAX CABLE TWIN POWER CABLE 2X24/0.2
FIGURE-8 2X24/0.2 TWIN CORE
2X24-.2PB-1MT 05093003 2X24-.2PBR-1MT 05093004 2X24-.2PW-1MT 05093005 2X24-.2PG-1MT 05093006 |
|
|
|
|
RG59U-1MT 05052023
■■
1/Ø0.65mm Copper Clad Steel core
■■ Braided screen: 16/7/0.14 OFC(88%)
■■ Wave impedance: 72±3 ohm(@200MHz)
■■ Capacitance: 73±5pF/m
BLACK
BROWN
WHITE
GREY
DOUBLE INSULATED FLAT 2X24/0.2 TWIN CORE
2X24-.2DSW-1MT 05093020 WHITE
2X24-.2DSR-1MT 05093026 RED
4-CORE / 6-CORE CABLE
|
|
4X7-.2SC-1MT 05062008 4-CORE
6X7-.2SC-1MT 05062024 6-CORE
■■
■■
4 core (4.8mmØ) ■ 6 core (5.5mmØ)
Great for alarm signal lines
|
|
ATTENUATION
1~450MHz25dB/100m
450~862MHz
45dB/100m
862~2150MHz
60dB/100m
COMMON WIRING COLOURS
■
2 core x 24 strand (0.2mm) ■ PVC Insulation
■■ Sold per metre ■ Available as 100 metre roll
RG59U & POWER COMBO CABLE
NAIL-DOWN CABLE CLIPS
6RCCB
6RCCW
15RCCB
15RCCW
|
CCTVCOM24-1MT 05062038
■■
■■
■■
Bonded CCTV RG59U and Double Insulated 2x Power
■■ Easy to install power and video at same time!
These are common colour codes for various security
equipment, however check with your hardware's
installation documentation before connecting to an
existing system!
| 05492050 | 05492051 | 05492060 | 05492061 4-CORE
4-CORE (ALT)
6-CORE
+PWR
+PWR
+PWR
ALARM SIG
ALARM SIG
ALARM GND
ALARM GND
6MM BLACK
6MM WHITE
15MM BLACK
15MM WHITE
6mm round cable clip to suit RG59U ■ Pack of 100 pcs
15mm square cable clip to suit bonded RG59U+Power
or Twin RG59U cables
ALARM SIG
TAMPER SIG
COM (TAMPER)
TAMPER GND
PWR GND
PWR GND
PWR GND
BNC Accessories
1
4
7
2
5
8
3
6
9
CAMERA EXTENSION LEAD
CEL5M
CEL10M
CEL20M
CEL30M
■■
■■
| 43158110 | 43158115 | 43158125 | 43158130 Weather Resistant ■ High Quality Connectors
Package include Gender Changers
16
1
PA6113
30256113
BNC PLUG TO RCA SOCKET
2
PA5720
30255720
RCA SOCKET TO BNC SOCKET
3
PA5701
30255701
RCA PLUG TO BNC SOCKET
4
PA6001
30256001
BNC PLUG TO BNC PLUG
5
PA5990
30255990
BNC PLUG TO 'F' SOCKET
6
PG1038
30521038
BNC CRIMP PLUG TO SUIT RG59U
7
PA6117
30256117
BNC PLUG TO RIGHT ANGLE BNC SOCKET
8
PG1092
30521092
BNC COMPRESSION PLUG TO SUIT RG59 (W/ 6 COLOUR RINGS)
9
PG1001
30521001
RIGHT ANGLE BNC PLUG SCREW TERMINATING
GROUND LOOP ISOLATOR
|
GLI02 43151075
5M
10M
20M
30M
■■
Reduce picture rolling, tearing and noise
■■ Weather-proof design ■ No power required
■■ Solve ground loop issues without tracing
inaccessible cables
Ground loops occur when two points, assumed to be the
same voltage potential ie. ground, are in fact different.
It generally happens when the camera is not grounded at
the monitoring/recording equipment, but at the point it is
mounted (or both).
This can result in "hum bars", picture tearing, cross-talk
(or ghosting) and image rolling. Fitting a Ground Loop Isolator
or avoiding incorrect grounding will fix most issues.
UTP CCTV Passive Video Baluns
MINI PASSIVE BNC VIDEO BALUN
PASSIVE VIDEO BALUN
PASSIVE VIDEO BALUN PUSH-PIN
|
|
BVB4200WP 43151090
BVB4102S 43151094 SCREW TERMINALS
BVB4100P 43151096 PUSH-PIN TERMINALS
BVB4201PL 43151098
■■
■■
■■
|
Waterproof mini-balun ■ No power required
■■ Bare leads to allow soldering and waterproofing
RCA ANALOGUE
AUDIO BALUN
|
Transmit video up to 400m over CAT5e UTP cable
■■ Mounts directly to camera ■ No bulky expensive coax cables
RCA COMPOSITE
VIDEO BALUN
COAXIAL VIDEO
SURGE PROTECTOR
|
|
AAB1001 43151100
CVB1001 43151105
VSP01 43151078
■■
■■
■■
Send analogue audio over
Unshielded Twisted Pair
(UTP) up to 1500m
■■ Screw terminal connection
■■ Compact size
Send Composite (1 pair) or
Component (3 pairs) video
over Unshielded Twisted
Pair (UTP) up to 300m
■■ Gold plated RCA Plug
High Frequency Interference
This occurs when cables pick up high frequency EMI –
this can even be RF. High frequency sources can also be
light switches/dimmers, fluorescent lighting, TVs or CRT
monitors, or any other device that switches power quickly.
It can cause symptoms that range from rolling coloured
bands, to wavy, dynamic patterns over the image.
Lower insertion loss and
quicker response time
■■ Large through-flow
capacity, long life
■■ Easy installation and
convenient maintenance
ECO CAT5E CABLE
[UNAPPROVED]
CAT5E SOLID
CABLE [BLACK]
UNA4PRX7BLK-1MT
05062705
4PRX7BLK-1MT
05062804
■■
■■
Copper-clad Aluminium
core for economical cost
■■ Higher conductivity (lower
voltage losses)
■■ Designed specifically for
CCTV applications
Impedance mismatching /
Long cable run
Impedance mismatching generally occurs in long runs of
cable but is also a result of incorrectly matched plugs and
cables – eg. 50Ω BNC connector on 75Ω Coax cable.
Using twisted pair or balanced cabling is usually the best
way to combat such interference.
This can cause oscillations and reflections in the cable at
random frequencies and this, in turn, results in "hum bars" or
ghosting. Picture rolling or instability can also occur if these
oscillations "corrupt" the video sync signals.
Recommended Product:
Doss Passive UTP Video Baluns
Recommended Product:
TVB001 Video Transformer Filter
VIDEO BALUN (TX)
VIDEO BALUN (TX)
VIDEO BALUN (TX)
VIDEO BALUN (TX)
VIDEO BALUN (RX)
VIDEO BALUN (RX)
TVB01
TVB01
VIDEO BALUN (RX)
VIDEO BALUN (RX)
|
Strong push-pin terminals allow ultra-quick installation
■■ Send video alongside other cables without interference
For high speed data
applications
■■ 24 AWG Solid copper
conductor cores
■■ Supplied by the metre or roll
Tips for a great picture
■■
Ground signal cables/equipment only at one point –
ie the recording system / monitoring end. This also
means not grounding the camera bodies or brackets.
■■
Keep runs of cable as short as possible and away from
interference sources such as high voltage lines.
■■
Use quality connectors and cables with correct specifications.
■■
Use twisted pair baluns and cabling – this will massively resist
electromagnetic interference.
1
A basic Unshielded Twisted Pair
cable can be used with passive
video baluns to reduce High
Frequency Interference.
2
The TVB001 helps reduce
interference caused by long
cable runs and mismatched
impedances and is easy to install.
2015 DOSS SECURITY & CCTV | www.doss.com.au
17
DVR Range
DVRs or Digital Video Recorders are an essential part of
any home or small business CCTV security system. We all
spend so much time out of home, at work and on holidays,
we can't be stuck watching CCTV monitors for suspicious
behaviour. DVRs record continuously so that in the event
something goes missing or there is a break-in, the footage
is readily available for review.
Why a Doss DVR?
Featuring high quality, high resolution 700TVL (960H)
recording, the Doss RPDVR Range allows you to record
video that is clear – allowing you to distinguish important
features in your security footage.
The Doss RPDVR Range of DVRs doesn't only blindly
record video input, but thanks to their Embedded Linux
system, they are capable of much more.
Being network attached, you can access, view and control
your DVR from any of your home or business computers
and a huge range of mobile devices!
Not only does the Doss DVR Range support remote access,
but when connected to the internet you can be alerted via
email on detection of motion on any of the camera inputs!
The entire Doss DVR range has alarm inputs and outputs,
allowing you to connect your DVR to your existing home
or business alarm system. This provides a portal for your
alarm system to alert you in real-time to events occurring
View your cameras via your home PC or laptop using the
Windows PC Client Software, or any computer with Internet at your home or business. Alternatively you can connect
individual PIR and door sensors that, when triggered, can
Explorer (where ActiveX is available).
cause the DVR to email you a photo of the area under
Being connected to your home or business network
monitor for your instant review.
provides a link to the internet through which you can also
Avoid false alarms, and triggered alarms that go ignored
access your DVR from anywhere in the world – even on
your mobile device including iPhone, iPad, Android phones for hours; get real-time alerts so you can decide whether
and tablets and even Blackberrys.
you should call the police or not!
Why a Network DVR?
960H HIGH RESOLUTION 4/8/16 CHANNEL NETWORK DVRS
960H
H.264
RECORDING
COMPRESSION
8TB
REMOTE
UP TO
STORAGE
P2P
ZERO-CONFIG
ACCESS
1080P
HDMI OUTPUT
MOTION
DETECTION
THE NEW DOSS RANGE OF DVRS NOW FEATURE
960H RESOLUTION CAPTURE AS WELL AS NEW
P2P, ZERO-CONFIG NETWORKING TECHNOLOGY,
ALLOWING ACCESS FROM VIRTUALLY ANYWHERE
Latest P2P technology allows viewing from anywhere in the world without configuring
complicated Port Forwarding or expensive Dynamic DNS services! Simple QR Code allows
instant access from mobile phones using the free app available for iOS and Android.
Get the maximum quality image out of your 700 TVL resolution cameras—the latest 960H
DVR recording technology allows the clearest possible images for analogue video!
■■ All models also available non-branded
Features
■■
960H real time recording
H.264 Compression (up to 8000kbps)
■■ 960H / D1 / CIF and QCIF resolutions
■■ Bi-directional audio talkback
■■ Embedded Linux operating system
■■ Supports Live video playback while recording
■■ 2x Internal SATA connections for HDD
■■ Up to 8TB internal storage
■■ Network functionality: P2P, DDNS, Email, UPnP
■■ Remote viewing via Web browser, PC Client, and Mobile Apps
■■ BNC/VGA/HDMI simultaneous output
■■ up to 1080P output via HDMI for high resolution grid view
■■ External alarms for interfacing with existing security systems
■■
Remote Access Setup
Doss 960H DVR Range Comparison
16DVR960
43170850
43170855
4ch
8ch
16ch
Video Input Format
PAL / NTSC
Video compression
H.264 (High Profile @ Level 4.2) / 64-8000kbps
Recording Resolution
960H, D1, CIF, QCIF
Video Output
CVBS / VGA / HDMI (simultaneous output)
Image Display
1/4
Motion Detection
1/4/9
1 / 4 / 9 / 16
22x18 zones + sensitivity adjust
Audio In / Out
4 / 1 (BNC)
Record Trigger
Manual / Alarm / Motion / Schedule
Realtime Playback
8CH 960H / 16CH D1
4CH 960H
HDD Capacity
2x SATA / Max. 4TB (per HDD)
Recording storage
Local HDD, Network
Alarm In / Out
4/1
4/2
RS-485
Yes (1x)
USB Port
2x USB2.0
Power Supply
DC12V / 3A
Power Consumption
15W (Without HDD)
Dimensions (LxWxH)
360 x 250 x 44mm
browser. But getting through firewalls and setting up
port forwarding on your router can quickly become
quite the hassle. To lift this burden, we are providing
the cheapest, most economical remote access service
available in Australia.
Our Doss DVRs have a wealth of remote access options
ranging from your mobile phone to any PC with a
■■
18
8DVR960
43170845
Channels
Our new range of 960H DVRs are designed to
be accessed remotely without the need for
complicated network setups. Our integrated Peerto-Peer technology makes remote access a breeze,
but if you have an older version or would much
rather have someone else set up remote access for
you, we offer a Remote Access Setup service for a
nominal fee.
This service aims to provide a working setup that will
enable remote access to your DVR via:
Internet Explorer (ActiveX)
■■ the included PC client and,
4DVR960
■■
16 / 3
DC12V / 4A
your smart phone (iPhone/ iPad, Android. other
platforms depend on software availability.)
This generally involves setting up your router to port
forward, adjusting firewall settings on your PC, setting
up a Dynamic DNS service to accommodate for
changing IP addresses & more.
To learn more: scan the code
or visit radioparts.com.au
and search for 'RMACCESS'
IP CCTV
IP CCTV—What is it and why?
IP (or Internet Protocol) Cameras and CCTV operate, as
the name suggests, over IP networks. You do not require
separate infrastructure such as RG59/6 cabling as it uses
your existing networking hardware and cabling to distribute
video to clients and NVRs.
Due to the nature of the protocol, communication is
two-way, allowing configuration, recording & viewing, and
audio talk-back, all from a multitude of different devices,
such as your PC, Mobile or NVR. It also allows encryption,
stopping eavesdroppers splicing into your cables to view
your cameras.
Even though IP cameras can operate more independently
of your recording and backup system, NVRs (Network
Video Recorders) provide the familiar role of a DVR,
IP cameras offer some degree of self processing, detecting
bringing together all your cameras as sources, allowing
motion and improving images using more intensive WDR
direct recording and back up to HDD, as well as
algorithms than typical analogue cameras. They can also
synchronised playback of recorded files.
record to a storage card, or memory built into the camera
itself, so if your infrastructure goes down, whether through With ONVIF compliance for DOSS' NVR and Integrated and
scheduled maintenance or malicious intent, your camera
Dome IP Cameras, you can be confident our devices will
will have a backup copy of what it saw.
work with your other ONVIF compatible IP CCTV devices.
NETWORK VIDEO RECORDERS
P2P
|
|
|
|
NVR4CH 43172005 4 CHANNEL
ZERO-CONFIG
NVR8CH 43172015 8 CHANNEL
Configure, view and record multiple cameras at once, the
new DOSS NVRs are able to provide you with a familiar DVR
experience over IP.
■■ H.264 Compression ■ Linux OS ■ 2x SATA connections
■■ Powers cameras via PoE ■ Conforms to ONVIF standards
■■ Supports simultaneous remote monitor, playback, and record
■■ Simultaneous VGA & HDMI Output
■■ Simple pairing to instantly connect with IP Cameras
■■ P2P Setup – No port forwarding required!
1080P
HDMI OUTPUT
Domestic IP Pan/Tilt Cameras
MJPEG WIRELESS
IP CAMERA
IP OVER COAX EXTENDER
720P WIRELESS
IP CAMERA
|
PT10QRW 43160535
|
PT10QRECO 43160500
■■
720p HD Video recording
■■ Simple connection via QR code
■■ Remote pan & tilt
■■ Motion detection
■■ Two-way audio
■■ Dual networking: both Ethernet
& Wi-Fi connections possible
■■
MJPEG compression
Simple connection via QR code
■■ Remote pan & tilt
■■ Built-in microphone
■■ Dual networking: both Ethernet
& Wi-Fi connections possible
■■
1080P FULL HD IP CAMERAS [BULLET]
IPIN30FHD
Colours
Sensor
Transmit IP camera signal over Coax up to 200m!
■■ Passive device, no power required Built-in Surge Protection
1080P FULL HD IP CAMERAS [DOME]
43160125
43160127
1080p
Compression
■■
IPIN50FHD
43160115
43160117
Resolution
|
IPOC200 43151235
Resolution
1080p
h.264
h.264
Sensor
1/2.9" SONY 2.43 Mega-pixel CMOS sensor
IR LEDs
18xØ5
28xØ5
10-15m
20-30m
36xØ5
2xIR III
IR Distance
20-30m
40-50m
Lens
3.6mm M12
2.8-12mm 3M ICR
Alerts
Alerts
BNC analog video out
3D bracket adjustable
Protection
Power
43160025
Compression
IR LEDs
Other featues
IPDM30FHD
43160015
Snap/Email/FTP/NTP/UPNP
Vandal Proof
WDR, 3DNR, dual stream, privacy zone
Other featues
No
Yes
Yes
IP65 weatherproof casing
DC 12V with POE
IPWD10FHD
43160002
Wide Angle Dome
IR Distance
Lens
IPDM15FHD
1/2.9" SONY 2.43 Mega-pixel CMOS sensor
12mm 3M ICR
–
–
3.6mm
Snap/Email/FTP/NTP/UPNP
Yes
No
WDR, 3DNR, dual stream, privacy zone
BNC analog video out
Yes
No
3D bracket adjustable
Yes
No
Protection
Power
IP65 weatherproof casing
DC 12V with POE
2015 DOSS SECURITY & CCTV | www.doss.com.au
19
Non-Permanent Security
Video Intercom
7" HANDSFREE VIDEO INTERCOM
|
SPARE MONITOR FOR
DHF72PC
|
SPARE SURFACE
MOUNT CAMERA
|
SPARE FLUSH
MOUNT CAMERA
|
DHF72PC 21816223
DHF72SM 21816227
DSPC72 21816217
DSMC52 21816220
■■
■■
■■
■■
Video and audio two way intercom system
■■ Simple connection and easy DIY installation
■■ Hands-free operation ■ Door lock control
■■ Mounting hardware supplied
Expand your video intercom system
to view your front door from a second
location—perhaps upstairs or your
granny-flat!
CCD Surface mount camera
■■ 6 IR LEDs for night viewing
■■ Vertical camera adjustment
■■ Weatherproof plastic casing
Vehicle Cameras
1080P FULL HD
CAR DVR
|
CD2FHD 43170560
■■
2.7" Colour 16:9 LCD ■ 1/3" 3MP CMOS Sensor
WDR improves image details in bright and dark lighting
■■ G-sensor detects impacts or heavy braking
■■ Motion detection mode MicroSD card slot
■■
Outdoor Metal Vandal Proof Camera
and Mount ■ CCD Camera
■■ Multi-mount options ■ Night vision
600TVL PINHOLE CAMERA
540TVL MINI VEHICLE CAMERA
|
|
IN10REV 43158800
PHCAM 43150682
The perfect package for use as a vehicle reversing camera
but is also small enough and has a high resolution sensor
making it suitable for discrete surveillance.
■■ 1/3" SONY Super HAD II CCD
■■ Resolution: 540TVL IR distance: 5~10m
A great discreet camera for security where obvious
surveillance equipment is undesirable. At just over a
few centimetres wide, this camera can be installed in
just about any location
■■ 1/3" SONY Super HADII CCD 600TVL
Home Alarm
SIMPLE WIRELESS CABLE-FREE HOME SECURITY KIT
SECURITY PRESSURE MAT / PAD
|
PM100 01308066
■■ High impact PVC material ■ Trapped air cushion
■■ 800 x 540mm ■ A low cost, covert detection device
DUAL BEAM PHOTO SENSOR
|
WDA-KIT 01301023
■■
Wireless security alarm system with built-in phone
■■ Simple DIY installation; no wiring needed–great for renters!
■■ Up to 10 zones with up to 100 sensors per zone!
■■ Built-in siren
|
Package includes:
DBPC946 01301659
■■ 2x Remote Controls ■ 1x Medical Remote Control
■■ Horizontal/Vertical adjustments ■■ 2x PIR Sensors ■ 1x Door Gap Reed Switch + Battery
■■ Auto Gain Control
■■ 1x Power Supply ■ 1x User Manual ■ 1x Main unit (phone) ■■ Range: 90~180m (indoor) ■■ Spare remote also available: WDA-RC | 01301026
30~60m (outdoor)
CALL
VISIT
1800 337 366
FOR DOSS SUPPORT
OR
DOSS.COM.AU
FOR PRODUCT MANUALS,
INFOSHEETS & DEALER LIST
TERMS & CONDITIONS Product features in this brochure are subject to change without notice. Availability of products are offered on a while stocks last basis. Most products have been photographed in-house and are identical to what you will receive, but manufacturers may make
improvements during the life of a product without notice and this may result in a slightly different design. If certain product features are important, please contact the dealer for confirmation before ordering the product. Information presented in this brochure has been checked and is believed to be
correct at the time of printing, however, errors and omissions are excepted. Doss can not guarantee specifications, or features of a product as they may change after printing.