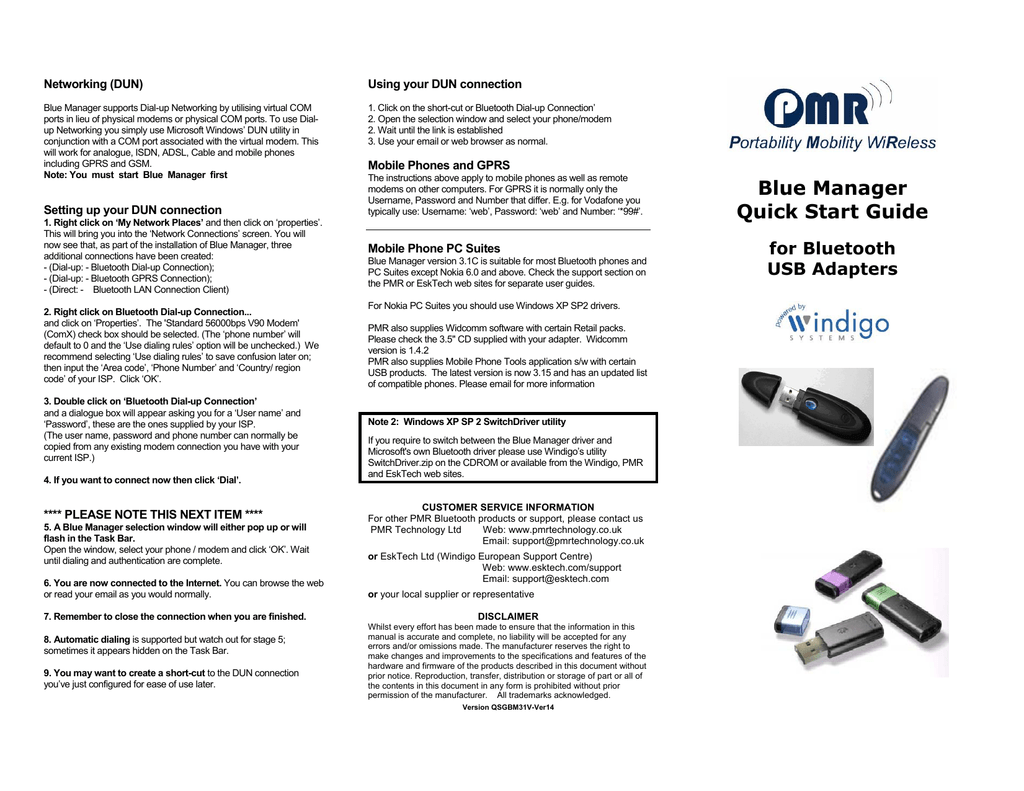 Networking (DUN)
Using your DUN connection
Blue Manager supports Dial-up Networking by utilising virtual COM
ports in lieu of physical modems or physical COM ports. To use Dialup Networking you simply use Microsoft Windows' DUN utility in
conjunction with a COM port associated with the virtual modem. This
will work for analogue, ISDN, ADSL, Cable and mobile phones
including GPRS and GSM.
Note: You must start Blue Manager first
1. Click on the short-cut or Bluetooth Dial-up Connection'
2. Open the selection window and select your phone/modem
2. Wait until the link is established
3. Use your email or web browser as normal.
Setting up your DUN connection
1. Right click on 'My Network Places' and then click on 'properties'.
This will bring you into the 'Network Connections' screen. You will
now see that, as part of the installation of Blue Manager, three
additional connections have been created:
- (Dial-up: - Bluetooth Dial-up Connection);
- (Dial-up: - Bluetooth GPRS Connection);
- (Direct: - Bluetooth LAN Connection Client)
2. Right click on Bluetooth Dial-up Connection...
and click on 'Properties'. The 'Standard 56000bps V90 Modem'
(ComX) check box should be selected. (The 'phone number' will
default to 0 and the 'Use dialing rules' option will be unchecked.) We
recommend selecting 'Use dialing rules' to save confusion later on;
then input the 'Area code', 'Phone Number' and 'Country/ region
code' of your ISP. Click 'OK'.
3. Double click on 'Bluetooth Dial-up Connection'
and a dialogue box will appear asking you for a 'User name' and
'Password', these are the ones supplied by your ISP.
(The user name, password and phone number can normally be
copied from any existing modem connection you have with your
current ISP.)
4. If you want to connect now then click 'Dial'.
**** PLEASE NOTE THIS NEXT ITEM ****
5. A Blue Manager selection window will either pop up or will
flash in the Task Bar.
Open the window, select your phone / modem and click 'OK'. Wait
until dialing and authentication are complete.
6. You are now connected to the Internet. You can browse the web
or read your email as you would normally.
7. Remember to close the connection when you are finished.
8. Automatic dialing is supported but watch out for stage 5;
sometimes it appears hidden on the Task Bar.
9. You may want to create a short-cut to the DUN connection
you've just configured for ease of use later.
Mobile Phones and GPRS
The instructions above apply to mobile phones as well as remote
modems on other computers. For GPRS it is normally only the
Username, Password and Number that differ. E.g. for Vodafone you
typically use: Username: 'web', Password: 'web' and Number: '*99#'.
Mobile Phone PC Suites
Blue Manager version 3.1C is suitable for most Bluetooth phones and
PC Suites except Nokia 6.0 and above. Check the support section on
the PMR or EskTech web sites for separate user guides.
For Nokia PC Suites you should use Windows XP SP2 drivers.
PMR also supplies Widcomm software with certain Retail packs.
Please check the 3.5" CD supplied with your adapter. Widcomm
version is 1.4.2
PMR also supplies Mobile Phone Tools application s/w with certain
USB products. The latest version is now 3.15 and has an updated list
of compatible phones. Please email for more information
Note 2: Windows XP SP 2 SwitchDriver utility
If you require to switch between the Blue Manager driver and
Microsoft's own Bluetooth driver please use Windigo's utility
SwitchDriver.zip on the CDROM or available from the Windigo, PMR
and EskTech web sites.
CUSTOMER SERVICE INFORMATION
For other PMR Bluetooth products or support, please contact us
PMR Technology Ltd
Web: www.pmrtechnology.co.uk
Email: [email protected]
or EskTech Ltd (Windigo European Support Centre)
Web: www.esktech.com/support
Email: [email protected]
or your local supplier or representative
DISCLAIMER
Whilst every effort has been made to ensure that the information in this
manual is accurate and complete, no liability will be accepted for any
errors and/or omissions made. The manufacturer reserves the right to
make changes and improvements to the specifications and features of the
hardware and firmware of the products described in this document without
prior notice. Reproduction, transfer, distribution or storage of part or all of
the contents in this document in any form is prohibited without prior
permission of the manufacturer. All trademarks acknowledged.
Version QSGBM31V-Ver14
Blue Manager
Quick Start Guide
for Bluetooth
USB Adapters
Introduction
Win XP Service Pack 2 users – please read Note 1
This guide assumes that you are familiar with PC hardware, installing
software from a CD-ROM, mobile phone configuration and possibly
even Bluetooth. If not please see the User Manual on the CDROM.
The PMR Bluetooth USB dongle allows you to make wireless
connections between your computer and other computers, mobile
phones, PDAs or any Bluetooth device which supports compatible
services. For example, even with your mobile phone in your pocket or
in your briefcase, you can still use your laptop or PDA to make data
calls and pick up your email or surf The Internet. Provided your laptop
(or PDA) and your mobile phone have been "paired" and they are
within a few metres of each other, they will be able to connect
together.
Note 1: IMPORTANT- Windows XP Service Pack 2
If you are running Windows XP SP2 then you may NOT need to
install the Windigo Blue Manager software supplied on the CDROM.
Windows XP SP2 has built-in Bluetooth drivers and application
software that will recognize the dongle. If you DO want to use
Windows XP SP2 driver then you can ignore the rest of this
Quick Start Guide and see the following link for an example of using
the Nokia6230: www.esktech.com/WinXPSP2NokiaPCSuite.pdf
If you want to use BOTH Blue Manager and the XP SP2 Bluetooth
driver (not at the same time) then Windigo supply a small
SwitchDriver utility to help you manage the drivers. See Note 2.
If you DON'T want to use the Windows XP SP2 driver at all or you
want to use BOTH then continue to the next section below.
Audio profile: XP SP2 driver does NOT support Headset profile. If
you wish to connect to your Bluetooth Headset for VOIP applications
please use Blue Manager software.
What kind of PC do you need?
Any recent PC with a USB Port and the following operating system:
* Windows XP / Windows XP Professional
* Windows 2000
* Windows ME / Windows 98 (2nd Edition only)
Get started – Install Blue Manager on your PC
1. Don't plug your Bluetooth device in yet!
Start by installing the Blue Manager software from the CD or from a
download. If it does not start automatically then find the file
"Setup.exe" or "XTNDConnect Blue Manager.exe" and double-click
on it. Follow the on-screen instructions accepting the defaults or the
choices to suit your mobile phone.
2. Choose your language and click Next
3. Blue Manager prompts you to plug in the adapter
Blue Manager will detect that your USB or PCMCIA adapter is not
plugged in to your computer and ask you to plug it in. Don't worry if
you don't have it to hand. Just continue and plug it in later.
4. Restart your computer
Connect a mobile phone/PDA/computer
5. Prepare the other (remote) Bluetooth device
Not only must your PC be within range of other Bluetooth devices but
those devices must be configured to allow connections (i.e. be
'Discoverable' from your PC).
6. Start the main Bluetooth software on your PC
Start the XTNDConnect Blue Manager application
(double-click on the new shortcut on your desktop).
7. Checking it's working and the driver
If the installation is OK you should see a version of the above icon in
your System Tray (bottom right-hand corner of your PC screen) like
this:
If the adapter is not plugged in correctly or there is a problem with the
driver you might see the same icon but with a red cross on it like
this:
X
7. Checking it's working and the driver (XP SP2 users only)
If you are trying to use Blue Manager and nothing appears to be
happening it's probably because the Windows XP SP2 Bluetooth
driver has grabbed control of the Windigo Bluetooth USB adapter.
Use the Windigo SwitchDriver utility (on your CDROM or available as
a free download) to swap the driver and let you continue.
8. Discovering devices.
You should now see a Bluetooth icon in your system tray and the
Blue Manager window should appear. Blue Manager will
automatically search for 'In range' devices. If no devices were
displayed on startup then check the configuration of the remote
devices and click on the Refresh icon.
9. Trusting/Pairing/Bonding
If Bluetooth security has been selected on the remote device then,
before you can connect to and use the services on that device, you
should 'Trust' it and ensure that it Trusts your PC with Blue Manager.
This is usually only one operation. You may need to find out the PIN
code used by the remote device. To trust a remote device, use Blue
Manager to right-click on the device icon and select Trust Device.
Enter the PIN code for the remote device. The words (Trusted) should
now appear on the status column. You may need to accept a prompt
and enter the PIN number on the remote device too.
Note: PIN Numbers If the device you are trusting does not have a
pre-assigned code, then normally you can create your own 4 digit
code (e.g. '1234'). You must use the same four digit code for both
devices in order to trust.
Please note for PMR Headsets the pre-assigned code is 0000
10. Discovering Services
Once you have some remote devices in the Blue Manager window
you can find out what services those devices offer by right-clicking on
the device and selecting Display Services.
11. Configuring Blue Manager
Open the settings dialogue box using: Tools/ Options/Settings.
Change settings as required.
Services
At the time of writing, Blue Manager 3.1C directly supports the
following services:
Dialup Networking, LAN Access Using PPP, OBEX File Transfer,
OBEX Object Push, Serial Port, Audio
Other services may be configured through COM ports. See the online
help in Blue Manager itself – expand the 'Contents/XTND Connect
Blue Manager for Windows' help section. See also the User Manual
as well as other EskTech guides at: www.esktech.com/support
Using Blue Manager
1. Default folders
Operations such as Browse, Send File, Get File and Exchange
Business Cards use default folders and locations selected under
Tools/Options/Settings.
2. Browse Folders
If a remote device has shared folders then this operation will allow you
to view the files and folders within the remote shared folder. Rightclick on the device you want to browse and select Browse Folders.
3. Exchange Business Cards
Right-click on a remote device and select Exchange Business Cards.
Business cards will be placed in default folders locally and on the
remote device. Prepare business cards first.
4. Send File to / Get File …
This operation allows you to send or receive files and folders between
your PC and the remote device. If no folder on the remote device is
open then any sent files will be placed in the Inbox of the remote
device. You can also simply drag and drop files or Copy and Paste.
5. New Folder
Note that new folders are created in the current directory.
6. Find Device
If you know the Bluetooth address of a device that you would like to
connect to without searching through a lot of addresses then this
option allows a direct search.

* Your assessment is very important for improving the work of artificial intelligence, which forms the content of this project