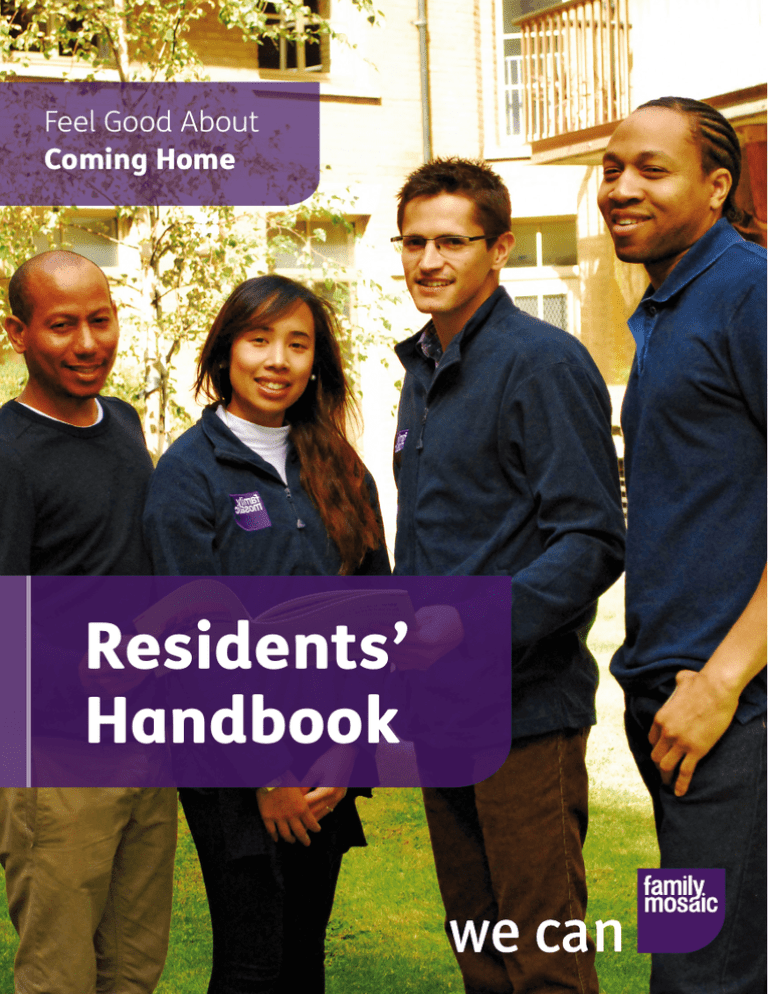 Feel Good About
Coming Home
Residents'
Handbook
2
Contents
55
63
47
51
3
4
Welcome
Welcome to the Family Mosaic handbook, your guide to all our services. From repairs to rents, diversity to disability, gardens to gas leaks – it's all here!
We hope you will be happy with Family
Mosaic and enjoy your new home. We are always striving to improve the services we provide-and working with you is the best way to achieve our aims. There are now more ways than ever to get involved and help shape the service, through the
Customer Panel and regional forums.
Why not take a look at the "Getting
Involved" section in this handbook and join in?
Family Mosaic is going through some exciting changes as part of our mission to improve health, wealth and wellbeing through housing- we're glad to have you on board.
With very best wishes
Brendan Sarsfield
Chief Executive
5
6
MAKING
YOURSELF AT
HOME
7
Making yourself at home
About Family Mosaic
We are an independent housing association. We are not run for profit and invest any surplus we make into improving our homes and services. We own about 24,000 properties in London and in Essex and are governed by a Board of
Management.
Our Board members are experts in areas such as finance, law and housing. They decide on the organisation's strategic aims, targets and review its performance.
Three of its members are residents.
We are regulated by the Homes and Communities Agency, which monitors our performance to make sure we are providing a high quality and cost-effective service.
Our commitment to diversity
We understand customers' and service users' needs differ for a variety of reasons; age, physical and mental ability, gender, ethnicity, and many more. We aim to make sure our services meet the different needs of our customers and service users, and will make sure our service is focussed on meeting the needs of all our customers irrespective of their ability, gender or background.
We will achieve this by involving customers, service providers and service users in making decisions about the type and level of service customers want.
Keeping in contact
Your first point of contact will usually be with our Customer Care
Team.
Most of the time the person you first speak to will be able to help you. If they can't they will put you in touch with someone who can.
8
You will have a Neighbourhood
Manager who manages all of the tenancies in your area. They will introduce themselves to you and if you need them to visit you, you can arrange this by contacting the
Customer Care Team.
You will find up-to-date information in every issue of our residents' newsletter Connections.
You can read Connections online at www.familymosaicconnections.
co.uk or it will be delivered quarterly unless you tell us not to.
You can also find information on our website: www.familymosaic.co.uk
Talking your language
We try to make the information we provide easy to understand by using plain language and avoiding jargon.
We can also provide information in: y larger print y spoken interpretation/ telephone interpretation y written translation y braille y typetalk y signed interpretation y browsealoud
The Family Mosaic website translation service provided by
Google can translate our website into a variety of languages at the click of a button.
PLEASE NOTE - We cannot guarantee or accept responsibility for the accuracy of any translation delivered by Google Translations.
For more information about the service visit translate.google.com.
If you need interpretation or a translation and we cannot provide it immediately, we will arrange it as quickly as possible.
Moving in
If you have just moved into one of our homes, here are a few things you need to know:
Paying the rent
Your rent is due in advance. If you fall behind with your rent payments, you must contact us urgently.
Keys
9
Look after your keys. If you lose them we are not responsible for changing the locks. We do not keep
a spare set. It is a good idea to get a spare set cut and leave them with a friend or relative.
Making a Housing Benefit claim
If you are entitled to claim
Housing Benefit you should do so immediately.
is essential to yours and your neighbours'' safety. your safety and that of your neighbours. Any goods left in communal areas may be removed without notice and we will not be responsible for any loss incurred. You will be re-charged for the cost of removing these items.
Continued failure to remove such items from communal areas for health and safety reasons may lead us to take legal action against you.
Decorating your home
You are responsible for decorations inside your home. If redecoration is needed when you move in we may give you vouchers to help towards the cost.
Fire safety
You must not store petrol, bottled gas, paraffin or other inflammable materials in your home.
You must also not store any personal belongings, materials or goods (this includes bicycles, baby buggies, etc.) in communal areas, stairways or communal cupboards without our specific written permission. Keeping fire escapes and access routes to homes clear
Home contents insurance
You are responsible for insuring your own belongings, and we strongly advise you to take out appropriate insurance.
You can do this with an insurance company of your choice or take advantage of a low-cost scheme we have arranged for our residents.
To find out more and to arrange your cover, call Crystal Insurance
Scheme on 0845 601 7007.
Home security
You may change the locks on your doors or fit window locks, but you
10
must not fit locks to a front door that leads to anyone else's home without asking us first.
Estate Services
If you live on an estate, you may receive services from us such as cleaning, gardening.. The costs of these are recovered through a service charge that you pay with your rent.
You should be able to view details of any estate services on your estate noticeboard. You can also ask your Neighbourhood Manager for details.
Where we provide estate services, your Neighbourhood Manager will carry out inspections to make sure that the services are being delivered to the required standard.
We encourage residents to take part in in these inspections.
If there is a problem with the services being provided, you can let your Neighbourhood Manager know by contacting the Customer
Care Line.
On our larger estates we carry out an annual 'myplace' inspection involving residents.
At this inspection, we ask residents to grade the estate and, if required, a 'local offer' is agreed to improve services or the estate's appearance.
Communal areas
If your home has communal areas shared by other residents, you must treat these areas with respect. You can help is us by reporting any problems.
If we do not provide a cleaning or gardening service you will be responsible, with your neighbours for keeping the communal areas clean and tidy.
You should not leave any goods, including bicycles or prams in communal hallways, stairs or landings as these create a hazard in the event of fire.
11
Car parking
If you have access to a parking area, you must park in a reasonable manner and not block in other
residents or obstruct emergency access routes or bin stores. If you have an allocated parking space or garage, you must use it. If you have been issued with a parking permit, you must display it at all times and follow any parking regulations.
You will be issued with a fine if you do not follow these requirements.
Abandoned or untaxed vehicles will be towed away.
Aerials, satellite dishes and cable TV
You must get our written permission before installing satellite or cable TV. We need to make sure that the dish or cable will not interfere with other people, damage the property, and that it has been installed properly.
If planning consent is needed, we will only give permission if you have obtained written authority from your local council's planning department. If you do not get the proper planning consent we cannot consider your request
If a dish has been installed without our written permission, we may ask you to remove or cover the cost of us having to remove it.
Pets (including dogs)
If you want to keep a pet, other than small caged birds or fish, you will need to get our written permission for each animal. We will usually give permission unless we think that the pet will cause a nuisance. If we give you permission you must make sure that you keep any animals under control, and that they do not foul any communal areas in your building. If you want to keep a dog, you will normally need to live on the ground floor and have sole access to a garden which is properly fenced and secure.
We will refuse permission to keep any dog covered by the Dangerous
Dogs Act 1991 or any other dog which appears to have been bred for fighting.
Registered guide dogs for the blind and hearing dogs for the deaf are exempt from these rules. We may
12
remove our permission if we believe any animal is causing a nuisance or is a danger to other people. Some of our schemes have a 'no pets' policy.
Waste and recycling
You must always place your rubbish in the dustbin or container provided. Rubbish must not be left where it can cause a hazard or attract vermin. If you have large items you want to get rid of, you should contact your local council.
13
14
PAYING YOUR
RENT
15
Paying your rent
Paying your rent is your key responsibility as a resident.
Regular payment is critical to keeping your tenancy.
Your rent is due in advance.
Whether you choose to pay weekly, fortnightly, every 4 weeks or monthly.
Rent payment methods
We offer our tenants a variety of ways to pay their rent.
Choices available include: y
Direct Debit y
Online payments y
Swipe cards y
Telephone payments (mobile/ landline) y
SMS text messaging y
Direct Debit
One of our preferred methods of payment is Direct Debit.
Advantages of paying by Direct
Debit include:
Quick and easy
It can be set up via a brief phone call to your Income Officer, the
Customer Care line on 0300 123
3456 or by filling out a very simple form when you sign up for your tenancy.
Hassle-free
Any changes to the Direct Debit will be carried out by us so there is no inconvenience to you. However, we are not allowed to make any changes without sending you notice of them 10 days in advance, so you will always know ahead of changes.
Guaranteed
You are covered by the Direct
Debit guarantee against any errors that are made by us, your bank or building society. In the event of any such error, you are entitled to an immediate refund from your bank or building society.
16
You can choose the frequency of the payment dates as long as your payment is made before your rent is due. You can choose to set up your payments any day of the month (please contact the customer Care Line for more details)
You have the right to cancel at any time and this guarantee is offered by all the banks and building societies that take part in the
Direct Debit scheme. We ask that you tell us before you cancel your
Direct Debit.
Just take the swipe card along with your payment and hand them to the cashier.
You will be given a printed receipt
(as well as your card back) as proof that you have paid your rent and you should keep this in a safe place.
Payments can be made where you see these signs:
Swipe Cards
Pay your Rent and Utility Bill at the same time.
With the introduction of plastic swipe cards, you can use thousands of outlets to make your rent payment.
You can use your swipe card to make payments at any outlet displaying one of the signs below.
The Post Office network
Has approximately 16,000 branches and is one of the UK's most recognised and trusted brands. Payments can be made here using cash, cheque or debit card.
PayPoint
Provides over 18,000 payment outlets across the UK, easily identified by their distinctive yellow and blue signs. With payment terminals located in newsagents, convenience stores, supermarkets and garages. This network offers convenient opening times and payments can be made using cash or debit card.
17
Online payments
You have incredible flexibility with online payments. This service is available 24 hours a day and is a secure website.
Utilise this service by going to www.allpayments.net. It is a safe method of payment and there is also no complicated registration process – you just need your payment card and personal debit card.
To pay your rent online, follow the instructions below:
Go to www.allpayments.net.
You will be prompted to give your
Payment Card Number.
If you are using it for the first time you will be prompted for a password which you set (unique to yourself) and an email address for payment confirmation. Each time you use this payment method in future you will be asked for the password you have set.
You will then be greeted with a message confirming that you are making a payment to Family
Mosaic.
Enter the amount you wish to pay and the details of the debit card from which you are making the payment from. Click "Pay Now."
Once your payment is complete a confirmation page will appear providing you with a payment reference and authorisation code.
You will also receive a confirmation email.
18
Telephone Payments
Call our Customer Care Line and pay your rent using your debit card/ credit card - call 0300 123 3456
(Press Option 2)
Alternatively, allpay.net's automated telephone payment system uses IVR (Interactive Voice
Response) technology to allow bill payers to make their rent payments by telephone 24 hours a day, 7 days a week.
The system has secure and authorised payment processing, and comes with the added reassurance of automatic
connection to a customer service representative if the payment is unsuccessful.
Call allpay on 0844 557 8321.
The allpay App is a mobile application(App) available to download from the Apple App
Store and Google Play(formerly the
Android Market) for your Apple or
Android Smartphone.
You will need one of two versions depending on your mobile's operating system.
Android: https://market.android.com/ details?id=net.
allpay.consumer.allpay
Apple: http://itunes.apple.com/us/app/ allpay/ id500135368?mt=8
SMS Text messaging
Use your mobile phone to pay your rent using allpay.net's secure text message payment system and pay your rent using your debit card.
This will give you the flexibility to pay your rent using your mobile phone 24 hours a day, 7 days a week.
To begin securely texting your rent payment, you simply need a UK registered mobile phone, a valid swipe card and a current debit or credit card.
After a brief online registration via www.allpayment.net/textpay you can then pay on the move anytime, anyplace, anywhere.
Once registered, to make a payment, you simply text "Pay" along with a registered text code,
(for example "Rent") and the amount you wish to pay followed by the text password which is the last four digits of your debit card.
We cannot accept cash payments at our offices unless there are exceptional circumstances.
To find out if your rent has been received or to change the way you
19
make payments you can phone our
Customer Care Line.
Statements
A rent statement will be sent out to you each month. Please check it to make sure everything is as you expected and we have received all your payments. Contact our
Customer Care Team if you think a payment is not recorded.
How your rent is set
The Government has decided that rents should be set according to a formula based on local property values and local earnings. We will give you at least 28 days notice of any increase.
When your rent goes up you must arrange to pay the new amount.
However, we do recognise that tenants may suffer financial problems and can fall into arrears for all kinds of reasons. Your
Income Officer is here to help and if you are having difficulties paying your rent you should contact us as soon as possible.
Your Income Officer can: y
Identify benefits you may be entitled to, and refer you to one of our Welfare Rights Advisors if your case is more complex;.
y
Help you fill in benefit claim forms; y
Make an agreement with you to pay your rent in instalments, if you are experiencing financial difficulties. This will depend on your income and circumstances.
What happens if I don't pay my rent?
Payment of rent is not a matter of choice, it is an essential part of your tenancy agreement, and we take a firm but fair approach to tenants who fail to pay.
20
How we deal with persistent rent arrears
We will make every effort to support you and help you deal with your arrears. If our attempts to reach an agreement with you fail, or if you break an agreement you have made with us and fail to clear
the debt, we will need to consider taking further action.
This might involve taking court action to repossess your home or denying you certain rights, such as not allowing you to transfer to another home, mutually exchanging your home, renting a garage, or parking.
Steps that are taken which can lead to eviction
Our aim is to come to an agreement over payment, as repossessing homes is an action used only as a last resort.
If these measures fail we will have no other alternative but to take legal action against you.
All efforts are made by us to contact you (both verbal and written) to see you before any legal proceedings.
Firstly, we will issue you with a
Notice of Seeking Possession.
This is to notify you that we have started legal proceedings to repossess your home but does not mean that you have to leave immediately. If you receive a notice, you should speak to your
Income Officer immediately.
If you do not repay the debt you will be sent a pre-court meeting letter requesting to meet at your home or at our office to discuss the implications of court action and/or seek an arrangement or payment in full for any arrears.
If full payment or an arrangement to pay is not made, a Possession
Summons will be sent to you informing you of the County Court hearing date. Between receiving the Summons and the court hearing date you should continue to make rent payments.
If the arrears are not cleared prior to the court hearing, the court will either make an
Outright, Postponed or Suspended
Possession Order.
Outright Order
The court has decided that you must leave the property straight away or in 7, 14 or 28 days.
21
Postponed Possession Order
If you do not pay the arrears and current rent as agreed by the order, we will apply for a date to be fixed for possession (this is the date that your tenancy will end) and then you will receive a Warrant of
Possession with an Eviction Date
Suspended Possession Order
If you do not pay the arrears and current rent as specified by the
Order you will receive a Warrant of
Possession with an eviction date.
This is the date the Bailiff will come with your Income/Neighbourhood
Manager to repossess your home.
Welfare Rights Advisors who is can help with more complex cases. If you have any other debt problems our Customer Care Line can pass on your details to our Debt Advisor who can help with more complex cases. You can also contact
Citizens' Advice for help with debt advice. They give free, confidential advice.
They can help you work out repayments and negotiate with your creditors. Visit their website at www.adviceguide.org.uk
National Debtline gives free, confidential advice to help you solve your money problems. Call
0808 8084000 or visit www.
nationaldebtline.co.uk.
Your local Family Mosaic office may also be able to advise you.
Advice and money management
If you are experiencing delays or difficulties with any benefits you are entitled to, please contact our
Customer Care Line. A member of the Customer Care Line will make sure that your Income Officer is made aware. It may also be possible to refer you to one of our
Housing Benefit
Housing Benefit helps people on low income pay their rent. You can claim Housing Benefit if you are working but your earnings are low or if you are receiving state benefits.
22
Housing Benefit is a means tested benefit – your income is measured against your needs and your rent costs.
You can only get Housing Benefit if you are responsible for paying the rent for your home, or you live with a partner who is responsible for the rent.
If you are unsure whether you are entitled to Housing Benefit, there is nothing to lose by applying.
Contact your local council to find your local Housing Benefit office. They will give you a form and explain what information they need to work out if you are entitled to Housing Benefit.
You should make a claim as soon as possible, otherwise you could lose benefit and this could result in rent arrears.
Dealing with your Housing Benefit is your responsibility. Processing your application may take some time. You should check regularly with the Benefit Office on progress. They will write to you with their decision.
Challenging their decision
If you disagree with the decision made by the Housing Benefit office, you must write to them within one month of their letter, and tell them why you disagree.
It is a good idea to get help from
Citizens' Advice, a law centre or from your local office. You can also get help from a solicitor, but you may have to pay for their help.
If your circumstances change, you must tell the Housing Benefit office of any change in your situation which might affect your entitlement to Housing Benefit.
You must tell them as soon as the change happens.
Changes they need to know about include the following: y starting work; y any change to other welfare benefits you receive; y any change concerning the people living with you (including their income); y any increase or decrease in your rent;
23
y y any change in your wages or investments; a non-dependent person moving in or out;
How is Housing Benefit paid?
You can have it paid either to you or directly to us. You must indicate on your Housing Benefit form that you want your local council to do this. y when a child living with you turns 16 or 18 years old.
If you don't tell them about such changes, they may pay you too much Housing Benefit and then ask you to pay it back.
It is your responsibility to pay rent and you could still be evicted for rent arrears even if you are entitled to Housing Benefit.
Renewing your claim
The Housing Benefit department may contact you once or twice a year in order to check that your circumstances are still the same as when you claimed.
If your Housing Benefit is paid directly to us you still have a responsibility to tell the Housing
Benefit office of any changes in your situation.
Tips on claiming Housing Benefit
You must respond to this immediately or your claim may be suspended; or cancelled; or you may be asked to repay some or all of the money they have paid for your rent.
They may also visit you to check on your circumstances. If they leave a card asking you to contact them, you must do so quickly or your claim will be cancelled and your payments will stop.
24
Reply quickly to any letters from the Housing Benefit office.
Contact us immediately if you need advice or help replying. Make sure you keep a copy of any forms you fill in or letters you send to the Housing Benefit office. We recommend that you send anything in the post by recorded delivery.
Alternatively you can hand in information directly to the
Housing Benefit office and get a receipt.
Check with them regularly until your claim is sorted out, especially if it is taking a long time.
Housing Benefit overpayments
An overpayment is when you receive more Housing Benefit than you are entitled to. This may happen because: y you made a false statement on your claim form; y your circumstances have changed since you claimed, but you have not told the Housing Benefit office; y the Housing Benefit office has made a mistake.
When this happens you must repay the overpayment. If the benefit was paid directly to us, then we may have to repay the money from your rent account and you must clear any arrears that may result.
If this happens and you don't make suitable arrears payments we may take action to repossess your home. If you have problems making payments, please contact your local office as soon as you can.
25
26
REPORTING A
REPAIR
27
Reporting a repair
Online
You can report a repair using our online system which is available 24 hours a day.
If you experience any problems accessing our online system, please contact our Customer Care Line on 0300 123 3456.
When will repairs be fixed?
Emergency repairs: we'll repair or make safe within 24 hours
The following would be treated as an emergency repair:
Electrics
y total loss of electric power y an unsafe lighting socket or electrical fitting y total loss of lighting y partial loss of power but only when it is a danger to health and safety, for example power loss effects essential equipment such as a stair lift or a nebuliser
Water
y total loss of water supply y toilet not flushing (when there is no other toilet at the dwelling) y internal leaking or burst pipes (only when the tenant cannot control the leak and there is a danger to the property and/or belongings)
28
y burst tanks or cylinders y loss of water heating (between 31st October – 1st May)
Gas
y total or partial loss of gas supply
Heating
y no central heating (between 31st October – 1st May)
Blockages
y blocked or leaking foul drain or soil stack y blocked flue to open fire or boiler y blocked WCs y blocked sink, bath or wash hand basin (in multi-storey blocks only) y blocked refuse chutes in multi-storey blocks
Building
y insecure external window, door or lock y locked out (may be chargeable) y gale, fire, flood or explosion damage
29
Next available repairs: we aim to fix within 35 days
The following would be treated as repairs to fix at the next available date:
Electrics
y partial loss of electric power
Water
y partial loss of water y taps which cannot be turned y leaking pipe work or waste pipes y loss of water heating (between 30th April – 1st November)
Blockages
y blocked sink, bath or wash hand basin
Building
y rotten timber flooring or stair tread y door intercoms not working y extractor fans in kitchens or bathrooms y glass replacement y leaking roofs y floorboards (small repairs) y internal door repairs (not replacement) y air vents / bricks y small plastering repairs (plaster patch)
30
Appointments
Please make sure you keep any appointments that you make. If you cannot keep an appointment, let us know so that we can re-arrange it with you.
If you fail to keep an appointment we will cancel the repair job and you must contact us to re-arrange it. If we have evidence that you have missed three appointments, we may charge you for the callouts.
Forced entry without ermission is always a last resort and will only be used in extreme circumstances.
Examples of this include: y y y water leaks and flooding suspected gas leaks y where the safety of occupants is at risk.
to comply with our legalobligations as your landlord.
Gaining access in emergency situations.
In emergency situations we may need urgent access to your property.
We will only force entry without tenant consent when there is a real threat to the safety of a person or a risk of serious damage to our or another party's property. We will always consider all health and safety risks.
Where access is denied we may seek access through a court injunction.
We will always attempt to contact you in the first instance by phone or letter depending on the urgency of the situation. It is therefore very important that all your contact details are up to date and we have a range of phone numbers that we can contact you on, as well as a valid email address.
If we cannot contact you and we have forced entry we will make sure your property is secure and
31
contact you to make arrangements to pass on the keys.
If we cannot contact you we will leave a letter on your door telling you that access has been forced and provide you with information about who to contact to gain access.
criminal damage, misuse, neglect or wilful damage.
These may be caused by your own actions, a member of your household, a visitor, or a household pet.
Rechargeable Repairs
We are responsible for most, but not all repairs. There are some repairs that are your responsibility as the resident and this is set out in your tenancy agreement and the repair obligations page of this handbook.
We may carry out these repairs and jobs for you, but will charge you an excess towards the cost of the work. We will always carry out repairs where damage is a result of normal wear and tear.
However, there are times when we find it necessary to charge residents for repairs carried out on their property.
These types of repairs will usually be as the result of accidents,
32
Statutory Compensation
In some cases, you have the right to claim compensation under the Right to Repair Scheme.
Compensation will be paid if emergency or urgent works which are classed as 'qualifying repairs,' costing less than £250 (excluding
VAT) are not completed within their target timescales.
If we have not given you reason/s for not completing a qualifying repair (see below) within our target time, and the repair has been reported twice, you are entitled to compensation of £10. We will pay
£2 for each extra day that the repair is delayed, up to a maximum of £50.
Qualifying repairs include: y toilet not flushing (provided there is no other toilet in the home)
y blocked flue to open fire or boiler y any blockages or leaks affecting a sink, bath or basin y loose or detached banister or handrail y leaks from water or heating pipes where the leak cannot be contained y temporary repairs to the roof where there is serious water penetration (access and weather permitting) y a dangerous part loss of electrical power or electrical fault
To be eligible for compensation you must have given us access for the work to be assessed or carried out. If you have missed an appointment or have been away you probably will not be entitled to any compensation.
If you are not happy with how we have responded to your repair requests, you can: make an official complaint to us, have the situation looked at again (see "A Guide to making a complaint") or seek the advice from your local council's
Environmental Health Officer.
Environmental Health Officers have powers under the Public
Health Acts that require us to carry out certain repairs or take legal action, but you will need advice from a solicitor, law centre or your local Citizens Advice Bureau.
We cannot consider an official complaint from you if you have also started legal proceedings against us on the same matter.
Servicing gas appliances
We are legally required to service all gas appliances that we are responsible for, within your home once a year. For example: boilers, water heaters, and gas fires (if we have fitted them). This is in addition to any repairs you may ask us to carry out if they break down.
A team of qualified engineers carry out these services throughout the year. They will contact you to agree an appointment to carry out the work. You will be issued with a
33
certificate to confirm the service has been completed.
A poorly maintained gas appliance can be very dangerous. It is very important that you agree an appointment with us for our operative to carry out an annual gas safety check in your home. If you do not provide access we will take legal action to gain entry to your home and carry out the work.
Gas leaks
If you smell gas, turn off all gas appliances immediately, open windows and put out all naked flames. Turn off the gas supply by turning the handle that is next to your gas meter.
If you smell gas ring the Gas
Emergency Service on 0800 111
999.
Pest Management
We will help with the treatment of statutory pests in your home and in communal areas.
Statutory pests include: y y y rats mice cockroaches.
We will also treat qualifying pests as they can be harmful to your health and property.
34
Qualifying pests are: y tropical ants y oak processionary moth caterpillars y pharaoh ants y ghost ants y rodents y wasp nests and brown tailed moth caterpillars.
All statutory and qualifying pests in internal communal areas will be treated and works will be carried out to reduce the chance of the pest returning. In some circumstances, we will give extra assistance where there is serious damage to property or threat to life or limb.
However, you should contact your local authority for assistance with all non-statutory and nonqualifying pests.
These include: foxes, maggots, pigeons, and woodlice.
Gardens
If you have a garden or use of a garden your tenancy agreement will say whether it is exclusively your own, shared with other residents in the property, or if it is part of the grounds of your estate.
You may make improvements to your garden with our permission.
The upkeep and maintenance of your garden is your responsibility.
However, we may need to prune trees if there are serious health and safety concerns.
Flood damage
We are not responsible for the actions of our tenants. Unless our repeated failure to fix a property's physical defect , results in a flood from your neighbour, we will not be legally liable.
For example if your neighbour has fitted a new washing machine and this causes a flood, it is up to you to persuade them to pay for damage to your belongings unless you have home contents insurance, in which case the insurers should pay.
The same applies if your actions result in damage to a neighbour's property.
Damp and Mould
The most common cause of damp and mould are high levels of humidity within your property, commonly caused by poor ventilation. Please ensure that you ventilate your property by opening windows when cooking or bathing.
If your windows have trickle vents, keeping these open will also help.
Do not use your radiators to dry washing as this will cause your property to become damp.
35
If you have moved into a new-build home
Problems with your home during the first twelve months
The 'defects period' is typically the twelve months following the formal handover of the scheme from the builder to us.
It is not twelve months from the date you move into your new home.
During the defects period, the builder remains liable for any faults or problems with the structure of the building, the communal fixtures and fittings and any faults or structural / mechanical problems inside your homes.
If you discover a fault or problem during the defects period, you should report it to us on 0300 123
3456.
We will ask the builder to attend to put the matter right, and can give you information on when the defect will be completed.
If your home is not managed by
Family Mosaic, then you must contact your External Managing
Agent (EMA) to arrange for your repair to be carried out.
We will help chase the EMA if they fail to act adequately.
For defects inside your home, you will be asked to provide access to your home to make sure these can be resolved as quickly as possible.
However, some non-urgent defects will be resolved at the end of the defects period.
If more than one subcontractor is required to attend, this could mean multiple visits, unless one mutually convenient date can be arranged.
When the defects period is due to expire, we will write to you to ask if there are any outstanding issues you would like to report.
In some cases, where there are issues, we will arrange for a formal inspection with the builder. It is important that you reply to the end of defects letter,
36
37
38
YOUR
RIGHTS
39
otherwise we will assume nothing is wrong with your property. The builder will almost always refuse to deal with any problems that are not reported before the end of the defects period.
Builders are not responsible for repairs arising from wear and tear, damage or misuse, so it is important that you report all problems as soon as you notice them, even if the decision is taken to resolve the defect at the end of the defects period. Otherwise, the contractor may say that the fault is down to resident damage and will not agree to complete the repair. If the fault is the result of resident damage or misuse, or systems such as the boiler and central heating being used incorrectly, but are not faulty, you will be recharged for the cost of the call out and any associated repair. If you are unsure how to operate your boiler and central heating, please refer to your owners' manual which will include instructions on how to programme and maintain the system. Ceramic fittings
PLEASE NOTE:
It is especially important that you report any damage to ceramic fittings, like toilets and sinks, as soon as you move in. Any delay will probably result in the contractor not accepting liability.
Communal repairs
During the defects period, there is sometimes a need to complete a repair to the communal parts of a scheme when something has been broken or damaged.
These should be reported using the defects process outlined above. After the defects period expires, all communal repairs will be undertaken on behalf of the residents. Communal repairs, both during and after the defects period expires, should be reported to us on 0300 123 3456. These repairs will be paid for as part of your service charge.
40
Your rights
Your tenancy agreement is your contract with Family Mosaic.
Please read it carefully, as it gives details of your rights and the rules you must follow as a resident. It is designed to be easy to read and understand but if you are not sure about anything, please ask us. We will be happy to explain.
As a Family Mosaic resident you have certain legal rights. You will legally be either a secure, assured or assured shorthold tenant. Your tenancy gives you security of tenure and means that you cannot be told to leave your home unless a court agrees.
Changes to your tenancy
Apart from changes to your rent, we will always consult you if we plan to change what your tenancy agreement says.
We will write explaining what we propose to change and ask for your views.
We will then consider your comments carefully before making any changes. At least 28 days before any change takes place you will be sent a 'Notice of Variation' that explains how the tenancy agreement will change and when the change will begin.
Joint Tenants
A joint tenancy is where two people sign the tenancy agreement and share equal interest in the tenancy.
Joint tenants have equal rights and responsibilities; normally we will only consider granting joint tenancies where partners have lived together for more than 12 months or more, and have no rent arrears.
We offer joint tenancies to married couples, civil partners and other established unmarried or lesbian and gay partners.
We may also consider other applicants for joint tenancies, such as an adult son or daughter living with and looking after a parent.
41
Lodgers
If you want to take in a lodger or you want to sub-let part of your home you must get our permission.
You must not sub-let the whole of your home or we will re-possess it
(see page 67)
If you go away for a long period
(more than a month) you should let us know in writing.
Assigning your tenancy
You can only pass on ("assign") your tenancy in certain circumstances – talk to us first. If you assign your tenancy illegally we may take legal action against you.
Making improvements
You can make improvements to your home but you must get our written permission first.
If you are leaving your home and you have made improvements you may be able to get some compensation for them; if you take them with you, you must "make good" by replacing them.
If you make an improvement it will be your responsibility to maintain that improvement unless otherwise agreed with us in advance.
Examples of improvements include: y redecorating the outside; y knocking down walls; y putting up a satellite dish or an external aerial of any sort (see page 13); y additions or changes to fixtures and fittings, such as baths, sinks or kitchen units; y putting in new services, such as more heating or a shower;
Before carrying out certain improvements you may also need to apply for planning permission.
We will not normally grant permission to install laminate flooring unless you live on the ground floor. If you install laminate flooring without our permission, and it leads to noise nuisance then we will take legal action against you.
42
If you do fit laminate flooring without permission and a maintenance issue arises where the floor needs to be removed, we will not replace it.
Your right to information
We are committed to: y keeping you informed about our policies and procedures; y letting you know how we perform as a landlord; y giving you information about our responsibilities to you and your responsibilities as a resident; y making sure all residents have equal access to information; y treating information we hold about you with care; y correcting information that is wrong.
Access to tenancy records
You have the right to see your tenancy file, but information from third parties will be removed.
Your right to security of tenure
As a housing association resident you have security of tenure.
You cannot be told to leave your home unless we get an order for possession from the courts. You cannot be evicted from your home without a court order.
Before we begin legal action we will make every effort to give you help and advice to try to sort out the problem. If we are going to take legal action we will always give notice of our intention in writing.
Your tenancy agreement legally governs the relationship between you and us. It sets out your rights and responsibilities as a tenant and our rights and responsibilities as your landlord.
It is an important legal document.
You should have signed two copies when you became a resident: one we keep and the other you should have.
43
Starter Tenancies
New tenants, except those who already hold a tenancy with a council or housing association will be issued with a starter tenancy.
This is for one year, although this can be extended for a further six months.
Provided you keep to the terms of the tenancy agreement, the starter tenancy will convert, at the end of the one year term, to an assured or fixed-term tenancy.
Fixed Term Tenancies:
A fixed term tenancy is an assured shorthold tenancy
(AST) agreement that lasts for a specified period of time. In the last year of the fixed term tenancy we carry out a review to make sure that your home is still suitable to meet your housing needs and that you have met our expectations of fixed term tenants. A new fixed term tenancy can be granted when it comes to an end.
We expect our fixed term tenants to: y comply with the terms of their tenancy agreement; y make reasonable efforts to seek employment and engage in training and employment opportunities.
Assured and Secure
The difference between being a secure and assured tenant is: y secure tenants have the right of referring any rent or service charge increase to the Income
Officer service; y for secure tenants there is a statutory right of succession (the equivalent of which we grant by contract to assured residents); y there are different grounds legally for possession;
We aim, wherever possible, to treat both secure and assured tenants in the same way.
If you transfer to another of our properties you will keep your tenancy status.
44
Going away for a long period
We can agree to special arrangements if you need to be away from home for a period but intend to return. For example, you may have a long stay in hospital or be making an extended visit to friends or family in another country.
You must tell the Customer Care team if you expect to be away from your home for more than one month and give the following details: y your reasons for going away and the date of your return; y who, if anyone, will be occupying your home; y how the rent will be paid while you are away; y how you can be contacted in an emergency.
You are still responsible for paying your rent while you are away.
Someone who is looking after your home will not be able to claim
Housing Benefit themselves.
We may take action to evict anyone living in your home in your absence unless you have informed us first.
If you are likely to be away for more than 12 months we may expect you to give up your home.
We cannot guarantee to re-house you when you return.
If your stay away becomes longer than you first thought, tell us as soon as you know that your return will be delayed.
Your right to inherit a tenancy ("succession")
If a tenant dies then someone else may inherit their tenancy.
This will depend on three things: y whether the tenant is a joint or sole tenant; y the type of tenancy they hold - assured or secure; y whether they succeeded to the tenancy themselves when someone died.
There are three possibilities:
45
y
If you are joint tenants, the surviving joint tenant or tenants will inherit your tenancy; y
If you are married or in a civil partnership, your partner will automatically take over the tenancy and the right to stay in your home provided they are living with you at the time of your death.
y
Otherwise, if you are a secure tenant, your surviving partner or some other members of your family will be entitled to succeed, provided they have been living with you for the previous 12 months. (Other family members include children, grandchildren, aunts, uncles, nephews and nieces.)
To apply to succeed to a tenancy, you must contact the Customer
Care Line within one month of the death of the tenant. You will be required to provide: y a copy of the tenant's death certificate; y evidence that you have been living with the tenant for the
46
YOU & YOUR
NEIGHBOURS
47
required period; y details of everyone else living in the property.
If necessary, we will arrange to meet you and other family members.
Tenancy Fraud
If you provide false information in order to obtain a tenancy, or if you let out your home and live elsewhere, this is tenancy fraud.
If we discover tenancy frauds we will take court action to recover the property and may take action against the tenant under the Fraud
Act, including for the recovery of proceeds.
We carry out checks to detect fraud, including property visits to confirm that the tenant is living there. We appreciate your cooperation in these checks. If you are aware of a Family Mosaic property that may be sub-let., please let us know.
Your right to make a complaint
We do our best to give you a good service, but sometimes things go wrong. We may not always know when this happens, so please tell us so we can try to put things right.
For more information on how to make a complaint, please ask us for a copy of the leaflet "A guide to making a complaint" or visit our website.
Claiming compensation
If your complaint is upheld and you have demonstrated that you have suffered loss or inconvenience then you may be entitled to compensation.
48
You and your neighbours
It is important to us that local residents live together in an environment of respect and tolerance.
You will have signed a good neighbour agreement and we ask you to accept and follow this as well as the terms of your tenancy.
We are committed to combating anti-social behaviour (ASB) by taking tough action against the people responsible (perpetrators).
We also work with local residents and other agencies to come up with ways to tackle wider problems in the community.
Stamping out ASB
Under the terms of your tenancy agreement you must not: y take part in any form of antisocial behaviour; y take part in any form of harassment or domestic violence; y cause nuisance and annoyance
49
to others by taking part in any activity that produces excessive noise, particularly at night.
We have a responsive and effective approach to dealing with ASB.
Details can be found in the leaflets available from all our offices.
We will not tolerate acts of violence, threats or harassment of our staff. We will take action against anyone who demonstrates this behaviour. Please make sure you show our staff the same respect you expect from them.
Dealing with hate crime
We do not tolerate those who harass, attack or abuse our residents because of their ethnic background, faith, gender or sexuality. If you feel you are the victim of hate crime, please let us know.
50
Domestic violence – don't put up with it
If you think you may be experiencing domestic violence please contact us for advice. There are laws to protect you and people who can offer you confidential help.
Domestic violence is an act of violence and abuse that happens within the home. It is defined as abuse by one, or both partners within an intimate relationship.
Domestic violence can include verbal and mental abuse as well as physical violence and threats of violence.
Admitting to yourself and others that you are experiencing domestic violence can be difficult but is an important first step in getting protection for you or your children.
If you think you may be experiencing domestic violence you should contact us and the police. You can also get help from
Women's Aid, Victim Support or
Citizens Advice.
GETTING
EXTRA
SUPPORT
51
Getting extra support
We recognise that some of you require more support from us for reasons such as physical or mental illness, or because you are older.
Our staff will help you get the support you need so you can live as independently as possible.
Depending upon which borough you live in, we can either provide this support ourselves or put you in touch with the local authority support team and other specialist agencies.
In many cases you can receive care and support in your existing home.
At other times you may need to move to specialist accommodation where a higher level of support can be provided.
Your Neighbourhood Manager can provide advice on getting you support and can assist you by developing a Personalisation Plan to assist you through this process.
We also have a Tenancy Support team to assist residents who are having difficulty keeping to their tenancy agreement.
If you have been re-housed under the Rough Sleeper Initiative our staff and the local authority team will provide you with extra support to help you settle into your new home.
Support during stressful times
If someone close to you dies, or a personal relationship breaks down, you may need help with coping and sorting things out. We can put you in touch with agencies that can give you support and specialist advice. In addition, we can provide help and advice about your housing situation, rent and benefits.
Help for people with a disability
If you or a member of your household has a disability we may be able to offer help. We may also be able to adapt your home. This might involve installing special
52
equipment to aid your mobility, or works to make sure that you can use your home.
If your home cannot be adapted we may be able to arrange for a transfer to a more suitable property.
53
54
GETTING
INVOLVED
55
Getting involved
You have the right to be consulted about changes to the way we manage your home and provide services.
We will consult you on: y improvements or major repairs to your home; y changes in your rent; y changes to your tenancy agreement; y transferring your home to another landlord; y changes to services; y the way we manage your home or neighbourhood; y all investment work where appropriate and the procurement of new maintenance contractors; y other important issues that affect you.
How we will consult you
We will consult you in a range of ways, including: y sending you special letters on specific issues; y discussing issues with you personally; y carrying out opinion surveys by interviews or sending questionnaires to a sample of residents y arranging meetings with recognised resident groups; y discussing issues with focus groups of interested residents.
We will keep you informed of what happens as a result of any consultation, through our
Connections magazine and our website.
56
Ways to get involved
Family Mosaic recognises that Resident and Customer involvement is vital to increase our success and customer satisfaction.
Many customers get involved because: y
Their feedback will improve our
services and this means we can better meet their needs; y
Being able to scrutinise the organisation allows customers to hold staff to account; y
Getting involved can directly improve local communities through local initiatives and projects; y
Customers can improve their skills and help create further opportunities to make a difference; y
Customers can help decide on our priorities and make sure that budgets are being spent properly and that projects represent value for money.
Board and Committee members
There are three tenants on the
Family Mosaic Board, in addition to other residents and customers on our various forums and customer involvement opportunities.
57
Service standards and local offers
We publish service standards for all of the main services we provide.
These set out what you can expect from us when we are providing services.
We also have a 'local offer' that we developed with residents which identifies key service areas that we want to improve. We can develop more 'local offers' with residents so services meet local needs, including through our 'myplace' programme.
We publish an annual review to tenants setting out how we are doing against our local offer and the standards we have set.
The service standards and local offer are available in leaflet form from our offices or on our website www.familymosaic.co.uk.
Panel Plus
Panel Plus is a group of tenants and leaseholders with a strategic overview of Family Mosaic's operations. Panel Plus members have a role in setting budgets and overseeing our operational plans and strategies.
It is made up of tenant board members and representatives from
Regional Forums as well as other involved tenants.
Regional Forums
The forums are groups of interested residents and customers who meet in each of our London regions,
Essex and in supported housing to consider local issues.
Forums meet four times a year and what they decide is published in
Connections.
58
Customer Panel
The Customer Panel is open to any
Family Mosaic resident. The Panel is consulted on improvements to service delivery and policy changes and is made up of residents from different backgrounds across
London and Essex.
Customer Panel members are involved in surveys and focus groups.
For more information on how to get involved in a panel, call the
Customer Care Team on 0300 123
3456 (Option 2.)
Residents' Associations
A Residents' association can be a good way for groups of people living in the same neighbourhood to get together and tackle issues such as: y
Making the community stronger; y
Play areas for children; y
Traffic and parking problems; y
Improving the area; y
Tackling anti-social behaviour.
We will help set-up and support residents' associations and provide grant funding. Please contact us for further details.
Resident Scrutiny Panel
This is an independent panel, consisting entirely of Family
Mosaic residents. Their job is to scrutinise the services delivered by Family Mosaic and to identify improvements that can be made.
The panel also monitors the progress of 'local offers They play an important role in helping make sure that Family
Mosaic is providing services to the standards that residents expect and that it is meeting regulatory requirements. The panel has a programme of service areas to inspect and it reports its findings directly to Family Mosaic's Board.
Further details of these opportunities and the difference getting involved makes, can be found in our Customer
Involvement Strategy. You can get copies from the Social Inclusion
Team or our website
59
Other resident involvement opportunities available at Family Mosaic
As well as providing good quality housing we are committed to improving the health, wealth and wellbeing of all our customers. Our
Social and Financial Inclusion Team can help you become more involved
with your local community, learn a new skill or find a job through the range of exciting projects that we have on offer.
Volunteering
If you have a few spare hours, you can become one of our valued
Befriending Programme volunteers.
Volunteers offer friendship and support to some of our more isolated and vulnerable customers..
neighbours could join in with our
Greening Communities programme.
Supported by our Project Workers, you could transform disused communal areas into community gardens, play areas or vegetable plots that can be enjoyed by all.
You don't need to be "greenfingered" or have any experience as our Project Workers will provide advice and training – just bring your energy and enthusiasm.
If you would like to know more, please contact the Social Inclusion team.
Mind the gap
Our Mind the Gap project brings together younger and older customers. - If you are under 25 or retired, you can take part in fun activities and events, and make some new friends at the same time.
If you would like to know more, please contact the Social Inclusion team.
Greener communities
Would you like to see communal green spaces where you live used better? If so, you and your
Youth Projects
At Family Mosaic,
We place great value on our younger residents and are committed to helping them achieve their goals as they move into adulthood.
If you or your children are aged between 12-25, our Youth Academy programme will have something for you.
60
For example, if you enjoy taking part in team games, our Sports
Academy can find you a community based sports activities in your area where you can learn how to play basketball or football, and train to become a qualified coach.
Or you can take part in the nationally recognised Duke of
Edinburgh Awards programme and work towards a Bronze, Silver or Gold Award through a noncompetitive programme of physical activity, volunteering and learning a skill that interests you. You also get to take part in an residential expedition.
Employment Projects
By 2015, we aim to help 1000 customers into jobs. Our expert employment team provide personalised support and advice to help you find your perfect job. We offer CV and interview coaching, free accredited training opportunities, Employment Boot
Camps and more.
Younger customers can also access our apprenticeships programme and gain a recognised qualification, while developing practical skills in a real work environment.
If you are interested in learning a new skill and getting a qualification at the same time, our
Mini Academies will be of interest
– offering short courses ranging from DJ skills to healthy cooking, there is something for everyone, so contact the Youth Academy team or check out our Youth Academy
Facebook page to find out more.
If you would like to know more, please contact the Employment team.
Get Connected - digital inclusion project
61
Would you like to learn how to use a computer so you can do your shopping, claim your benefits, pay bills and keep in touch with family or friends more easily?
If so, you could join a free "Get
Connected" project running in a
local community centre or scheme near you.
Alternatively, if you already have good IT skills, you can volunteer your time to help others 'Get
Connected' by helping to run the sessions as a Young Trainer (under
25 years) or as a Digital Mentor providing on-going support to residents who have completed the basic course.
Community Champions
Do you have an idea for a small local project that would be of interest to your neighbours or beneficial to the wider community?
If your answer is yes, then our inspiring Community Champions programme could be just for you!
So far, residents have been supported to develop projects that provide French lessons, self defence and belly dancing classes and healthy cooking for children.
If you know your idea would be popular and is meeting a gap in the neighbourhood, we would like to hear about it.
There is also an opportunity for you to gain a free accredited housing qualification as part of the Community Champions training and a small grant to support your project.
If you have a great idea and would like to develop a project in your community, please contact the
Social Inclusion team.
Local projects
We know that residents are often best placed to understand their community's needs. So we have a
Community Grant fund that is designed specifically for small one-off projects, such as trips and events which are chosen and organised by residents, for residents.
If you would like to find out more about this fund or discuss your idea contact the Social Inclusion
Team.
62
MOVING ON
63
Moving On
There is a very high demand for social housing across all the areas where we have properties.
However, if you need to move home, there are several options available.
These options can change and may depend on where you live and what your needs are, so you will need to ask for more detailed advice and information. . your options for rehousing which may include applying to join the
Housing Register if one exists.
They have their own allocations policy and will explain how they assess your needs. Every council has a long list of people waiting for rehousing so you are likely to have a long wait.
Swap homes
You can swap your home with another housing association or council tenant. It's a great way to help yourself find the right home for you. We are members of at least one internet-based national swapping scheme and offer advice and support to help you register and find a suitable swap. Whatever your needs you will find some possible match suggestions.
Your local council
Your local council will offer advice and information about
Housing for older people
We have several sheltered housing schemes for older people providing a high standard of self-contained accommodation with communal facilities and alarm call systems.
Some schemes have staff on-site too. We can also offer advice about moving into housing for older people provided by other specialist organisations.
Housing Moves
This is a London scheme offering opportunities to move to a different Borough. Downsizers get top priority. You can apply online.
64
Low cost homeownership
See below
Renting privately
Available properties are widely advertised in the local press, estate agents and on the internet.
Transferring to another
Family Mosaic home
We keep a limited transfer list for tenants in urgent need of rehousing, including tenants wanting to downsize to a home with fewer bedrooms. We only have a small number of homes we can offer our own tenants so you will have a long wait and should consider every other option. You will need to have lived in your home for at least one year, have a clear rent account, completed your tenancy's probationary period, and kept your home in good condition before you can apply. You will also need to be registered with at least one mutual exchange scheme and have approached your local authority before we can consider your request to join our transfer list.
Buy the home you live in through Social HomeBuy or the Right to Acquire
Residents whose properties were built with social housing grant from the Government after 1 April
1997 may be eligible for Right to
Acquire.
Social Homebuy is a voluntary grant funded scheme and may not always be available. The advantage is that you could buy a share if you cannot afford the full value. You can buy through Social Homebuy even if you qualify for Right to Acquire. The discounts are the same.
You will only be eligible if you have a clear rent account and are not in breach of your tenancy agreement. Other conditions apply
– please enquire for more detailed information.
The maximum discount available is £16,000 (subject to borough differences) on both schemes.
Right to Buy
Right to buy is normally only available to those who transferred
65
to us with a property that was previously owned by a local authority. Check with your
Neighbourhood Manager whether you have the Right to Buy before enquiring.
If you are interested in buying your home, call our Customer Service
Line on 0300 123 3456 and ask for information about Tenant to Home
Ownership Products and they will send you an information pack.
Buy a property through shared ownership
Shared Ownership helps first time buyers get a foot on the property ladder.
It works by letting you buy a share in a property while paying subsidised rent on the remaining share. The percentage of shares you can buy depends on what you can afford. This is usually between 25% and 75% of the value of the property being sold. You will need to take out a mortgage to pay for your share of the home's purchase price.
The benefits of Shared Ownership include: y
A home in a prime location with good transport links; y
A smaller deposit required on the share compared to a full mortgage; y
White goods like the fridge and washing machines are often part of the deal, along with high quality built-in fittings
For more information and to find out whether you are eligible for
Shared Ownership please visit: www.familymosaicsales.co.uk to download your free Guide to
Shared Ownership. Or call the
Customer care line on 0300 123
3456 and ask to speak to a member of the Family Mosaic Sales Team.
66
To find out about other home ownership options visit
London:
www.firststepslondon.co.uk
Essex:
www.helptobuy.net
Ending your tenancy
If you plan to move out permanently, there are some important things you must do: y give us at least four weeks notice in writing, otherwise you will still have to pay rent; y make sure your rent is paid up to date; y carry out any repairs that are your responsibility; y make sure no-one else is left living in your property; y take all your furniture and belongings. We will not be responsible for them if you leave them behind and will have to dispose of them; y leave the property clean and garden tidy and empty of rubbish; y tell the benefits office about your move if you claim Housing
Benefit, and they will redirect your post; y tell the gas, electricity, phone and water companies that you are moving, but do not have the supply disconnected.
If you do not end your tenancy properly, we will trace you at your new address and charge you for: y rent that has not been paid; y repairs that are your responsibility; y costs incurred such as removing rubbish, belongings or cleaning your flat/house/garden; y forcing entrance or replacing any communal keys/fobs and letterbox, meter cupboard or car park keys.
You must return a full set of keys including communal door keys or fobs to your local office on the day you move out, or the locks will be changed and we will charge you for the work and further rent.
You can start the process for ending your tenancy on the phone with the Customer Care Line on
0300 123 3456.
67
This document gives you information about your home, your rights and your responsibilities. If you need any part of this document in large print, Braille, on CD or explained in your own language please contact us on 0300 123 3456
Printed on FC paper from mixed sources including recycled.
Albion House
20 Queen Elizabeth Street
London SE1 2RJ
Version 5: First published: Sept 2008, Last revised: Jan 2016
* Your assessment is very important for improving the work of artificial intelligence, which forms the content of this project