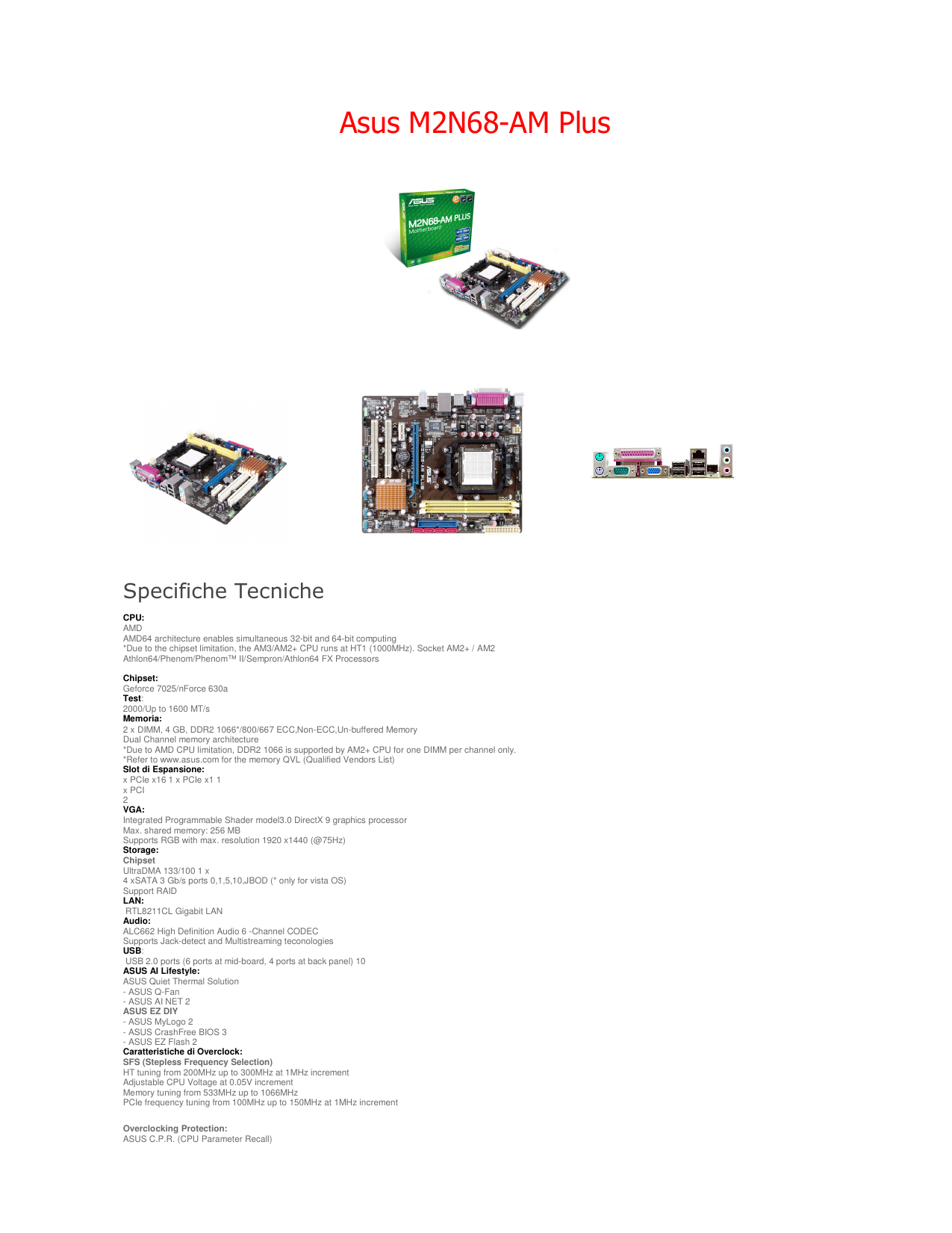 Asus M2N68-AM Plus
Specifiche Tecniche
CPU:
AMD
AMD64 architecture enables simultaneous 32-bit and 64-bit computing
*Due to the chipset limitation, the AM3/AM2+ CPU runs at HT1 (1000MHz). Socket AM2+ / AM2
Athlon64/Phenom/Phenom™ II/Sempron/Athlon64 FX Processors
Chipset:
Geforce 7025/nForce 630a
Test:
2000/Up to 1600 MT/s
Memoria:
2 x DIMM, 4 GB, DDR2 1066*/800/667 ECC,Non-ECC,Un-buffered Memory
Dual Channel memory architecture
*Due to AMD CPU limitation, DDR2 1066 is supported by AM2+ CPU for one DIMM per channel only.
*Refer to www.asus.com for the memory QVL (Qualified Vendors List)
Slot di Espansione:
x PCIe x16 1 x PCIe x1 1
x PCI
2
VGA:
Integrated Programmable Shader model3.0 DirectX 9 graphics processor
Max. shared memory: 256 MB
Supports RGB with max. resolution 1920 x1440 (@75Hz)
Storage:
Chipset
UltraDMA 133/100 1 x
4 xSATA 3 Gb/s ports 0,1,5,10,JBOD (* only for vista OS)
Support RAID
LAN:
RTL8211CL Gigabit LAN
Audio:
ALC662 High Definition Audio 6 -Channel CODEC
Supports Jack-detect and Multistreaming teconologies
USB:
USB 2.0 ports (6 ports at mid-board, 4 ports at back panel) 10
ASUS AI Lifestyle:
ASUS Quiet Thermal Solution
- ASUS Q-Fan
- ASUS AI NET 2
ASUS EZ DIY
- ASUS MyLogo 2
- ASUS CrashFree BIOS 3
- ASUS EZ Flash 2
Caratteristiche di Overclock:
SFS (Stepless Frequency Selection)
HT tuning from 200MHz up to 300MHz at 1MHz increment
Adjustable CPU Voltage at 0.05V increment
Memory tuning from 533MHz up to 1066MHz
PCIe frequency tuning from 100MHz up to 150MHz at 1MHz increment
Overclocking Protection:
ASUS C.P.R. (CPU Parameter Recall)
Porte I/O Pannello Posteriore:
1 x LPT x VGA
1 x PS/2 Keyboard
1 x PS/2 Mouse
1 x RJ45 port
1 x USB 2.0/1.1
4 x COM port
1 Channel Audio I/O
6
Connettori I/O Interni:
x USB connectors (6 ports)
3 1 x Front panel audio connector
1 x Internal speaker connector
1 x CD audio in connector
1 x 24-pin ATX Power connector
1 x 4-pin ATX +12V Power connector
1 x System Panel connector
x IDE connector
1 x SATA connectors
4 x CPU Fan connector
1 x S/PDIF Out connector
1
BIOS:
8 Mb Flash ROM
AMI BIOS, PnP, DMI2.0, WfM2.0, SM BIOS 2.5, ACPI 2.0
Accessori:
User's manual
x UltraDMA 133/100/66 cable
1 x SATA cable
1 I/O Shield
CD di Supporto:
Drivers
ASUS PC Probe II
Anti-virus software (OEM version)
ASUS Update
Dimensioni:
uATX Form Factor
9.6 inch x 8.2 inch 24.4 cm x 20.8 cm )
Questo tipo di prodotto (comprese le parti elettriche, l'equipaggiamento elettronico, le celle delle batterie e le parti contenenti Mercurio) non dovrebbe essere gettato nella spazzatura comune. Vi
preghiamo di controllare le disposizioni di legge locali in merito allo smaltimento dei rifiuti elettrici od elettronici.
ATTENZIONE
Le caratteristiche tecniche descritte in questa pagina sono relative alle Serie dei prodotti commercializzati da ASUS a livello internazionale e non necessariamente corrispondono a quelle
presenti sui Singoli Modelli commercializzati in Italia. Le caratteristiche tecniche riportate sono quindi da ritenersi indicative e soggette a cambiamento senza preavviso.

* Your assessment is very important for improving the work of artificial intelligence, which forms the content of this project