No category
Hypermix User Guide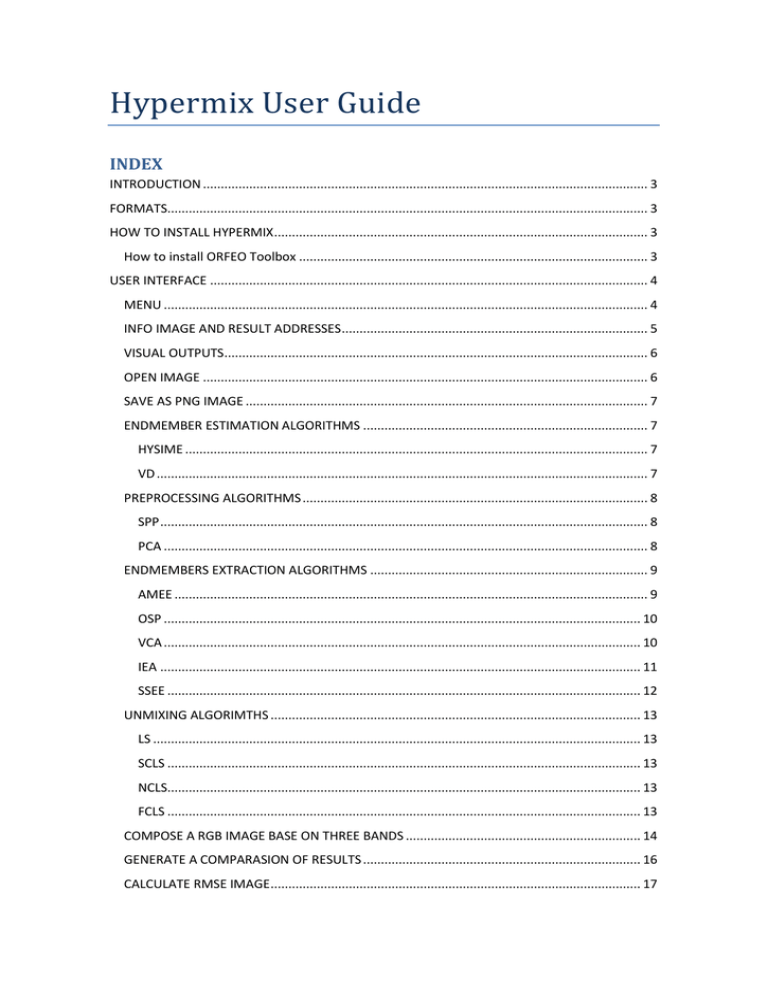 Hypermix User Guide
INDEX
INTRODUCTION ............................................................................................................................. 3
FORMATS ....................................................................................................................................... 3
HOW TO INSTALL HYPERMIX ......................................................................................................... 3
How to install ORFEO Toolbox .................................................................................................. 3
USER INTERFACE ........................................................................................................................... 4
MENU ........................................................................................................................................ 4
INFO IMAGE AND RESULT ADDRESSES ...................................................................................... 5
VISUAL OUTPUTS ....................................................................................................................... 6
OPEN IMAGE ............................................................................................................................. 6
SAVE AS PNG IMAGE ................................................................................................................. 7
ENDMEMBER ESTIMATION ALGORITHMS ................................................................................ 7
HYSIME .................................................................................................................................. 7
VD .......................................................................................................................................... 7
PREPROCESSING ALGORITHMS ................................................................................................. 8
SPP ......................................................................................................................................... 8
PCA ........................................................................................................................................ 8
ENDMEMBERS EXTRACTION ALGORITHMS .............................................................................. 9
AMEE ..................................................................................................................................... 9
OSP ...................................................................................................................................... 10
VCA ...................................................................................................................................... 10
IEA ....................................................................................................................................... 11
SSEE ..................................................................................................................................... 12
UNMIXING ALGORIMTHS ........................................................................................................ 13
LS ......................................................................................................................................... 13
SCLS ..................................................................................................................................... 13
NCLS..................................................................................................................................... 13
FCLS ..................................................................................................................................... 13
COMPOSE A RGB IMAGE BASE ON THREE BANDS .................................................................. 14
GENERATE A COMPARASION OF RESULTS .............................................................................. 16
CALCULATE RMSE IMAGE ........................................................................................................ 17
REFERENCES ................................................................................................................................ 18
INTRODUCTION
Hypermix is a tool make for an easier treatment of hyperspectral images through a simple user interface. The timeline of this process it could be separate in four steps: estimation, preprocessing, extraction and unmixing. For each one, Hypermix has different algorithms to choose and other options that could be useful to save and compare the results obtained.
FORMATS
All input data have ".hdr" extension associate to one ".bsq" file. This file must not have any extension. Similarly some output data have the same format. On the other hand there are output data that has ".png" and ".csv" extensions. We explain forward each case and what inputs and outputs are necessary on them.
HOW TO INSTALL HYPERMIX
In order to install HyperMix just go to the web page ( http://hypercomp.es/hypermix/ ) and sign in. Click on "Download" and select witch version do you want. Uncompress the file using your default uncompressing tool and install the .deb file by double clicking on it.
How to install ORFEO Toolbox
If you do not have already installed ORFEO Toolbox in your computer we provide an useful script that install all dependences may you need and uncompress and install the .tar file you can download from the ORFEO Toolbox web page ( http://www.orfeo-toolbox.org/otb/ ).
The script is ready for Version 3.6.0 of ORFEO Toolbox, if you downloaded another version you will only have to change the file name in the script.
USER INTERFACE
1: First user view of Hypermix.
The picture (1) shows the view that the use has when opens the Hypermix Tool. It is divided in three general zones:

Menu.

Info image data and result addresses.

Visual outputs of bands, abundances, and endmembers.
MENU
2: Main menu of Hypermix.
It (2) has separated based on different steps of image treatment plus one file menu and one help menu. Besides there is another option functions menu.
INFO IMAGE AND RESULT ADDRESSES
3: Left info panel.
On the left part (3) of this zone we find info of the opened image including number of samples, lines and bands also, if we run any estimation algorithm, the number of estimate endmembers contains in this image. On top we may consult the last algorithm used.
4: Right info panel.
On the right part (4) the tool shows the addresses of the different files used. This information has four fields:

Input image address.

Input / output endmember file address.

Output image address.

Output comparative results file address.
This info is not necessary appears all at the same time. Some options could use one or two fields only.
VISUAL OUTPUTS
There are three canvases:

Bands: Show one band of the image in grey scale. The user can select which band wants to see.

Abundances: Show one abundance map in grey scale corresponding to one endmember extracted of the image.

Endmembers: This canvas shows the different pure firms that were extracted by one endmember extraction algorithm. User can select one by one, all of them at the same time and clear the canvas.
OPEN IMAGE
5: Open file panel browser.
In file menu initially we could open three kinds of images:

Hyperspectral images.

Endmembers images.

Abundances images.
Each kind opens its image on a different canvas and activates functions that the user can run from the data.
User is responsible of select correctly the image because all of them have the same format but not read the same way.
SAVE AS PNG IMAGE
When an abundance or endmember image is opened the user has the possibility of save as PNG image the picture is painted in different canvases.
ENDMEMBER ESTIMATION ALGORITHMS
These algorithms provide an estimation of the number of endmembers that the hyperspectral opened image may have.
HYSIME
When user runs this algorithm automatically starts and put its results in info image box
(6).
VD
This function works different than Hysime. It starts automatically but when it finishes opens a window (6) for user selects which result wants based on false alarm rate different cases. That selected value is putted in the info image box.
6: VD select result window.
PREPROCESSING ALGORITHMS
These algorithms obtain as result a hyperspectral image.
SPP
7: SPP window panel.
To run this option the user must provide the window size level to apply the algorithm.
This window represents the neighborhood of each pixel. Besides the user must introduce in which address he wants to save the result image.
PCA
8: PCA window panel.
To run this option the user must specify what number of components per pixel image to be reduced. Also, as the way describes before, is needed an address to save the resulting image.
ENDMEMBERS EXTRACTION ALGORITHMS
These functions provide an image which contains the number of pure spectral firms user wants. All of them need as parameter the number of endmembers we want and the save image address. Also some need other parameters which detail later.
AMEE
9: AMEE window panel.
This function has another parameter which is the window size level. The different between this window size and SPP's is this window must have a center pixel. For example a window of 2x2 has not a center pixel but if user introduces 2 as a valid window size level the real window size could be:
OSP
VCA
10: OSP window panel.
11: VCA window panel.
This function needs an estimation of signal noise ratio including in the image. If the user clicks on the check box VCA calculates automatically a theoretical estimation.
IEA
N-FINDR
12: IEA window panel.
13: N-FINDR window panel.
This function doesn't need the number of endmembers instead assume it has to extract one more than the components per pixel of PCA image.
SSEE
14: SSEE window panel.
This function needs three more parameters. The size of the subset carries the number of subsets into which to divide the image. Second parameter is the number of iterations user wants the algorithm repeat. Third parameter means the maximum threshold value of spectral angle.
UNMIXING ALGORIMTHS
15: Unmixing window panel.
All this functions have two parameters. One is and endmember file image which is result of one of the endmember extraction algorithm. And second one is the address where user wants to save the abundance maps.
LS
This algorithm is based on the next equation:
( )
( )
( )
Where is the endmember matrix,
( )
is the image pixel and
( )
is the abundance of that endmember in the pixel.
SCLS
This algorithm presents a constraint which forces the sum of abundances sum to one.
NCLS
This algorithm presents a constraint which forces the abundances greater than zero.
FCLS
This algorithm presents the two constraints of SCLS and NCLS.
COMPOSE A RGB IMAGE BASE ON THREE BANDS
16: Composing RGB image window panel.
This option composes a RGB image from three bands of the original hyperspectral image associating each one with the red, blue and green band in a common image.
17: RGB image resulting.
GENERATE A COMPARASION OF RESULTS
18: Comparation results window panel.
In this function user can make a CSV file which contains the difference between our results and an endmember image of reference. The unit used in this option is the spectral angle between the endmembers. User must choose one matching algorithm.
CALCULATE RMSE IMAGE
In this option user can generate an RGB image which represents the difference between the original image and the reconstructed image based on two image files: endmembers and abundance maps.
19: RMSE image.
The function provides the maximum and minimum error values besides the mean value. Also user can save this image as PNG image.
20: RMSE window result panel.
REFERENCES
Tool developed by Hypercomp Group, 2012 (Universidad de Extremadura) http://www.unex.es/investigacion/grupos/hypercomp
* Your assessment is very important for improving the work of artificial intelligence, which forms the content of this project