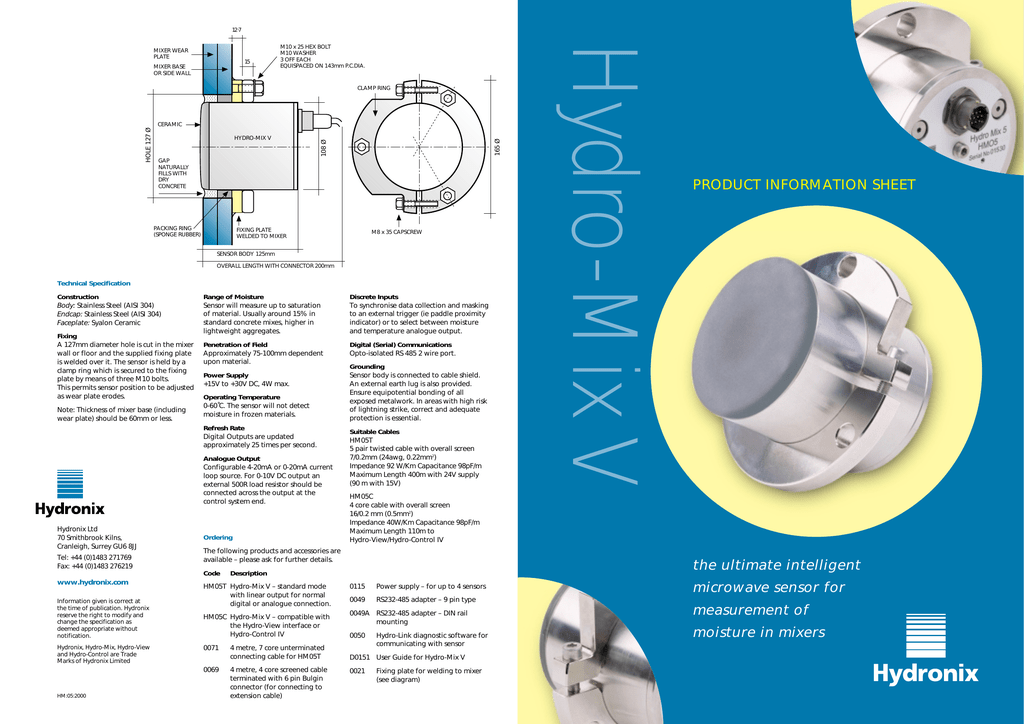 12.7
15
MIXER BASE
OR SIDE WALL
M10 x 25 HEX BOLT
M10 WASHER
3 OFF EACH
EQUISPACED ON 143mm P.C.DIA.
CLAMP RING
165 Ø
HYDRO-MIX V
108 Ø
HOLE 127 Ø
CERAMIC
GAP
NATURALLY
FILLS WITH
DRY
CONCRETE
PACKING RING
(SPONGE RUBBER)
FIXING PLATE
WELDED TO MIXER
M8 x 35 CAPSCREW
SENSOR BODY 125mm
OVERALL LENGTH WITH CONNECTOR 200mm
Technical Specification
Construction
Body: Stainless Steel (AISI 304)
Endcap: Stainless Steel (AISI 304)
Faceplate: Syalon Ceramic
Fixing
A 127mm diameter hole is cut in the mixer
wall or floor and the supplied fixing plate
is welded over it. The sensor is held by a
clamp ring which is secured to the fixing
plate by means of three M10 bolts.
This permits sensor position to be adjusted
as wear plate erodes.
Note: Thickness of mixer base (including
wear plate) should be 60mm or less.
Range of Moisture
Sensor will measure up to saturation
of material. Usually around 15% in
standard concrete mixes, higher in
lightweight aggregates.
Discrete Inputs
To synchronise data collection and masking
to an external trigger (ie paddle proximity
indicator) or to select between moisture
and temperature analogue output.
Penetration of Field
Approximately 75-100mm dependent
upon material.
Digital (Serial) Communications
Opto-isolated RS 485 2 wire port.
Power Supply
+15V to +30V DC, 4W max.
Operating Temperature
0-60˚C. The sensor will not detect
moisture in frozen materials.
Refresh Rate
Digital Outputs are updated
approximately 25 times per second.
Analogue Output
Configurable 4-20mA or 0-20mA current
loop source. For 0-10V DC output an
external 500R load resistor should be
connected across the output at the
control system end.
Hydronix Ltd
70 Smithbrook Kilns,
Cranleigh, Surrey GU6 8JJ
Tel: +44 (0)1483 271769
Fax: +44 (0)1483 276219
Ordering
Information given is correct at
the time of publication. Hydronix
reserve the right to modify and
change the specification as
deemed appropriate without
notification.
Hydronix, Hydro-Mix, Hydro-View
and Hydro-Control are Trade
Marks of Hydronix Limited
HM05C Hydro-Mix V – compatible with
the Hydro-View interface or
Hydro-Control IV
0071
4 metre, 7 core unterminated
connecting cable for HM05T
4 metre, 4 core screened cable
terminated with 6 pin Bulgin
connector (for connecting to
extension cable)
PRODUCT INFORMATION SHEET
HM05C
4 core cable with overall screen
16/0.2 mm (0.5mm2)
Impedance 40W/Km Capacitance 98pF/m
Maximum Length 110m to
Hydro-View/Hydro-Control IV
the ultimate intelligent
Description
HM05T Hydro-Mix V – standard mode
with linear output for normal
digital or analogue connection.
0069
HM:05:2000
Suitable Cables
HM05T
5 pair twisted cable with overall screen
7/0.2mm (24awg, 0.22mm2)
Impedance 92 W/Km Capacitance 98pF/m
Maximum Length 400m with 24V supply
(90 m with 15V)
The following products and accessories are
available – please ask for further details.
Code
www.hydronix.com
Grounding
Sensor body is connected to cable shield.
An external earth lug is also provided.
Ensure equipotential bonding of all
exposed metalwork. In areas with high risk
of lightning strike, correct and adequate
protection is essential.
Hydro-Mix V
MIXER WEAR
PLATE
0115
Power supply – for up to 4 sensors
0049
RS232-485 adapter – 9 pin type
0049A RS232-485 adapter – DIN rail
mounting
0050
Hydro-Link diagnostic software for
communicating with sensor
D0151 User Guide for Hydro-Mix V
0021
Fixing plate for welding to mixer
(see diagram)
microwave sensor for
measurement of
moisture in mixers
Hydro-Mix V
Flexible positioning
The Hydro-Mix V sensor may be used successfully with all static pan type
mixers as indicated, and only one sensor is required. However, it is important
that it is positioned in the moving flow of material where no build up on the
sensor face is likely to occur.
defining the standards of microwave moisture measurement
For rotating pan mixers the Rotating Pan Adaptor Kit will be required.
The Hydro-Mix V microwave sensor
Measuring in the mixer
Auto-track – mix OK?
Sensor outputs
Turbo mixers
uses the unique Hydronix digital
Reading at 25 times per second the
sensor detects rapid changes in the
moisture in the materials throughout
the mix cycle.
Another important unique feature of
the sensor is the inbuilt facility to
indicate when the mix is
homogeneous, such that the moisture
reading is truly representative of the
entire mix. Typically, the sensor
averages moisture readings for 10
seconds after homogeneity is
detected to achieve very high
accuracy of measurement.
Two modes of operation are
selectable that change the sensor
output.
The sensor may be positioned
in the base of the mixer, or in
the side wall providing there
is sufficient material to cover the
sensor. In this position the sensor
is less susceptible to accidental
damage and is more accessible.
Bottom edge of sensor is
positioned approximately
50mm above mixer floor.
measuring techniques to provide a
greater accuracy of measurement
over a wider range of moisture
contents than any other sensor on
the market. Designed for rugged
wear in all types of mixer, the
Hydro-Mix V sensor with integral
signal processing provides a linear
output (both analogue and serial)
Sensor configuration
The sensor is configured remotely
using the Hydro-Link diagnostic
software. A large number of
parameters are selectable, including
the type of output, filtering
characteristics etc.
Sensor response
that may now connect directly to
any control system or interface in
'compatibility' mode with
Hydronix control and interface
equipment.
The sensor response may be adjusted
remotely using the Hydro-Link
diagnostic software to eliminate the
effects of mixer blades and air voids
within the mix thereby ensuring
optimum performance for any
particular type of mixer.
Graphic display
Using the Hydro-Link software (or
when interfacing with other Hydronix
equipment) a graphic trace may be
viewed to assist in selecting the most
suitable set up parameters. This
information may also be used to
determine the effectiveness of the
mixing action and whether any
adjustments to the mixer
configuration are required.
Synchronised readings
1 Digital connection
Direct with control system in
'Standard' mode using the linear analogue
or serial output, to provide a fully
integrated, cost effective
moisture control system.
POWER
SUPPLY
The sensor may be programmed only
to read after a given time period after
an input from (typically) a proximity
switch that detects a passing blade.
This facility is useful when the sensor
is covered by material for only part of
the mix cycle.
1. Standard mode:
The sensor provides both a digital
(serial) and analogue linear output,
that may be scaled internally or
externally.
2. Compatibility mode:
The output simulates that of the
previous range of Hydronix analogue
sensors, and is used when replacing
this type of sensor or when
interfacing with the Hydro-View or
Hydro-Control IV units.
Calibration
The linear unscaled output requires
calibration to provide a meaningful
moisture reading. When the sensor is
connected directly to the control
system, calibration should be
performed in the system, or
alternatively using Hydronix
interface/control equipment.
The facility to internally calibrate
the sensor using the Hydro-Link
software is also available.
Temperature measurement
CONTROL SYSTEM
2 Hydro-View connection
Displays and communicates
moisture to control system.
3 Hydro-Control Jr connection
A simple but accurate way of controlling the
addition of water in the mixer, this system is
easy to install, simple to use and extremely
cost effective. Can be used 'stand alone' or
with a control system.
4 Hydro-Control IV connection
Completely controls the mixing cycle to provide the correct
addition of water irrespective of variation in the aggregates.
This operates to a level of accuracy unachievable with any
other system and operates in such a manner to reduce mix
cycle time to a minimum consistent with the production
of a homogenous mix.
Temperature output is available to
provide readout of material
temperature.
Planetary mixers
Mount the sensor in the
base of the mixer. Position of
sensor centreline is set in from
the side wall of the mixer by
approximately 1/4 to 1/3 of
mixer radius.
Single horizontal shaft mixers
Position sensor on the upside
of the blade movement.
Centreline of sensor mounted
at approximately 10˚ angle
from the vertical
Accuracy of measurement
All measurements may if required be
calibrated to oven dried laboratory
tests to an accuracy of ± 0.1%.
Wear life
Twin shaft mixers
The ceramic faceplate is the only part
exposed to wear when installed in the
mixer. The special composition of the
material used has been selected, after
many years experience, for its
exceptional wear characteristics.
Under normal use the sensor will
last for many years.
Sensor positioned in end wall at
the opposite end to the motors,
with bottom edge of the sensor
approx 75mm above mixer floor,
and vertically below the
centreline of the shaft.

* Your assessment is very important for improving the work of artificial intelligence, which forms the content of this project