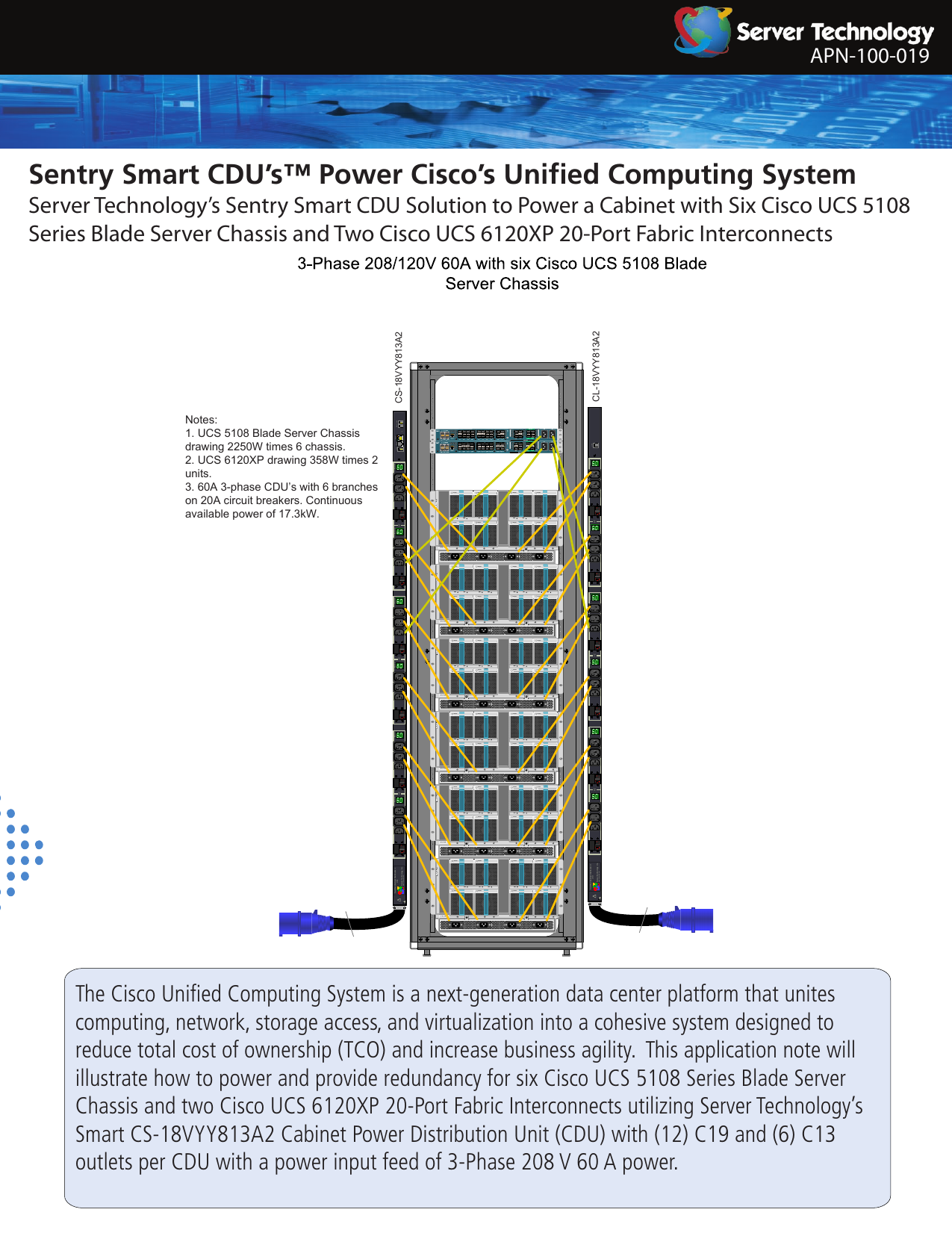 APN-100-019
Sentry Smart CDU's™ Power Cisco's Unified Computing System
CL-18VYY813A2
Net
Link
Ser
Branch 1
Link
20
ON
I
Branch 1
OFF
ON
I
20
XY
OFF
www.servertech.com
TM
!
!
Switched Cabinet Distribution
Unit
TM
Server Technology, Inc.
www.servertech.com
Switched Cabinet Distribution
Unit
Server Technology, Inc.
OFF
20
OFF
ON
I
20
ON
I
Branch 2
Branch 2
XZ
XZ
OFF
20
OFF
ON
I
20
ON
I
Branch 1
Branch 1
OFF
20
OFF
ON
I
20
ON
I
Branch 2
Branch 2
YZ
YZ
OFF
20
OFF
ON
I
20
ON
I
Branch 1
Branch 1
OFF
20
OFF
ON
I
20
ON
I
Branch 2
Branch 2
XY
Notes:
1. UCS 5108 Blade Server Chassis
drawing 2250W times 6 chassis.
2. UCS 6120XP drawing 358W times 2
units.
3. 60A 3-phase CDU's with 6 branches
on 20A circuit breakers. Continuous
available power of 17.3kW.
T/H2 T/H1
CS-18VYY813A2
Server Technology's Sentry Smart CDU Solution to Power a Cabinet with Six Cisco UCS 5108
Series Blade Server Chassis and Two Cisco UCS 6120XP 20-Port Fabric Interconnects
B
The Cisco Unified Computing System is a next-generation data center platform that unites
computing, network, storage access, and virtualization into a cohesive system designed to
reduce total cost of ownership (TCO) and increase business agility. This application note will
illustrate how to power and provide redundancy for six Cisco UCS 5108 Series Blade Server
Chassis and two Cisco UCS 6120XP 20-Port Fabric Interconnects utilizing Server Technology's
Smart CS-18VYY813A2 Cabinet Power Distribution Unit (CDU) with (12) C19 and (6) C13
outlets per CDU with a power input feed of 3-Phase 208 V 60 A power.
APN-100-019
Enclosed are the loaded power draws for each device shown in the cabinet.
Cisco Devices
UCS 6120XP
UCS 5108
Total
qty
2
6
Cisco Power Spec.
550 W
5000 W
Derating
65%
45%
Expected Watts Each
358
2250
C13
2
0
4
C19
0
4
24
Total Watts
716
13500
14216
Total kW delivered for one 3-Phase 208 V 60 A in-feed source is 21.6 kW de-rated to 17.3 kW.
Power Requirements for Cisco Unified Computing System with Six 5108 Blade Server Chassis:
-Total Power Usage: 14.2 kW
-Input power feeds required: two 208 V, 3-Phase, 60 A, IEC 60309 plugs
-Number of Outlets: (12) C13 and (24) C19 per cabinet
-Other requirements: Intelligent monitoring, local current indicators to help in load balancing
If one of the input power feeds fails the other CDU must be capable of carrying the whole load. The CS-18VY provides
plenty of power should this occur.
Key Benefits:
> Sentry Smart 3-Phase 60 A CDU's reduce the number of CDU's needed to deliver the power required by this cabinet
configuration. This in turn reduces the number of power drops required for each cabinet.
> Fewer power cords means lower infrastructure costs and improved airflow in a raised floor data center environment
resulting in improved cooling in the cabinet.
> Sentry Smart CDU's allow administrators to view the current load and environmental conditions remotely.
> SNMP traps and email alerts ensure notification if a problem has occurred along with logging of all actions
performed by user.
> Local LED's Per Branch Circuit - Large, easy-to-read displays let you determine if the load is balanced and provides
visual indication that power is supplied to the CDU.
> Environmental measurements - Qty (2) temperature and humidity measurements are provided per pair of CDU's.
> Local and remote notification if a branch circuit is lost.
> Master and Link unit configuration (CS/CL) allows two power in-feeds and all environmental information to be
monitored via single IP address per cabinet.
HEADQUARTERS - NORTH AMERICA
EMEA
APAC
Server Technology, Inc.
1040 Sandhill Drive
Reno, NV 89521
United States
1.775.284.2000 Tel
1.775.284.2065 Fax
sales@servertech.com
www.servertech.com
www.servertechblog.com
Server Technology Intl
Sienna Court
The Broadway
Maidenhead
Berkshire
SL6 1NJ
United Kingdom
+44 (0) 1628 509053 Tel
+44 (0) 1628 509100 Fax
salesint@servertech.com
Server Technology Intl
37th Floor, Singapore Land Tower
50 Raffles Place
Singapore 048623
+65 (0) 6829 7008 Tel
+65 (0) 6234 4574 Fax
salesint@servertech.com
© Server Technology, Inc. Rev A 10/2009 version. Information in this document is subject to change without notice. Sentry and Server Technology are trademarks of Server Technology, Inc. Patent # 7,043,543. Patents Pending. Printed in US.

* Your assessment is very important for improving the work of artificial intelligence, which forms the content of this project