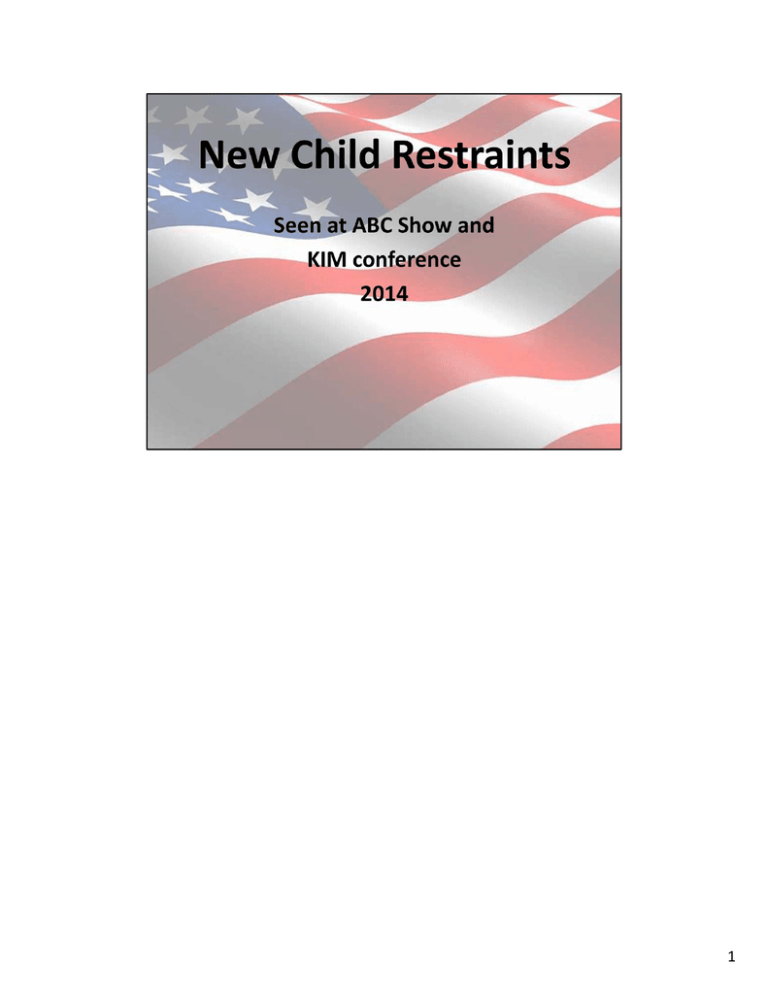 1
2
3
4
5
6
7
8
9
•
Max lower anchor use is as follows: Pinnacle was 38 lbs and moved to 40 lbs with rounding up allowed by FMVSS 213 changes for Feb 2015 Pioneer was 40 and moved to 45 lbs and Frontier stayed 40 lbs with rounding up in FMVSS standard. The "90" taken out of the seat name now.
•
Cowmooflage Pattern coming to Frontier just recently
10
Britax Child Safety ‐ www.britax.com
BRITAX has made a major change by incorporating ClickTIght (first introduced last year in Pinnacle 90 and Frontier 90 models) into its convertible CR line. ClickTIght is the manifestation of the company's philosophy that, though LATCH was intended to make correct installation easier (and studies repeatedly show that it does), the reality is that LATCH has many limitations. So, BRITAX design efforts have been refocused on making seat belt installation so easy that it will nearly always be the preferred method.
11
ClickTight will appear on the latest generation of Marathon, Boulevard, and Advocate CRs, called the CT line, as described below. It works like this: 1) open the ClickTIght panel by pushing and turning the ClickTIght dial at the front of the CR seating area (see photo); 2) thread the seat belt (or LATCH strap) through the desired RF or FF belt path and remove excess slack without putting pressure on the CR or overtightening the belt; 3) push the
ClickTIght panel closed until it locks to remove any remaining slack and to lock the belt; 4) attach and tighten the tether. With this system, the type of latchplate or retractor doesn't matter. The belt is locked and tightened by ClickTight, regardless of the vehicle locking system.
Although the company expects most users will use a seat belt for installation, LA attachments are still included, as required by FMVSS 213, with hook‐on connectors rather than the push‐on types of former convertible models. Tether use is always recommended, and tether straps are approximately 10" shorter than former models in order to avoid having too much extra material for the allotted storage space. Tether extenders are available through customer service, if needed, at no charge. The tether may still be used rear‐facing, but the related instructions will no longer be with the straps themselves. Anti‐ rebound bars will come with models sold in Canada and will be an available accessory in the U.S. in next 30‐60 days, and can be purchased on Britax website G4 seats have option now for $20
These CRs have bubble indicators for angle guidance for both rear‐facing and forward‐ facing installation. BRITAX has color‐coded the CT‐line and other models, using blue for RF, green for FF, and red for booster features. Important "touch points," such as release handles/buttons, are also red.
12
Although the weight limit is the same as former generations, the CT line will accommodate taller children than former models. In fact, the Boulevard CT and Advocate CT have a top harness position that's 19.5 inches above the seat cushion, among the tallest available in the industry. For infants, the lowest harness position for all three models is 7.6 inches from the seating surface.
Marathon CT—$329
Convertible: 5–40 lbs. RF; 20–65 lbs and at least 1 year old FF
Now Available
The Marathon CT includes a 12‐position, no rethread harness and a 2‐position crotch strap, along with a 7‐position recline.
Boulevard CT—$369
Convertible: 5–40 lbs. RF; 20–65 lbs and at least 1 year old FF
Now Available
The Boulevard CT includes BRITAX's Click & Safe audible harness snugness indicator and a no‐rethread harness. It has 14 positions for harness height, a 2‐position crotch strap, and seven recline positions.
Advocate CT—$419
Convertible: 5–40 lbs. RF; 20–65 lbs and at least 1 year old FF
Now Available
The Advocate CT has all the features of the Boulevard CT and adds side‐impact cushions to the outside of the shell for extra side‐impact energy absorption and protection for adjacent passengers.
12
When un installing seat please release seat belt tension by un‐buckling the seat belt in the vehicle first.
Brtiax design efforts have changed to make seat belt install so easy that it will be preferred over LATCH. (Lower Anchor capacities are: Boulevard and Marathon 35 lbs RF 40 Lbs FF
Advocate 30 lbs RF and 35 lbs FF ‐‐‐‐ JUST USE SEAT BELT NO LOWER
ANCHORS****
Lower Anchors are still required by FMVSS 213 and must be attached to the seat but the anchors have been changes to a less expensive hook type rather then the push on type . LA's will be used in BPB mode of seat. If they have been removed from storage it can be a little difficult to get them back in proper storage location.
It is easiest if once connectors attached you pull out all of the slack and put tape over it to hold all the webbing in place.
Seat belt is locked and tightened with the Click Tight regardless of the vehicle locking system.
Tether straps 10 inches shorter and extensions are available at no charge ON ALL
CT SEATS
13
G4.1, CT convertibles and Frontier and Pinnacle all have the re‐branding and these tethers now.
13
Weight limits same as G4 however CT line will accommodate taller kids
The Boulevard and Advocate CTs have top harness position that is 19.5 inches above the seat cushion
For infants the lowest harness position for all three is 7.6 inches from seating surface
All seat 5 to 40 lbs RF
20 to 65 lbs FF AND at least one year old.
Marathon 12 position no rethread harness 7 position recline 2 crotch position
Boulevard add click and safe snugness indicator and 14 position no rethread harness
Advocate adds side impact cushions to outside of shell for extra side impact energy mitigation and passenger safety
Marathon CT $329.99
Boulevard CT $369.99
Advocate CT $419.99
Advocate $418
14
New Label Position on Click Tight Convertible
15
IF seat has XE after name it was sold with cup holder, storage pouch and a 7 year warranty at Buy Buy Baby
UCS Ultimate Comfort Series sold at BRU with memory foam instead of regular foam
Sewn labels indicate maximum shoulder height as seated height more important than overall
16
17
18
19
20
21
22
23
24
25
Dorel brands range from very affordable to high‐end price points, and the most impressive changes this year are to the latter. While many features are available at a higher price, many CPSTs will appreciate that Dorel seems to be focused on improvements to low‐cost models that make them safer and easy to use correctly.
Other Dorel focuses: Reduce the number of parts that need to be attached or adjusted for proper use, while ensuring that the CRs can be easily installed and used. Make the car seat covers easy to clean by allowing them to be machine washed and dried. And Dorel is committed to seeing all parents follow best practice recommendations, regardless of the CR they can afford. To this end, it will be phasing in a minimum age of two years to face forward on some models.
26
Cosco Scenera Next —$46
Convertible: 5–40 lbs. RF; 22–40 lbs. and at least TWO years old FF
The only similarity between this model and the Scenera is the name. Scenera Next is brand new, developed from the ground up.
It has hook‐on lower anchor connectors that can be used for any allowed child weight, and both the LA and tether straps have white stripes along them so they are easily differentiated from harness straps.
The five harness heights require rethreading to adjust and there are three crotch strap positions.
For rear facing, a level line molded into the shell indicates the most reclined angle, along with instructions for more upright positioning.
Perhaps the most impressive feature of the Scenera Next is its simplicity of installation. The shell design makes installation at the proper angle possible without the need for a kickstand, adjustment foot, or noodle in either RF or FF mode. The company moved in that direction with the Apt, but noodles were needed for most
RF installations. By changing the shape and materials used for the Scenera Next shell, Cosco overcame that problem. Just press the seat down and back against the vehicle seat while tightening and locking the belt, and either an upright or reclined angle can be maintained.
27
And that low retail price is not a typo!
27
Cosco Apt 50 ‐ $65
Convertible: 5–40 lbs. RF; 22–50 lbs. and at least TWO years old FF
Like the Scenera Next, the Apt 50 is a complete redesign. It is 3 inches taller than the original Apt, can be used to 50 pounds instead of 40, incorporates some shell improvements developed for the Scenera Next, and includes "gripper feet" that make noodles unnecessary for rear‐facing installation. The harness is more adjustable, with more harness slots, special routing of the thigh straps for smaller children, two sets of harness loops for attachment to the splitter plate, and three crotch strap positions.
The Apt 50 includes the striped LATCH straps as well, with hook‐on connectors and the LA attachment may be used at all allowed harness weights.
28
29
Safety 1st onBoard—$119
RF‐only: 4–35 lbs.
This basic model of the onBoard line has been improved with a new base that has a
5‐position recline foot. The LA connectors are hook‐on and there is a dual‐level bubble indicator for recline guidance.
The new base and the base from previous onBoard models are compatible with all onBoard shells. The new base does not have a lock‐off at this time.
The shell weighs a pound less than its predecessor, primarily because of the new ergonomic handle design. It has four sets of harness slots that require rethreading to adjust, three crotch strap positions, and special harness routing instructions for smaller infants.
30
Safety 1st onBoard Air— $159
RF‐only: 4–35 lbs.
This model has all of the features of the new onBoard, with added Air Protect cushions in the head area for improved side‐impact performance.
Safety 1st onBoard Air+— $179
RF‐only: 4–35 lbs.
The onBoard Air+ has the onBoard Air features above, plus crushable foam designed with hexagonal shapes in the torso area (based on race car designs) for full body side impact protection.
31
32
33
Safety 1st Dreamride—$69
Car Bed: 5*–20 lbs. (*a lower starting weight is being considered)
Although CRs for children with special needs are exempt from LATCH requirements,
Dorel has redesigned the Dreamride to allow installation using LA attachments.
CPSTs trained in special needs transportation who have seen and tried this new feature expect this to be a tremendous improvement in both ease of use and quality of installation over earlier Dreamride models.
34
Evenflo – www.evenflo.com
Evenflo introduced its new models mid‐year instead of this fall
One important point for advocates using federal monies to purchase car seats for replacement or distribution: most Evenflo seats are designed, engineered, tested, molded and assembled in the USA. That means most of their CRs meet the Buy
America requirements for states and their grantees. The ONLY exception is the
Embrace infant seat and any seat that has a light in the head restraint part of the seat—they are not made in the USA.
35
36
37
NOT Made in the USA
38
Evenflo of course—we are in that section…
39
Evenflo
40
41
NOT Made in the USA!
42
43
44
45
46
47
48
49
50
51
52
53
1 lower anchor strap to reduce cost and weight
Cleaner label's
This design makes lower attachment use easier. The bar guides the LA strap between
RF and FF as the strap slides along the bar.
Two buckle positions
54
55
56
57
58
inTrust 35 Pro—$269
RF‐only: 4–35 lbs.
This new CR has many features that make it stand out. Before putting a child in the
CR, the user should slide the head restraint upward. Then, once the child is buckled in, both the harness straps and the head restraint (with energy‐absorbing foam) slide downward into the correct position as the harness is snugged using the front‐ adjust strap.
59
Although the CR has side‐impact protection features, it also has air vents built into the sides for child comfort.
60
The base, which has push‐on LA connectors and a recline adjustment foot, has a unique handhold in the center than can be comfortably grasped while installing the base (or for carrying).
61
62
An infant insert and comfort padding around the crotch buckle are also included
63
64
Low Back 40 to 100 lbs. & 57 inches
Comes with harness straps
HBBP 30 to 100 lbs.
It is NOT A TOY
They MAKE THE SEAT and not JUST THE COVER
65
Harness seats go 22 to 65lbs
Working on getting Canadian approval
Covers are NOT transferable to other seats
66
Made in China & Factory in France
New to US market
At Dicks Sporting Goods
HBPB $149.99 30 to 110 lbs.
Backless $34.99 Seat belt Strap
Base of High Back $39.99
Seats tested FMVSS 213 @ CalSpan
Available Amazon
Wild Sports Distributor
67
Sells Back packs Diaper bags and seat protectors too
67
68
69
Previously known as the Baby Trend Inertia, this model will now be marketed by the company's new brand division, Müv.
70
The Kussen has rigid LA connectors and is deeply reclined to 47 degrees from vertical to allow infants to breathe easier during normal driving.
71
During a crash, it uses inertia to bring the infant to a more upright position that provides better protection.
72
73
74
75
76
77
Depends on the car seat owners manual
Nuna Pipa has tested them together and states in the manual that its not necessary but both can be used at the same time.
78
New seat 9.5 lbs. without base This new product has been well‐received.
79
80
European belt routing on left and LA install on right.
European belt‐routing is on more and more seats now.
81
82
Recline Angle Indicator
83
Peg Perego says they get a lot of questions re the use of their seats with various strollers—is there an adapter for____? The existing adapters for the 30/30 seats do
NOT work with the 4‐35 seats. Currently the following do make adapters for this seat:
Bob/Britax
Baby Jogger
Bugaboo
84
This is the seat that has a "lock‐off" that is not a true lock‐off, but rather a seat belt positioner in the FF mode only.
85
Seat can be used as backless BPB too, and is still rated 40‐120#
2 cup holders—one on each side
Mini‐connector lower anchors with front pull strap to adjust
86
Ease of use features Pictures etc…..more visible—this seat looks just like the Urbini
Petal seat
87
88
Recaro is introducing its first RF‐only
Perfomance Coupe
RF‐only: 4–35 lbs.
89
Unique recline foot that has both a part that flips down when the angle must change a lot and also a micro‐adjuster knob for fine‐tuning the angle, and a bubble angle indicator to identify correct recline. Noodles may be added in the rare case of an extreme vehicle seat slope.
90
Recaro has made the instructions easy to find in a pocket clearly labeled "manual", setting them apart from many other manufacturers. The pad pulls off in one piece for easy cleaning.
91
No metal Showing in new buckle without twisting.
92
Regal Lager is continuing to adapt and improve Cybex seats for the U.S. market.
This year, expect a new RF‐only CR, a new booster and other product introductions and improvements.
93
LSP is only used on side closest to door never use in center position
Now LSP on Boosters too – this is the new Solution M‐fix
94
Side impact protection not out
95
Side impact protection out
96
This Israeli company will soon introduce its innovative Doona CR in the U.S., following its successful European release. It will be the first RF‐only CR that turns into a stroller – inspired by the inventer/owner's first walk from the hospital to the car with his newborn daughter. Simple parenting is working closely with well‐known
American design experts to ensure that the product meets all U.S. requirements and market needs.
97
Doona—$350
Infant: 4‐35 lbs RF
The Doona wheels turn 360 degrees and fold out easily to make it a stroller, and fold back in to allow the CR to fit into its base in the vehicle. The carry handle telescopes to double as the stroller's push handle and has multiple positions.
Promotional materials indicate it weighs 15 pounds, which is relatively light when you consider it is both a car seat and a stroller.
The Doona has three sets of harness slots that require rethreading, a single crotch strap location, and a preemie insert made from bamboo fibers that can be used up to 22 pounds. The base has push‐on connectors, a lock‐off for seat belt installations, and two bubble indicators. When installing without the base, European shoulder belt routing controls rotation and rebound.
98
99
Built in lock offs
100
101
102
103
104
* Your assessment is very important for improving the work of artificial intelligence, which forms the content of this project