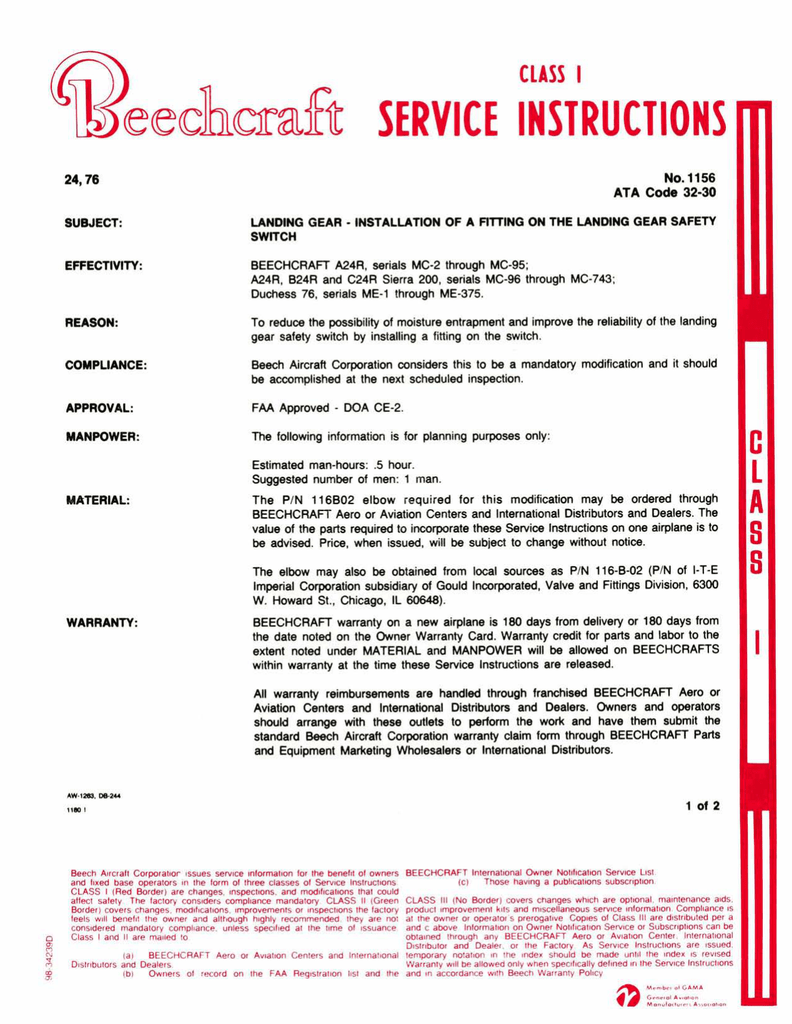 CLASS I
SERVICE INSTRUCTIONS
No. 1156
24,76
ATA C&
32-30
-
SUw ECT:
LANDING GEAR INSTALLATION OF A FITTING ON THE LANDING GEAR SAFETY
SWITCH
EFFECTIVITY:
BEECHCRAFT A24R, serials MC-2 through MC-95;
A24R, B24R and C24R Sierra 200, serials MC-96 through MC-743;
Duchess 76, serials ME-1 through ME-375.
REASON:
To reduce the possibility of moisture entrapment and improve the reliability of the landing
gear safety switch by installing a fitting on the switch.
COMPLIANCE:
Beech Aircraft Corporation considers this to be a mandatory modification and it should
be accomplished at the next scheduled inspection.
APPROVAL:
FAA Approved
MANPOWER:
The following information is for planning purposes only:
- DOA CE-2.
Estimated man-hours: .5 hour.
Suggested number of men: 1 man.
MATERIAL:
The PIN 116802 elbow required for this modification may be ordered through
BEECHCRAFT Aero or Aviation Centers and International Distributors and Dealers. The
value of the parts required to incorporate these Service Instructions on one airplane is to
be advised. Price, when issued, will be subject to change without notice.
The elbow may also be obtained from local sources as PIN 116-6-02 (PIN of I-T-E
Imperial Corporation subsidiary of Gould Incorporated, Valve and Fittings Division, 6300
W. Howard St., Chicago, IL 60648).
WARRANTY:
BEECHCRAFT warranty on a new airplane is 180 days from delivery or 180 days from
the date noted on the Owner Warranty Card. Warranty credit for parts and labor to the
extent noted under MATERIAL and MANPOWER will be allowed on BEECHCRAFTS
within warranty at the time these Service Instructions are released.
All warranty reimbursements are handled through franchised BEECHCRAFT Aero or
Aviation Centers and International Distributors and Dealers. Owners and operators
should arrange with these outlets to perform the work and have them submit the
standard Beech Aircraft Corporation warranty claim form through BEECHCRAFT Parts
and Equipment Marketing Wholesalers or International Distributors.
$
m
N
*
m
m
3,
Beech Alrcraft Corporatar Issues servlce lnformat~onfor the benef~tof owners BEECHCRAFT lnlernatlonal Owner Notlflcat~onService Llst
and flxed base operators ~n the form of three classes of Serv~celnstruct~ons
(c) Those havlng a publlcat~onssubscr~pt~on
CLASS I (Red Border) are changes. Inspections, and mod~f~cat~ons
that could
affect safety The factory consfders cornpl~ancemandatory CLASS II (Green CLASS Ill (No Border) covers changes whlch are opt~onal,maintenance alds.
Border) covers changes, rnod~f~cat~ons,
Improvements or lnspectlons the factory product Improvement klts and m~scellaneousservlce ~nformatlonCOmpllance IS
feels w~llbenef~tthe owner and although h~ghlyrecommended they are not at the owner or operators prerogative Cop~esof Class Ill are dlstr~butedper a
cons~deredmandatory compl~ance,unless speclfled at the tlrne of issuance and c above lnforrnat~onon Owner Notlflcat~onSewlce or Subscrtptlons can be
obta~nedthrough any BEECHCRAFT Aero or Av~atlonCenter lnternatlonal
Class I and II are rnalled to
D~str~butor
and Dealer, or the Factory As Serv~celnstruct~onsare ~ssued
Centers and lnternat~onaltemporary notat~on~n the ~ndexshould be made unt~lthe lndex 1s rev~sed
(a) BEECHCRAFT Aero or Av~at~on
deflned ~nthe Sewtce lnstructlons
Warranty will be allowed only when spec~f~cally
D~str~butors
and Dealers
(b) Owners of record on the FAA Reglstratlon list and the and In accordance w~thBeech Warranty Pollcy
General Artotton
M ~ n v I ~ c lA11011~1101
~ r ~ r ~
Service lnstructlons No. 1156
SPECIAL TOOLS:
None.
WEIGHT AND BALANCE:
None.
REFERENCES:
BEECHCRAFT 19, 23 and 24 series Shop Manual, PIN 169-590015F or subsequent,
Section 3;
BEECHCRAFT Duchess 76 Maintenance Manual, PIN 105-590000-7 or subsequent,
Chapter 33-30.
PUBLICATIONS AFFECTED:
It is recommended that a note to "See Service lnstructions No. 1156" be made in the
following:
BEECHCRAFT 19, 23 and 24 series Parts Catalog copies, PIN 169-5900121 or
subsequent, Figure 394;
BEECHCRAFT 19, 23 and 24 series Parts Catalog copies, PIN 169-590026C or
subsequent, Figure 394;
BEECHCRAFT Duchess 76 Parts Catalog copies, PIN 105-590000-98 or subsequent,
Chapter 34-10.
ACCOMPLISHMENT
INSTRUCTIONS:
These Service lnstructions may be accomplished as follows:
1. Locate the landing gear safety switch which is mounted under the instrument panel
on the left sidewall.
NOTE
If the airplane is equipped with an optional "Magic Hand" landing gear
system (24R series only), there will be two pressure switches under
the instrument panel. The pressure switch on the firewall is for the
"Magic Hand" system and the switch on the left sidewall is the landing
gear safety switch.
2. Wrap the threads of a PIN 116802 elbow with one wrap of teflon thread tape
(obtain locally) and install the elbow in the static (open) port of the landing gear safety
switch. The open end of the elbow must point downward after installation.
3. Refer to the ShoplMaintenance Manual and perform a landing gear retraction test.
The landing gear safety switch should allow the landing gear to retract at 59 to 63 knots
(68 to 72 MPH).
RECORD COMPLIANCE:
Upon completion of these Service Instructions, make an appropriate maintenance record
entry.

* Your assessment is very important for improving the work of artificial intelligence, which forms the content of this project